I've found myself magnetically drawn to the strawberries and blueberries in the grocery store. I'm a huge, huge fan of growing your own and buying local (bonus points for U-pick!) but I can't help myself. It's been so cold and gross that I needed those berries!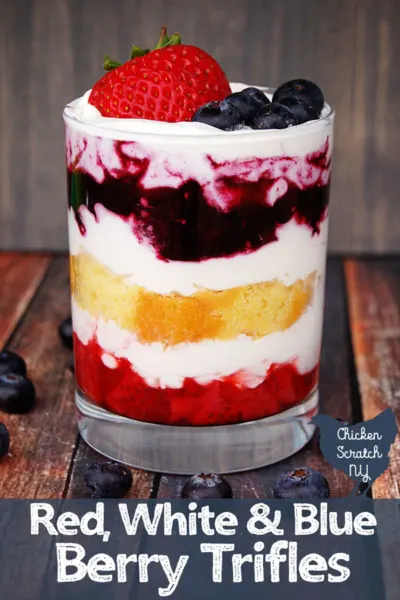 I managed to sneak a few past my kids and they found their way into a no-bake summer dessert. The resulting berry trifle is a perfect treat with patriotic flair.
This time I made the red, white and blue dessert in two glasses, I'm trying to lose weight and get healthy and having a giant trifle hanging around the house didn't seem like a great idea.
I'm actually signed up to do my second Warrior Dash in June and I haven't ran more than 10 feet since my last race… I talked my sister into doing it with me this time and we're supposed to be getting healthy together… I fear that more cabbage and less whipped cream is in my future. Wish me luck! I'll need more with the diet than the race 😉
Back to the good stuff. I've been low on free time so I picked up a package of lemon pound cake at Aldi's. Of course you could make your own! I got lemon because, A – they had lemon and B – I wanted some tart flavor to offset the sweetness.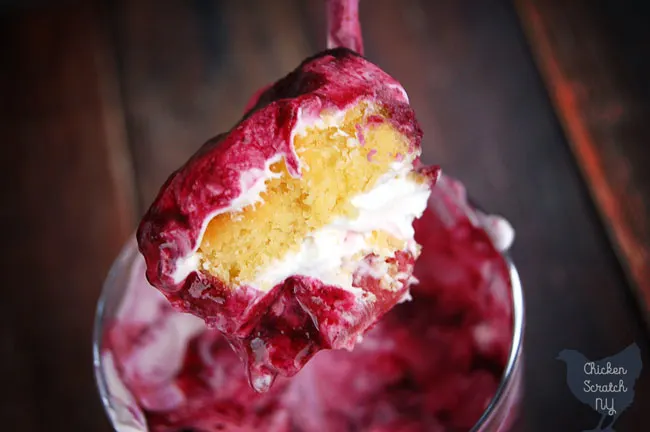 There's another tangy surprise hiding in the no-bake dessert. The homemade whipped cream is part heavy cream and part sour cream. It gives the whipped cream some tang and adds some extra body and stability.
I rely on my stand mixer for making whipped cream. If you've followed me for a while you'll know I make a lot of recipes with whipped cream like my Shirley Temple Cheesecake, Black Raspberry Fool and Sweet Cream Pumpkin Parfaits.
Whipped cream is a great base for no-bake desserts! It's surprisingly versatile, either alone or mixed with something else.
If you can't find any or the fresh berries just don't look that great you can always use frozen. Frozen berries make really nice sauce, the freezing breaks down the cells and the liquid all comes out. I used frozen strawberries for my Strawberry Shortcake Shots.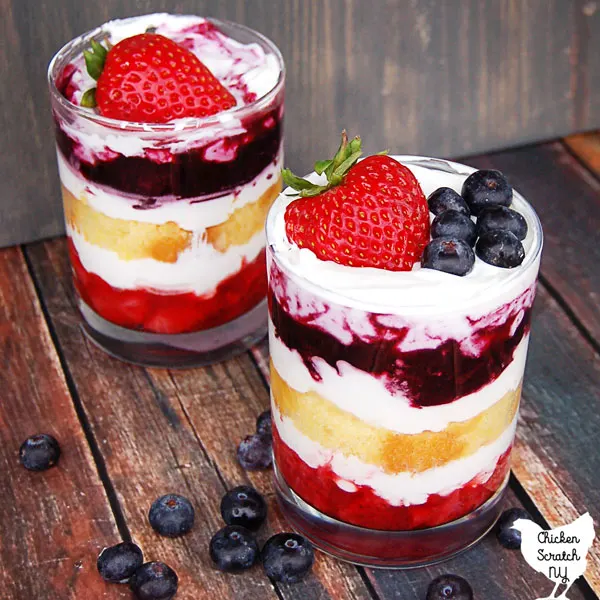 I kept this recipe small but if you were looking for a memorial day picnic dessert or a 4th of July dessert you could triple the amounts and make enough for a crowd.
Don't lose this Patriotic Summer Berry Trifle! PIN it to your dessert or 4th of July Board for later!
Yield: 2
Patriotic Berry Trifles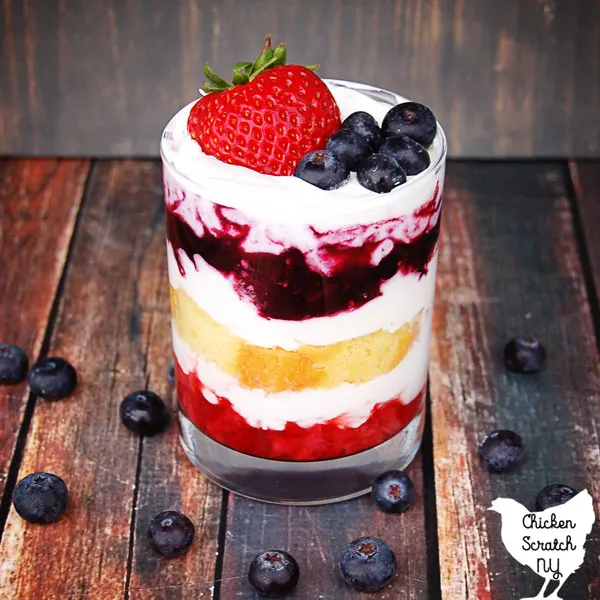 Layers of tangy whipped cream, tart lemon pound cake and gently cooked fresh berries come together for a pretty and delicious no-bake dessert perfect for the 4th of July or any summer picnic
Ingredients
1/2 Cup Heavy Cream
1/4 Cup Sour Cream
1 Teasproon Sugar
1/2 Teaspoon Vanilla
2 Slices Lemon Pound Cake
1 Cup Strawberries
1 Cup Blueberries
Sugar to Taste
Instructions
Combine heavy cream, sour cream, sugar and vanilla in the bowl of a mixer. Whip on medium until combined and switch to high. Beat until soft peaks form.
Heat blueberries and a tablespoon of water in a small pan over medium heat. Berries will darken and begin to burst. Smoosh with a wooden spoon and stir until liquid begins to reduce. Add sugar to sweeten if desired.
Repeat in a clean pan with strawberries. Allow fruit to cool.
Use the serving dish to cut a round from the slice of lemon cake. It doesn't have to be perfect, it's food not art! Set aside.
Scoop half the strawberries into the bottom of each dish.
Top with whipped cream, layer in the pound cake and cover with more whipped cream.
Add half the blueberries to each dish and cover with remaining whipped cream.
Top with a slices strawberry and fresh blueberries
Serve cold
Check out my Recipes page for more ideas or start with these: