I have a serious problem not buying anything with the word fall on it. Honestly, if Tampax had a fall variety pack I'd buy enough to last me a year a pack or two. That's how I found myself the proud owner of the Sam Adams Fall Variety Pack.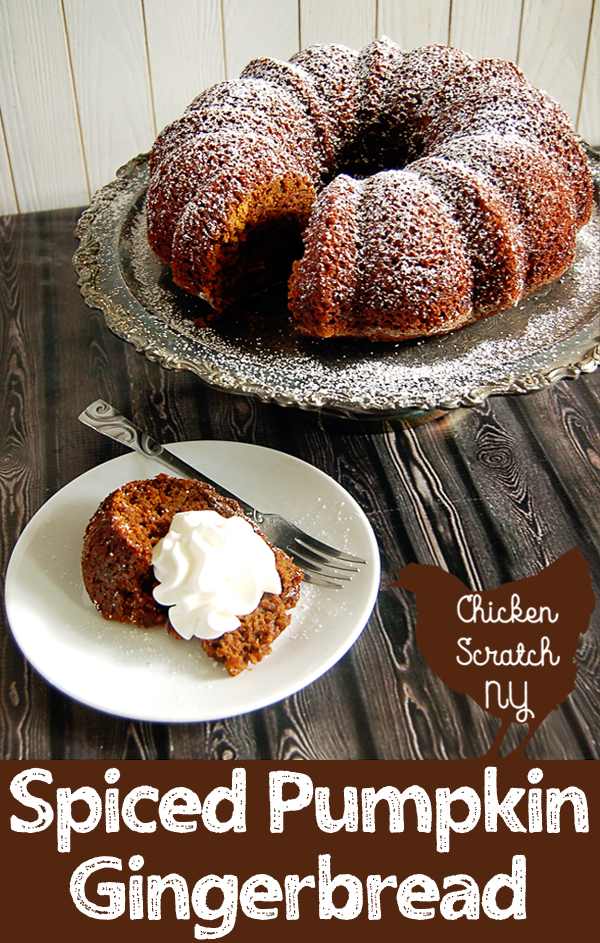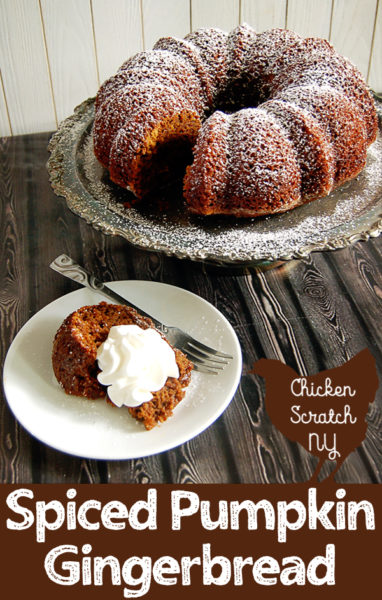 I'm not an adventurous beer drinking, I pretty much only drink wheat beer. But the case said 'fall' and 'pumpkin' so I really had no choice and I brought it home.
Knowing full well I won't drink more than 4 bottles from the entire freaking case!  Well done Sam Adams… My solution was to turn the undrinkable (to me) bottles into something I can enjoy.
First up is my rendition of the Gramercy Tavern Gingerbread recipe made fall appropriate with a few modifications and the addition of pumpkin (of course!) for a spicy, dense pumpkin gingerbread.
I've made the original recipe a few times around Christmas and it's so close to perfect. The only real problem is how sticky it is and how much it sticks in pan.
You can avoid that by skipping the bundt pan and going for a loaf or generic cake pan. I love pumpkin flavor alone but it really shines with the addition of cinnamon, ginger and cardamom.
Luckily those are all found in gingerbread so it seemed like a perfect match. I switched out the stout in the original recipe for a bottle of Black Lager. If like me, you know nothing about beer the Black Lager is a 'schwarzbiers' pronounces 'schw-ba-blah-blah' (or maybe not).
It's supposed to be dark and roasted with notes of caramel and chocolate. All things that I would enjoy in my gingerbread so in it goes!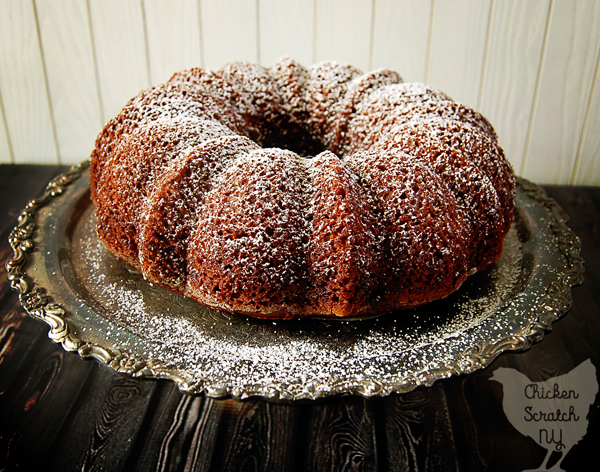 This batter is sticky thanks to the molasses and you really need to butter the pan well. I set a stick of cold butter on the stove while the oven preheated and used the very soft melted butter to coat the pan.
Use your hands and get into all the creases in the pan. Sprinkle the inside with flour and go back over any spots you missed with more butter and re-flour.
After baking let the gingerbread cool for a few minutes and then gently pull the edges away from the pan. Flip the pan over and give it a quick bang on a wooden cutting board to dislodge the cake. If it doesn't come out let it sit a while longer and try again.
This is the kind of cake that benefits from a rest before serving. Store it in the fridge and bring it out to warm up a but before serving. Dust with confectioners sugar and top with whipped cream for a real decadent autumn treat.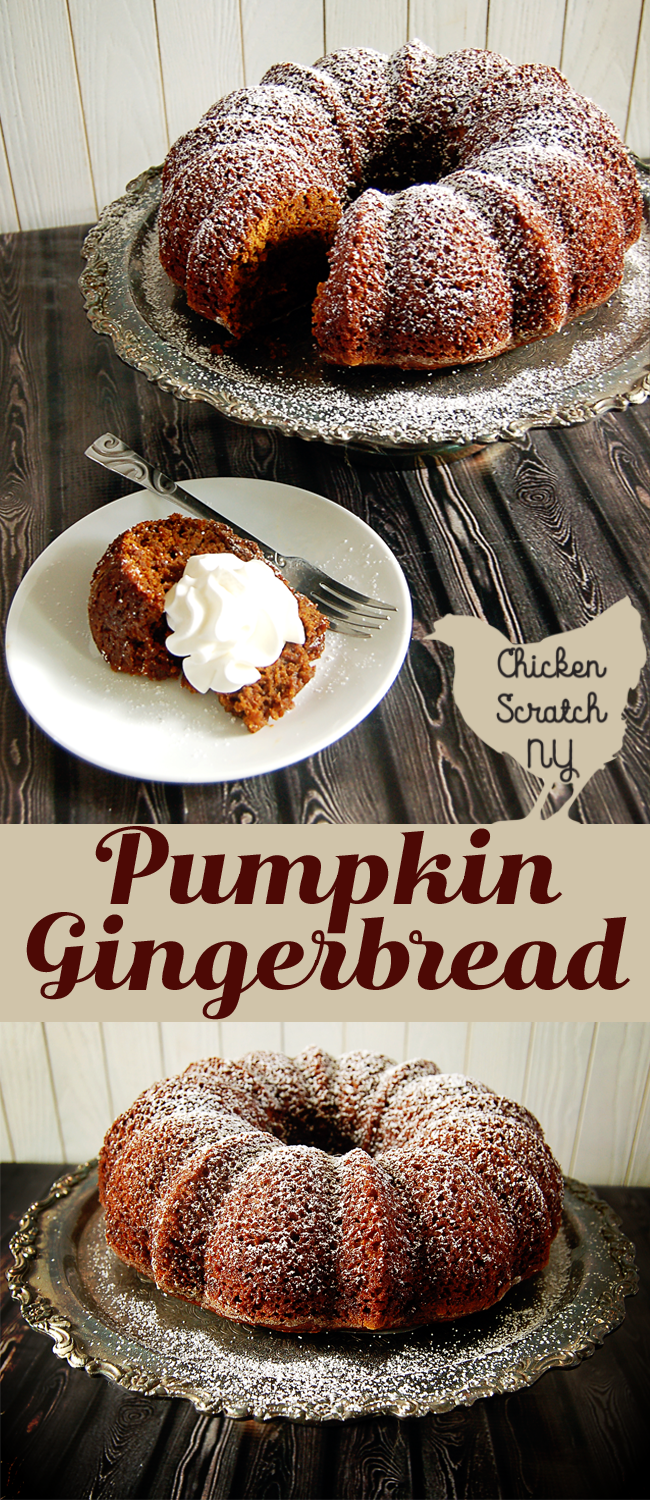 Pumpkin Gingerbread
Total Time:
1 hour
10 minutes
Dark and fragrant gingerbread overflowing with spices and flavor
Ingredients
1 C stout beer*
1 C dark baking molasses, NOT blackstrap
1/2 t baking soda
2 C flour, I use King Arthur white whole wheat
2 T ground ginger
1 t ground cinnamon
1/4 t ground cloves
1/4 t ground nutmeg
pinch of ground cardamom
2 eggs
1 C pumpkin puree, NOT pumpkin pie mix
1 1/2 brown sugar
Instructions
Preheat oven to 350
Butter, butter, butter a bundt pan. This is a heavy, sticky cake and it will stick if you let it. Dust with flour after thickly applying butter, don't forget to get the spout bit in the center
Combine beer and molasses in a medium sauce pan and bring to a boil. It will foam like crazy so don't use a small pan.
When beer mixture boils remove from heat and stir in the baking soda, again lots of foam. Set aside to cool
Whisk together flour, baking powder and spices set aside
Whisk together eggs and pumpkin, add in sugar and whisk until combined. Scrape down the sides of the bowl to make sure you get all the sugar.
Slowly pour in the beer mixture, whisking while you pour. The original recipe says to wait until the beer mix is cool but I'm impatient. The big thing is don't cook the egg so pour in a little bit, whisk it up and pour some more.
Quickly whisk in the flour mixture just until combined
Other recipes to check out: