If I had to pick the easiest plant to grow it would be rhubarb. Hands down, no questions asked. Even my chickens, the ones that murdered my mint garden, haven't managed to kill it yet.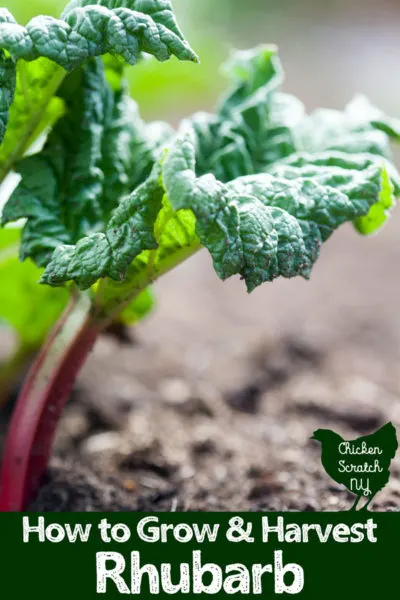 Which is unfortunate because I've got a large rhubarb patch that needs to go away. There was a large patch in the now-herb garden when I moved in. I dug up several plants and moved them along the side of the deck. They grow in nicely to hide the ugly under-deck view.
What is Rhubarb?
Rhubarb is a perennial vegetable, we eat the vegetative part of the plant not the fruiting body, but it's usually treated like a fruit. The tart stalks are bffs with strawberries and its nickname is 'pie plant' after all.
You can buy rhubarb as dormant roots, plants in one gallon pots or via my Facebook where each spring I beg my friends and family to take more plants.
Where to Plant Rhubarb
Rhubarb is a seasonal beast. It needs a dormancy period, if your winters don't drop below 40 degrees don't bother.
It thrives here in New York, our cold winters, wet springs and warm summers are exactly what it likes. Mine goes strong from spring through to fall. It usually takes a few weeks off during the hottest parts of July and August.
Plant rhubarb in a sunny spot, if you have hotter summers (zone 6 and up) it might enjoy some some shade. Pick a spot with well drained soil.
When to Plant Rhubarb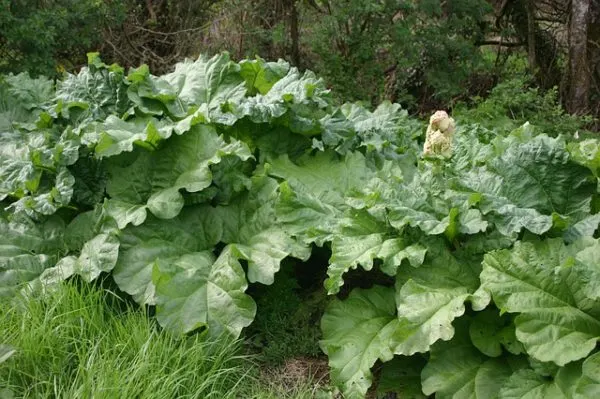 Plant rhubarb as early as you can in the spring. It's also to best time to transplant. They go from little baby leaves to monster plants almost over night so get everything where you want it before the growth spurt.
If you notice your formerly robust rhubarb is starting to put up thin stalks it's probably time to divide. Like with my favorite plants to steal from your friends the best time to transplant is on an overcast day. Even better if you're in for a few days of rain.
How to Plant Rhubarb
The correct way to plant rhubarb is to dig large hole and add in some compost or rotted manure. It is important to get rid of any weeds, eventually the rhubarb will crowd out any weeds but you want to give it a good start.
Plant rhubarb crowns 1-2 inches below the soil level. Set plants at or slightly below soil level.
They're heavy feeders, they like rich soil. I add a few buckets or a wagon load of alpaca poo to my rhubarb early in the season. I always mean to do it in the fall too but… you know. I suck.
My method is to dig up a hole lightly larger than the chunk of rhubarb I've dug up in the herb garden. Then I plunk that section in the hole I made. I scatter some alpaca poop around like squishy confetti and then water everything.
I said before that rhubarb plants are monsters, they really need room to grow. Plant them 4 feet apart. You won't believe how quickly they fill in.
As much as I love my cape cod weeder I never need it in the rhubarb patch. The leaves grow in so quickly and thickly that they smother out any competion. Which is great, because I have better things to do than weed the rhubarb!
When to Harvest Rhubarb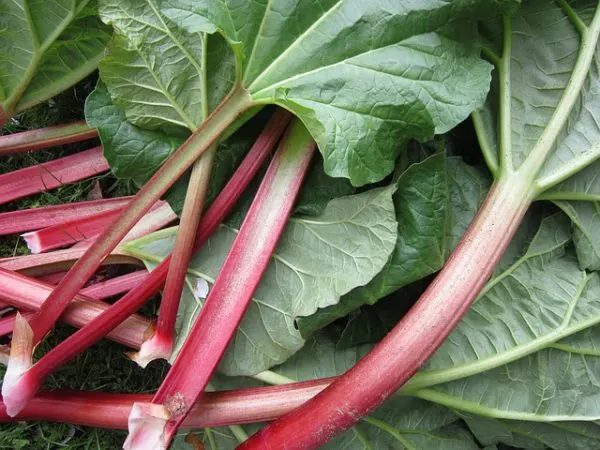 You can start harvesting the year after you plant. I don't pick anything thinner than my thumb (unless I'm trying to kill the plants and then I pick it all).
Pick rhubarb by grasping it near the bottom on the plant and sharply pulling and twisting. It should pop right out off the plant.
Rip off the leaves and toss them in the compost. They contain oxalic acid and will make you sick.
You could possibly die but you'd need to eat a lot or have an extreme reaction. Obviously the best course of action is to not eat the freaking leaves.
If you leave the leaves on the stalks they'll lose water and get limp pretty quickly. You can cut them off with a knife but unless I'm taking pictures for a certain website I rip them off with my hands and they never leave the garden.
Even though we all think of rhubarb as a spring treat I pick it all summer long. Everyone knows it's great with strawberries but it's also delicious with blueberries! My recipe for Baked Oatmeal with Rhubarb, Blueberries and Pecans really highlights that combo in the best way possible.
It cooks down into a tart rhubarb sauce with minimal effort (in my opinion it's more of a paste but that doesn't sound as appetizing…) and you can easily turn that into rhubarb juice. Rhubarb juice is the perfect complement for oranges juice in a Rhubarb Mimosa.
Rhubarb freezes really well too, so you can literally eat it all year long. Which is great because the options for rhubarb recipes are endless.
I have a lot of rhubarb and some of the stalks are almost the size of my wrist so I go a teeny bit overboard with the recipe experimentation every year.
Why is my Rhubarb Green?
There are different varieties of rhubarb and some of it is on the greener side. The rhubarb I have is actually very green.
The smaller stems are bright red but as they grow the color fades to green. It all tastes like rhubarb.
When I'm baking with it I use the biggest stalks. If I really want the red color I'll pick a bunch of the small stuff. But my rhubarb juice always turns out pink even if I'm using the green stuff.
The only way to make sure you have RED rhubarb is to start out with a red named variety. Rhubarb is grown from divisions so if you start with a red parent plant you'll have lots of red baby plants.
Why is my Rhubarb Flowering?
It does that, the flowers start off like weird alien looking sacks then shoot up. They grow on hollow stalks and get to be 4-6 feet tall before they explode into weird looking flowers.
You can let them flower if you're curious or rip them out. Removing the flowers is actually recommended. They take energy away from the plants and all those tasty stalks.
Don't forget to PIN this to your Garden board!
Find all the Rhubarb Week Posts: Baked Oatmeal with Rhubarb, Blueberries & Pecans, Rhubarb Mimosas & Instant Pot Ribs with Rhubarb BBQ Sauce
Check out my Gardening Page for more ideas or start with these easy rhubarb recipes: