I went into Michael's with a whole list of Halloween projects planned out, naturally I left with a bag of flowers for this autumn wreath and nothing for Halloween. No matter how hard I try to plan things it never, ever goes the way I think it will.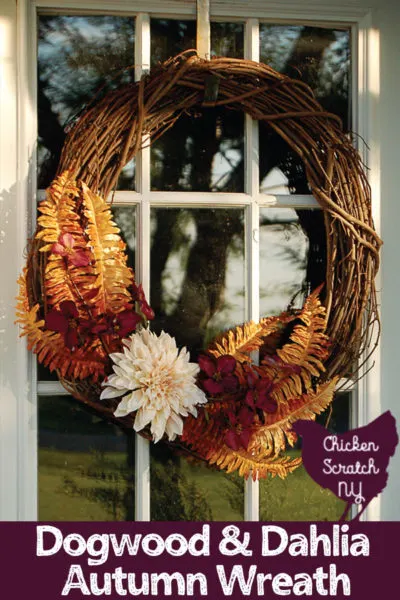 Over the years I've made more wreaths than any one person should so I was feeling pretty blank when I realized I needed something new this year for the fall. I was on my way out of the store when I spotted a bunch of gold ferns (because why wouldn't that be a thing?) and the rest fell into place.
I try to use odd numbers when I make things because it's easier to balance all the elements. I had my gold ferns and then I found a large display of fall colored giant dahlias.
It was close between the deep burgundy and the cream; then I found the deep purple dogwood and the cream was the clear winner. I love dogwood flowers, I even have one tattooed on my ankle.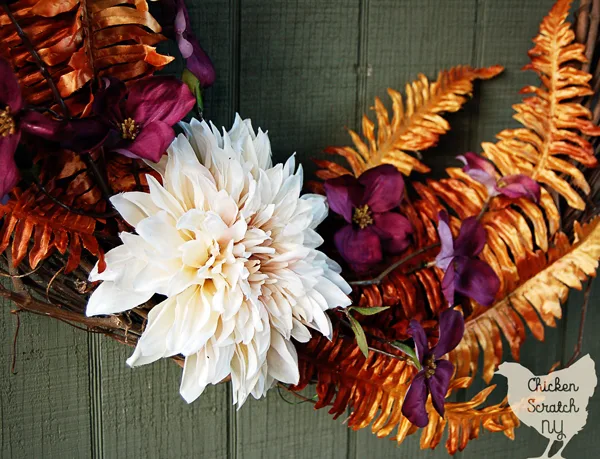 This grapevine wreath is on it's third life. Last year it was covered in crows and wisteria, which is still one of my favorite wreaths of all time.
I had really good intentions to make a step by step process for you but I was on the phone and kept tripping over the tripod.
The ferns, dogwood and dahlia were all purchased at Michael's this weekend so chances are good you can still find all of this stuff if you go look. The ferns were in the seasonal section but the rest was with the regular floral.
I put it all together with wire but most people would dig out the hot glue gun and go to town. I like being able to mess around and move things a lot so wire id just easier for me even though it's harder to be precise.
I also recommend a good pair of wire cutters to break down the flowers, you'll kill your scissors if you try to use them.
Decorating a wreath while it's hanging up is about 100x easier than doing it flat. For some reason no matter how good it looks on the table it's ll look a little off when you go to hang it up.
I like to throw a wreath hanger on a closet door and put the wreath up to get started.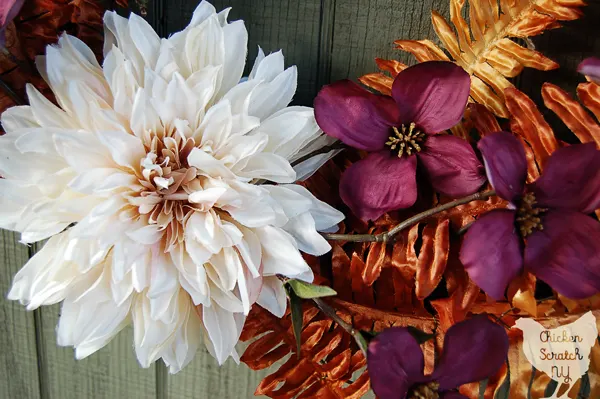 For this autumn wreath I started with the gold ferns. I cut them all apart so I could use each one individually. They had a little bit of memory in them but for the dramatic curves I used a little piece of wire around the middle to keep them in place.
Next I added the dogwood flowers. They were on long stems and sort of did what they wanted. It gave the wreath a nice organic feeling that I enjoyed.
The final touch on my fall wreath was the giant dahlia. I used a few loops of wire to hold it in place as the focal point.
I rarely buy the 'nice' fake flowers but I'm glad I sprung for one this time. The extra dimension from the pinky-purple-white really made the wreath stand out on my front door.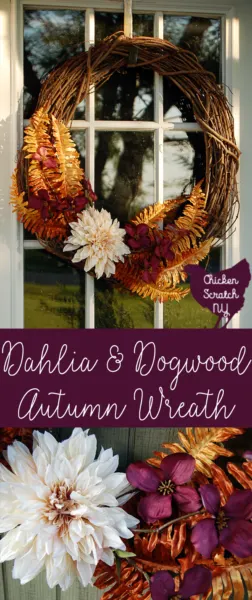 Check out my Wreaths Page for more ideas or start here: