I'm fighting another allergy/head cold attack and I found day-time cold medicine to be oddly motivational. I didn't have the wherewithal to make step by step tutorial for this one but I'll walk you through it. Someday I might even figure out how to make a video and put together a start-to-finish of my creative fiddling. I think the drooping flowers and cheeky crows are perfect for Halloween but the muted purple and cream flowers would be a perfect for the rest of fall as well.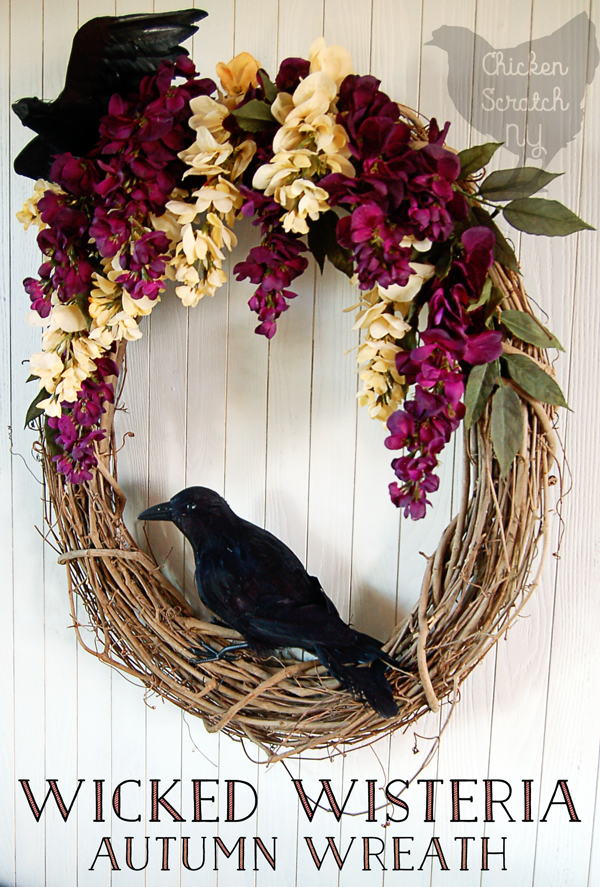 Between sweeping up dog hair and blowing my nose I found the bag of craft supplies from my last Michael's run. I have a slight obsession with those black feather crows, even though they don't last long in my house once the cats find them, so I picked up two of those. I also grabbed a few branches of faux wisteria since the fall floral was all on sale. The draping flower spires stuck me as a little bit spooky but beautiful at the same time, especially in the dark cream and dusty purple.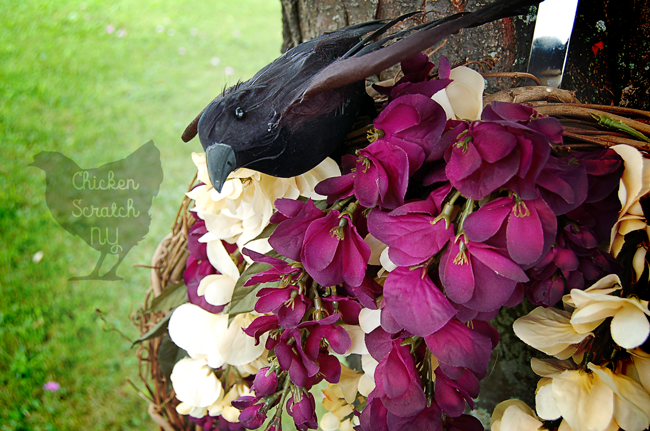 The wreath form was once my Ribbon Rosette Wreath, after a spring and summer on the front door the ribbons were all really faded so I carefully popped them off and it was ready for a new life.  The other supplies were all from a quick Michael's trip with the kid. I remember the days when I could spend over an hour wandering around Michael's or Joann's looking at things, I'm sure the employees were ready to bust me for shoplifting based on my suspicious behavior! These days it's all in and out in a whirlwind and I'm lucky if I get anything I went in for.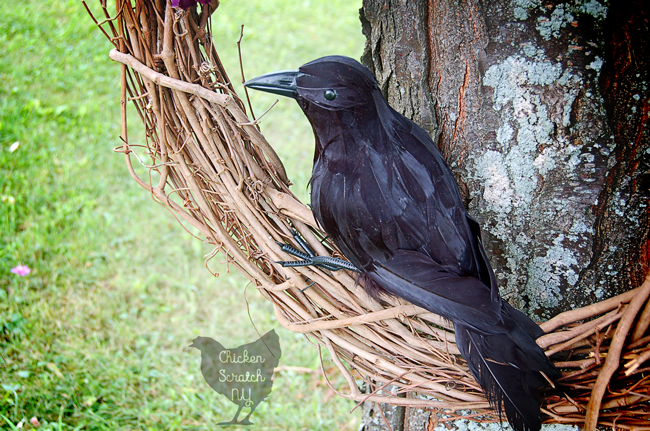 I did manage to get two bunches of faux wisteria and two black crows. To make this wreath I dug out a wreath hanger, stuck it on up and interior  door and set up the grapevine wreath frame. Instead of using hot glue or extra wire I put the whole thing together by carefully prying apart the wreath and wedging the stems from the flowers in after pulling apart the whole bunch of florets. This is where the mindless fiddling came in. When I was happy with the flowers I added the crows by clipping the wire on their feet in half and again wedging it though the wreath form until everything was stable.
If you're looking for some more Halloween ideas check out my Halloween Page and my Halloween Spookies Pinterest Board!