Crows and wisteria were the perfect combo for this slightly spooky but seasonally appropriate Halloween & Autumn wreath. If you've never seen The Birds it's probably not creepy at all.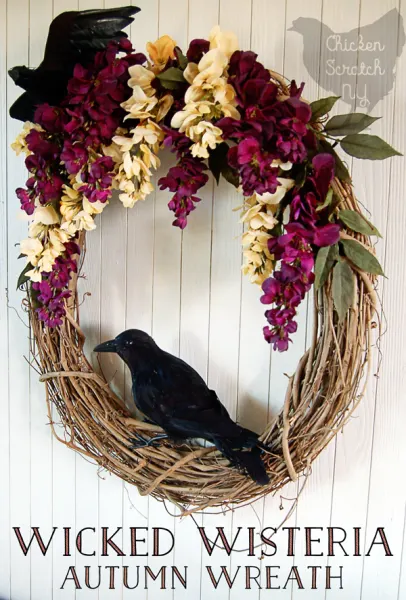 The drooping flowers and cheeky birds are perfect for Halloween but the muted purple and cream flowers would be a perfect for the rest of fall as well. I've seen the flowers in various colors over the years so they seem to be a popular design at Michael's, hopefully you can still find them.
Every thing I used for this wreath came from a bag of craft supplies from my last Michael's run that I had completely forgotten about. I have a slight obsession with those black feather crows, even though they don't last long in my house once the cats find them, so I picked up two of those on a whim.
The fall floral was all on sale so I grabbed a few branches of faux wisteria. The draping flower spires stuck me as a little bit spooky but beautiful at the same time, especially in the dark cream and dusty purple.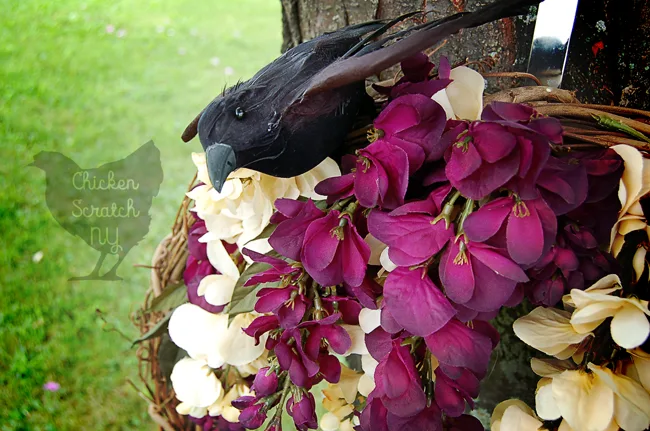 The wreath form was once my Ribbon Rosette Wreath, after a spring and summer on the front door the ribbons were all really faded so I carefully popped them off and it was ready for a new life.
I've started skipping the hot glue for seasonal wreaths, the sun & wind kill the decorations but the wreaths tend to survive. Putting them together with wire instead of glue means I can reuse the wreath form year after year.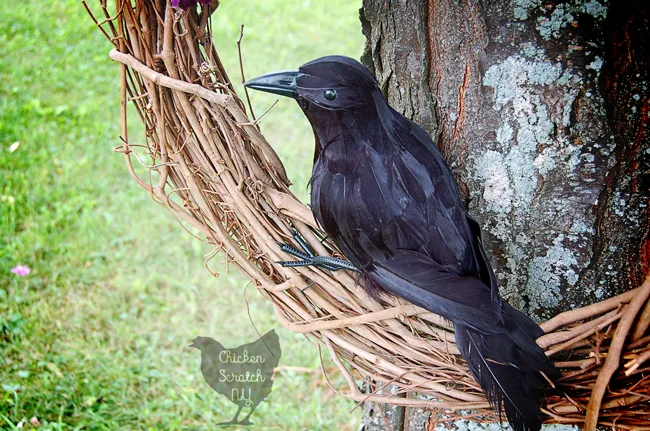 Wisteria Wreath Supplies:
Instructions:
I'm sorry this isn't really a full tutorial. It was craft supply play time and I just fussed around until I was happy.
To make this wreath I dug out a wreath hanger, stuck it on up on my closet door and set up the grapevine wreath frame. It's hard to see how things are going to and when the wreath is flat so hanging it up gives you a better idea of your final outcome.
Start buy separating the florets, I just pulled off the stems for this one but sometimes you'll need to cut them apart with wire cutters.
Instead of using hot glue or extra wire I put the whole thing together by carefully prying apart the wreath and wedging the stems from the flowers in after pulling apart the whole bunch of florets. This is where lots of mindless fiddling comes in.
Work from the bottom of the flower patch and layer upwards for a full look. I added in a few leaves to the outer edges but kept it mostly flowers.
When I was happy with the flowers I added the crows by clipping the wire on their feet in half and again wedging it though the wreath form until everything was stable.
Check out my Halloween Page for more ideas or start here: