Poinsettias just scream Christmas to me (it's a nice scream, very Christmas carol-y) but our cat Rita eats houseplants so I don't dare bring real ones into my house. Instead I buy lots and lots of fake ones. I use them to decorate the tree and last year I used them to make a pretty poinsettia wreath.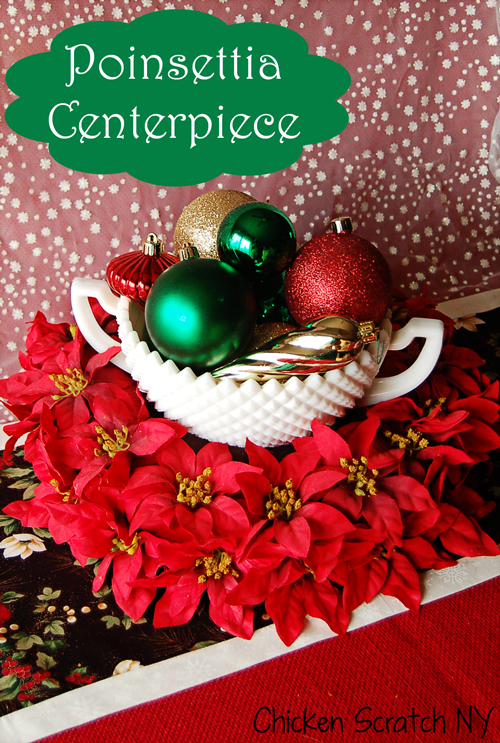 Supplies:
Straw wreath (leave the plastic on)
Red felt
Fake poinsettias (I used about 7 bunches of medium sized poinsettias)
Instructions:
1. Cut strips of felt about 2 inches wide. Completely cover the wreath form, hot glue the felt in place.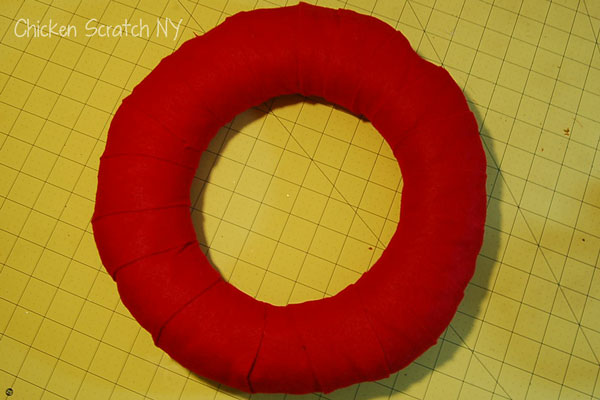 2. Pull the poinsettias off the bunches. Place the wreath form flat on the table and start hot gluing the poinsettias around the bottom. You might need to clip off some of the stems if they make the 'flowers' stick out too much. Try to keep your line more or less straight, don't drive yourself crazy keeping the wreath on the table will help.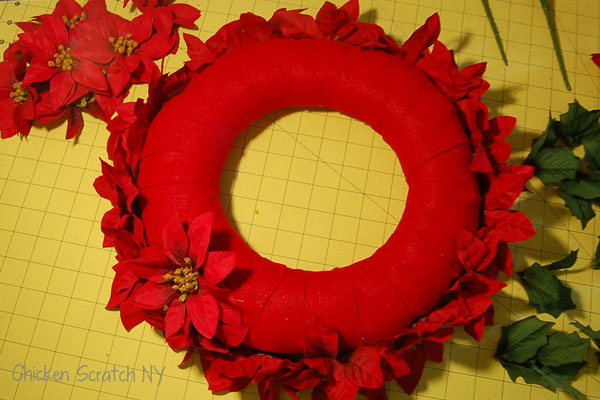 3. Add the second row, offset the blooms by centering the top flower between the centers of the two bottom flowers. This will make the flowers look more natural and it will cover up more felt.
I set the wreath on a bookshelf so I didn't add a third row because no one will be looking down on it. If you are setting it on a low table you will probably want to add another row.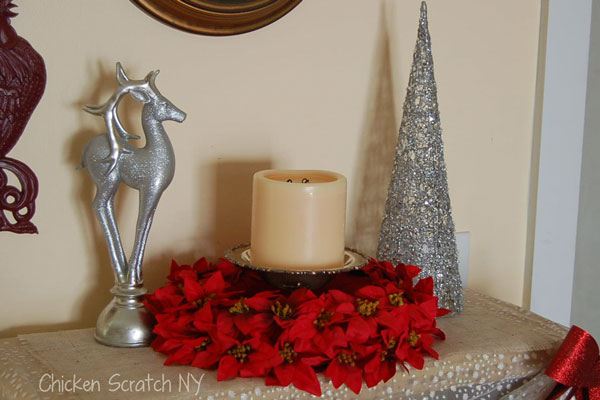 Last year I set it up with a pretty stand and cream colored candle in the center. It would also look pretty under a cake stand, surrounding a clear vase full of ornaments or even a jarred candle. NEVER leave burning candles unattended and keep the flames away from the wreath.
If you wanted to hang it up you should add another row or two of flowers and I think a big white bow would be pretty. As long as you take care not to crush the flowers when packing it away it should last for years