Fall Gold everbearing raspberries were one of the first things I planted when I moved in. I was so excited to have my own home where I could plant whatever I wanted and my mom couldn't stop me!!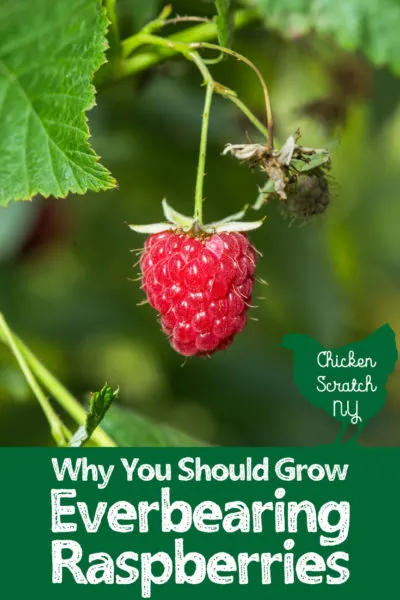 I'm not sure why I picked gold over red but I have always had a thing for oddly colored fruit, probably why my alpine strawberry adventures started with white berries.
About 3 months after I planted them they were all mowed down in an unfortunate incident with a well-meaning helper.
Fortunately they were hardy beasts and the next year I was pleasantly surprised to see they had made a comeback. It's been 6 years since I planted them and I'm still enjoying every single berry.
For some reason, my kids don't trust yellow raspberries which is great for me since they wipe out all of my black raspberries, red raspberries, blue berries and even the purple gooseberries.
I have a large patch of black raspberries growing in my vegetable garden, they are summer-bearing and for a few weeks in the summer, they really steal the show.
But the raspberry season doesn't have to end there! You can add another crop (or two) with the addition of everbearing or fall-bearing raspberries to your garden.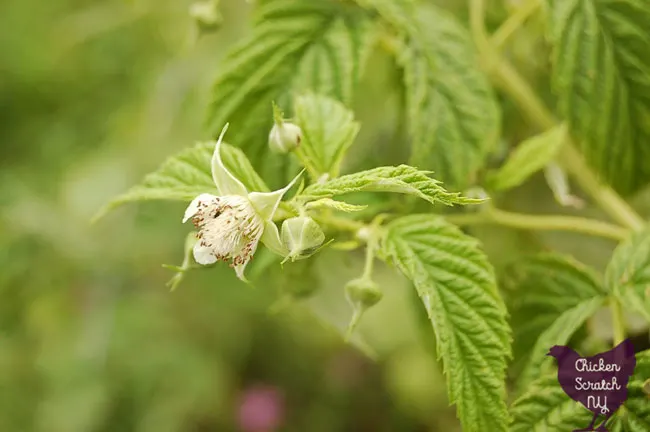 There are two ways to manage a patch of ever-bearing raspberry plants. They're actually described by the two names.
The first method will give you 'fall-bearing' plants. This is my preferred method. At the end of the season when all the berries are picked you cut everything down. You can even do it with a mower!
You don't have to pay attention to first or second-year canes like with summer bearing raspberries and clean up can't get any easier.
The downside to this method is a single crop of berries. Personally, I don't mind. There is enough going on in the summer that I don't miss an early berry crop.
It's also great if you happen to lose most of your canes to winter rabbit damage, you're still promised a batch of berries!
When I dug the gold raspberries out of the garden I missed a few and ended up with an accidental summer flush of berries. You can see how different they look from the black raspberries!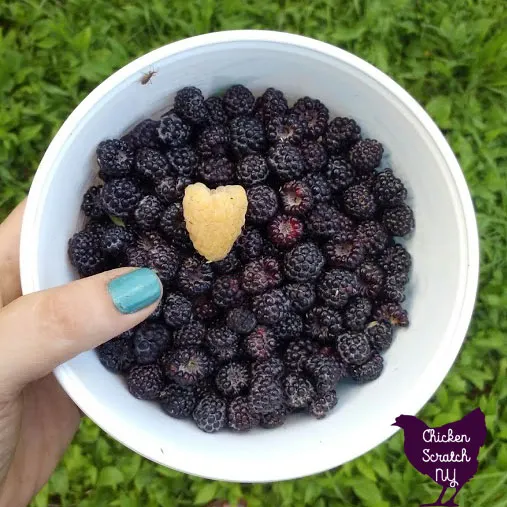 The other method will give you two crops of berries, aka 'ever bearing'. The first crop the canes produce will be during the fall at the top of the canes, after fruiting cut the canes below where they fruited.
The next year the canes will produce another crop from the lower buds. Then you can cut them down.
When you cut the canes down you want to get close to the ground. You want the new canes to come up from the crown/roots not from the stub you left.
There is another amazing characteristic of everbearing raspberries that makes them perfect for the lazy gardener. Fall-bearing raspberry varieties tend to be shorter than summer-bearing.
I don't have anything to support my fall gold raspberries and they couldn't be happier. They get about 2.5-3 feet tall with stocky stems that support themselves well.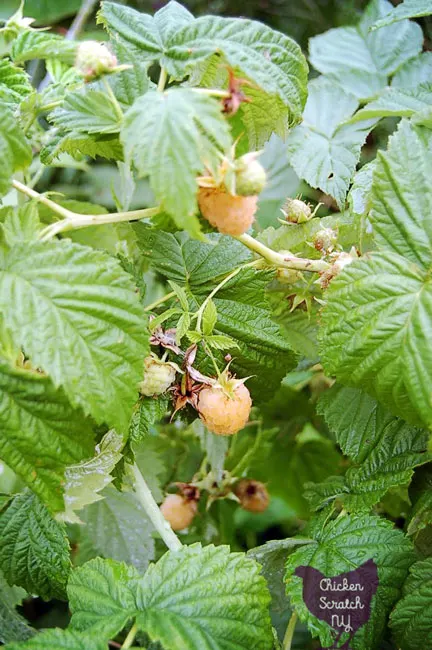 If you have the room and you can get your hands on some Fall Gold raspberries I wholeheartedly recommend you plant them. The berries are large, soft, and sweet.
They would never survive a commercial operation, they barely survive the walk into the house (that may say more about me than it does about the structural integrity of the berries…)
I've only grown one variety (just lots, and lots of them!) of fall-bearing raspberries but this year I plan to add a few more. I have my eye on Heritage, Double Gold (which is actually pink!), and Caroline.
---
Check out my Vegetable Garden page for more ideas or start here: