I got an Instant Pot for Christmas/Valentine's Day (because those suckers are expensive!). If you aren't familiar, the Instant Pot is a crockpot for people who can't plan ahead. I'm still in the experimental stage but I've made this Instant Pot chicken dinner recipe a few times and it always turns out perfect. I call it 123 Chicken because I'm too tired to be creative.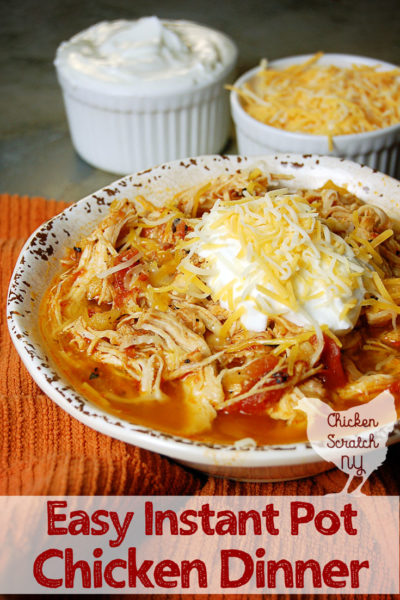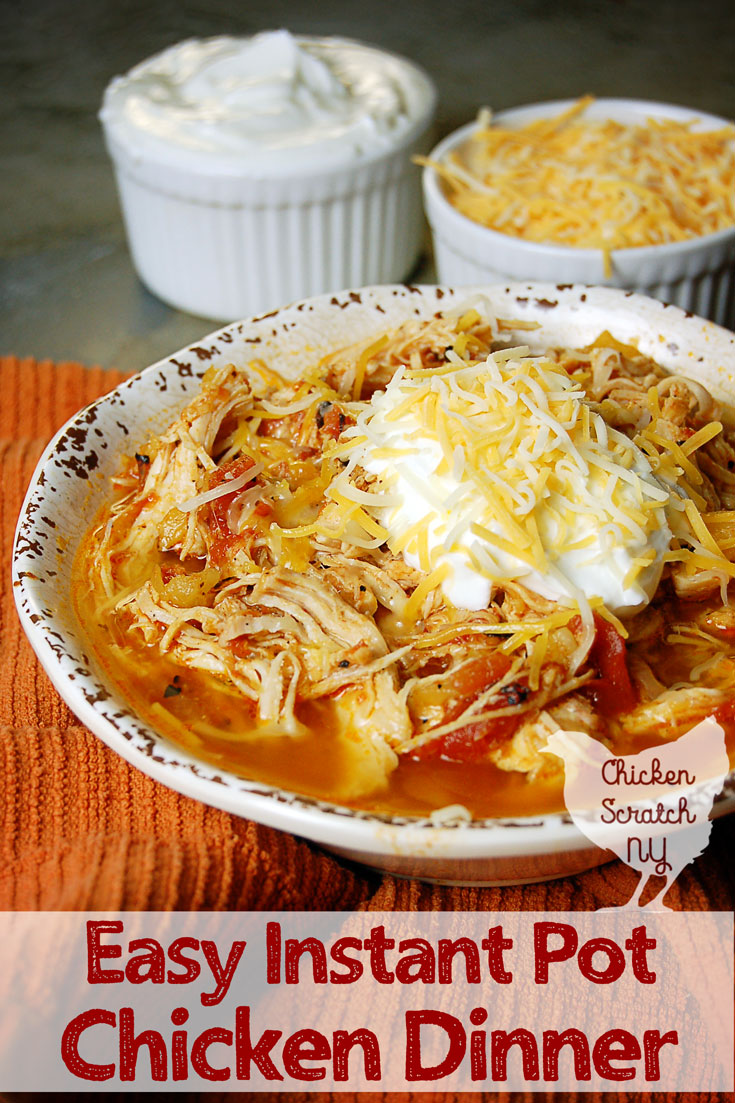 I eat a lot of chicken, my old go-to is Maple Chicken & Potatoes One Pan Dinner but sometimes I'm not in the mood to peel things or I have chicken nuggets in the oven. Enter, the instant pot. I have the 8qt Duo Instant Pot. They go in and out of stock on Amazon constantly.
I actually asked for the 6qt but by the time my boyfriend ordered they were out again so he bought me the 8qt instead. That being said all my recipes are made and tested in an 8qt pot. I don't have the money to buy a 6 qt so I can test in that size.
The instant pot cooks via steam pressure so they should work out to be about the same but the smaller pots may cook faster or not be able to hold all of the ingredients. I'm not an expert, just a chick in the kitchen with a pressure cooker. From the time I close the pot to the end of the Natural Pressure Release was 55 minutes.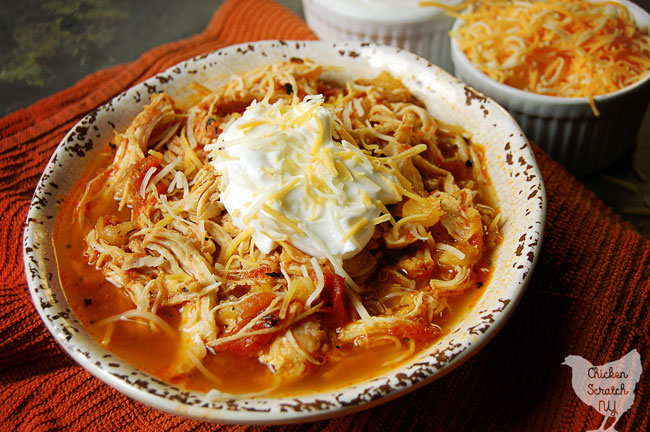 Everything in this dish is stuff I always keep around. I cleaned my pantry the other day and found 14 cans of fire roasted tomatoes from Aldi's. I must buy 2 or three cans every time I go in. They're cheap and I use them constantly. I put them in soup, I use them when I cook chicken in the crockpot. It's an easy way to add flavor.
Crushed pineapple is another thing I always seem to have. I'm not quite as sure on that one. I think it's because my moms zucchini bread recipe calls for crushed pineapple so I buy a can every time I plan on making it.
This recipe combines both of those with a few pounds of chicken breast. The resulting dish is moist and flavorful. It's very adaptable. You can serve it over rice or quinoa. Strain the chicken & tomatoes and it's a great filling for soft tacos. If you add a carton of chicken broth it's a flavorful bowl of soup.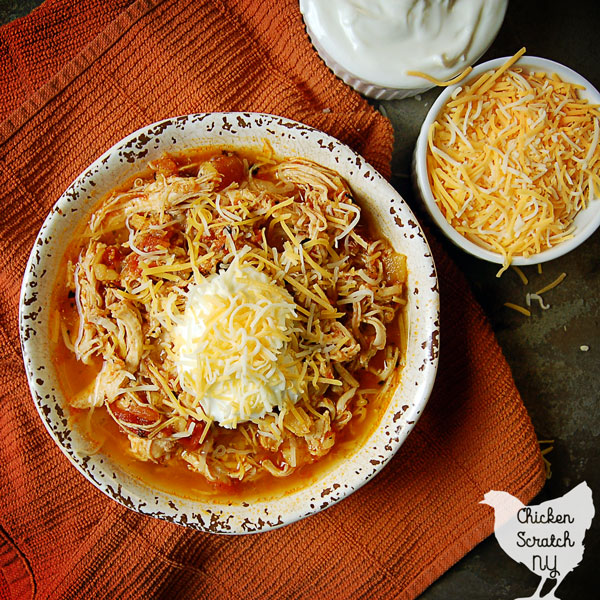 I ate it on it's own topped with left over plain Greek yogurt from the Caramelized Onion Dip and shredded cheese.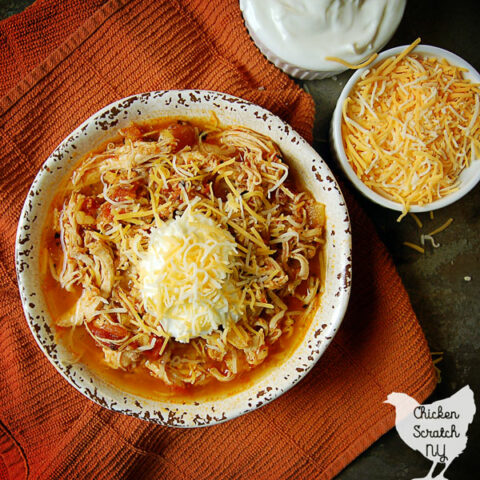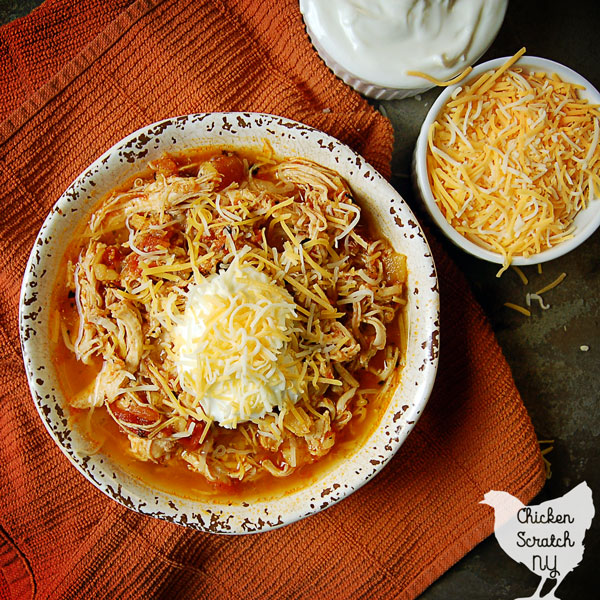 123 Chicken in the Instant Pot
Make a delicious, healthy dinner in under and hour. All you need to do for this instant pot chicken dinner is open 4 cans, pour them in the pot, add chicken and push a button. You'll have a delicious dinner ready to serve in an hour
Ingredients
1 can Crushed Pineapple (20 oz)
2ish pounds Boneless, Skinless Chicken Breast, The amount isn't really important, anywhere from 2-4 pounds will work
3 cans Fire Roasted Tomatoes (14.5 oz)
Instructions
Plug in Instant Pot, make sure liner is in place
Pour pineapple and tomatoes into pot, stir together
Add Chicken breast and put on lid. Move the vent to closed
Select Poultry setting (High Pressure, 15 Minutes) and walk away
Use a Natural Pressure release (aka, ignore it until the pin drops)
Open up the pot and pull out the chicken, it's very tender and a slotted spoon will work better than a fork
Press Cancel and then select Saute, the liquid in the pot will quickly simmer and cook off some of the extra liquid while you shred the chicken
Return the shredded chicken to the pot and stir into the tomatoes
Serve with Greek yogurt and shredded cheese
Notes
*Calories calculated for pineapple, tomatoes and 2.5 pounds of boneless skinless chicken breast
Nutrition Information:
Amount Per Serving:
Calories:

482
Make sure you PIN it for later and check out these recipes before you go: