A few years ago I developed an unheard of obsession with painting things mustard yellow. When I saw that DecoArt had released a line of chalky finish paint and it came in a mustardy yellow color I was perhaps a bit too happy.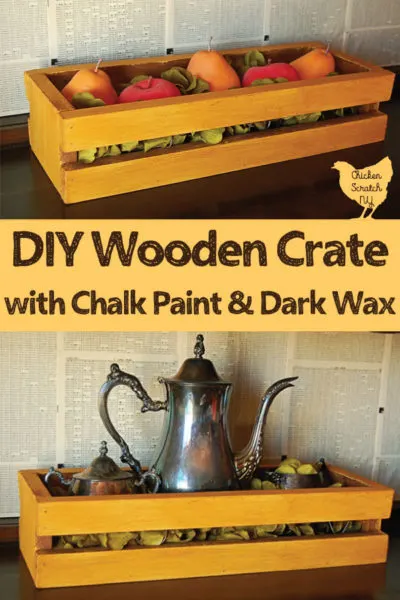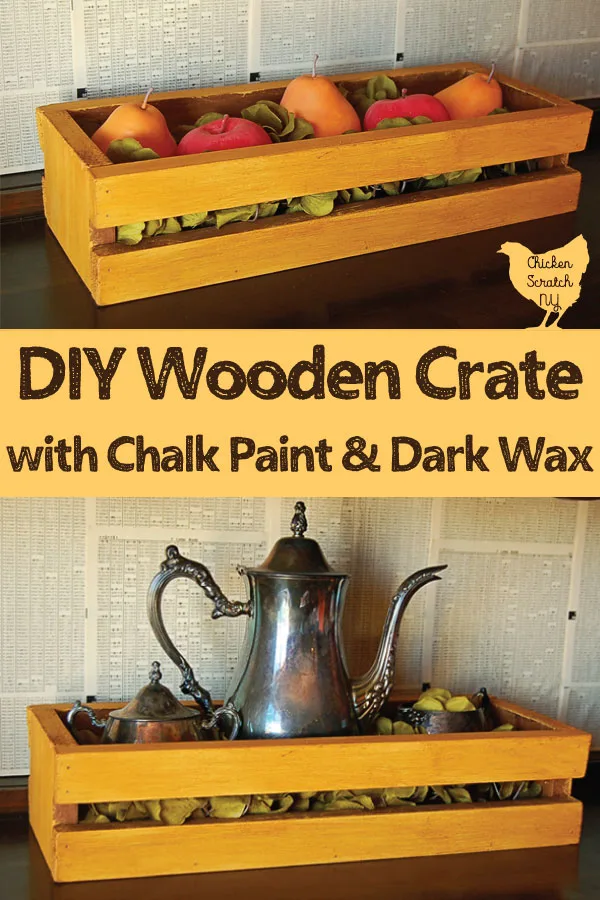 Luckily they were nice enough to send me a jar of it along with a few other goodies to whip up this DIY Wooden Crate ready to take center stage on your Thanksgiving table.
Supplies:
1×6 wood board
1×2 wood board (6 ft length will get you all you need)
Brad Nailer & Compressor or Hammer & nails
Paint brushes
Wooden Crate Instructions: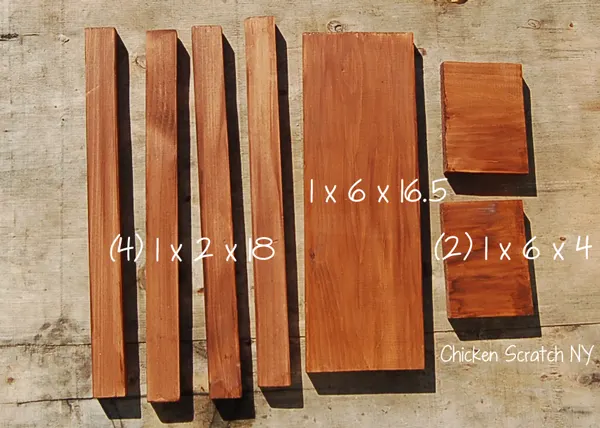 1. Measure and cut your boards:
(1) 16.25 in long 1 x6
(2) 4 inch long 1×6
(4) 18 inch long 1×2
2. Stain all sides of the boards with the gel stain. This was my first time using a gel stain, it has the consistency of paint. I'm still on the fence about it.
I'm used to using a really thin oil based stain that I can slap on quickly. This took longer to put on but the first piece was dry by the time I got to the last and NO SMELL! I think I'll stick to my regular stain for large projects but keep this on hand for smaller stuff.
I was expecting the walnut to be darker but it might have been more of an issue with my application method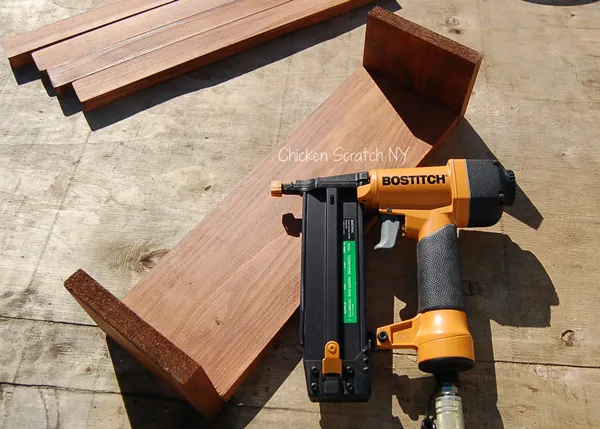 3. After the stain is dry glue and nail the 4 inch pieces to the short ends of the 16.25 inch 1×6.
If you're on the fence about getting a compressor and some fancy nail guns GO FOR IT! I had one project in mind when we bought the set and I was afraid I wouldn't use them enough to make it worth the price but they've been worth every penny.
Literally minutes to staple all the fencing for my 10*30 ft chicken run, plus refilling tires, fencing the garden and lots of odd job building projects.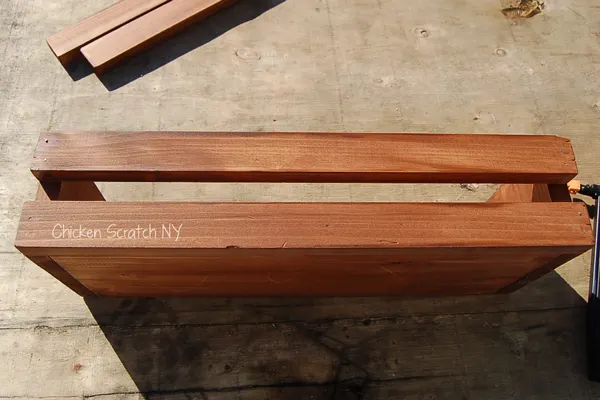 4. Nail and glue the 1×2's to the frame starting at the bottom keeping everything flush, then add the top boards. You should have about a one inch space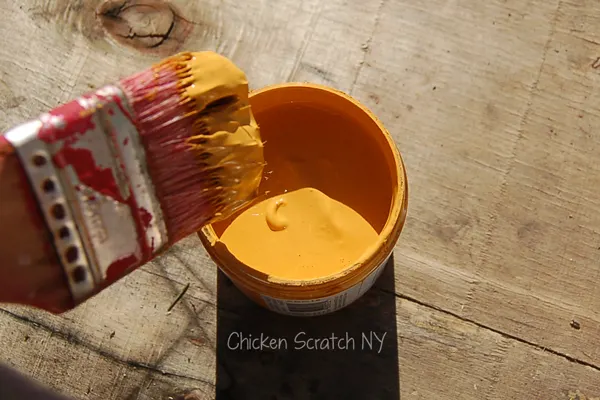 5. Paint the tray with the chalk finish paint. You may be wondering why we didn't paint it first?
I was going for a more rustic look and I didn't want a smooth even finish. I like to use super cheap chip brushed for paint jobs like this because they give you a rustic uneven texture.
I left the inside stain only. Imagine you were going to paint the top and sides with a roller, the areas it would touch are what you want to paint. This was my first time using non-homemade chalk paint.
I had a bit of a heart attack at first, this color (Inheritance) goes on really bright yellow but calms down as it dries.
As I was working on this I also repainted the frame for our giant chalk board and I'm going to play around with distressing that a bit. I really like the thickness of the paint.
When you go homemade there is a 'sweet spot' where the paint isn't too thick or thin but just perfect, this paint hit that consistency right on the head.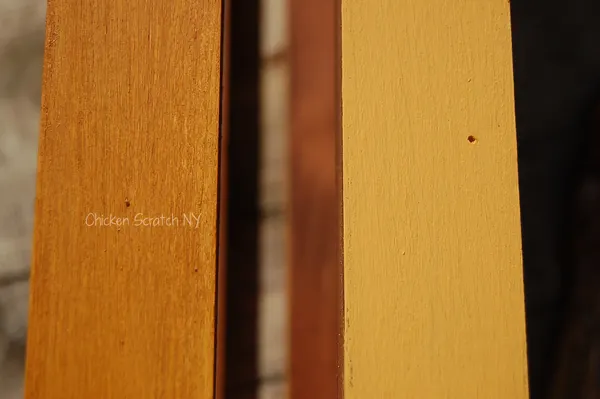 6. When the paint is dry get out another chip brush and dry brush on some golden brown wax, I left the stain-only areas alone and just waxed over the paint. It's amazing how much dimension the wax adds.
It will harden overtime and protect the wood and paint. I love the color depth you get with this wax. I picked the golden brown but there is also a clear wax and a dark brown.
I can see the darker colors working really well as an accent or with darker colors but I think the golden brown is perfect for the mustardy color I used. I barely touched the wax, I can see this little tub lasting for a very long time so I think it's a great investment if you do a lot of wood painting.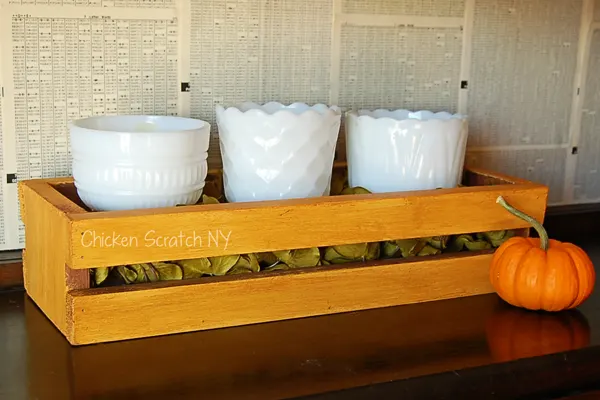 I had too much fun looking around my house for different things to fill up the crate with. My original plan was to use the hydrangeas I dried but my husband threw them out because them were dead. Instead I used some fake green hydrangeas, I pulled them apart and surrounded the three milk glass vases with the smaller bunches.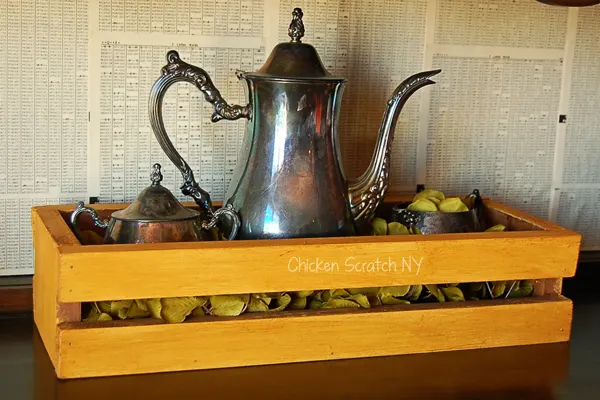 I kept the hydrangeas but swapped out the milk glass for a teapot, sugar bowl and creamer set I picked up at a garage sale this summer.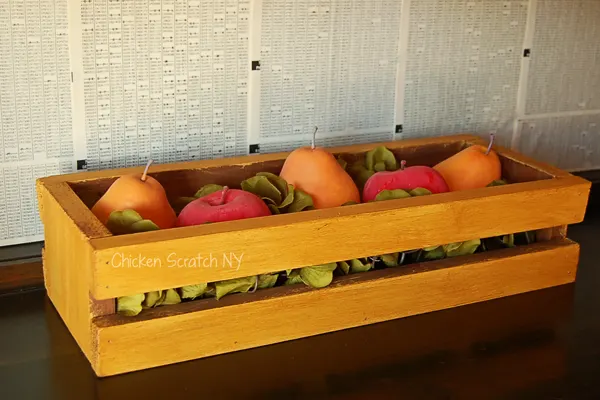 One more with the hydrangeas, this time I filled crate up with the chalk painted fruit I fancied up last fall. I find something unsettling about super shiny fruit.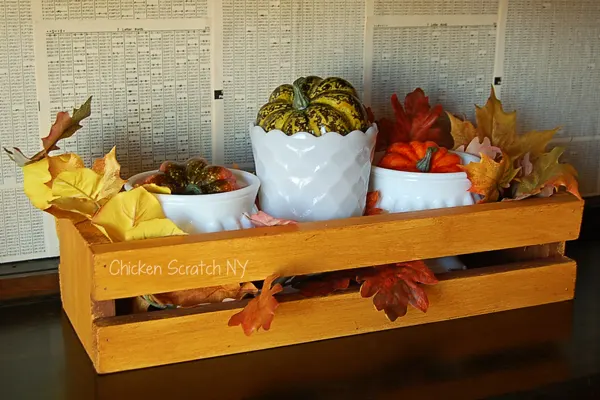 I call this autumn explosion. I pulled out the hydrangeas (the cat promptly knocked them on the floor and them Mary pulled them to pieces) put the milk glass back, tucked in a few stalks of fake leaves and dropped in a few fake gourds I had left over from the witchy wreath.
Don't forget to PIN this to your DIY or Fall Crafts Board! Check out my Autumn page for more ideas or start here: