I wanted to add some autumn flair to my kitchen and I spent all my money of cloth diapers. I headed to the Dollar General (a real $ store where things only cost a dollar) with a $5 bill and a mission. I was looking for some fake pumpkins when I happened upon a few bins of fake fruit. The finish was… well… bad but the shape and size were right on. I knew that a quick paint job would take them from low cost to high class.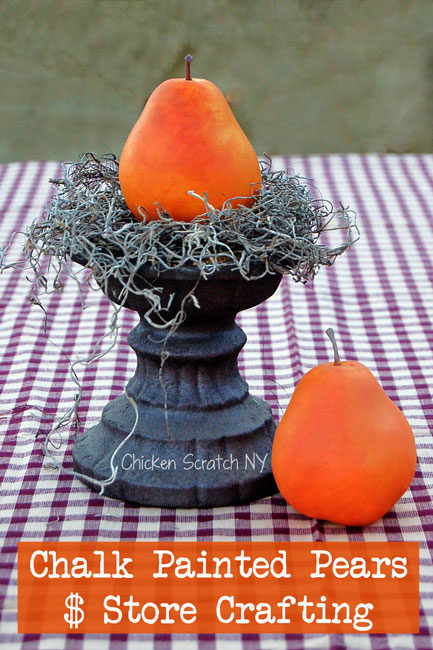 To make your own you will need:
Fake Pears or other Fruit
Plaster of Paris
Craft Paint in colors that match your fruit (doesn't have to be an exact match)
Paint Brush
Plate or something to mix paint on
First tip. Pull the tags off, don't try to cut them because a little piece will remain forever. Ask me how I know.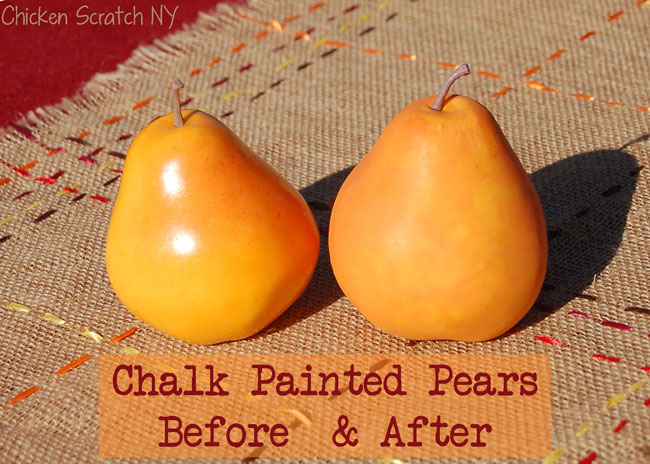 Get out your paint stash and find a color that's pretty close to your fruit color. Squirt a bit out in the plate, sprinkle with some POP and mix it up with the brush. I did the green apple in one green color and mixed 2 colors for the pear.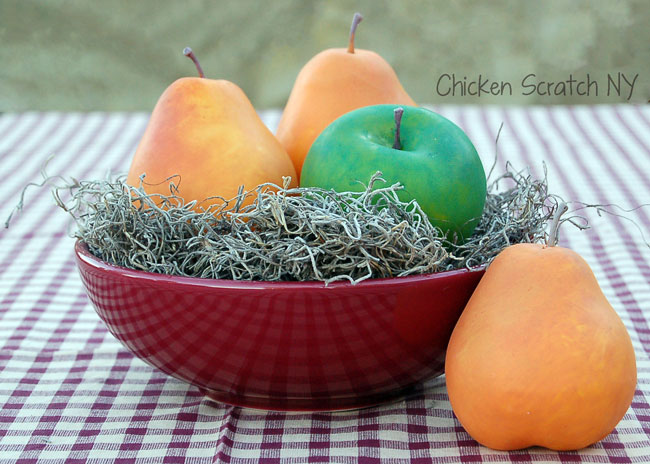 Get most of the paint off the brush, the object isn't to completely cover the fruit, just to eliminate the shine. Dry brush x's all over the fruit to give it a chalky finish.
Let the paint dry and you're all set to fill up a bowl, basket or cornucopia (unless you are like me and can't figure out how to make the stupid think stand up on it's own)need
You might be wondering if you really need the Plaster of Paris, and I'm gonna say yes. Regular craft paint isn't going to give you a chalky finish (unless you happen upon a whole rainbow of pre-made chalk paint colors) and that's critical to the overall outcome here. In my opinion, the matte finish works to absorb the light while the shiny come-as-you-are- finish creates icky glare that is unattractive to look at and even worse to photograph.
Looking for more Chalk Paint projects? Check these out: Refinished Flower Pot Chair, Barn Red Bookcase
Kitten Update – 2 are confirmed cuddle monsters. One just learned how to climb the couch and spent the evening alternating between walking across the key board and trying to flop-roll on my belly and almost falling of the couch. They are all getting more playful and had a good time terrorizing a jingle-bell I found for them. Even the little twisty kitty was playing with a peacock feather tonight and rolling around on his back so he could play with his good front legs.