This is the perfect cocktail for midnight smooches under the mistletoe with your special someone. Mistletoe Kisses has a lovely balance of Irish Cream, Green Creme de Menthe, and White Creme de Cacao that will leave you wanting more.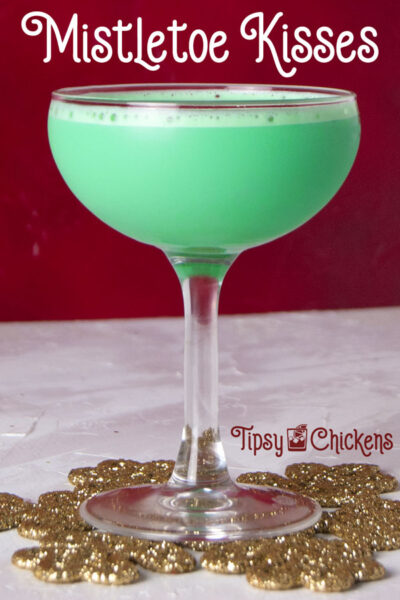 I really wanted to call this "Meet Me Under the Mistletoe" after my favorite Christmas song, sung by the one and only Randy Travis. An Old Time Christmas and the scent of a fireplace are all it takes to transport me to my own personal winter wonderland.
Unfortunately, once I say the words 'meet me under the mistletoe' I have to sing the rest of the song. It would make writing this post way too difficult so I went with Mistletoe Kisses.
---
This recipe was originally posted on Tipsy Chickens, my 2nd website
---
The Booze
The star of this drink is the Creme de Menthe, it's responsible for the pretty green color and that minty tingle.
You can also find clear versions if you're classier than me and you aren't feeling the neon color.
The sneaky behind-the-scenes player here is white creme de cacao, not the brown one! It adds a subtle sweetness and plays up the chocolate notes in the Irish Cream.
I used dark creme de cacao in my layered grasshopper shots, where creme de menthe also made an appearance.
But this drink isn't just a giant grasshopper shot. The heart, soul, and booty of this drink comes from a bottle of Irish Cream.
Irish cream is a seductive combination of whisky and cream. It has chocolatey notes along with vanilla and a hint of coffee, all flavors that play well with mint.
It has a very silky texture, Charles Boyle would enjoy the mouthfeel.
I think this drink comes together best if shaken, the Irish cream is fairly heavy and a good shake will get everything mixed up. Strain it into a pretty coupe glass and find your sweetheart under the mistletoe.
Yield: 1 Drink
Mistletoe Kisses - Chocolate Mint Christmas Cocktail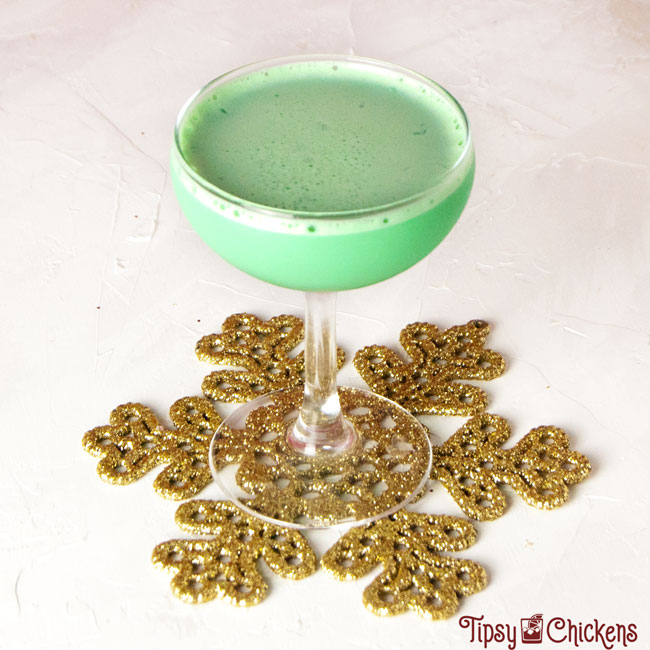 Pucker up with a minty chocolate cocktail perfect for sipping under the mistletoe this holiday season!
Ingredients
1.5 oz Irish Cream
1 oz Green Creme de Menthe
1/2 oz White Creme de Cacao
Ice
Instructions
Combine all ingredients in a shaker with ice
Shake until frosty
Strain into chilled coupe glass
Recommended Products
As an Amazon Associate and member of other affiliate programs, I earn from qualifying purchases.
---
Check out my Christmas Page for more ideas or start here: