There are no people like snow people! I like to decorate with snowmen, women and children because they can carry your from Thanksgiving through the winter months (technically we've already had snow this year so I can put mine out now). I hope you find some snowy inspiration to get your crafting juices flowing with this collection of snowman crafts & treats.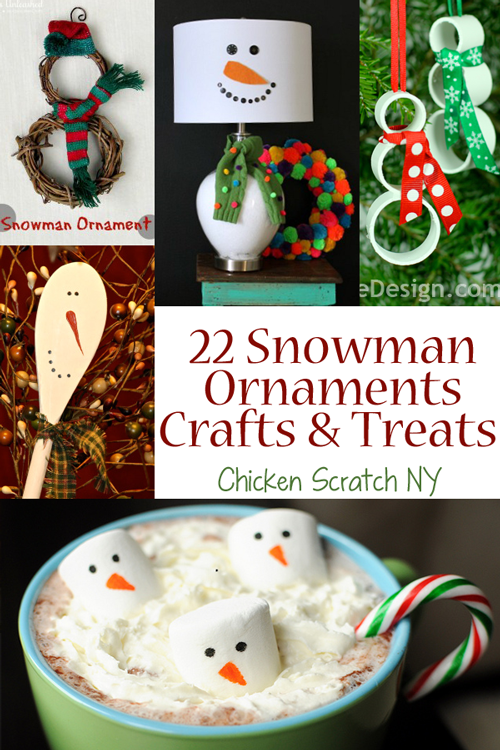 If you're looking to add some friendly snow folks to your home you've come to the right place! I've searched the web and I've found 22 tutorials for DIY snowmen. I even threw in some yummy edibles to round it out.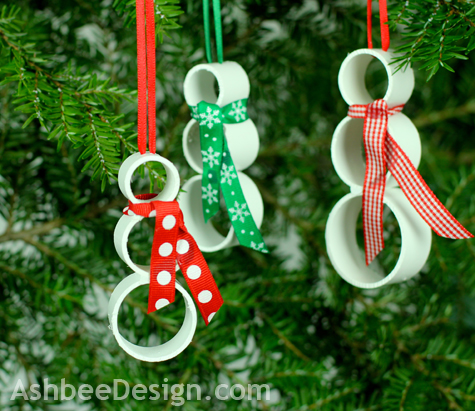 PVC Snowman Ornaments from Ashbee Designs – I've never looked at a PVC pipe and thought "hey, I'm gonna make some ornaments out of that" until today. I really like the simplicity of these guys and how easy it would be to make a full set with different scarves.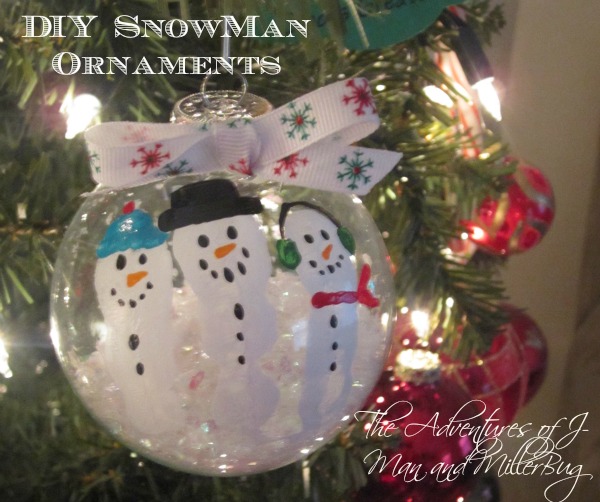 Fingerprint Snowman Ornaments from The Adventures of J-Man and MillerBug – I love the idea of making these every year as the kids age. I don't know if we could ever use glass though, it seems like some thing is always climbing the tree!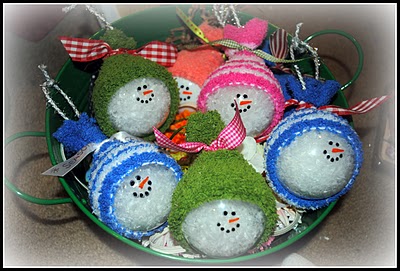 Snowman Face Ornaments from Simply Cute Creations – There are a lot of snowman face ball ornaments out there, what makes these stand out are the baby socks for hats! I haven't even had the baby yet and my house is already over run with them.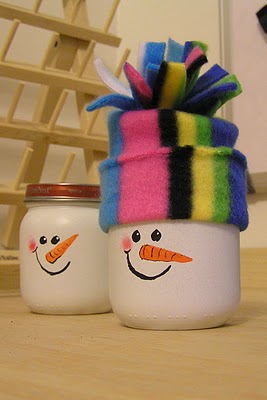 Baby Food Jar Snowman Ornaments from Stare If You Must – Upcycling is always a good thing, and I love his cute half smile.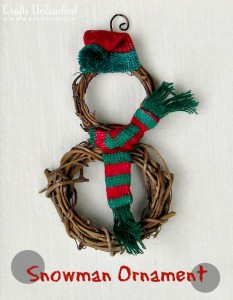 Grapevine Mini-Snowman Ornament from Crafts Unleashed – I have a bunch of mini-wreaths I bought to make ornaments from, now I want to find smaller ones so I can make these instead!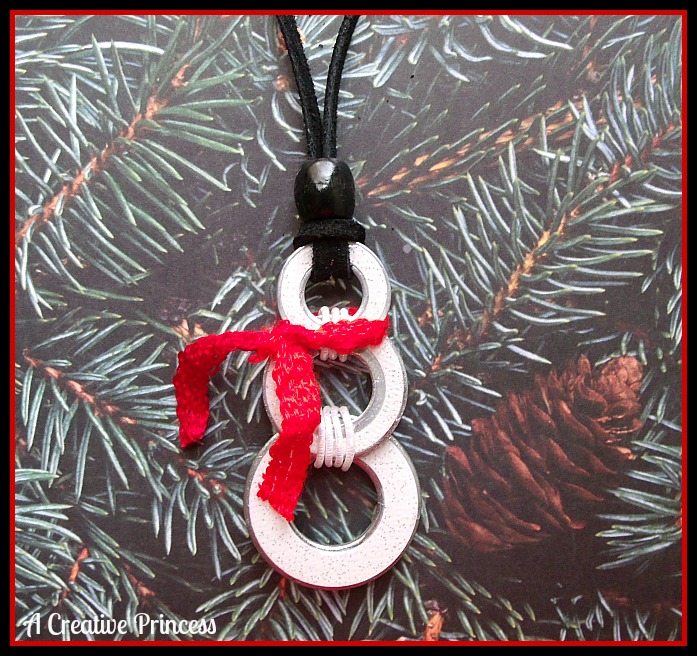 Snowman Washer Necklace from A Creative Princess – Looking for some casual holiday jewelry that doesn't flash or sing? This is the perfect craft for you!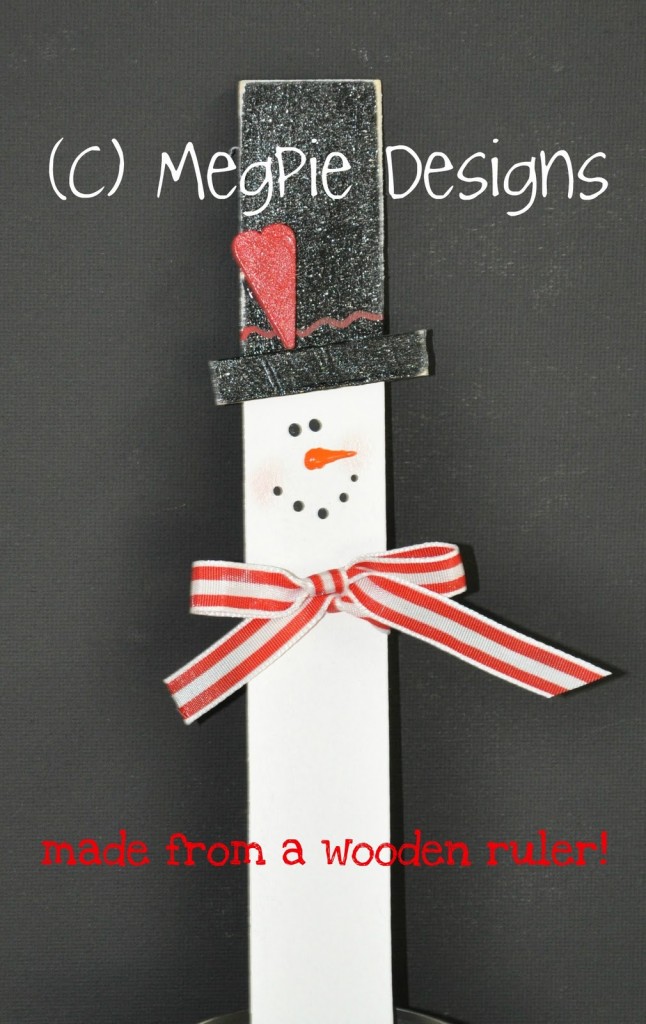 Ruler Snowman from Megpie Designs – I just found this site and I'm overwhelmed by all of her amazing hand painting tutorials. It's something I've never been brave enough to try (don't ask me why, there is almost no way I could actually hurt myself doing it) but I'm always drawn to the style.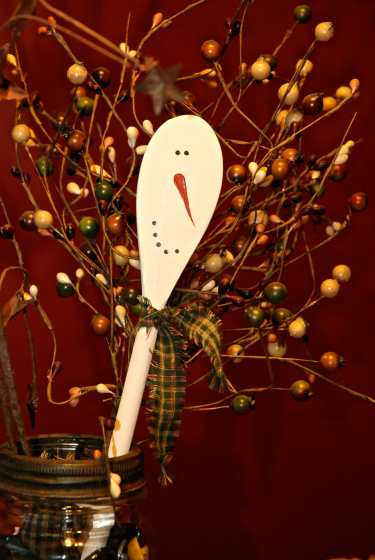 Snowman Spoons from Eyeballs by Day Crafts by Night – Don't you just love this sweet little guy? You can pick up these spoons for super cheap too so they would make cute gift-wrapping additions.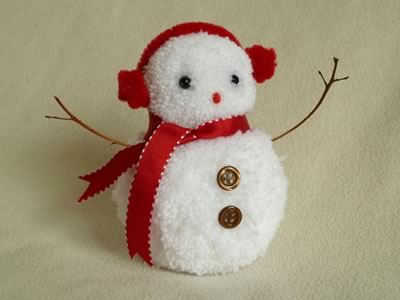 Pompom Snowman from Homemade Gifts Made Easy – Look at his little nose! You could whip up a bunch of these sitting in front of the TV at night.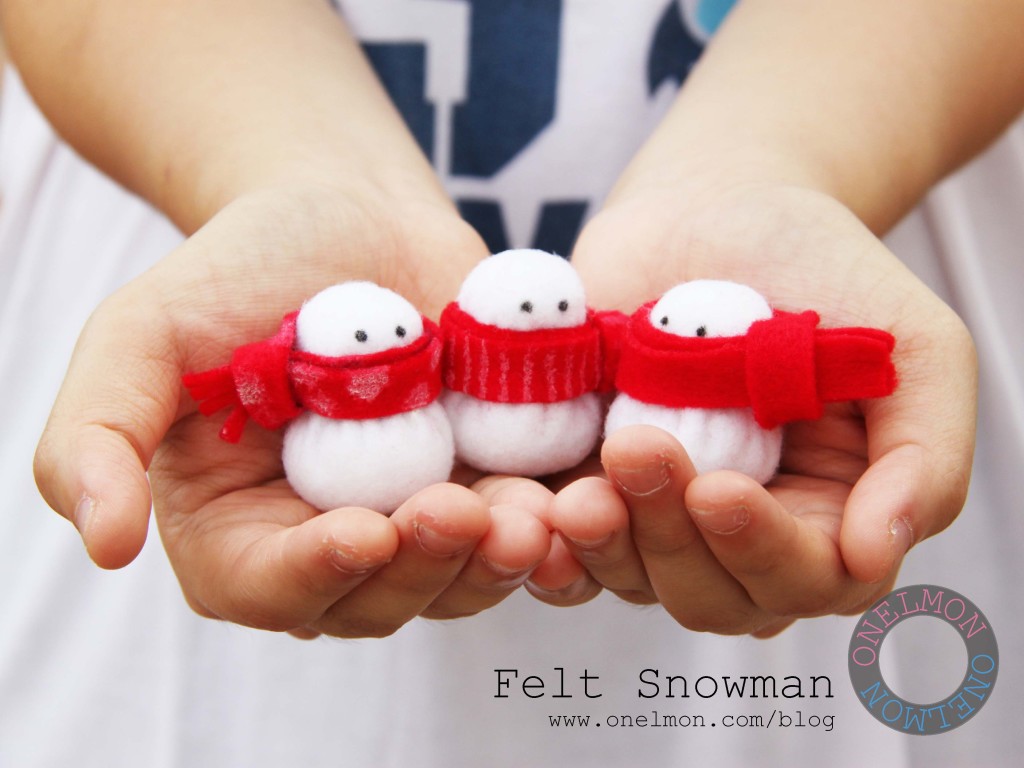 Felt Mini Snowmen from Onelmon – I usually prefer my snow people with noses but for some reason I don't really mind these not having one. It helps that they are made from felt (my A+ fabric choice for ornaments and fiddly stuff) and freakin adorable!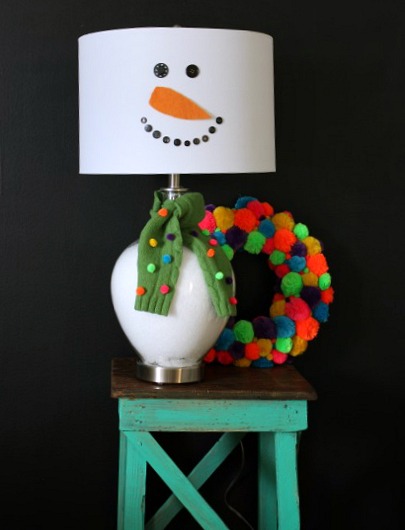 Snow Lamp from DaisyMaeBelle – While it looks best with a white base, you could totally do this with any white lamp shade. The little pom pom scarf just makes it better.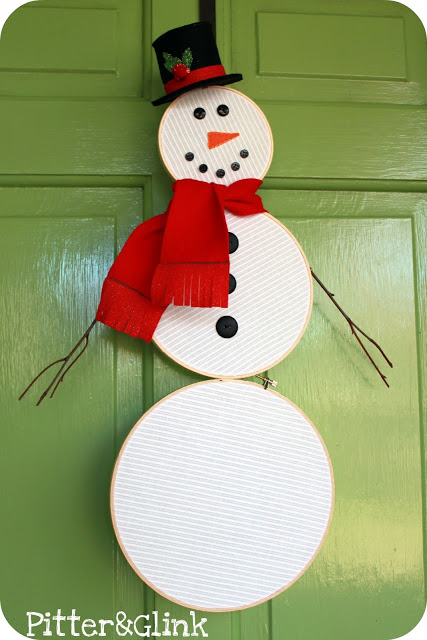 Embroidery Hoop Snowman from Pitter & Glink – This is one of the simplest snowmen out there, if you can hoop fabric you can make this.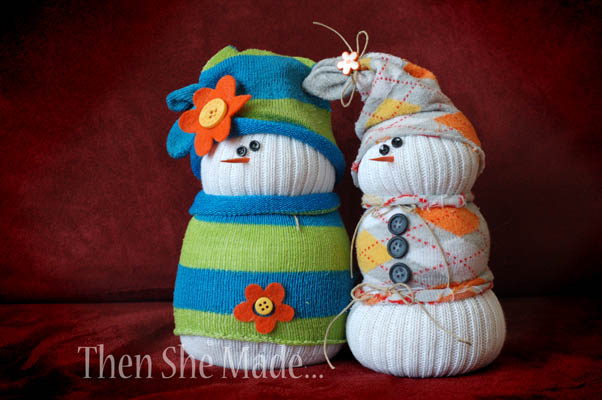 Sock Snowmen from Then She Made – My favorite is the stripey one, who says snowmen need three balls? The really awesome part is you can make them from the lonely socks with lost mates.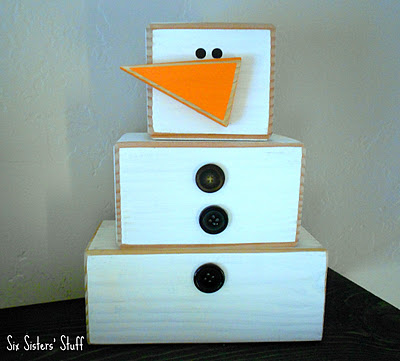 Wooden 4*4 Snowmen from Six Sisters Stuff – If you've been here before you know I've got a thing for scrap wood. I love this little guy, especially the sanding around the edges and his little nose!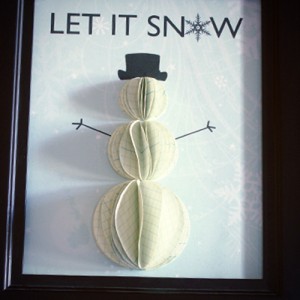 3D Framed Snowman from Saved by Love Creations – This is an easy paper product that requires no fancy computerized equipment. All you need is a few hole punches and some glue.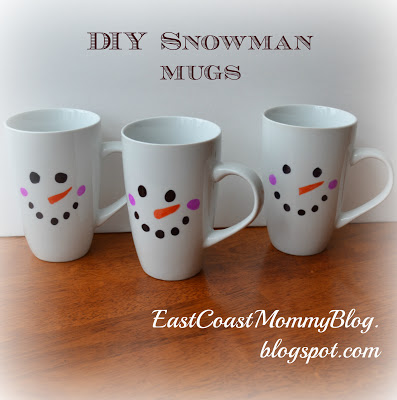 Snowman Mugs from East Coast Mommy – Winter and coffee mugs are like pickles and ice cream (that's a joke, I have eaten more pickles than I can count this pregnancy and more ice cream than healthy but not together) they're really like puppies and cuddles. I can barely survive without something hot to drink.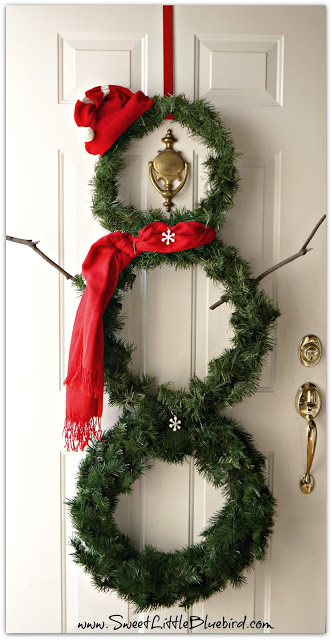 Snowman Wreath from Sweet Little Blue Bird – This is one of those projects that I've seen dozens of variations on and they're all adorable. Who wouldn't want to be greeted by this guy?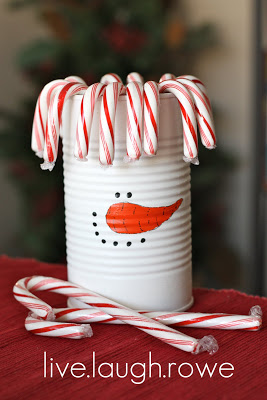 Frosty the Snowman Soup Can from Live. Laugh. Rowe – Such a cute project from something we all have any way. I could make a hundred from cat food cans right now!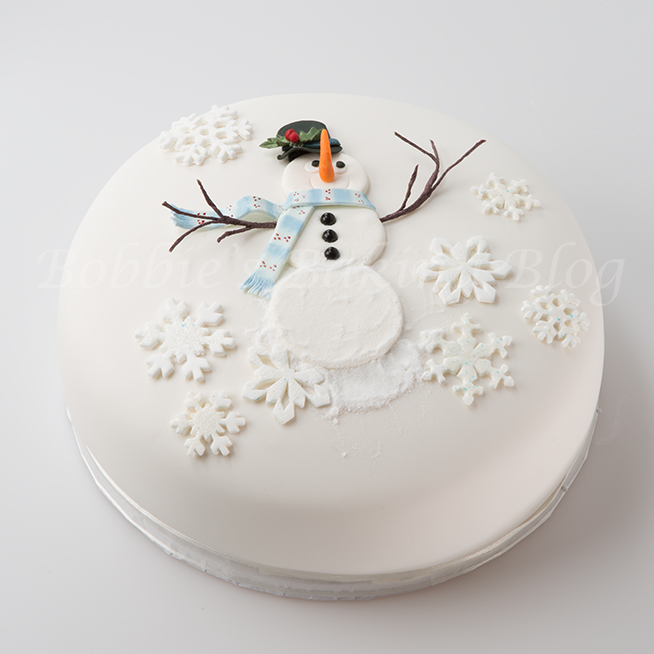 Snowman Cake from Bobbies Baking Blog – This isn't for the faint of heart, this is a cake you probably won't be making without some experience and investment in tools but it's still pretty to look at!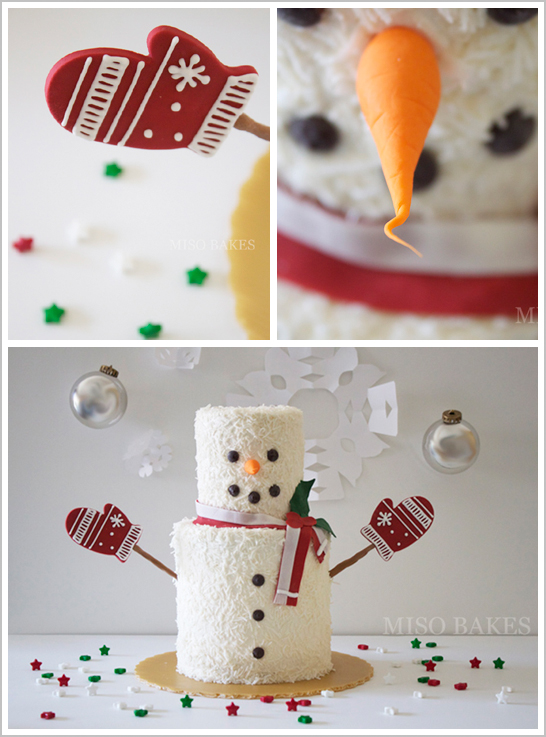 Snowman Cake from The Cake Blog – A little easier than the first cake, this guy is made with 4 and 6 inch rounds. My favorite part in the sweet carrot nose.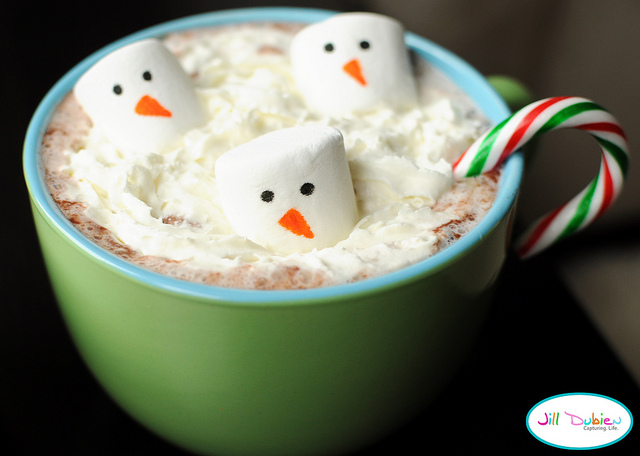 Snowman Hot Chocolate from Meet the Dubiens – All you need to whip up this is treat is a set of food markers and some marshmallows. This is a treat I could see myself making again and again.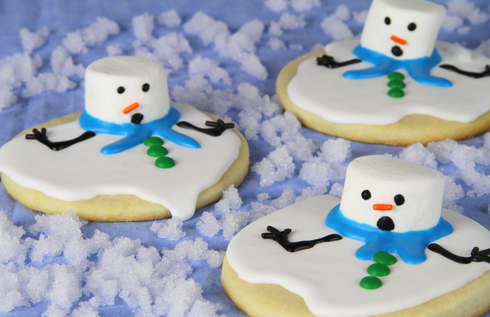 Melting Snowman Cookies from Sprinkles & Grins – The first time I saw cookies like this in a magazine I squealed and ran to show my husband while jumping up and down. I'm not sure why I love them so much (maybe it's even a bit morbid) but I can't get over how cute they are!
–