This Birth Information Ornament will make a perfect holiday gift.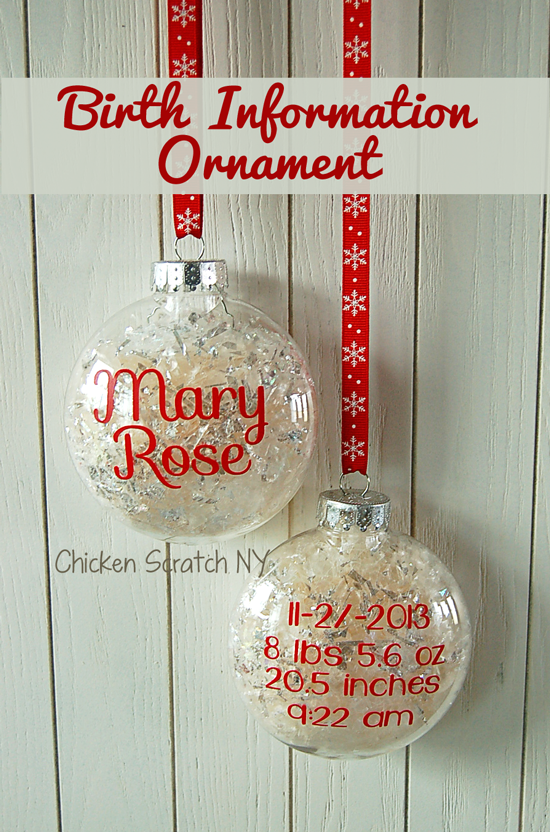 We had a baby explosion in my family last year (4 baby girls born within 10 months of each other!) and I know all the moms, dads, grandmas and grandpas will enjoy hanging these ornaments on the tree year after year. When I was growing up my mom had metal ornaments for my sister and I with our birth weights, lengths and times one them; I was always fascinated that they knew the exact time I came into the world!
The supplies for this project are cheap and easy to find but they represent priceless memories so you might as well make a bunch
Supplies for each ornament:
Flattened plastic ball ornament (I bought mine at Micheal's)
Vinyl
Transfer tape
Silhouette  + Mat + Silhouette Studio
Fake snow
Funnel
Vinyl Instructions:
Set up a 3 inch circle, you can make a perfect circle while holding down the shift key (it also works to make a square)
Duplicate the circle so you have two, one for the front and for the back
Set up the name, as large as it can be to fit in the circle. I used the font Sofia for the name (don't forget to weld it!)
Set up the back information, I used the font KG Dark Side. I found that it fits best in the following order
Cut out using the vinyl presets
Weed the vinyl, pulling off the circle and leaving behind the letters, remove the insides of the letters.
*I had to cut a few replacement letters, the silhouette hiccuped and didn't cut all the way through the spaces inside the e and o. After editing all these shots I realized the top of the 7 got ripped off so that needs to be replaced too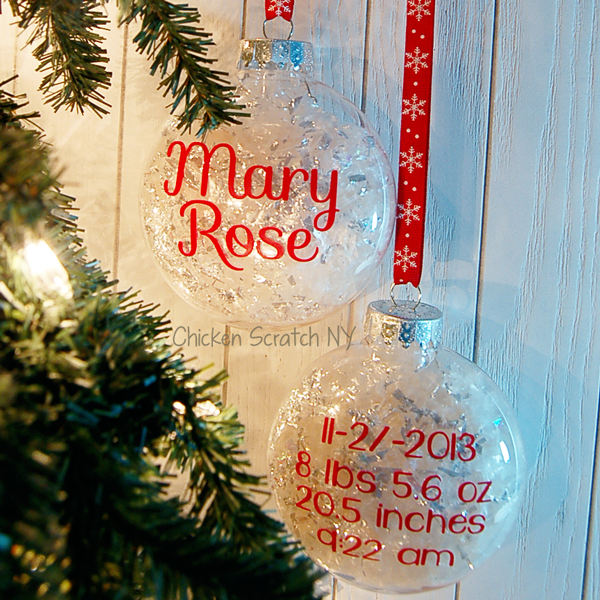 Ornament Instructions:
Eyeball the center of the ornament, it's important to get it centered because the ornament is flatter in the middle and won't bubble as much
Transfer the vinyl design to the ornament using transfer tape
Smooth down by rubbing with your fingers in small circles all over the design
Remove the top of the ornament and fill with fake snow. I used two types, one was iridescent and one was basically shredded plastic. FYI if you're in a pinch don't have any fake snow then feel free to chop up some clear plastic bags
Replace the top and shake, the snow will settle and you'll need to add more (you might need to do this a few times)
Looking for more Silhouette Projects?
My Silhouette Challenge buddies and I are all sharing projects on our blogs today, so peruse the projects below for a wealth of Silhouette inspiration!
1. Get Silvered // 2. My Paper Craze // 3. unOriginal Mom // 4. Creative Ramblings // 5. Chicken Scratch NY // 6. Pitter and Glink // 7. Ginger Snap Crafts // 8. Architecture of a Mom // 9. Silhouette School // 10. McCall Manor // 11. Just a Girl and Her Blog // 12. Weekend Craft // 13. Rutchee Design // 14. Adventures in All Things Food // 15. My Favorite Finds // 16. Please Excuse My Craftermath // 17. Simply Kelly Designs // 18. Dragonfly & Lily Pads // 19. Practically Functional //