I recently joined a Silhouette Group on Facebook. I've had mine for over a year and I've only used it a few dozen times, that's pretty awful for such a versatile (and expensive!) machine. For my first project I wanted to do something I've never done before. I love all the designs with stacked paper, different pieces cut and glued/taped etc together but I'e avoided them in favor of things I can cut in one piece and use.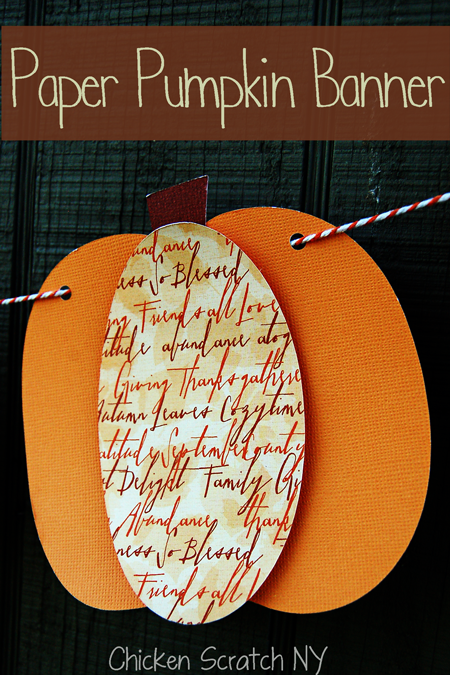 To make your own paper pumpkin banner you will need:
After you buy and download your shapes open up the file. Obviously you don't want all the pieces to be the same color so you need to split up your shapes. [1] Click on the shapes to select them. [2] Left click on the shapes to select then RIGHT click and select "Ungroup". With this design I had to ungroup twice, the 1st time separated the little holes from the other designs, the 2nd time pulled all the pieces apart.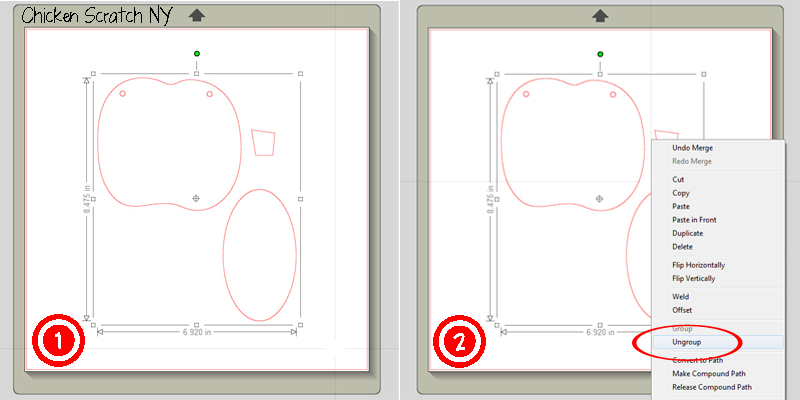 [3] Draw a box around the large pumpkin shape (you will automatically select the 2 little holes) RIGHT click again and select "Group" (I had already removed the other pieces when I took this screen shot, I'll go over that in a sec). This makes the pumpkin and the 2 little holes onto one piece again, if you skip this step and try to move the pumpkin the little holes won't go anywhere. [4] I wanted to cut as many pumpkins as possible on each sheet so I copied and pasted until I had 4 pumpkins. To copy: select your shape and hit [Ctrl + C] or RIGHT click and select [Copy]. To paste: select your shape and hit [Ctrl + V] or RIGHT click and select [Paste]. Move your pumpkins around until they aren't touching and are evenly spaced.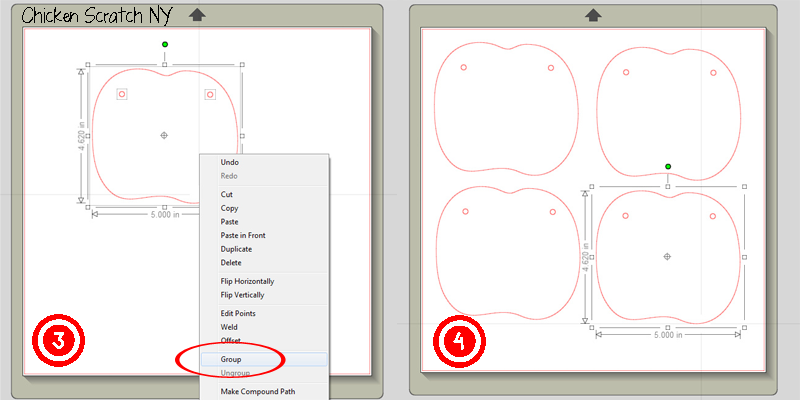 You might be wondering how I got rid of all the other pieces. Start by opening up a new window. Click back over to your original page. Select the stem shape. 'Cut' the shape by selecting it and clicking [Ctrl + X]. Your shape should disappear so don't panic! Paste your shape into the new window. Open another new window and do the same with the oval front pumpkin.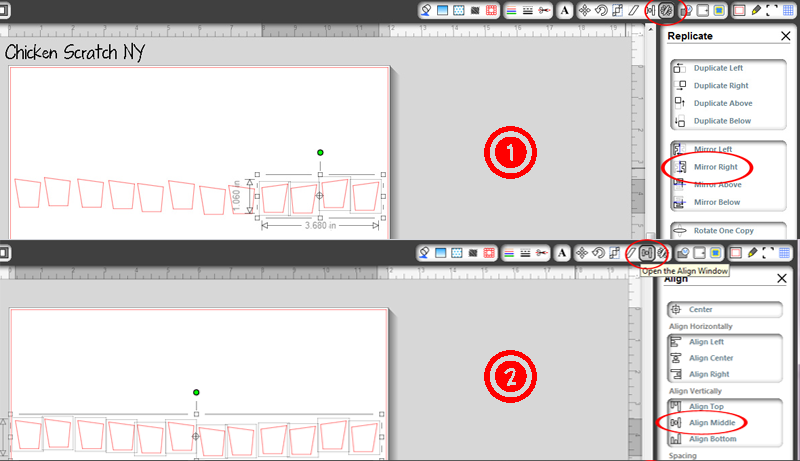 This is a little bit confusing and I'm sorry the picture is so huge. Since I cut 12 pumpkins I needed 12 stems and I wanted to cut them all at once. In my new window I 'pasted' until I had 8 stems then [1] drew a box around 4 and opened the "Replicate" window (it looks like a flower) and clicked "Mirror Right". I ended up with 12 stems, 8 facing one way and 4 facing the opposite way. Don't worry about them all lining up, we'll fix that in a second. [2] Now draw a box around all of the stems and switch to the "Align" window. Click "Align Middle" to bring the stems all into a line.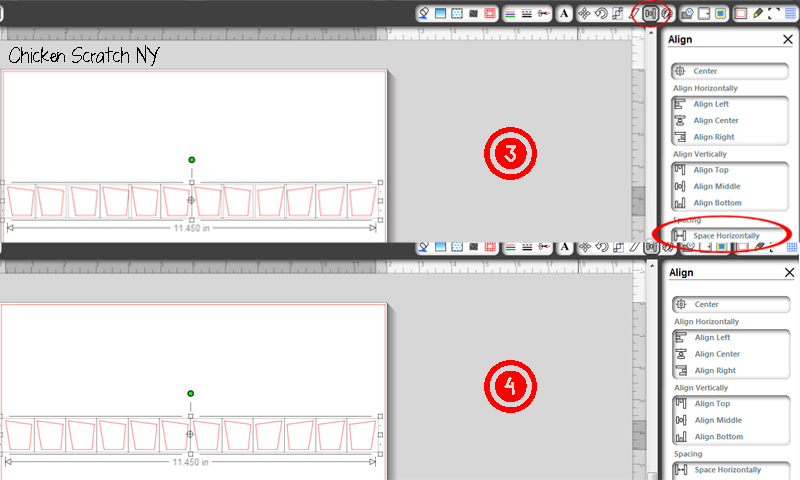 [3] T0 spread them out and easily make sure nothing in overlapping select "Space Horizontally", this command spaces them evenly from the left-most to the right-most object, if you need more room drag one of your outside stems further away and repeat the command. [4] Now all your pieces should be lined up and spaced out. Draw a box around all the stems and drag them to the top of the paper. Cut them out like normal.
I used a brand new mat and even after cutting all of the backs and stems out of heavy textured card stock I had a terrible time removing the printed paper and my pieced ended up very curly. I pressed them in a book overnight to flatten the pieces. After ruining one sheet of paper I dabbed the mat with a clean t-shirt to remove some of the crazy stickiness, I still had curling paper but I was at least able to remove everything on one piece!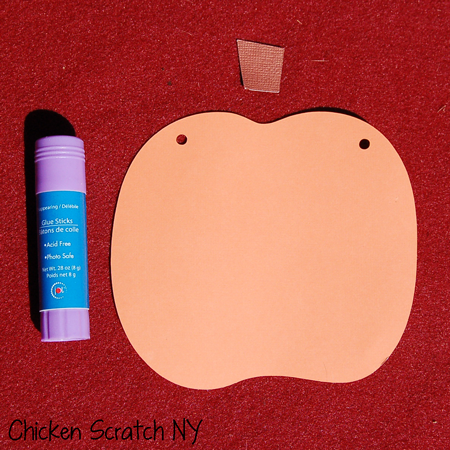 I used the glue stick to attach the stems to the tops of the pumpkins. Then I used 1/4 adhesive foam squares to attach the front of the pumpkin to the the back. I found it works best keeping the foam squares at least 1/2 an inch from the edge of the paper.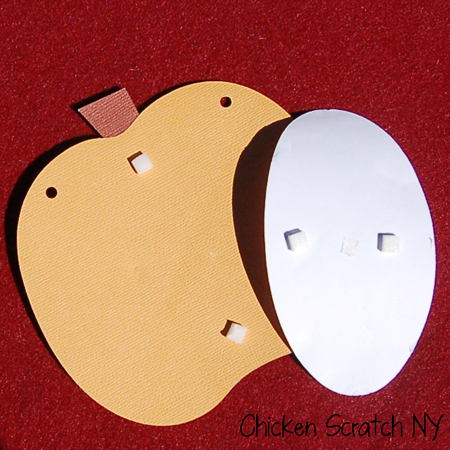 Even after spending the night in the giant book the were still a bit wiggly but I decided that added to the charm. I wanted to keep mine bright and clean but you could easily ink around the edges to add some dimension. The "floating" pieces were enough for me.

I wanted to put my banner across the top of the hutch so I cut a piece of orange bakers twine long enough to give me an appealing arc and started stringing. I prefer using odd numbers for stuff like this, you never end up with a blank spot in the center. Since the pumpkins are actually pretty big I ended up using 7 out of the 12.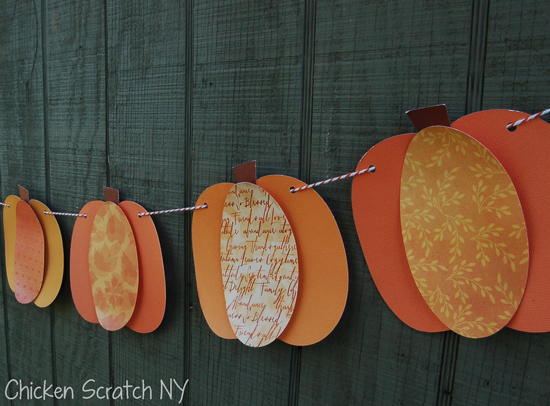 This project is part of The Silhouette Challenge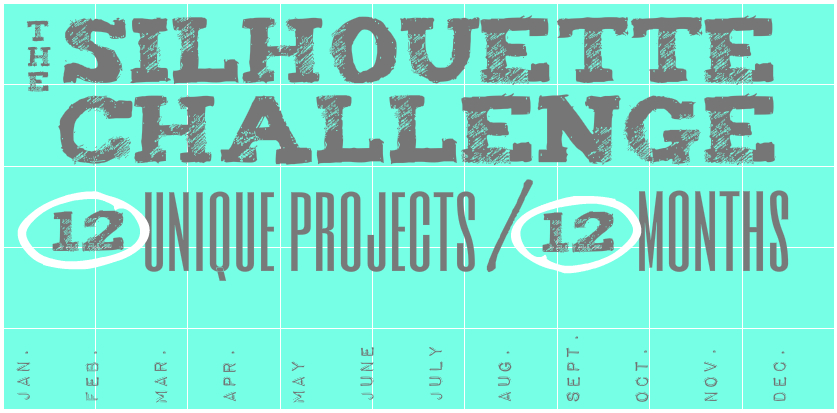 You can find 21 more Silhouette projects here:
Organizing for Preschool by Life After Laundry
Strawberry Shortcake Party Favors with Silhouette Seed Packets by It Happens in a Blink
Look At Me! Vinyl Decal with Free File by Get Silvered Craft
Stamped Wrapping Paper Tutorial by The Thinking Closet
Titi's Freezer Paper Stenciled Butterflies Onesie! by TitiCrafty
Gender Reveal Fabric Banner by Create & Babble
Monster Crossing Test Tube Holder by My Happy Place
Preschool Lovey Book by A Tossed Salad Life
Front Door Sign by Cutesy Crafts
A Stache Bash Shower by Home At Eight
Fall Decor with the Silhouette by Coley's Corner
Happy Fall Y'all by Tanya's Creative Space
Crafting for Disney: Stroller Signs & Kid Shirts by From Wine to Whine
Halloween Lights by Lil' Mrs. Tori
Customized Disney T-Shirts by DailyDwelling
Craft Room Labels by Super Sweet Life
Tried & True Coloring Print In 3D! by Tried & True
Clean Eating Menu Planning and Magnet Board by The House on Hillbrook
Toddler Growth Chart by Joy and Gladness of Heart
DIY Anthropologie Inspired Chalk Board Storage Jars by 4 You With Love
"Let's Hear it For the Boys!" by An Elegant Touch