You know that Indian summer time period, when it's still warm but the leaves are all falling and the air smells like happiness and you know it's only a matter of days until to wake up to frost-killed flowers and crunchy dew? This Pumpkin Parfait is the perfect dessert for that season.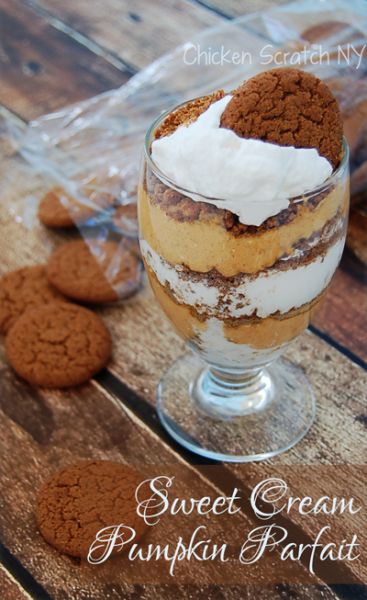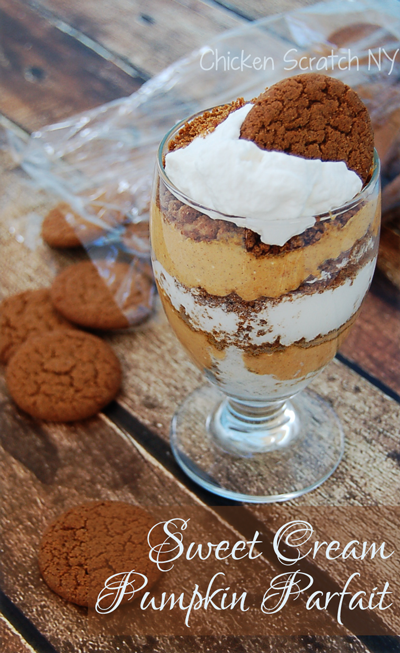 It's an autumn spin off of my Black Raspberry Vanilla Fool recipe. It replaces yogurt with cream cheese and raspberry with pumpkin for a slightly heavier creamy dessert perfect for fall.
No-bake desserts are awesome all year round but I really like them during the fall and winter when you're oven is always busy with something else. I barely bake all year then when the first leaf hits the ground I go into Martha Stewart mode.
I need to bake Pumpkin Gingerbread so my house smells amazing and I have to get going testing recipes for my amazing cookie trays. What am I supposed to do while my oven is preoccupied? I can't not  eat pumpkin…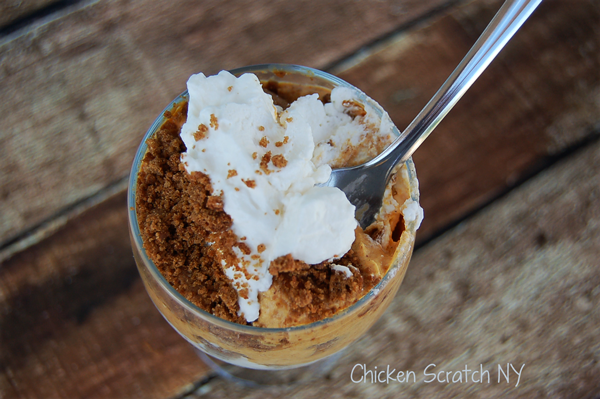 The pumpkin portion of this recipe is very similar to a no bake pumpkin cheesecake filling. The whole recipe is what would happen if a pumpkin roll and a cheesecake had a baby.
It's smooth, creamy, pumpkiny and a little sweet and bite of warm spice. It gets a little bit of texture and crunch from a generous sprinkling of crushed up gingersnaps.
I buy my gingersnaps at the local Mennonite Market, they're on the spicy side and very  crisp. You can crush them with a rolling pin, a rubber mallet or in the food processor. The food processor is the easier option but stick to pulses or you'll have very fine crumbs, great for a pie crust but not for this.
My kitchen aid mixer is my BFF for no-bake desserts (they all seem to have whipped cream in them!). I use the paddle attachment for the pumpkin and the whisk for the whipped cream.
Like most of my dessert recipes this leans to the spicy side and isn't that sweet. Feel free to adjust the sugar or spice to your preferences.
Don't forget to PIN this to your Pumpkin or Dessert board!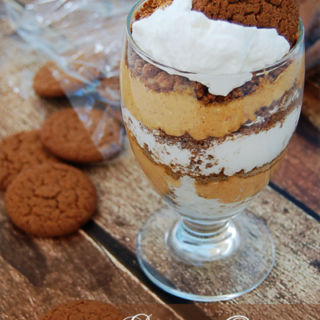 Sweet Cream Pumpkin Parfait
Yield: 10

Prep Time: 20 minutes

Total Time: 20 minutes

Autumn twist on a fruit fool with pumpkin, spice and everything nice.
Ingredients
8 oz brick or creme cheese, room temperature
1 can pumpkin, NOT pie filling!
4 T sugar, divided
1 t cinnamon
1/2 t ginger
1/4 t ground cloves
1/4 t nutmeg
1/4 t allspice
1 qt heavy cream
1.5 t vanilla
gingersnap cookies, crushed
Instructions
Whip pumpkin, 2 T sugar, cream cheese and ground spices together until combined, carefully transfer it into another bowl and clean the mixer bowl.
Whip the cream, vanilla and remaining sugar to the bowl until stiff peaks form
Alternate layering whipped cream and pumpkin mixture in serving dish adding crushed gingersnaps between the layers
Serve cold immediately or hold in the refrigerator, it's best within 12 hours. If waiting do not add gingersnaps between the layers, they will get soggy
Recommended Products
As an Amazon Associate and member of other affiliate programs, I earn from qualifying purchases.

Check out my recipes page for more ideas or start here: