A lot has been going on in my life lately and I've been completely absent from this little corner of the internet I've created. In late January my grandfather died. He was sick and in the end it was what he wanted but it was still hard even though it wasn't unexpected.
He, his wife and his sister (my great aunt who is still kicking and will be forever) were the ones that taught me how to grow things and how to raise chickens. I don't know if I'll really come to terms with the loss until spring planting. I always have delayed grief like that.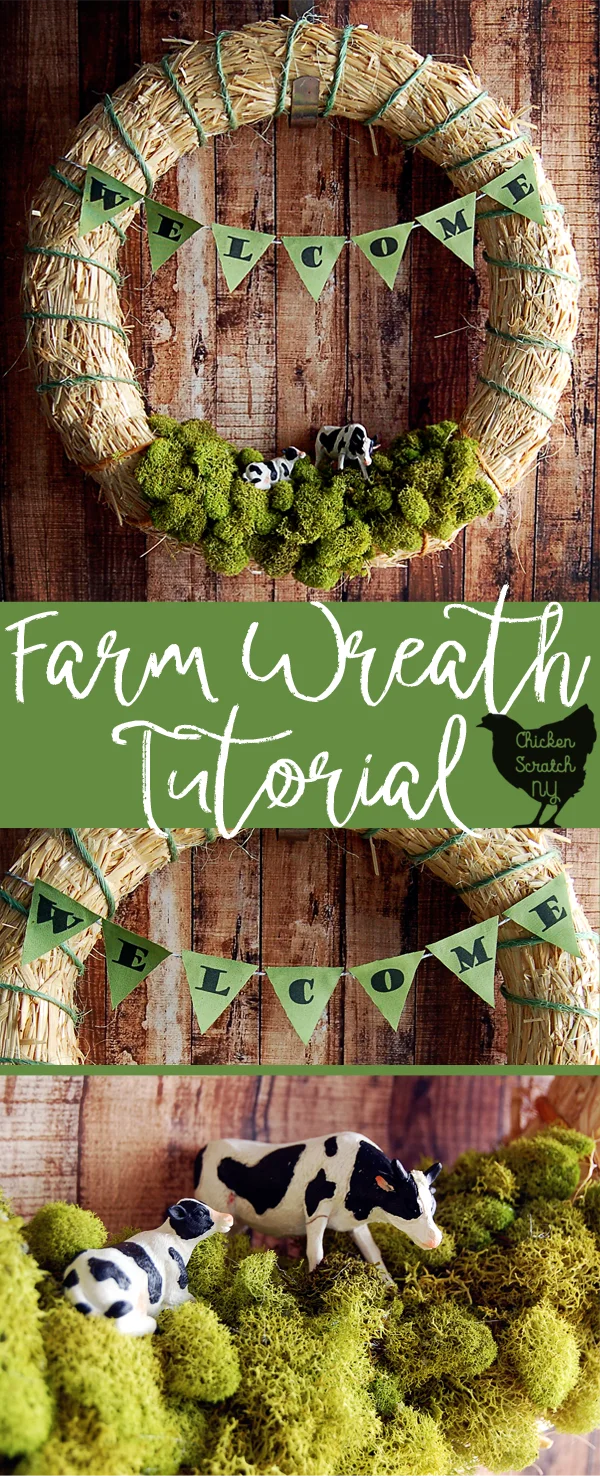 I grew up on a road literally named after my family; with my grandparents, aunts & uncles all on the same street. When I wandered away from home I usually ended up at my grandparents farm. They had a big garden every year and when I was young I got to help.
I remember my grandfather teaching me how to cut potatoes before planting. He always grew pole bean tee-pees for my sister and I. When I got older we would have lots and lots of 'boring' conversations about chickens and vegetables.
We didn't always agree and I know he got a kick out of my stubborn insistence on trying new things. Believe it or not I think I did surprise him a time or two!
My first experience with chicks was in his house. He taught me to dip their beaks when you first take them out of the box to make sure they drink.
Is it really necessary? Who knows but I've always done it and it works for me! For my housewarming gift he made me a set of wooden nest boxes. He also gave me a very old egg candler that is a fire hazard is desperately in need of a new cord.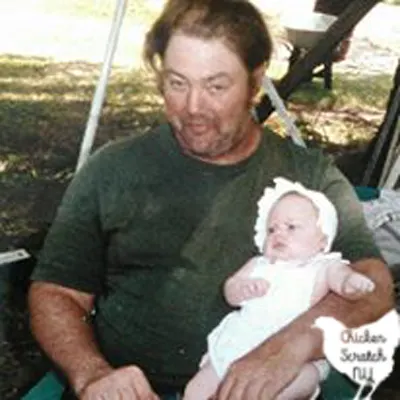 After he died my mom called me asking if I could find some wild flowers to bring to the funeral… It was January in New York. Let's just say that farming gene skipped a generation ok? Instead I took a trip to the craft store and picked up some stuff to make a farm wreath for the funeral that my grandmother could take home afterwards.
In memory of my grandpa I doctored up a generic tractor to make an International Harvester. I painted a white stripe, the IH logo and the wheel rims to make my generic tractor look like an International Harvester.
Grandpa joke break: Why are John Deere tractors green? So they can hide in the bushes when the Internationals go by! OK, back to work.
I've had my fourth of July wreath up since last summer so I decided to semi-recreate it and share it with you. Mary and I hit up Michael's for a wreath form and she requested Moo Cows for our wreath so we grabbed two from the fairy garden aisle (seriously, pretty soon half the store will be fairy garden stuff).
Farm Wreath Supplies: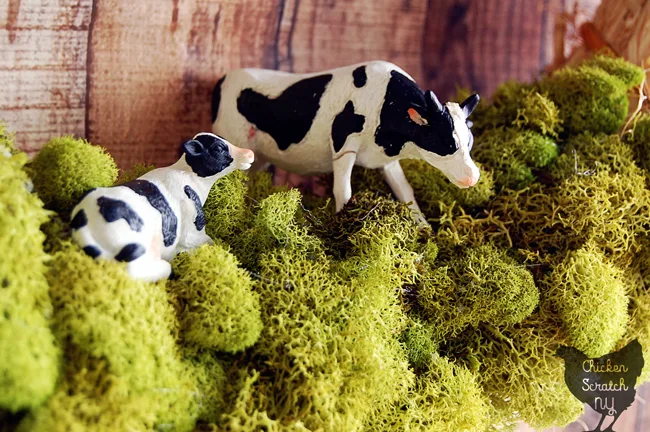 ? Straw wreath form, pick a nice one you aren't going to cover it! (probably getting thrown into crafter jail for that)
? Bailing twine
? Hot Glue Gun & Glue
? Mossy stuff
? Cows
? Wire
? Some more twine
? Fabric scraps
? Sharpie
Instructions:
1. Unwrap your wreath. The first one I had didn't shed, the second time I didn't get so lucky. Don't do this over a carpet and you should be fine.
2. Loosely wrap some bailing twine around it for color. If you don't have any ask a farmer, they'll look at you funny but most are nice people. Secure with hot glue.
3. Glue down some mossy stuff to the bottom/inside part of the wreath. I covered about a quarter of the wreath but do as much as you need to make a nice base for your chosen decoration.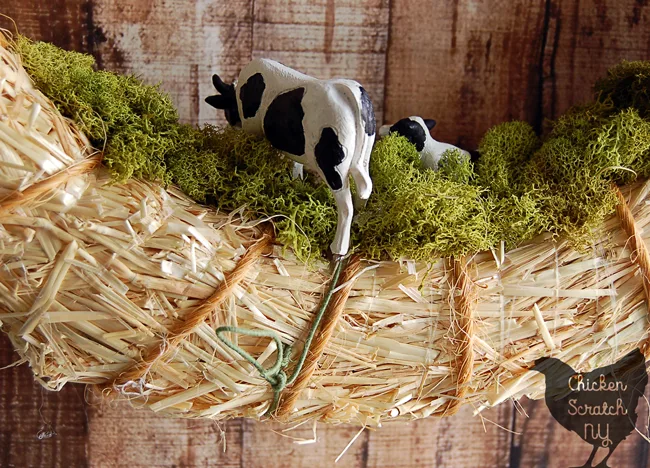 4. Wire/glue the cows down. You might have see on instagram where I accidentally snapped the cows leg off. I couldn't get it to glue down securely so I wrapped two legs in floral wire and used that to hold it on.
Silly me tried to rotate the cow a little too much and broke the leg. I hot glued it back on because I paid $5 for the thing and all is right again. I could have fixed it up with a dab of paint but I was in a battle to keep the baby out of the dog crate. I don't mind kids in dog crates but the handicat has taken up residence and she doesn't play nicely with others.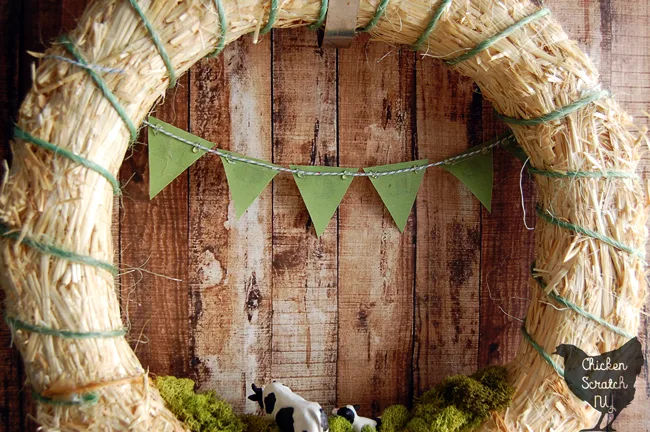 5. Make some fabric pennants and add a message with sharpie*. I wanted to put 'go away' or "I'm sorry the ducks are in the road there's nothing I can do about it' but went with 'Welcome' because my husband made me (*I was going to do it by hand but it was slow at work and we had the DTG printer on so I used that instead)
6. Glue the banners to some twine and glue the twine to the wreath.
7. Shake it a few times to make sure the cows don't fly off and hang it up. I always use a metal wreath hanger, you can bend them if the wreath is too wide (another thing my mom didn't know)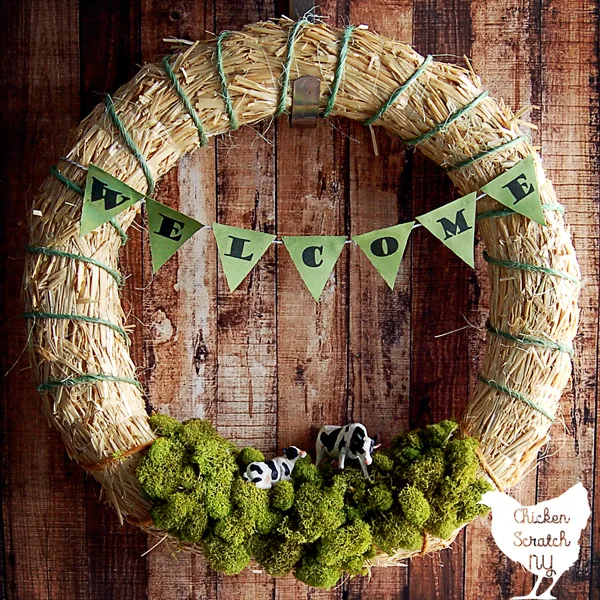 I hope you enjoyed my memorial blog post/sarcastic tutorial. If you try your hand at moo cow wreath-ery let me know, I'd love to see it! Find me on Instagram where I post random chicken/garden/dog pictures or Facebook where I share things that amuse me like chickens, gardens and dogs (I'm a woman of few interests)