Rhubarb Mimosas are great for a party. They're easy to make and with a little bit of prep you can serve a whole group at once.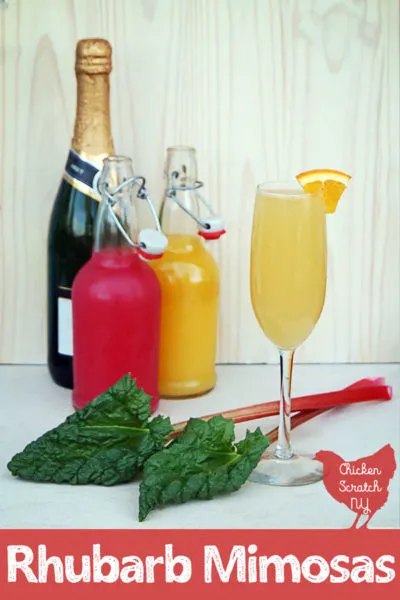 You can mix the juices together ahead of time for an easier set up but I think they're pretty set up in their own little bottles. You could set up a mini mimosa bar with the champagne, orange juice, rhubarb juice and a plate of sliced oranges.
The rhubarb adds a really tart flavor so if regular mimosas are too sweet for you this will be right up your alley! Earlier this year I shared a recipe for Peach Raspberry Mimosas that was on the sweet side and used a flavored moscato.
This time I went old school with Brut champagne. I buy Andre because that's what my mom used to buy and it's a twist off top. I find champagne a bit intimidating with the potential explosion factor…
One of the best things about rhubarb is how versatile it is. It's works beautifully in baked good like Baked Oatmeal with Rhubarb, Blueberries & Pecans and with almost no work at all turns into an easy juice.
Speaking of, the only prep work you need to do for the mimosas is making the rhubarb juice. My rhubarb is on the green side (which is totally normal, if you want to know more check out my post on growing rhubarb) and my rhubarb juice is a light pink.
How to Make Rhubarb Juice
All you'll need is a medium sauce pan, a course mesh sieve, a wooden spoon, chopped rhubarb and some water. If you want no sediment in your juice you'll want to follow up with another pass through a finer mesh.
Rhubarb is kind of like celery, there is a ton of water in it. You only need a little bit on the bottom of the pan to get the juices flowing.
Dump about 2 cups of rhubarb and about 1/2 a cup of water in the saucepan and heat over medium. You don't need it to boil but it will get a little steamy. You can cover it to speed up the mush-ifying process.
Stir the rhubarb occasionally, when it's dissolved (it really just falls apart to odd strands) dump it into the course sieve. Press on the pulp with a wooden spoon to get all the juices out.
You can pour the juice though a clean tea towel or a finer mesh sieve. Trust me, don't skip right to the fine filter! It'll get all gunked up and take forever.
If you wanted to sweeten it up this would be the time. Sugar or honey will both dissolve quickly while the juice is warm.
It varies but out of 2 cups of rhubarb I usually get 1 – 1.5 cups of juice. Store it in the fridge, you'll probably get a bit of whitish sediment in the bottom but that's normal.
Now that you've got a bottle of rhubarb juice cooling in the fridge you need something to do with it right? I would hate to let you down so I've got a few options.
Today we're going to start with something easy. We can celebrate our hard work picking rhubarb with a Rhubarb Mimosa.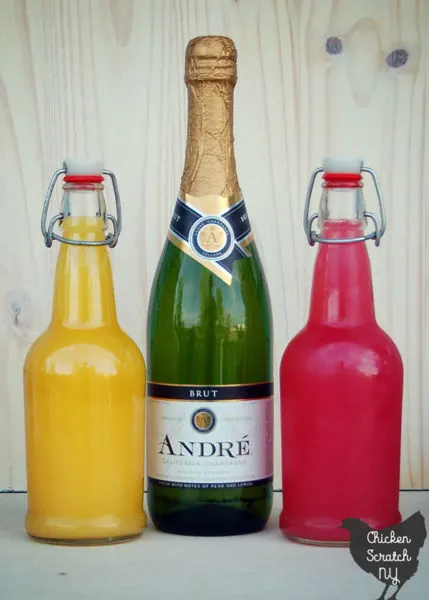 I'll give you a recipe card just for fun but all you do is mix some rhubarb juice and orange juice then top with champagne.
Don't forget to PIN this to your Drink Recipes or Spring Board!
Check out the rest of Rhubarb Week: How to Grow Rhubarb, Rhubarb Baked Oatmeal with Blueberries & Pecans, Rhubarb BBQ Instant Pot Ribs & Rhubarb Panna Cotta with Strawberry Balsamic Sauce
Rhubarb Mimosa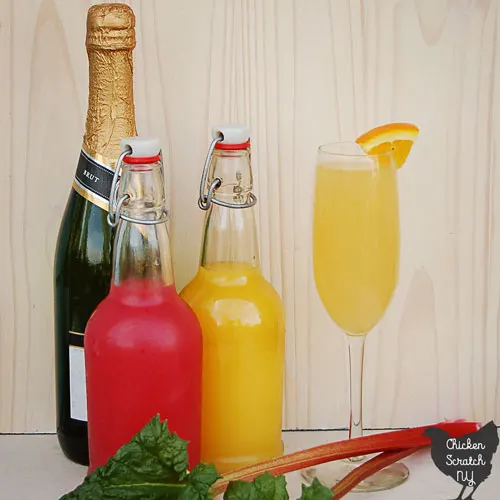 Customize your mimosa by adding more rhubarb for a tart flavor or more orange for something sweet
Ingredients
Orange Juice
Rhubarb Juice
Brut Champagne
Sliced Oranges
Instructions
Pour orange and rhubarb juice into a champagne flute
Top with champagne
Garnish with sliced orange
For more Rhubarb related fun check out these posts: