Barn Quilts are a great way to add some year-round color to your outdoor spaces and the hardest part of making one is picking a pattern. There are hundreds of possibilities but these are my top 8 Quilt Blocks for stunning barn quilts.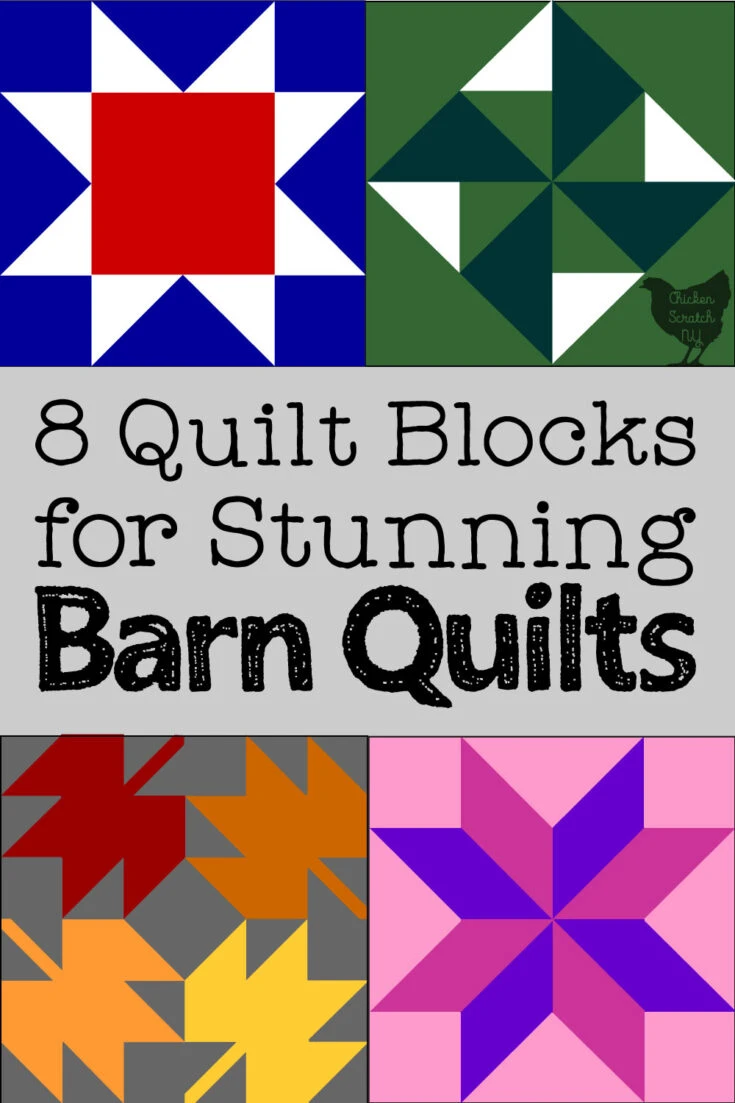 Barn quilts are a traditional barn decoration, large barns are decorated with 8 foot by 8 foot plywood painted to look like quilt blocks. Small barns can get in on the fun, I made a 4 foot by 4 foot barn quilt for my single story barn.
Find out How to Make a Barn Quilt
Before you can get down to business and start painting you need to pick your pattern. Barn quilts are usually meant to be seen from a distance and large, simple blocks work the best.
It might seem too boring up close but take a few steps (or a lot of steps) back and you'll notice all the details disappear from 50-100+ feet away. As much as I love my barn quilt, I wish I had gone with a simpler pattern.
Click here to download a free, printable PDF of these Barn Quilt Blocks
One more thing before we jump into the barn quilt blocks. Quilting is a very old art but the building blocks haven't changed that much, a lot of traditional quilt blocks go by several names.
Maple Leaf
It's not a secret that fall is my favorite time of year but even ignoring that, the Maple Leaf quilt block is perfect for a barn quilt. It has an easily identifiable shape and it's made from simple squares and triangles.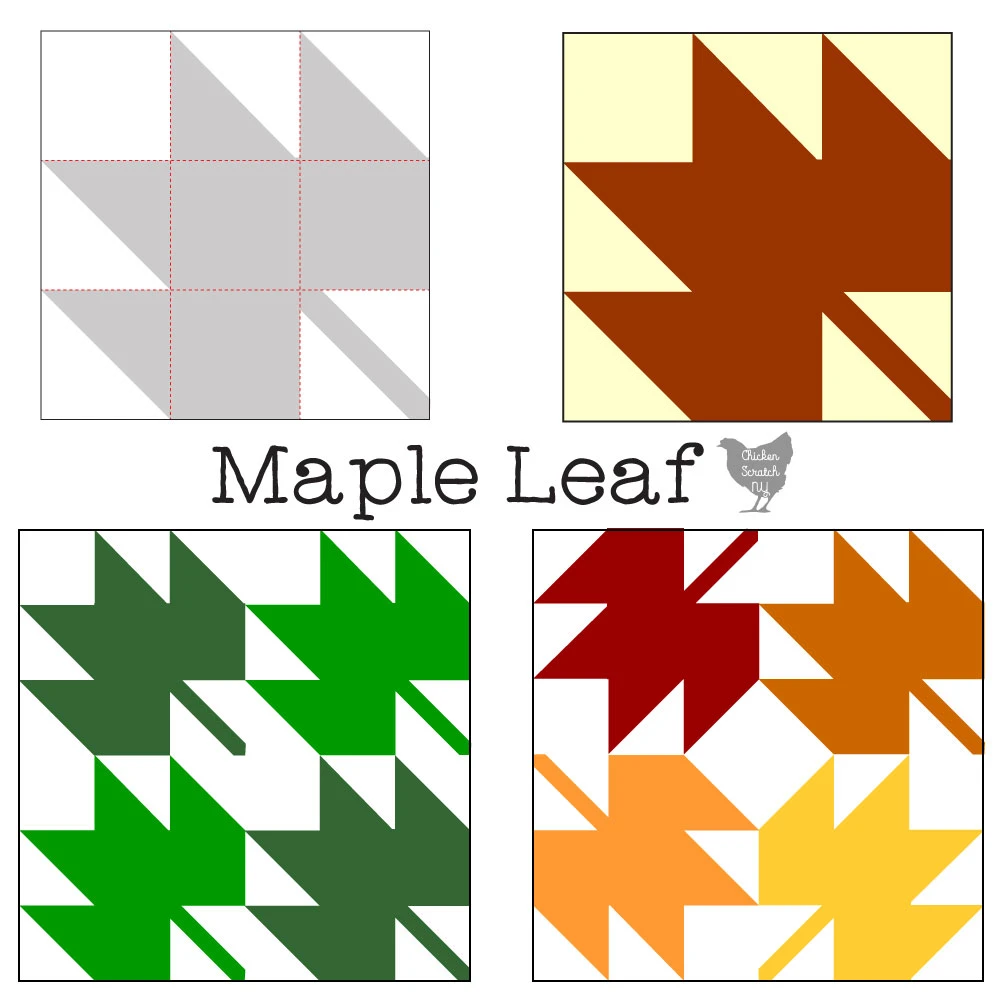 Start by dividing your wood into threes both horizontally and vertically. Then use tape to mark off the squares, triangles and stem.
I know I said that simple is better but I think this block is plain enough that it would work really well in a group of 4.
Ohio Star
The Ohio Star block is a simple star that looks great in two contrasting colors like white and red or white and blue.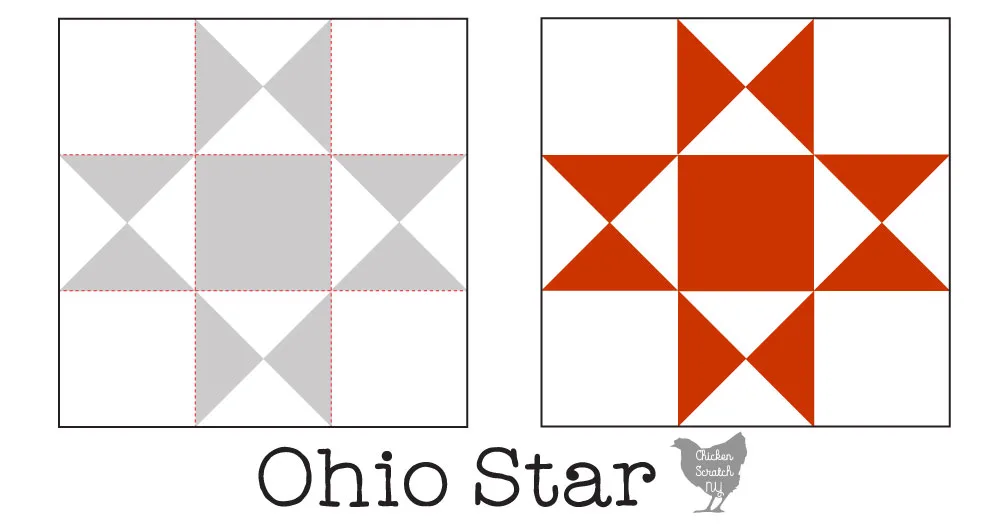 This block is also based on a nine-patch or 3×3 grid.
Card Trick
Some of my favorite quilt blocks are optical illusions. Card Trick is one of those blocks, it looks exactly like a fan of 4 cards overlaping and spiraling around the center.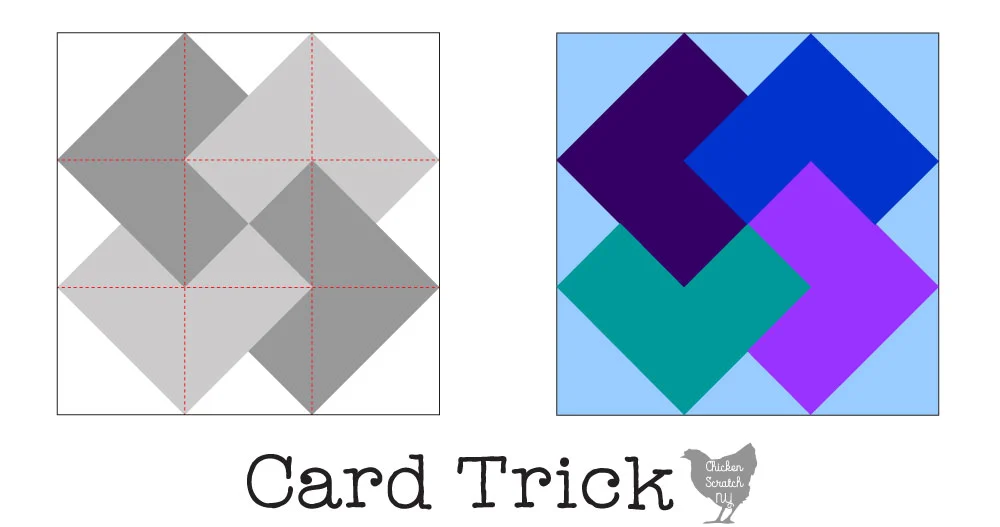 This block is based on a 3×3 grid and would look great in 3 or 5 colors.
Turn Style
Turn Style (or Turnstile or Turnstyle) is the first block I'm sharing that is based on a 2×2 grid or a four patch. It's also one of the simpler blocks but I still think it would have a lot of impact from far away.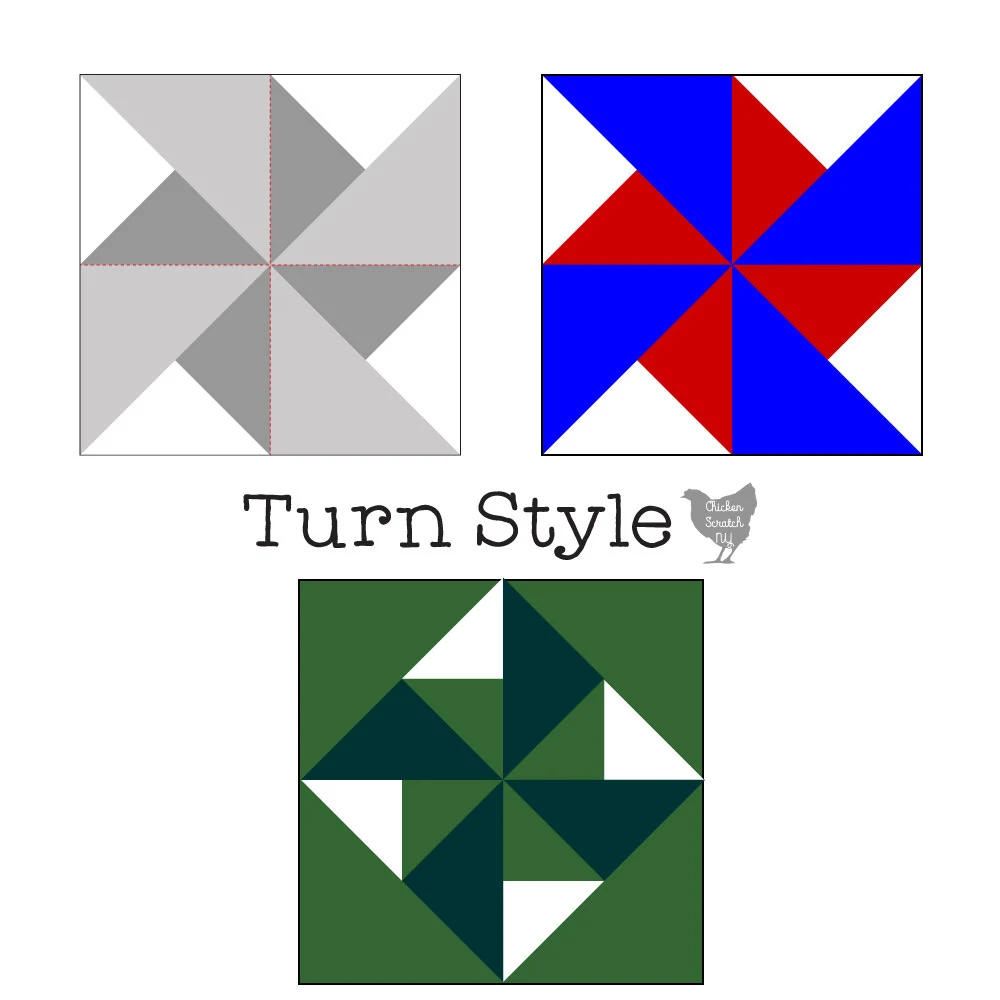 This block would be also be great rotated 45 degrees with solid triangles filling the the sides. This setting in the quilting world is called "on point" and the solid triangles are called "setting triangles".
Sawtooth Star
If I had to pick a favorite quilt block this would be it. I've got it down to a science in fabric and I've probably sewn a hundred of them at this point.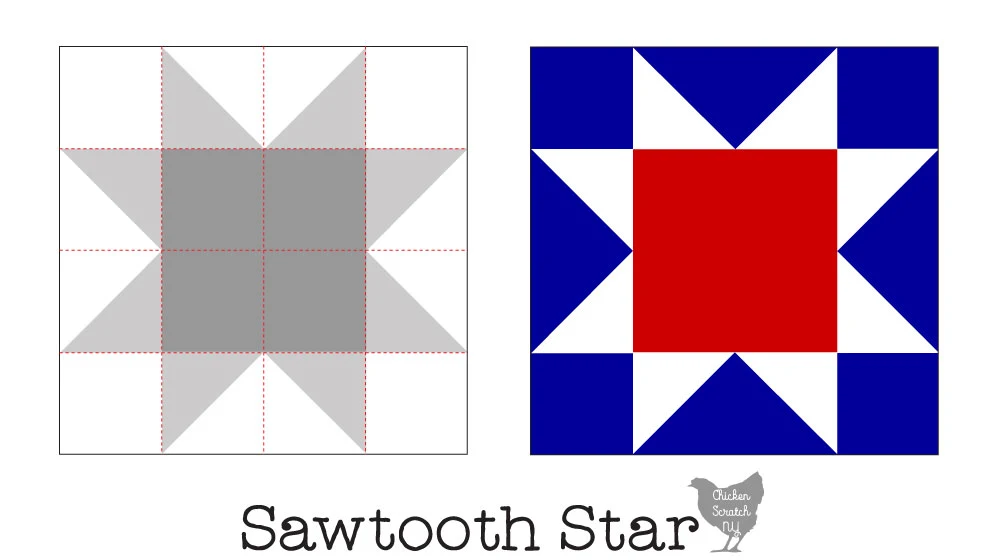 It is a very simple block but really has that old-school traditional quilt feel that works well on a large scale. You could keep it really simple with two colors, make the center a different color or go crazy and make all the star points different.
Without the dotted lines it's tricky to see how everything comes together but with them it's pretty clear that it's built off of a 2×2 grid.
LeMoyne Star
Another star, the LeMoyne Star is also built on a 2×2 grid and looks great in a 3 color combo.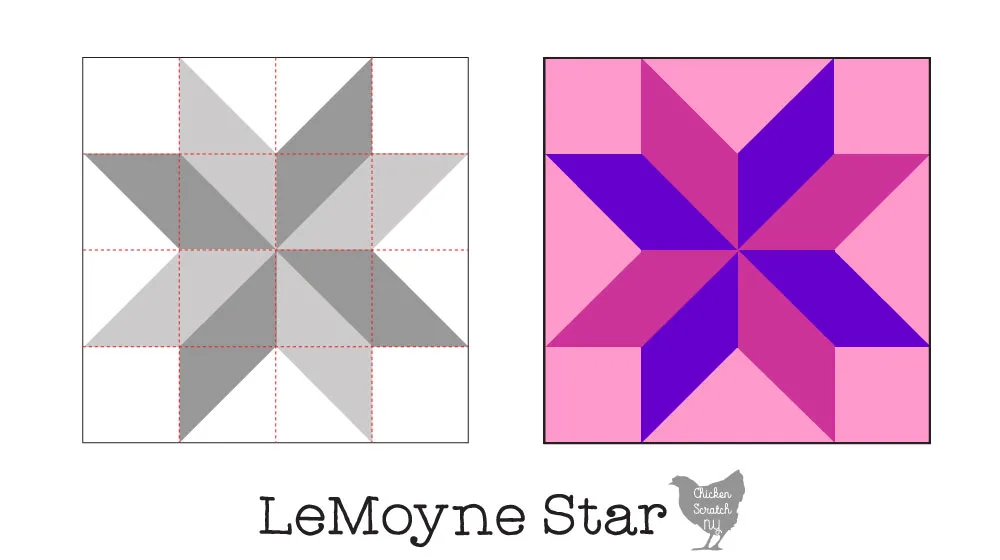 One of the coolest things about quilting is how you can combine the same exact elements in an unlimited number of ways to create something new.
Kansas Troubles
Now that we're reaching the end of the list it only makes sense to throw in a few more complex blocks. The key to making blocks like Kansas Troubles work for a barn quilt is sticking to bright, contrasting colors that stand out from the background.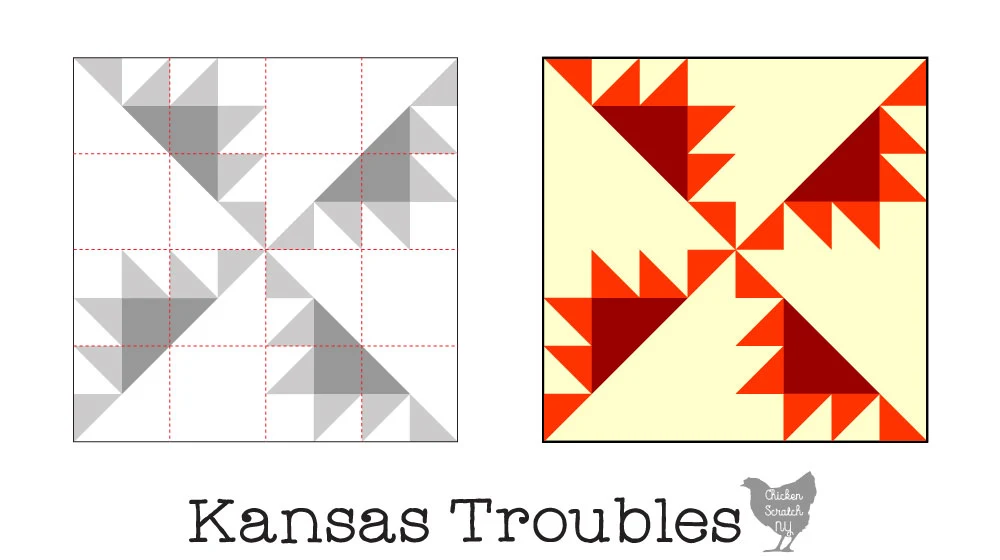 I know this block looks complicated but if you plan out your grid and get the larger triangles in place first it will come together fairly quickly. This block would also look really cool turned on point like the Turnstyle example.
Snail's Trail
Our final block, this is the only one that might actually be easier to sew than to paint on the side of a barn! If you were sewing this block you'd start with a 4 patch in the center and work your way out adding triangles to all the corners and working in a spiral.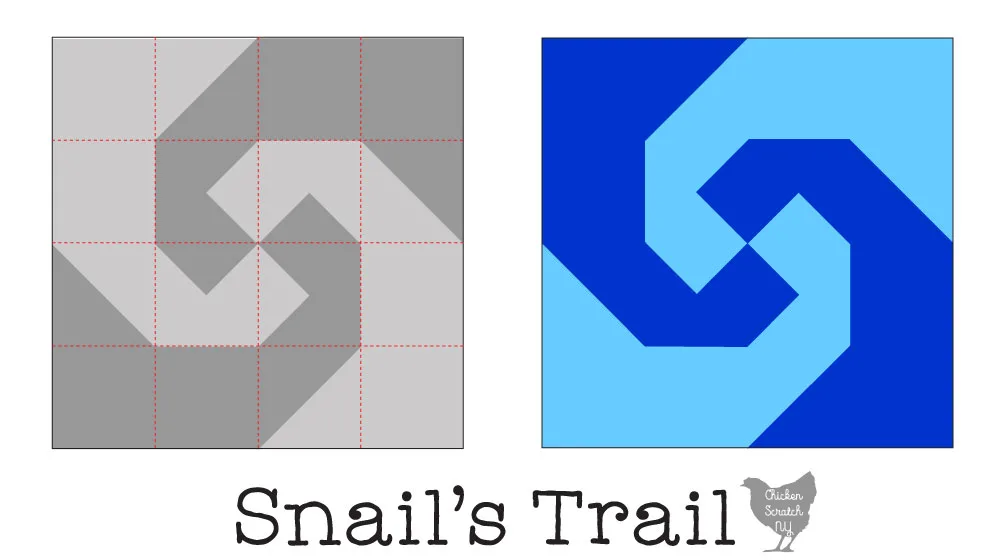 For the barn quilt version I think you're best bet is to get that grid in place and tape off two opposite spirals to paint first before filling in the empty spaces with a contrasting color. Like Turnstyle & Kansas Troubles this block would also look cool turned on point.
---
Check out my DIY Garden Projects page for more ideas or start here: