I'm turning 30 on Saturday, Cinco de Mayo. This year I'm skipping the margaritas and I'll be celebrating with a Pineapple Upside Down Cake Cocktail or two…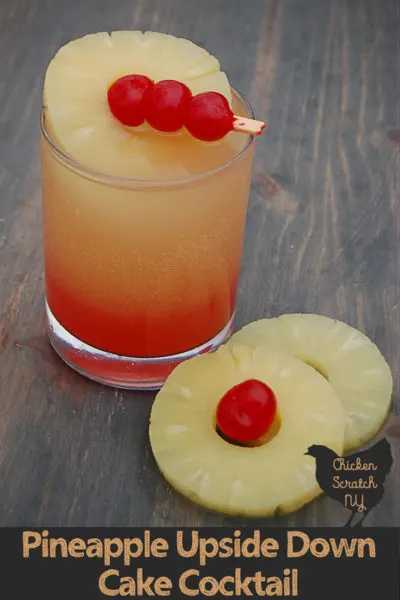 After experimenting with cake vodka for my Strawberry Shortcake Shooters I still had half a bottle left. That bottle of Three Olives Cake Vodka was staring at me for too long. That was one inspiration for this vodka cocktail recipe.
The other can be found on Youtube. A few years ago I was really into Tipsy Bartender videos but I never really drank that much. I loved watching all the recipes come together. My favorites always used a cocktail shaker.
Putting together this vodka cocktail gave me the perfect excuse to pick one up. I grabbed a 3 piece shaker at Target. They aren't hard to come by so you can find one anywhere.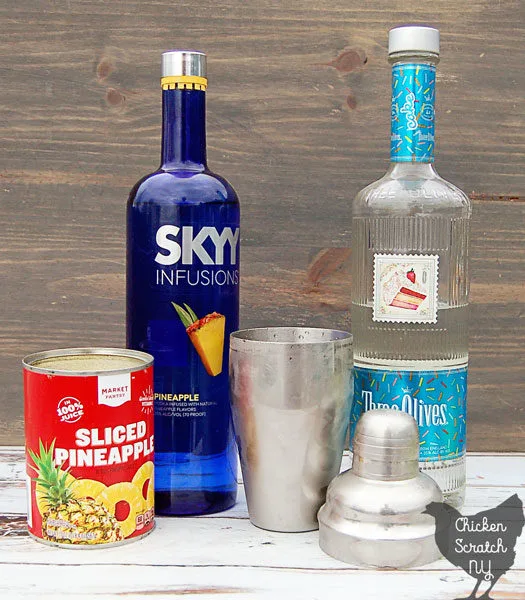 The purpose of the shaker is to cool the drink down quickly. You fill it with ice, add the liquid and shake, shake, shake until your hand is frozen.
Then pop off the lid and pour out the liquid. Mine has a strainer right in the lid which is super handy. DON'T put the soda in the shaker.
I'm going to warn you, this is a sneaky drink. Each class has 2 full shots of vodka in it. It's also got a ton of pineapple juice so you don't really notice.
If you were, for example, drinking it in the garden while planting onions in the dark you might not notice until you stood up.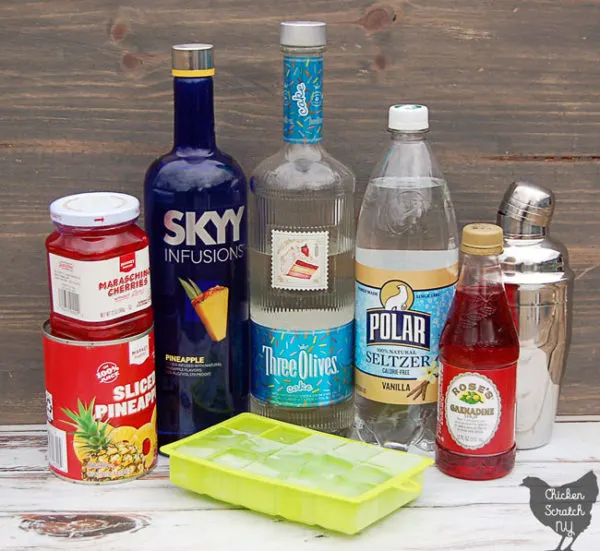 There are quite a few ingredients to this but it's not hard to make at all. I actually forgot the pineapple juice in the picture above. If you're desperate you can use the stuff from the can of pineapple rings but it's much thinner and the color won't be the same.
To start out you'll add the cake vodka, pineapple vodka and pineapple juice to the cocktail shaker with a few large cubes of ice. I love using my silicone tray for ice, the cubes pop right out and they're big enough that they don't melt too quickly and water down your drink.
I measured the pineapple and cake vodka with a tablespoon because it's easy and something everyone probably has on hand. One shot is equal to 3 tablespoons.
Shake it up and pour into a rocks glass. Add the vanilla seltzer then pour in a little bit of grenadine. It's very dense so it slips right to the bottom. You can also use grenadine to color a Shirley Temple Cheesecake, or just make Shirley Temples for the kids.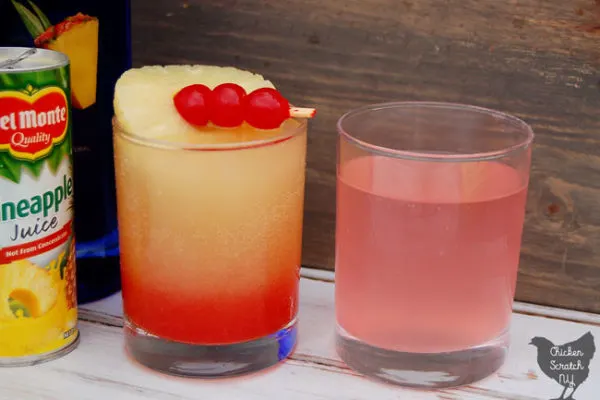 Don't do the grenadine before the seltzer, then you get the pink drink above. It's a pretty color but not what we're looking for here.
Slide a few maraschino cherries on a long toothpick and slip it through a pineapple ring. Balance on the glass and you're done!
One last warning, it's a sweet, pretty chick drink but it's strong. Don't underestimate cake vodka!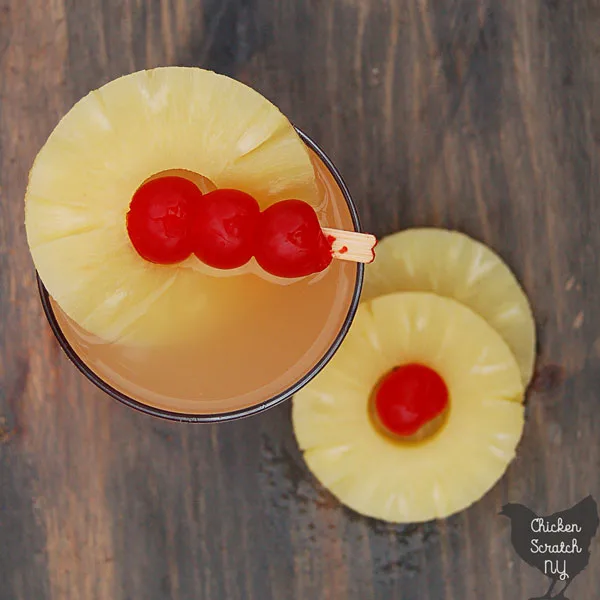 Don't forget to PIN this to your Drinks board!
Yield: 1
Pineapple Upside Down Cake Cocktail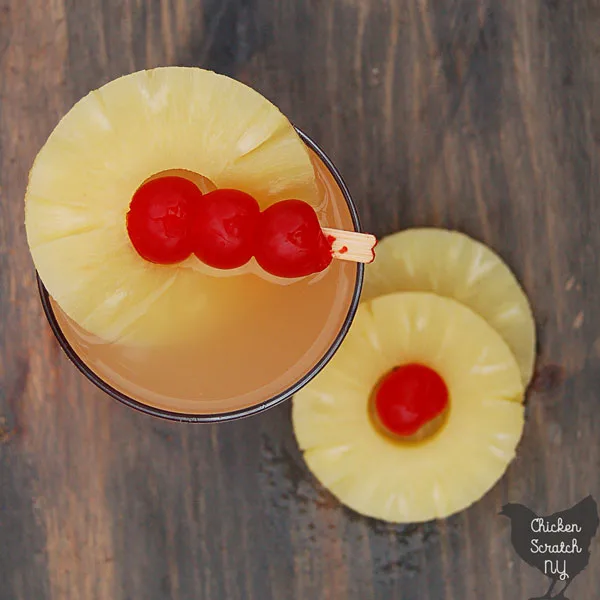 Break out the martini shaker to combine pineapple juice, flavored vodka and grenadine for a sweet but powerful Pineapple Upside Down Cake Cocktail
Ingredients
3 Tbs Cake Vodka
3 Tbs Pineapple Vodka
1/3 Cup Pineapple Juice
Ice Cubes
Vanilla Seltzer
Grenadine
Pineapple Slice
Maraschino Cherry
Instructions
Add ice to cocktail shaker, pour in both flavored vodkas and pineapple juice. Shake until cold
Strain into glass, top with vanilla seltzer
Pour in a splash of grenadine for color
Slide 3 maraschino cherries on a long toothpick, slip through a pineapple ring and balance on the glass
Check out my Recipes page for more ideas or start here: