Let's keep the Nightmare Before Christmas theme going with a Frog's Breath Float. One of my favorite scenes in the movie is when Sally poisons the creepy guy so she can escape.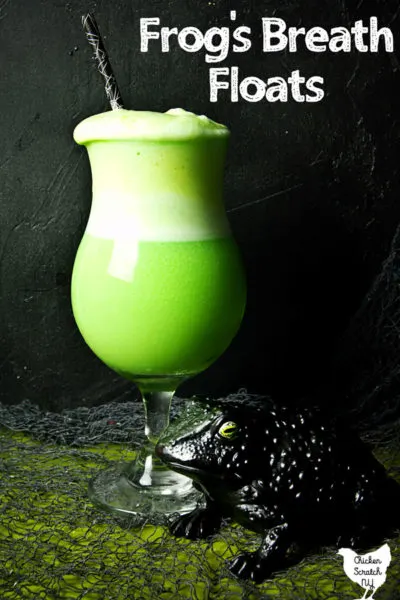 She does that by slipping nightshade into his soup and covering it up with the belch of an adorable frog. Halloween is probably the only time of year you can season a recipe with a burp and get away with it, so we're gonna get away with it while we can!
The float gets it's color from lemon & lime sherbet, a flavor boost from pineapple juice and some bubbles from lemon lime soda. You end up with a very tropical treat that tastes much better than it looks.
You know that layer of icky foam you get on the punch bowl as the sherbet melts? I've always found it a little gross but again, Halloween is the perfect time to enjoy it!
A quick word about the sherbet. I distinctly remember small white tubs of single flavor sherbet. After searching through the frozen aisles of two different grocery stores I gave up.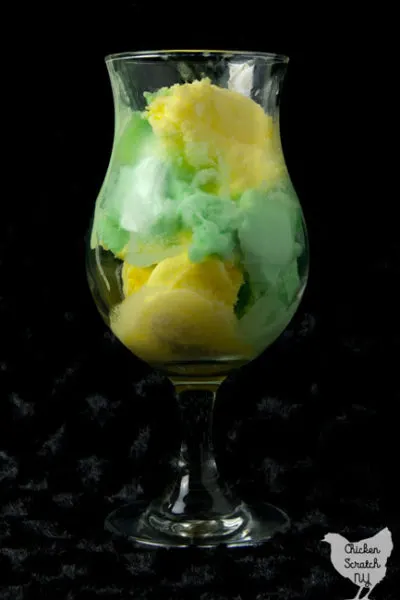 I ended up buying rainbow sherbet from Price Chopper, it has lemon, lime and orange in three different stripes. That way I could scoop out lemon and lime for my nice frog's breath inspired color scheme. If you can't find lime sherbet look for a striped rainbow, not a swirl.
All you do to make a Frog's Breath Float is scoop lemon lime sorbet into a cup, pour a little pineapple juice in and top with lemon lime soda. You don't even need to chill the soda or juice first, the sherbet does that for you.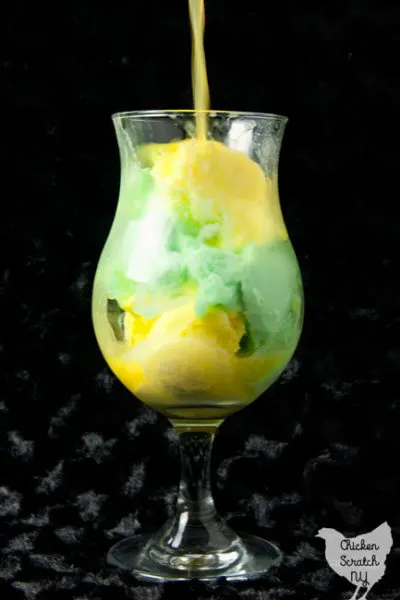 It's a great assembly line recipe if you're making them for a group and you have some help. If you're on your own I recommend doing all the sherbet first then adding the liquid.
In my opinion they look better after sitting for a while to get that gooey swamp look you expect from Frog's Breath 😉
Serve them with black and white paper straws as a nod to Tim Burton with a plate of Sally's Sugar Cookies. If you've got some adults present and you're really feeling the Nightmare Before Christmas party theme you can do a round of Bone Daddy Halloween Shots.
Don't forget to PIN this to your Halloween board!
Yield: 1 person
Frog's Breath Floats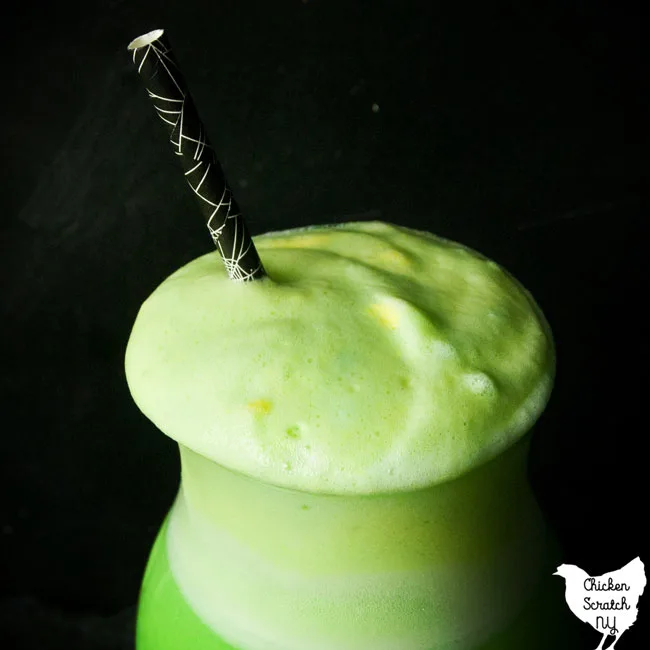 Serve up a cold & spooky Frog's Breath Float inspired by the Nightmare Before Christmas! It's easy to make for one or a crowd with unexpected tropical flavors
Ingredients
2-3 scoop Lemon & Lime Sherbet
2 Tbsp Pineapple Juice
Lemon Lime Soda
Instructions
Scoop the sherbet into the serving glass
Add pineapple juice & top with lemon lime soda
Carefully stir and allow to sit for a moment to get that swampy look, serve with a fun straw
Check out my Halloween page for more ideas or start here: