When we were cleaning for Mary's baptism party I finally got around to taking the mini-Christmas trees off the buffet. That left a pretty sad spot so I took a wander through the clearance aisle of Michael's. I ended up with a pile of things that matched the wall… So I pulled out my bag of tricks and got to work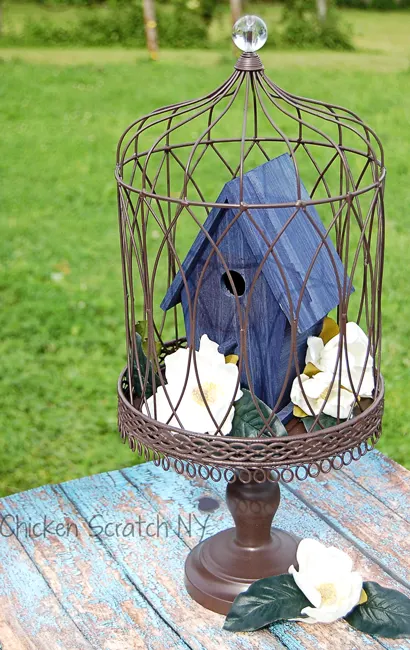 This plant stand was originally $45 marked down to $11 plus I had a coupon for $5 off my total, pretty good deal. I was thinking about doing a copper or cast iron black but a quick glance at my spray paint collection revealed an abundance of Valspar Brown Velvet Satin.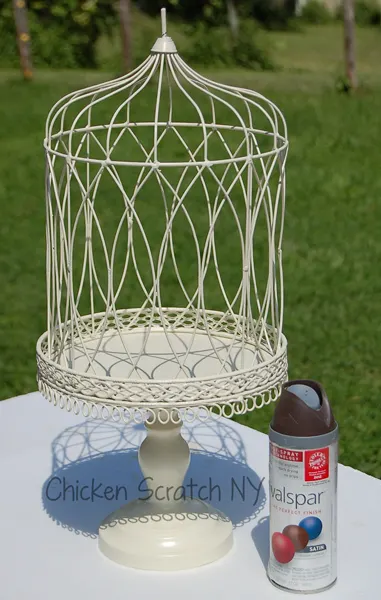 I was glad to have more than one can, it took more coats than I anticipated thanks to the crazy textures and loops. I finished up one can and used about half of another. I was able to pry the clear ball off the top before I painted, that made it a lot easier.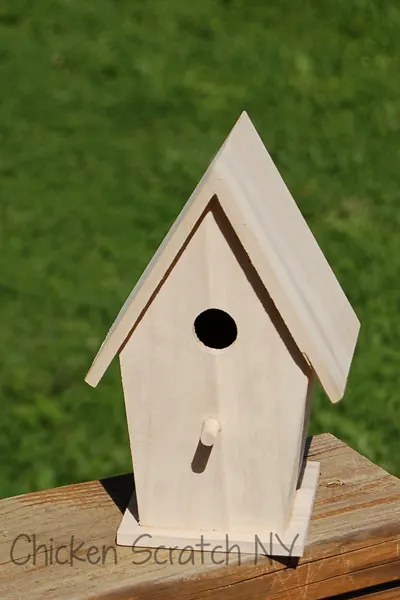 I was all set to dig out my box of craft paint to decorate the birdhouse but I couldn't quite figure out what to do. At the time I was dying a length of Muslin for a 4th of July project in a bucket in the sink. I figured I had nothing to lose, I could always paint it, so I dunked it in the bucket. Unfortunately, it floated. So I stuck an old cup on it and dropped a heavy jar in it to keep it down. Even more unfortunately, the cup left a circle of less dyed wood. I touched it up with a paint brush dipped in straight dye.and then re-dunked it.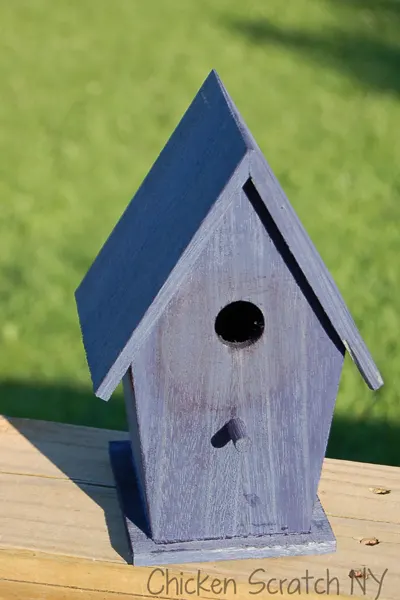 You can still see it if you look closely, or not so closely… I really like the finish, it looks like a stain, dries so much faster than any one I've ever used. It doesn't smell either. Anyway, to set up the dye I used a large bucket, filled it with about 8 inches of water, as hot as I could get from the faucet and dumped in a medium saucepan full of water I had boiled on the stove. I also threw in a hand full of salt and stirred it up with an old spatula until the salt was dissolved. Then I poured in about 1/2 of a bottle of RIT Liquid fabric dye in Denim Blue. I kept the birdhouse in the dye for a little over 1/2 an hour (as long as it took up to boil and eat a fresh kielbasa).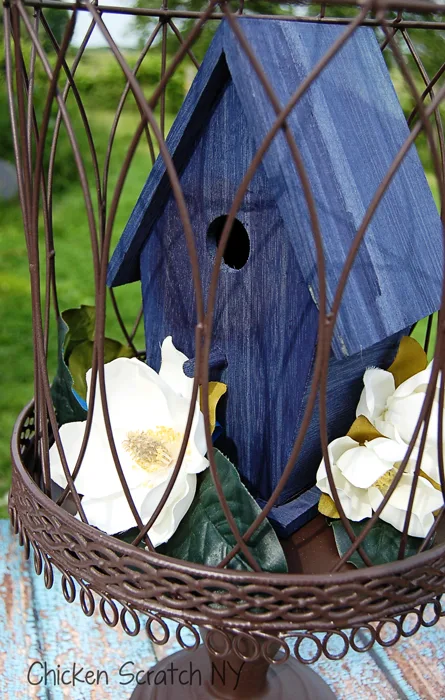 The fake magnolias are also from Michael's, they were a spring markdown to about $5 from $13. I actually use a lot of fake flowers since my cats eat every fresh thing I bring in the house. As far as fake lowers go, these are pretty nice, especially since their all in a cage anyway. It's all set up in my living room now, you'd have better luck taking pictures in the trunk of your car than in my living room, that's why these are all outside.