Today's project was truly created out of necessity. My 4 year old is obsessed with hair bows and as a pig tail fanatic she has doubles of a lot of them. They were originally on this dinky ribbon holder but they kept sliding off and it wasn't big enough anyway. I can't even tell you how many piles of hair bows I have just sitting around the house. I was really desperate for a hair bow holder so I decided to make one.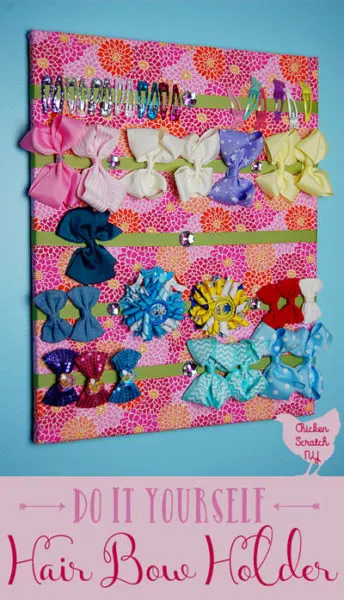 I wanted to make it big enough to hold a lot of bows, I have 2 little girls and the small one has to do everything her sister does so I don't see the hair bow population declining anytime soon. I also wanted to use stuff that I already had. One of my goals this year is to clean up my craft room and that requires using the junk I have stored in there!
When I was searching Pinterest for ideas I was struck by how little variety there was. Everything involved pictures frames. I even looked through my stash of frames but all I found was a GIANT frame that used to hold my chalk board and a bunch of small ones that might hold 6 bows.
I ended up going back to my old stand by, the art canvas. You can get them for stupid cheap from craft stores. They seriously give them away for almost nothing, especially with a coupon.
Hair Bow Holder Supplies:
20*24 Piece of fabric (you can cover 2 canvases with a 24″ piece of 42″ wide fabric if you cut it along the fold, my youngest is mostly bald but I should make another just in preparation)
Hot glue & hot glue gun (yes, mine is gross, it gets a lot of use!)
Marker
Grosgrain ribbon – 5 pieces cut ~20″ long
Needle & thread
Flat thumb tacks (optional)
Instructions:
Lay fabric face side (pretty side) down. Center the canvas on top and glue down. Do the shorter sides first and then the longer ones, pulling the fabric taut as you glue
Squish and glue down the corners, no one is looking at the back!
Use the ruler to find the center and draw a line down to mark the center, draw two more vertical lines cutting the canvas into 4 equal columns
Mark the center line down 3″, 10″ & 17″ and the side lines at 6.5″ and 13.5″ on both sides
Hot glue the end of each ribbon the to back of the canvas at each of the marks you made
Pull the ribbons across the front of the canvas and glue down, making sure the ribbon isn't twisted
Double thread the needle (4 strands of thread) and sew a small X at each point you marked and tie off. Check out my tutorial on How to Thread a Needle & Tie a Knot if you want to know how the pros do it 😉
Flip the canvas back over and hot glue rhinestones over each of the X's
[Optional] Stick a thumbtack through the ribbon on the back into the wooden frame to make the ribbons more secure. I'll be doing this as soon as I find where I hid mine
Hang it up and put away the 9 million hair bows that always seem to be floating around the house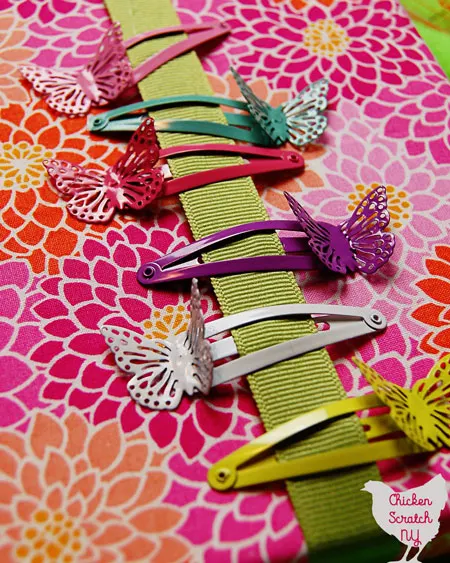 Am I the only one with piles of bows all over? I swear I have a box, basket or bowl of them in every room of my house!
You may also enjoy: