This project is indeed one born from necessity. One, I'm sick of my fridge being covered in photos. Two, picture frames are crazy expensive! We recently added four Ana White $10 ledges to our living room and I wanted a way to display all of my photos. It needed to be low-cost and I needed to be able to switch out my photos easily.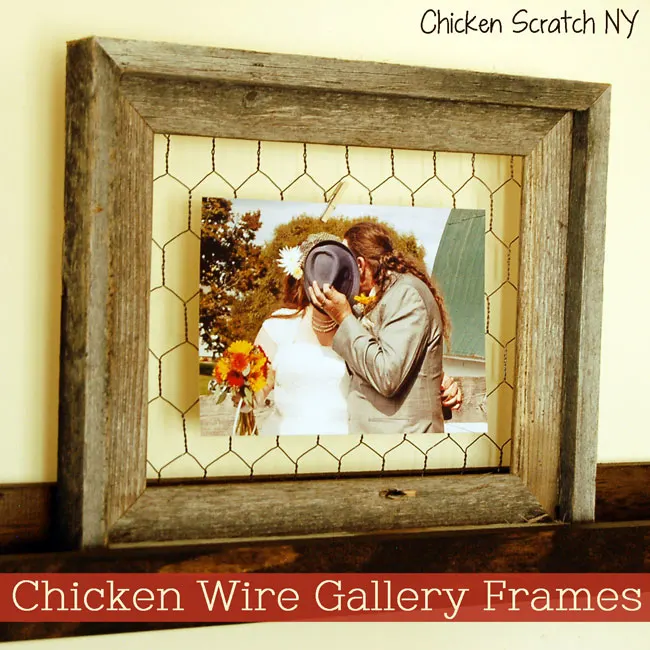 I started with 3 barn wood frames from Hobby Lobby (purchased during a 50% off sale). I also picked up a roll of 1 inch chicken wire at Lowe's. I bought a whole roll so I can use the rest to keep the chickens from digging up the garden beds and unearthing my Mulberry trees to dust bathe. The wire is super shiny silver so dug out a few cans of spray paint.
If you want to make your own frames you will need:
Wooden frames
Chicken Wire
Spray paint (optional, I used Brown, Black and Hammered Copper)
Wire Cutters
Heavy duty stapler (your swingline isn't gonna cut it!)
Start out by rolling out your chicken wire. Lay out your frames so you know how much wire you need to paint and cut off the end piece.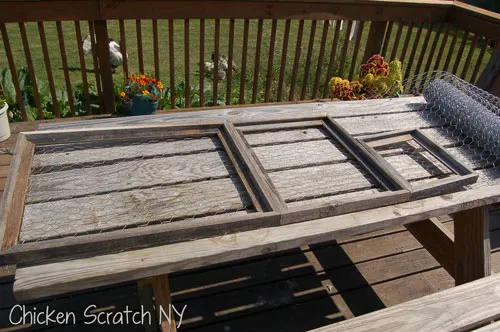 Spray painting chicken wire isn't as easy as it might seem; I recommend using lots of paint, time and not worrying about a little silver peaking through. I used a piece of extra wire to hook the chicken wire rectangle to my clothes line and a piece of wood to weigh down the bottom so it was hanging. Chicken wire is apparently invisible in the mid day sun so instead of showing you a photo of my lawn I'll show you my spray paint: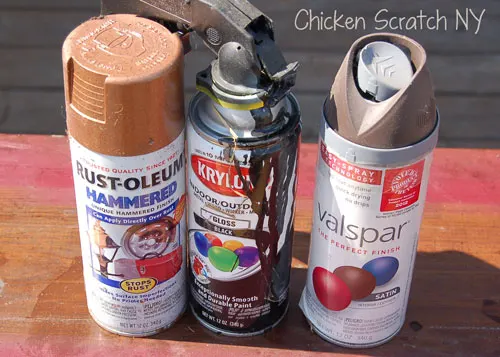 I have no idea what happend to the black paint, I do know my husband was involved. Several slow passes with the brown paint covered most of the wire, I randomly lightly misted with the black and copper spray paints to add some age and then added a few patches of more solid black and copper. It was really sunny out and I couldn't really see what I was doing so I just went with it and hoped for the best.
Lay your first frame face down, start by stapling in a corner and work your way around. It's pretty easy to warp the chicken wire so gently pull it taught and continue to staple. It can be tricky and there is a bit of a learning curve to stapling hex wire (we learned that when fixing up our "witness protection program".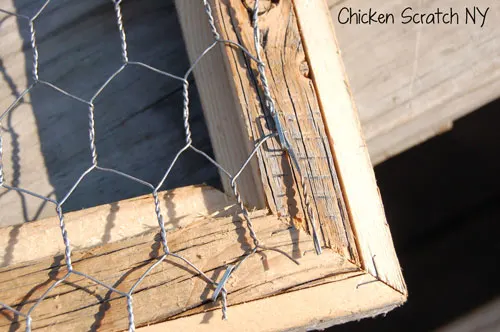 After stapling use your wire cutters to clip the wire around the entire frame. Good cutters are worth their weight in gold. Our came from Lowe's, they didn't cost a lot more than a regular pair (under $20) but they make cutting so much easier. I stapled, then cut because the wire has a tendency to shift and once you cut it too small you have to start over.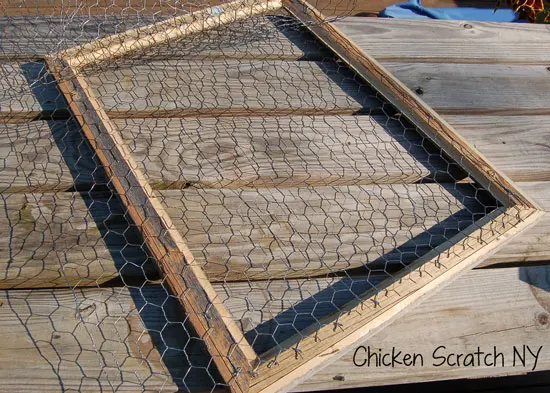 Repeat with the other frames. The small frame holds one or two pictures, the larger ones can each hold over a dozen depending on size. I used miniature clothes pins to hold my pictures up, I'm not 100% in love with the mini clips yet, I might give a few a quick stain to darken up the color similar to the shelves.