We were lucky enough to score an invite to our friend Owen's 3rd birthday party. The theme was dinosaurs, how could we say no? Owen's mom is responsible for Mary & Kat's birthday cakes so I knew I had to step up and help out. I reached out to Oriental Trading Company and they were more than happy to help out with some supplies for a Dino Dig Party.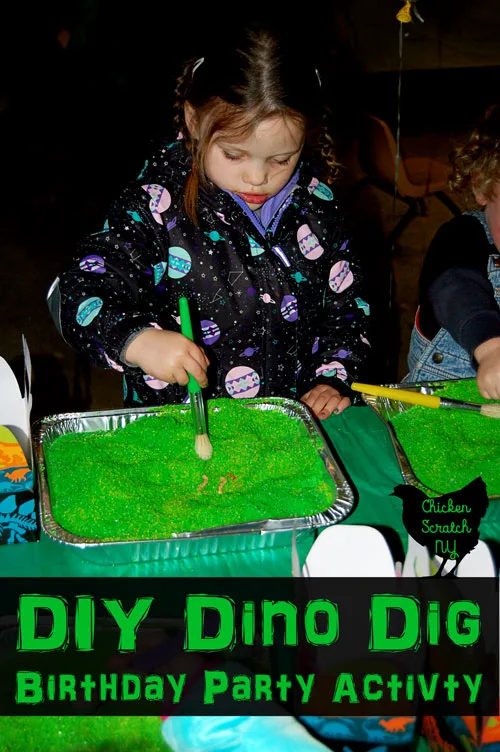 We had a lot of fun at the party. There was a tent in the garage full of balloons, if you have kids you know that balloons are the child equivalent of a free Hawaiian vacation. The balloons, music and a few pairs of dinosaur sunglasses got the party going.
Each child got a cardboard dinosaur favor box filled with treats and supplies for the dino dig. The boxes also offered a convenient way to carry home all the goodies at the end of the party. Inside the box was a chubby paint brush for digging up dinos. Some of the kids used the brush 'the right way' to brush away the sand while others used them to dig like a shovel. I gotta admit, I snagged the brush before it was destroyed in the toy box and it's still being used for crafts.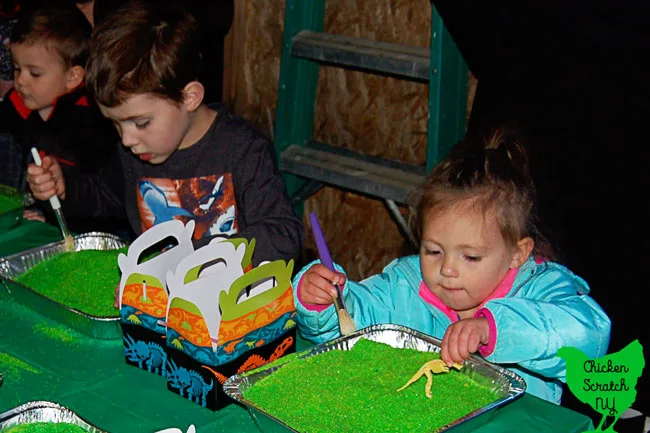 Before the party Owen's mom set up a tray for each kid. We used large foil roasting pans so each kid was able to work at their own pace and in their own way. The sand is recycled glass sand from a local business. Each tray had a collection of dinosaur skeletons, squishy fossil rocks and other dinosaur themed toys.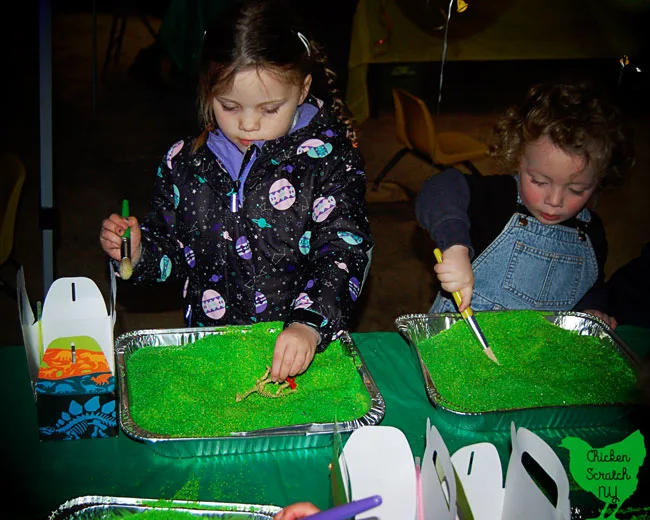 Mary was very serious, she brushed her little heart out and was super excited every time she found something. It even kept the attention of my nephew Bentley who can barely sit still for 30 seconds!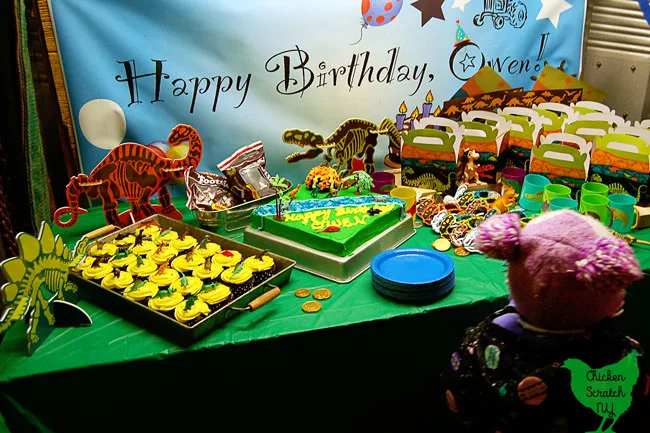 After the dino dig we all enjoyed cupcakes and cake, because who can choose just one right? The dessert table was set up with 3D dino skeletons and a dinosaur mug for each kid. We had a great time and Mary is still talking about the dino dig, even though we went to the party in November and it's now February… Do you have any kids in your life that would love a dinosaur dig?
Check out our other birthday parties: