Dark Chocolate Cherry Fudge is a rich, decadent treat perfect for the holiday season but enjoyable any time you need a sweet treat. It's a variation of the classic stope top fudge recipe that gets it creaminess from mini marshmallows and evaporated milk.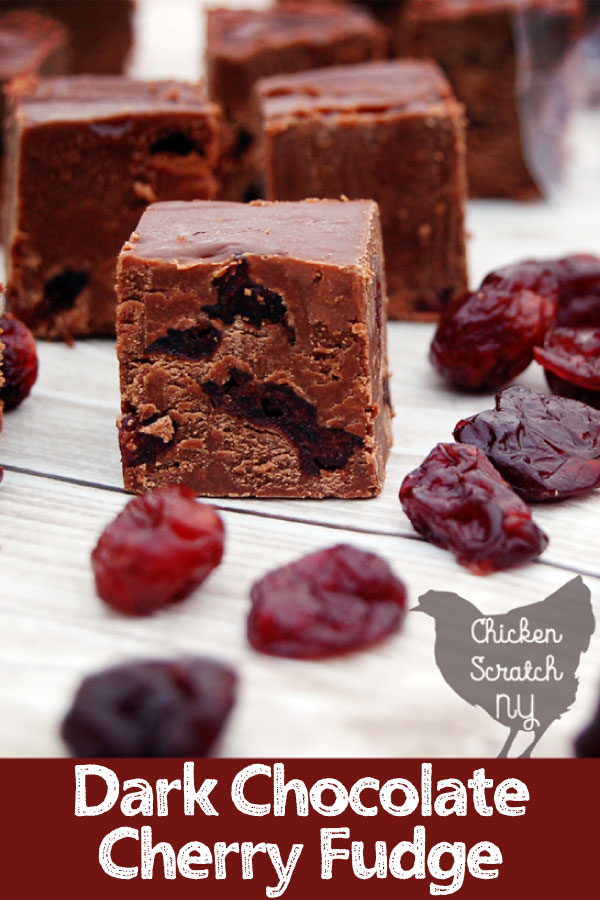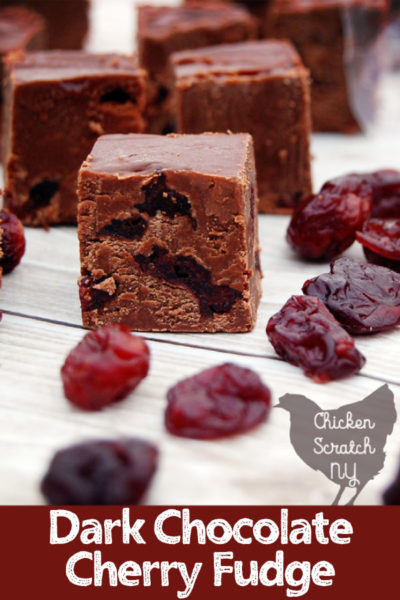 There is a Mennonite-owned market on my way home from work; they have the best deli meat, an infinite variety of sprinkles and a whole aisle devoted to chocolate covered things. It's hard to pick but lately I've been drawn to the dark chocolate covered cherries and cranberries.
Those snacks were the starting point for this  Dark Chocolate Cherry Fudge recipe.  You'll need dried tart cherries for this, they might be called Montmorency or sour cherries.
I bought a bag of dried bing cherries first and they tasted like raisins, don't get those. I bought mine at the same Mennonite market but believe it or not, Target carries them.
If you can't find dried tart cherries you can substitute dried cranberries, you won't get the chocolate covered cherry fudge flavor but it will have a similar sweet-tart kick. Dark chocolate is my absolute favorite but if you like your desserts on the sweet side swap out 1/2 of the chocolate chips for milk chocolate.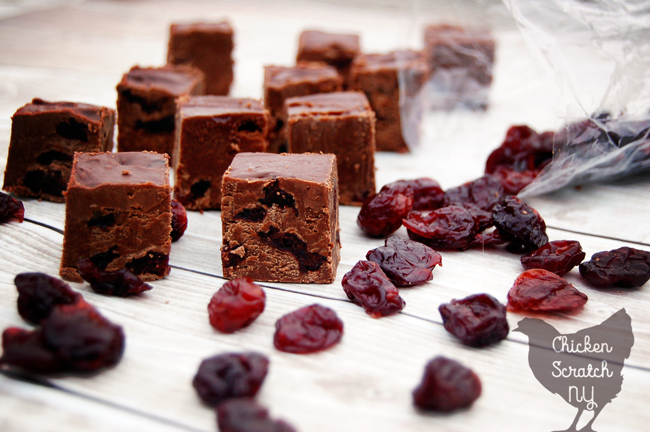 This is a stove top recipe, make sure you grab a thick bottomed pan, you don't want to scorch your ingredients! Burned milk isn't that special flavor we're looking for here.
Keep an eye on sugar and evaporated milk mixture stirring well to keep things from sticking to the bottom. When it comes time to pull it off the heat get ready for a little work out.
It takes a bit of elbow grease to get the chocolate and marshmallows melted down, make sure you stir until everything is nice and melted and you don't have any lumps. I think it's easier to add in the chocolate chips first and then add the marshmallows bit by bit so you don't have anything overflowing out of the pan.
You can use a wooden spoon for this but I love my silicone spatula, it scrapes down the sides and it's really easy to get everything out of the pan when it's time to transfer it to the baking dish.
If you use an 8×8 pan you'll get fudge that sticks up about an inch. Make sure you line the pan with foil and leave enough extra to make handles or you'll be cursing my name for the rest of the night. Fudge is sticky by nature and you'll never get it out of the pan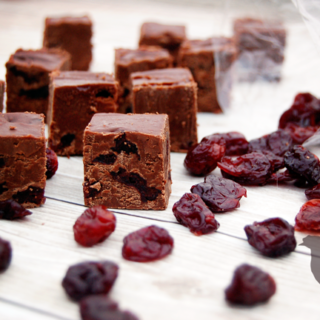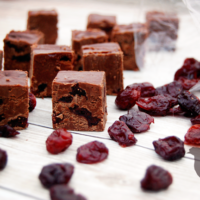 Dark Chocolate Cherry Fudge
Yield: 36 pieces

Prep Time: 2 minutes

Cook Time: 8 minutes

Total Time: 10 minutes

Whip up a decadent dark chocolate cherry fudge with this quick stove top recipe. Overflowing with tart cherries this sweet treat is sure to be a holiday hit
Ingredients
1 1/2 C sugar
2/3 evaporated milk
2 T butter, cut into pieces
1/4 t salt
2 C mini marshmallows
1 1/2 C dark chocolate chips
1/2 t almond extract
1 C dried tart cherries
Instructions
Line an 8x8 baking dish with parchment or foil
Combine sugar, evaporated milk, butter and salt in a heavy medium sized saucepan
Bring to a boil over medium heat, stirring occasionally
Boil for 4-5 minutes
Remove from heat and stir in marshmallows, chocolate chips and almond extract until completely smooth
Quickly fold in cherries and pour into pan, tap gently to settle
Place in the refrigerator for 2 hours or until solid
Cut into small squares and serve
Recommended Products
As an Amazon Associate and member of other affiliate programs, I earn from qualifying purchases.

Check out my  Recipe Page for more ideas or start here: