I found a delightful looking recipe for Bacon & Corn Risotto and I knew it was the perfect use for the bag of Arborio rice I had in the cabinet. But I didn't have corn or even bacon. But I did have zucchini, a bubbling pot of chicken stock (from our chickens!) and a bowl of homemade mascarpone.

Don't be scared! Risotto really isn't that bad, just takes a while.

Yield: 6
Creamy Zucchini Risotto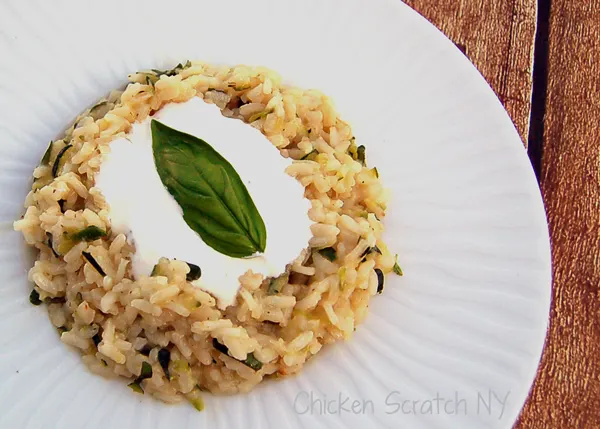 Summer risotto with fresh zucchini finished with mascarpone and basil
Ingredients
2 C Arborio rice
1 T Butter
7 C Chicken or vegetable stock
2 C Zucchini, shredded
1/4 C Mascarpone cheese
Salt and Pepper to taste
Shredded fresh basil
Instructions
Bring stock to a simmer in a medium saucepan
Melt butter in heavy bottomed stock pot, add rice and stir to coat, toast lightly over medium heat for 1-2 minutes
Add stock 1/2cup at at time, stirring constantly and waiting until the liquid is mostly absorbed before adding the next cup.
After adding 5 cups of stock stir in the shredded zucchini and add salt and pepper. I used homemade stock and we don't salt it until we use it, if you're using purchased stock you might not need to add any.
Depending on how much water your zucchini has add another 2-3 cups of stock, continuing to stir. The rice should be creamy but still firm in the center.
Divide between bowls, top with a fresh mascarpone and shredded basil. Serve warm.