-This post is part of a new series I'm going to run from time to time featuring quick tips or crafts that don't require much time, talent or patience –
Are you overwhelmed by the floral aisle at Micheal's? Do you get jealous when you see elaborate displays of faux flowers and leaves or just angry when you see how fast the pieces add up to a million dollars? I have been all of those things. But a chance occurrence in my local craft store with my husband brought about this super simple, but dramatic Autumn display.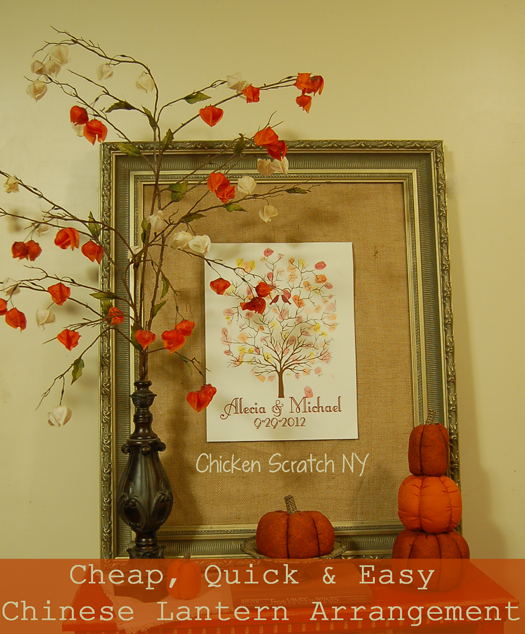 I was digging through the piles of flowers, leaves and berry-things handing stuff to him while he tried not to throw up on the fake cinnamon pine cones that were EVERYWHERE. My original plan was to find filler for the cornucopia basket I've had for 3 years and never used. Then suddenly I looked at Mike and the clouds parted and the angles started singing. I had just handed him a stem of fake Chinese lanterns and he was holding it straight up (probably determining on a scale of 1-10 how long it would last with the cat) and the arms where dangling in all directions. It was really pretty, and slightly odd but in a good way.
So I'm going to share how you make your own show-stopper bouquet. All you need is:
2 stems of Chinese lanterns, one white one orange (these are from the floral department of Michael's, not the fall aisle! Each cost ~$7 but after coupons only $3.56, Ashland brand)
1 tall and narrow vase
wire cutters/scissors
Rubber band or floral tape or masking tape
Hold your 2 stems together, you might want to offset them a little so there is a small height difference. Hold it up to the vase and see if you have to trim any of the stems, I clipped 2 inches off one and 2.5 inches of the other (actually my husband did the clipping, those wires are thick!). If you want them a little more stable rubber band or tape them together and then plop them in your vase. Bend and arrange your danglies and you're done. Now all you need to do is keep it away from your cat! Don't forget to remove your tags unless you're going for the Minnie Pearl look.