This recipe for Chicken & Mozzarella Stuffed Baby Peppers with Balsamic Glaze was inspired by a few things. One was the bags of tiny adorable peppers at Aldi's.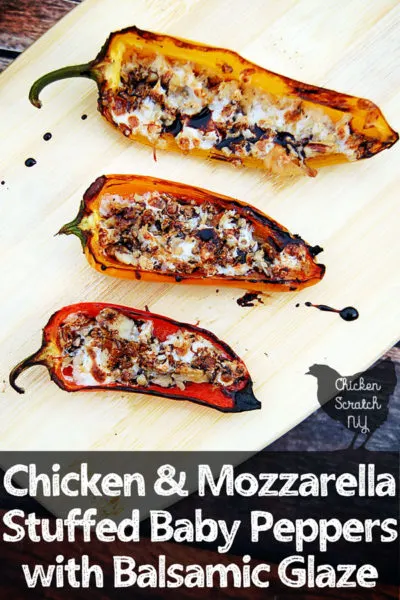 The other was my really private boyfriend who doesn't like to be mentioned 😉 He's on a health kick and one of his better ideas was using peppers instead of bread for sandwiches. All his other ideas involve mushrooms and are therefor terrible.
Luckily I was in the mood for another appetizer recipe because the small peppers had bite-sized snack written all over them.
I'm planning on a dinner sized variation on this recipe but it's going to wait until peppers are more reasonable this summer. For the time being we have little baby peppers.
I experimented quite a bit with these guys. Unfortunately the end product wasn't as pretty as I wanted but they did taste really good!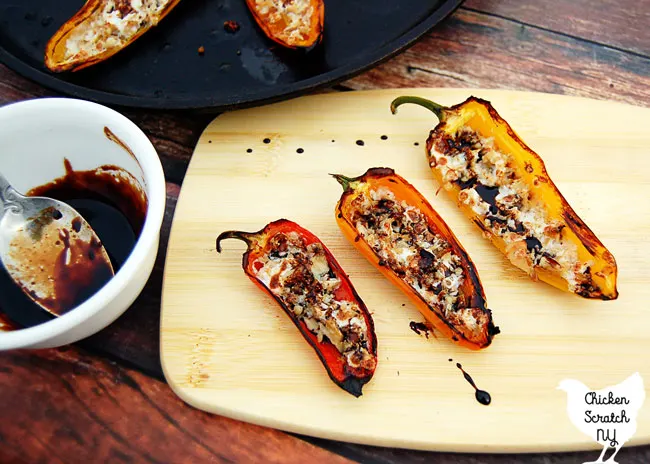 The mini peppers from Aldi's come in a mixed bag of red, orange and yellow. They make a pretty festive display cooked up together.
Use a sharp knife to cut the peppers in half through the stem. Scoop out the seeds with a spoon.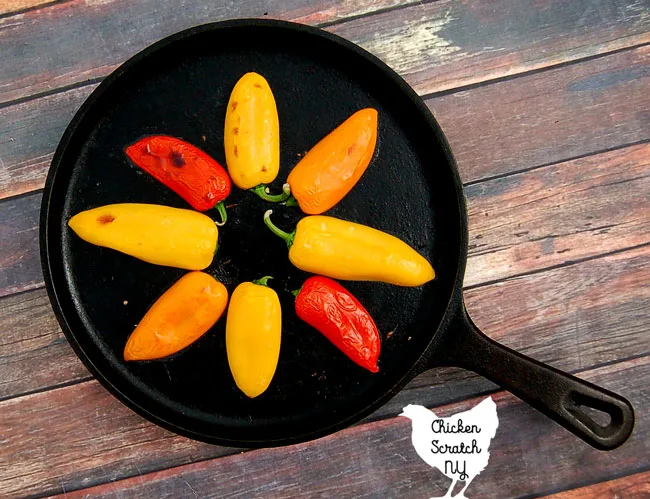 Try to cut the peppers so they'll lay flat without too much wobble. I broiled them twice, first cut side down. I used my cast iron griddle for this.
For the filling I used baked chicken thighs. I always buy thighs because they're cheap, really nothing more to it than that.
My go-to baked chicken method is to toss my cast iron skillet in the oven while it preheats. Carefully pull it out and add the chicken with a little salt and pepper.
Bake at 400 until I remember to take it out of the oven. Usually by the time I smell the roasted chicken in my living room it's done
I chopped up the filling in my food processor. Add the chicken, the mozzarella and some black pepper and chop it up.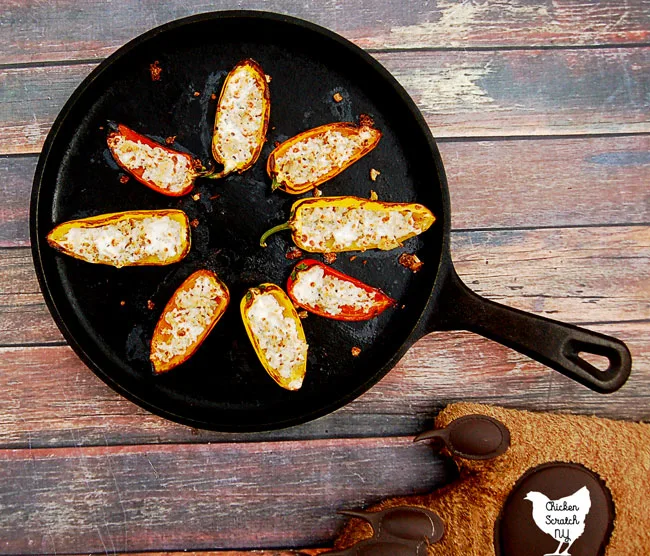 After the first trip under the broiler I flipped the peppers over and added the chopped filling. Back under the broiler they went. Isn't that the best oven mitt? Sooo many bear hands jokes in my kitchen!
The sauce for the cheesy chicken pepper bites couldn't be easier. Heat balsamic vinegar over low-med until it's reduced to a syrupy consistency.
It will thicken up a little more in the fridge so keep that in mind if you plan to make it ahead of time.
Don't forget to PIN this to your Appetizer or Recipe board for later!
Yield: 4
Chicken & Mozzarella Stuffed Baby Peppers with Balsamic Glaze with a Balsamic Glaze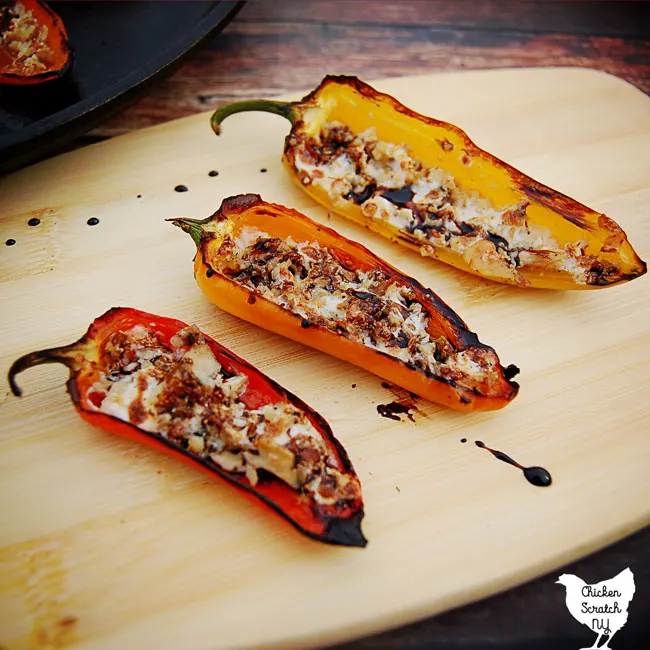 Turn a bag of adorable mini peppers into a delicious appetizer with this recipe for Cheesy Chicken Stuffed Pepper Bites with a Balsamic Glaze. They cook quickly under the broiler so you can get back to having fun asap
Ingredients
12-18 Baby Peppers
1 Cup Baked Chicken
1 Cup Fresh Mozzarella
Pepper, to taste
1/3 Cup Balsamic Vinegar
Instructions
Heat balsamic vinegar in a small saucepan over low-medium heat until reduced to a syrupy consistency
Combine chicken and mozzarella to the bowl of the food processor, season with pepper and chop. Don't leave any large chunks but you don't want a paste either
Turn the broiler on high
Slice the peppers in half through the stems. Use a spoon to scoop out the seeds
Place cut side down on a small pan and place under the broiler for about 2 minutes until the skins begin to blister
Carefully flip the peppers and use a spoon to add some filling to each
Place back under the broiler until the cheese is melted and starting to brown
Remove from the oven and drizzle with balsamic reduction
Check out my Recipe Page for more ideas or start with these: