Rudolph the Red Nosed Reindeer is a holiday classic and we watch it every year. Even though the old school attitude of the dad makes me cringe… My favorite character has always been Bumble the Abominable Snowman.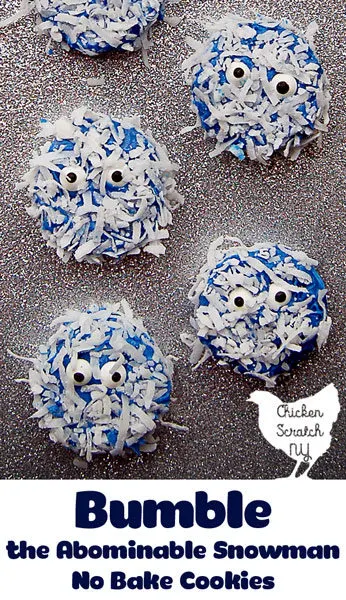 To be honest I barely even pay attention to the movie until he shows up. I love his toothy and then tooth-less grin when he joins the happy Christmas celebration at the end. I wanted to show him some love so I made a batch of no bake Bumble Cookies.
You can find vanilla (aka white) almond bark just about anywhere during the holiday season. I bought this block at Aldi's.
Melt the almond bark in a glass bowl in the microwave. Stop heating when there are still a few lumps of solid bark left. You don't want to over heat it, it will continue to melt while you stir it.
You can add color with paste food coloring. DO NOT use liquid coloring or the candy will seize up and no one wants that.
I used paste food coloring because I wanted a deep blue color. You could also use colored candy melts instead of almond bark & food coloring.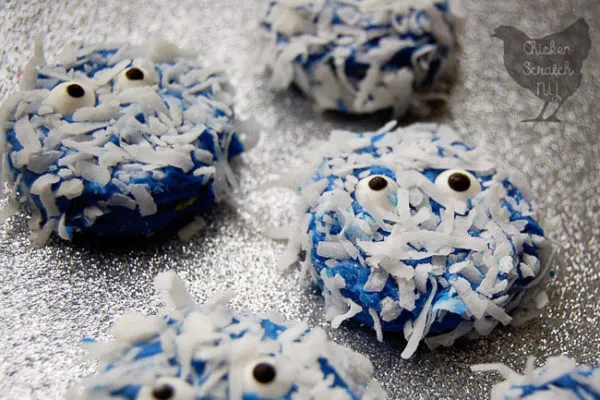 I dipped cookies in the almond bark but you could also make this as a candy bark in a large sheet that you break apart like my Toasted Almond Cranberry Bark.
There is no clean easy way to get the candy on the cookies. I tried to stick them on a fork and they kept popping apart.
So go all in, dunk the cookies and smooth out the extra with a spoon. Have clean hands and you'll be good. The number of cookies you'll get from each batch depends on how thick you make the candy. You should get 10-12 cookies for each 3 block batch.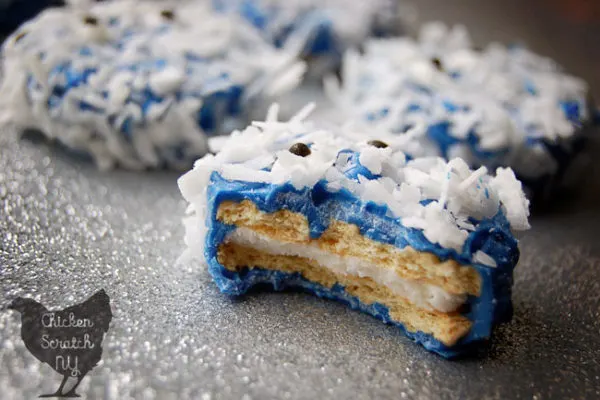 Don't be afraid to reheat the candy if it starts to harden in the bowl. Pop it back in the microwave for 15 seconds.
If your candy gets clumpy or dull you can try to bring it back to life by adding a little coconut oil or shortening. I've saved a few batches of ganache that way when I lost track of time making Whiskey Chocolates!
Add the eyes and then the coconut as soon as you can. The eyes and coconut won't stick once the candy has started to harden. The easiest way to add the coconut is just pile it up on and around the cookie then shake off the extra when the candy is set.
Yield: 12 cookies
Bumble the Abominable Snowman Cookies

Whip up a batch of no-bake Bumble the Abominable Snowman Cookies with blue candy coating, candy eyes and a shaggy coat of coconut
Ingredients
3 blocks of Vanilla Almond Bark
Blue Paste* Food Coloring
White Sandwich Cookies, I used Aldi's brand white Oreos
Coconut
Candy Eyes
Instructions
Cover work area with parchment paper
Melt 3 blocks of almond bark in the microwave in 15-30 second intervals stirring well
When only a few lumps remain stir in blue coloring until desired color is achieved
Dip cookie in melted almond bark, smooth with spoon and place on parchment
Quickly add 2 eyes and sprinkle with coconut
Allow to harden on parchment
Notes
*Do not use liquid food coloring with almond bark or the candy with seize up
More Holiday Sweets: