The closest I've ever come to intentionally running my husband over with my car was last summer. I was canning picked pepper rings and I mixed up my bags of mild peppers and super hot peppers.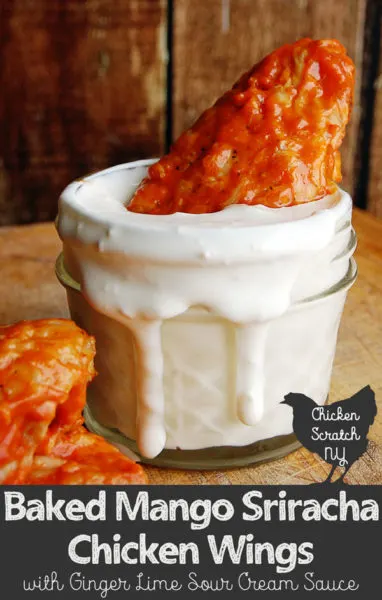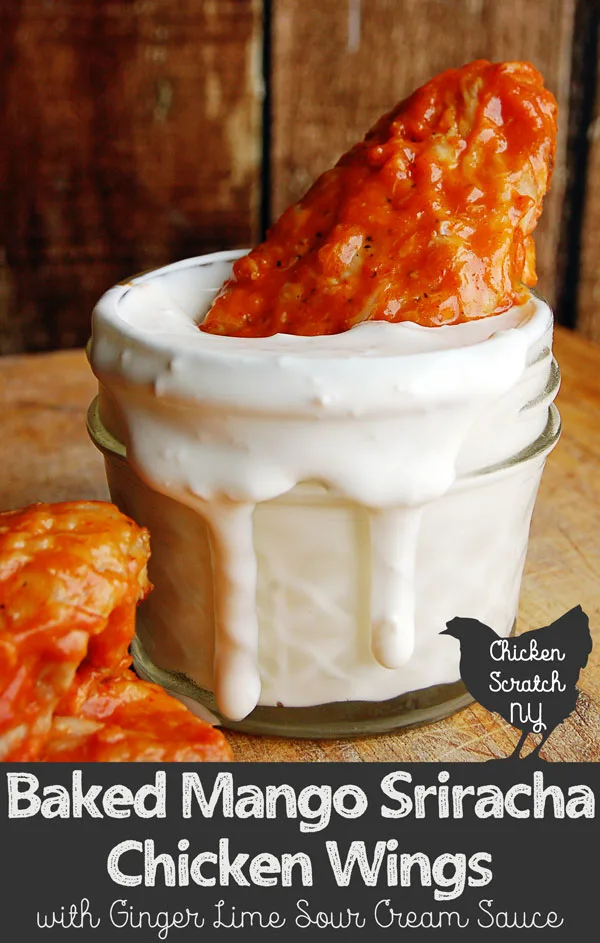 They pretty much looked the same so I asked him to try one and tell me which it was. He assured me it was the mild one, of course trusting that my husband wouldn't try to kill me with capsaicin I popped a piece in my mouth. Well… HE LIED.
Moral of the story: I no longer trust my husband to tell me when things are hot. He was pretty intrigued when I told him I was going to make Mango Sriracha Chicken Wings, he also told me the sauce wasn't very hot.
That's why I decided to make up a quick Lime & Ginger Sour Cream Sauce to go on the side. I was surprised when my 2 year old stole a wing from my husband and licked her plate clean. Personally I like them with the sauce.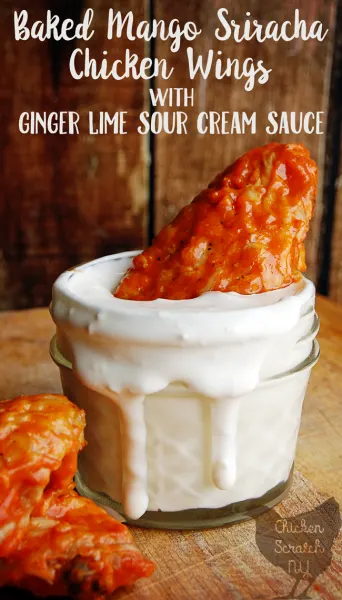 During the great paleo experiment with 2013 (I actually felt really good and lost weight but then I got pregnant and my body decided that all meat was the devil and I ate peanut butter toast for 6 months) we ate a lot of baked wings.
The spicy sauce was the only thing strong enough to keep my carb-loving husband from snapping and eating a 10 pound bag of potatoes. The method is really simple to experiment with. Basically, separate wings, toss with salt & pepper, bake, toss with sauce, eat.
We buy whole wings at the butcher. First cut off the wing tips & save them for stock, cut the wing from the drummette and you're golden.
I used to get all fancy and cut around the joint, my husband just goes at it with a cleaver
. Unless you're trying to impress someone his method way faster.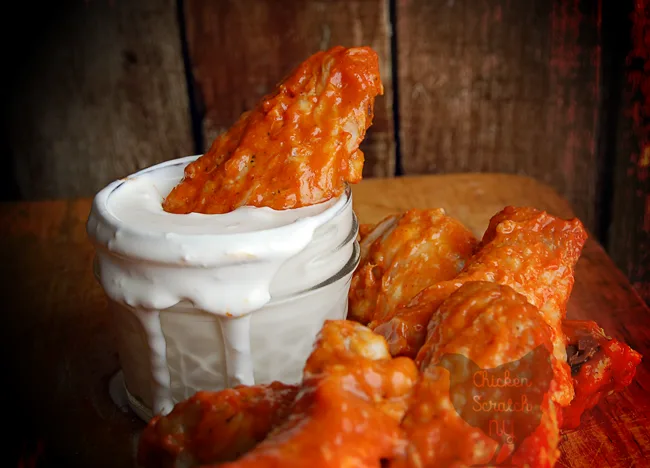 Yield: 24 wings
Baked Mango Sriracha Chicken Wings with Lime & Ginger Sour Cream Sauce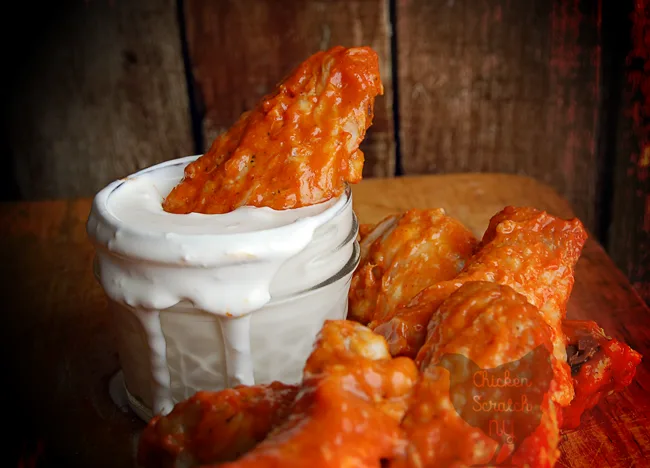 Bake up a tray of Mango Sriracha Chicken Wings for your next party, serve them with a Lime & Ginger Sour Cream sauce to temper the heat
Total Time
1 hour
10 minutes
Ingredients
12 whole chicken wings, cut down to 24 pieces
Salt & Pepper
2 C frozen mango chunks, thawed
1/4 C Pineapple Orange Juice
1/4 C Sriracha
1 T Honey
1 t Fresh Ginger
1 Garlic Clove, peeled
1/2 C Sour Cream
1 t Lime Juice
1 t Fresh Ginger, grated
Instructions
Preheat oven to 375. Cover a large cookie sheet with aluminum foil
Cut wings up as described above, toss with salt & pepper
Place on cookie sheet and bake for 1 hour
Combine all mango, juice, sriracha, honey, ginger and garlic in the blender, pulse until smooth. This takes longer and is much louder if your mango isn't completely thawed
Stir together sour cream, lime juice and grated ginger in a bowl
When wings are done remove from cookie sheet and place in large bowl
Pour wing sauce over the hot wings and toss (or stir, I won't judge, my husband worked at enough pizza places to have his wing tossing down to a science)
Serve with sour cream sauce on the side
You may also enjoy: