My family is weird. If you knew me at that would not surprise you. Every fall my mom, sister, grandma and an assortment of children go to Critz Farms for the Fall Festival.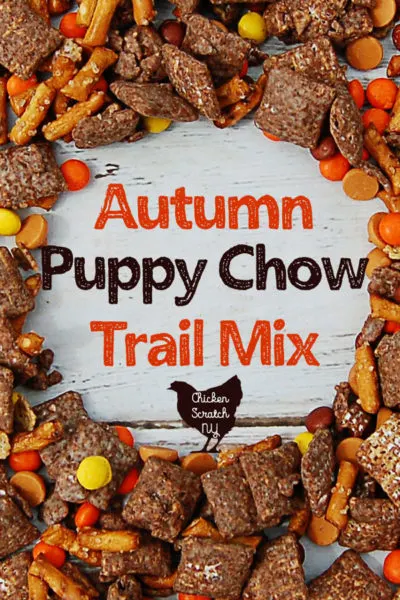 We've been going since I was pregnant with Mary, so this will be our 4th year. They have this giant corn maze, and hidden inside it are craft punches. If you find 4 you get free apple fritters.
This is where the crazy comes in. My mother WILL NOT stop until she has all punches.
I'd like to say we have a method but mostly we pretend to know where we are while wandering around saying things like "are you kidding me!? Number 6 again!?" or "hmm the road is that way, we must be in the nose" spoiler alert, we are never where we think we are…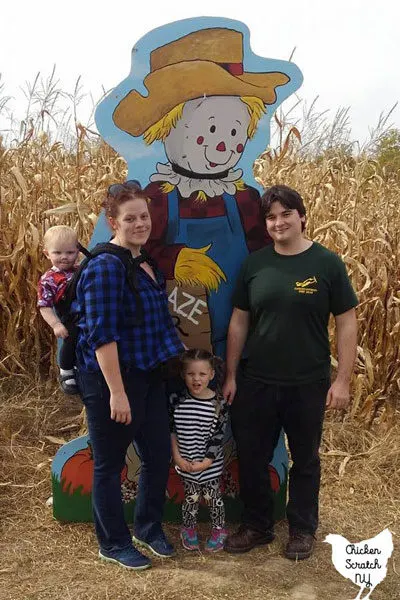 The point of this rambling introduction is that I get to spend hours every year trapped in a corn maze with a hoard of children. Children that are always hungry and always need to pee.
I'm sure you've found yourself in a similar situation. While I can't stop them from peeing in a cornfield I can help you out with the hunger.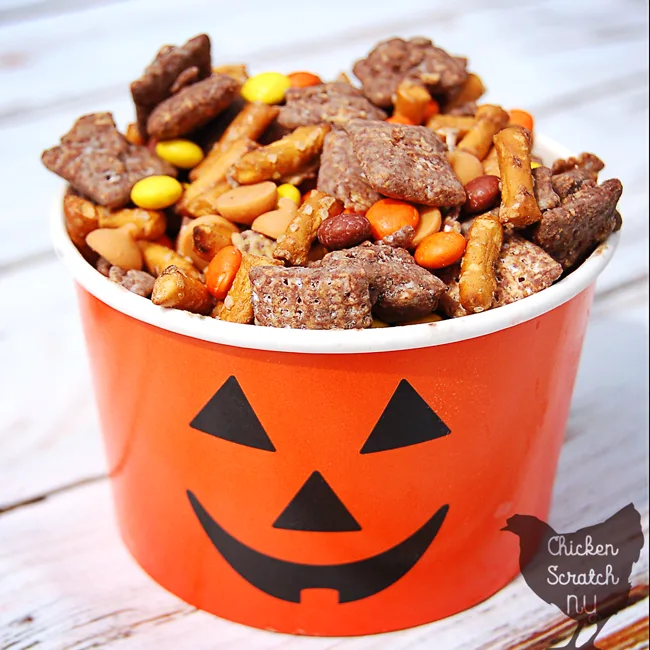 Bring a bag of autumn puppy chow trail mix on your next family outing and keep the little ones from gnawing on each other. The bulk of the trail mix is puppy chow (aka muddy buddies) with a few cups of sweet and salty treats mixed in. Mary enjoys the 'chocolate cereal' the most, like her mother shes a fan of all things chocolate.
This is a great no bake dessert or snack. You will need to melt the chocolate in the microwave but after than you can even let the kids take over. If you're brave. And you don't mind getting a thin layer of powdered sugar on every thing you own.
A little side note about chocolate chips. They are actually formulated so they keep their shape when you melt them, so don't expect them to look very different when you pull them out of the microwave. You need to get in there and really stir it up!
As for adding the powdered sugar you can do it in a bowl or, for a slightly less messy experience, throw the chocolatey cereal into a large zip lock bag and use that to add the sugar. I personally don't like that method because you loose a lot of chocolate to the sides of the bag.
Add the sugar a little bit at a time, you want everything nicely coated but too much powdered sugar will leave you with a very messy snack time. After the cereal has cooled and the chocolatey peanut butter is set you get to add the fun mix ins.
Pick something salty like pretzels to really get the most out of this dessert. That salty-sweet flavor combo is delicious! It's also the only reason I enjoy this snack mix. I'm one of 6 people on the planet that doesn't like chocolate and peanut butter together, it's way to sweet for me. When you add add a little salt it's suddenly perfect!
Do you have fall traditions like a corn maze you hit up every year? Let me know in the comments!
Don't forget to PIN this to your recipe board!
Yield: 1 Gallon Bag
Autumn Puppy Chow Trail Mix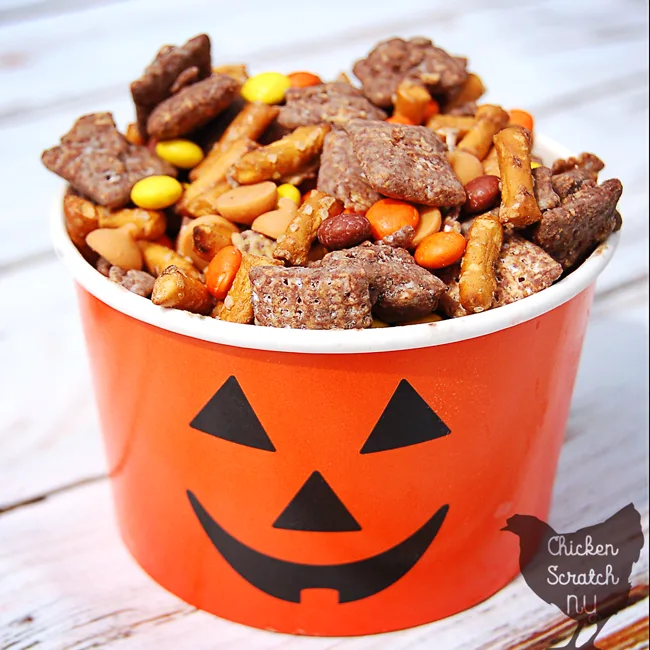 Mix chocolate coated cereal with a few salty & sweet treats to make a batch of puppy chow trail mix to bring along on your next hayride or pumpkin hunt
Ingredients
8 cups corn chex
1 15 oz pkg chocolate chips
1/4 c peanut butter
1-1.5 cups powdered sugar
3 cups small pretzel rods
1.5 c mini Reese's pieces
1 c butterscotch chips
Instructions
Melt chocolate chips and peanut butter together, pour over cereal and mix until evenly coated
Sift powdered sugar over the chocolate cereal 1/2 cup at a time and stir. You want the cereal to be handleable but avoid having lots of loose sugar at the bottom of the bowl
Set cereal aside to cool
Stir pretzels, Reese's minis & butterscotch chips into the cereal
Store in the fridge to keep things from getting gooey
Check out my
Recipe Page
or
Halloween Page
for more ideas or start with these: