Last fall I made a
Fall Forest Pillow
with fusible applique. I was in a rush so I never actually sewed the appliques down. Between the two of us, guests and pets the appliques barely made it through the season.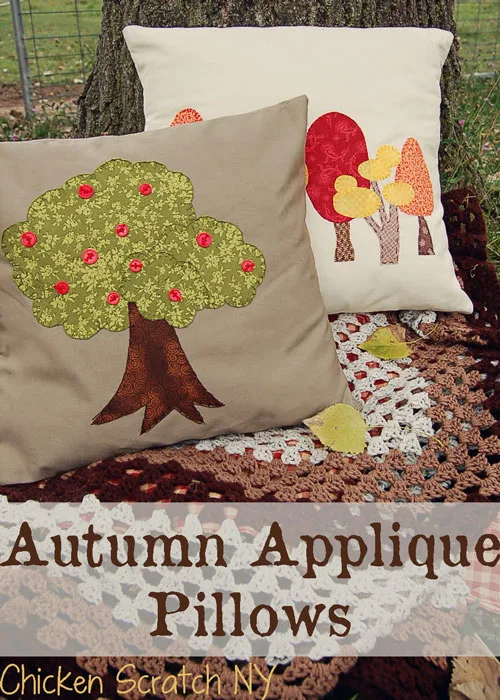 When I pulled the pillow out for the autumn season I knew it wouldn't make it through another fall season.
I used regular sewing thread, quadrupled, to stitch down the appliques.
I really liked the technique and the finished product so I decided to adapt it a bit to make this pillow:
You need:
Pillow case or fabric to make one
Fusible web
Green and Brown Fabric
Red buttons
Green, Brown and Red Thread
Iron
I started out by free-handing a tree trunk and 'fluffy' shapes for branches on the paper side of paper-backed fusible web. The paper gets removed so feel free to keep drawing until you're happy. Once you are cut out around your shapes, leave a border of about 1/4 inch on the outside. It's up to you about cutting out the inside. If you cut out the insides you get a softer applique but since my pillow cases are made out of heavy twill I didn't bother.
Iron the cut out shapes on to the wrong side of the fabric, paper side up. Follow the directions on your fusible. Trim the fabric, cutting on the lines this time.
Peel the paper off the fabric, arrange the shapes, moving them around until you are happy with the placement.
Start ironing the pieces down from the back to the front.
Hooped and ready for hand stitching
Once your fabric is cool you need to stitch down the appliques. I did mine by hand in a loose, unbalanced blanket stitch style but you could use a machine. After you've completed the outline stitches it's time to add the apples. Randomly sew on red buttons.
Close up of blanket stitch and buttons
I like to scatter the buttons, move them around until they make me happy and then I mark them with chalk so I can sew the buttons around without them popping around like kids on a trampoline.
Finish your pillow case and stuff with a pillow form.
This is the latest addition to my throw pillow collection. Our couch is older than I am (seriously, it was my moms before I was born and she gave it to me when I moved out) and a bit past the unattractive mark so I tend to cover it with pillows and blankets.