I'm sure I'm not alone on this, but I hate parties. I need a dozen lists of everything from guests to groceries to games. I'm really bad at asking for help so it's all on me, even if someone offers I always assure them I've got it.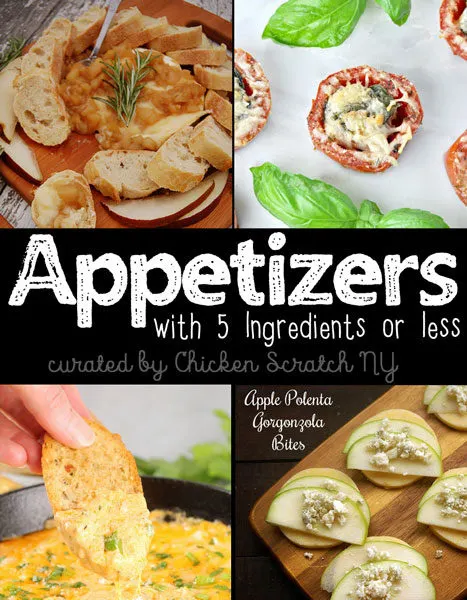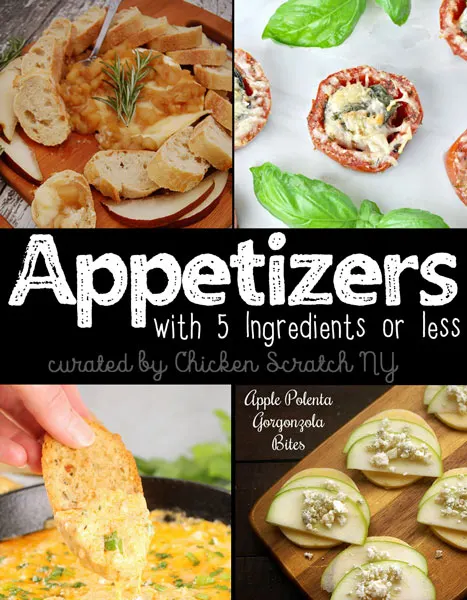 Spoiler alert, I don't. That's how I managed to not invite my Grandmother to Kat's 1st birthday party. Though in my defense I did email her but my internet pooped and disconnected and the invite went in the drafts folder never to be seen again.
Another problem I have is the tendency to over complicate everything. Well that has to stop, 2017 is the year I simplify and cut myself some slack. Starting with my party planning.
Gone are the days of complicated recipes and giant grocery lists. To celebrate my new found freedom I've put together a list of mouth watering appetizer recipes that all have 5 ingredients or less!
There is something for everyone, especially if you enjoy cheese. Almost every recipe I found when researching for this post had some kind of cheese in it. If you're really running behind maybe just toss a block of cheddar on the table and tell your guests to have fun. Clearly I don't have a future in party planning… Anyway! On the the recipes: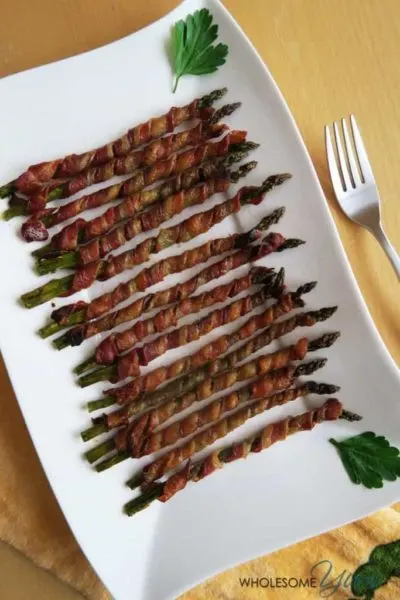 Bacon Wrapped Asparagus from Wholesome Yum
In the world of easy appetizers wrapping bacon around something is sure King.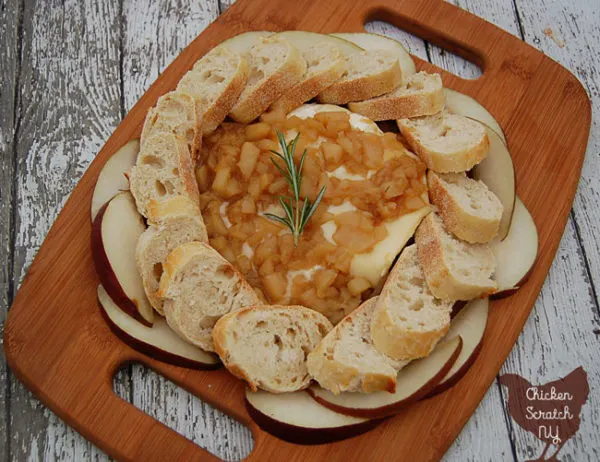 Baked Brie with Pear, Rosemary & Honey from Chicken Scratch NY
Baked Brie just sounds so damn fancy. It really doesn't have to be intimidating though! In this recipe you top it with a rustic fruit sauce sweetened with honey.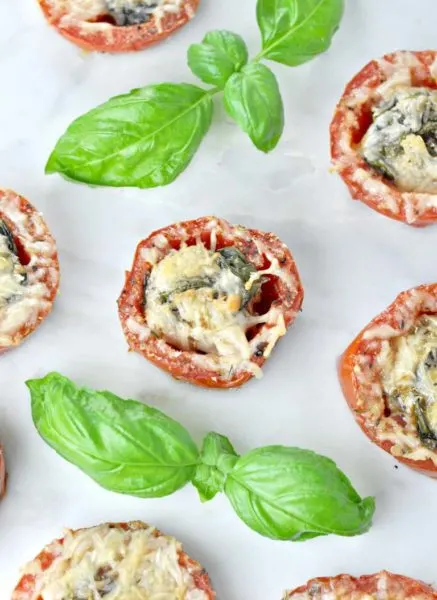 Oven Roasted Basil Parmesan Tomatoes from Peace, Love & Low Carb
Tomatoes, basil and any time of cheese are a match made in heaven. Parmesan takes the third wheel spot in this delicious appetizer.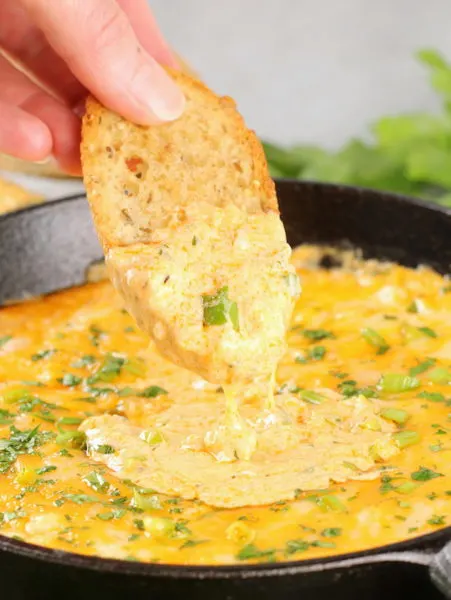 Cheesy Buffalo Shrimp Dip from Taste and See
If you can't wrap it in bacon the next step is to make it into a dip right? How about some spice with a Buffalo shrimp dip. you even get to break out the cast iron!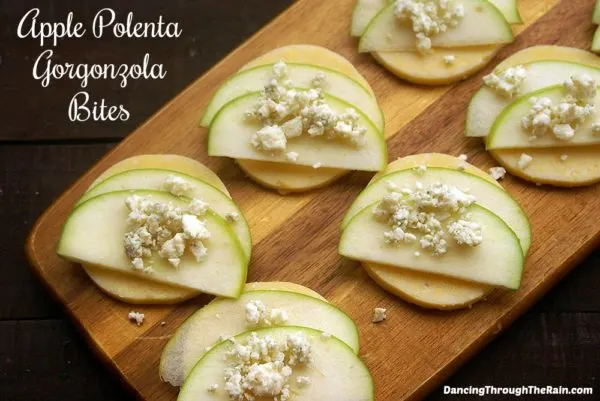 Apple Polenta Gorgonzola Bites from Dancing Through the Rain
In my opinion one of the most underrated flavor combos is apples and cheese. It's the perfect combo of sweet and salty. Here we get to enjoy that combo on top of a fresh polenta slice.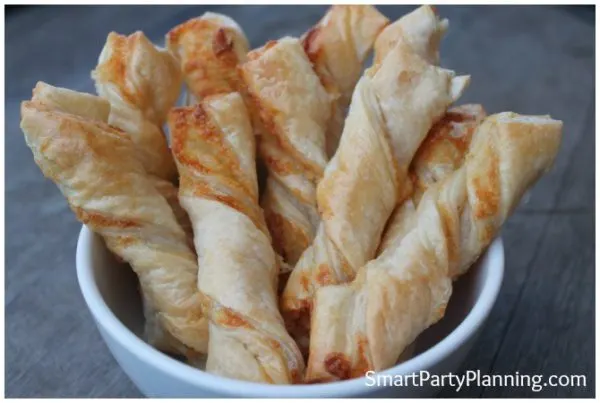 Quick & Easy Cheese Puffs from Smart Party Planning
Puff pastry is the quickest way to make something seem fancy, this twisted cheese puff is certainly proof of that!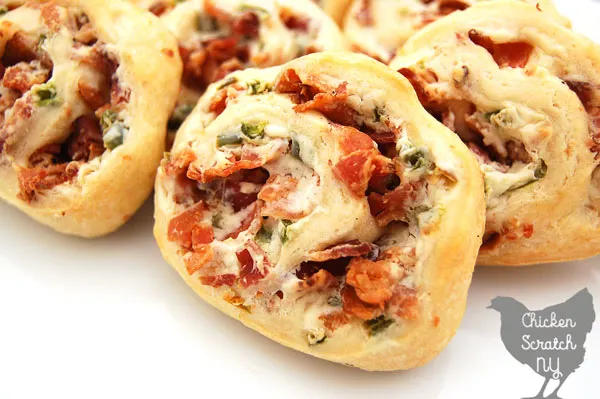 Jalapeno Popper Pinwheels from Chicken Scratch NY
I finally decided to throw my hat in the ring with a crescent dough recipe. These would be amazing with puff pastry but I'm just not that rich 😉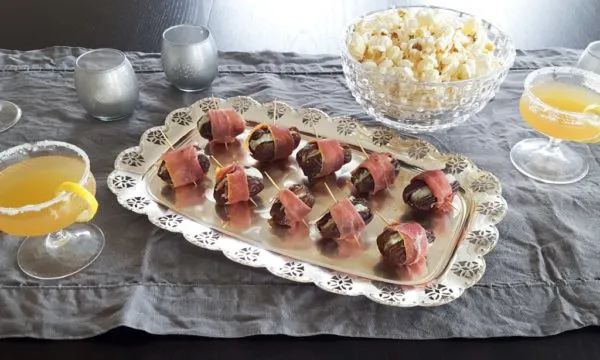 Blue Cheese Stuffed Medjool Dates from Feast in Thyme
Stuffed dates wrapped in prosciutto and stabbed with a tooth pick are a great way to bring a touch of class to your party.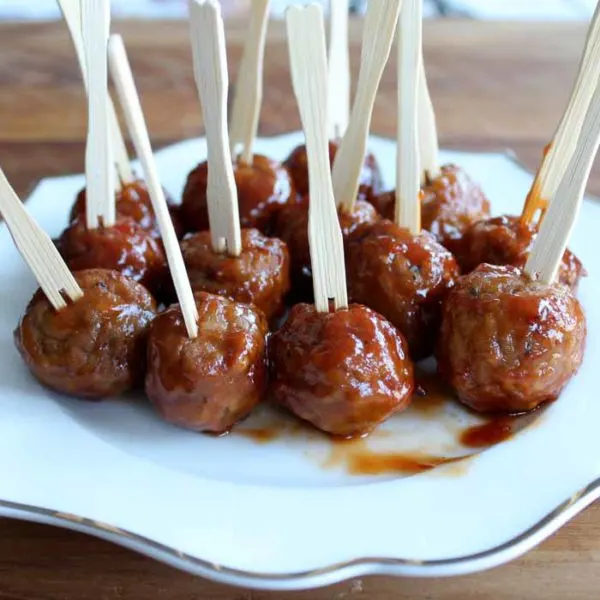 Crockpot Meatballs from The Country Chic Cottage
Anytime you can rely on the crock pot to keep the oven and stove open for the main course you're doing something right. As a bonus crock pot meat balls are easy to serve on wooden toothpicks so you don't need a plate and silver wear!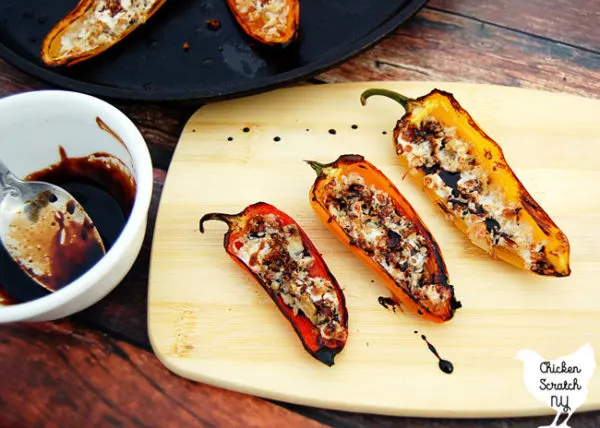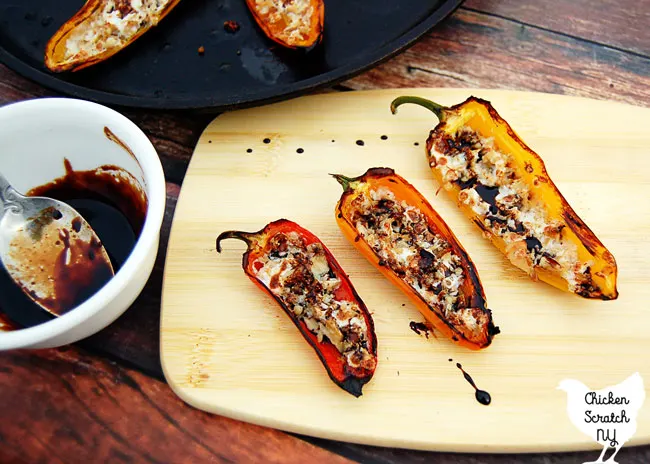 Chicken & Mozzarella Stuffed Baby Peppers with Balsamic Glaze from Chicken Scratch NY
These easy mini stuffed peppers are cooked quickly under the broiler, just long enough to soften up a bit and melt the cheesy filling. The stems leave a handy handle making them easy to grab and snack on.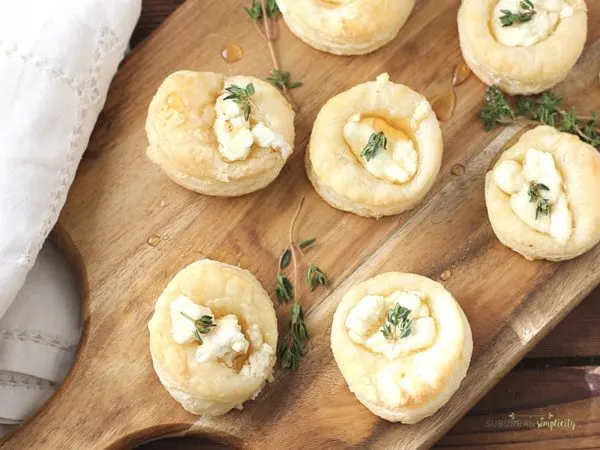 Easy Goat Cheese & Honey Bites from Suburban Simplicity
Goat cheese & honey is a classic salty-sweet combo that's sure to please. Even better when it's served up in a single bite!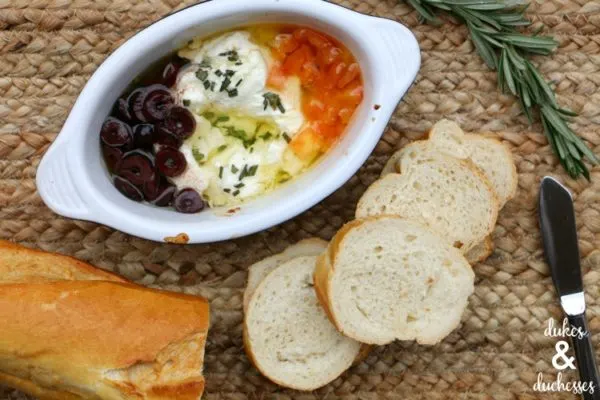 Goat Cheese Fondue from Dukes and Duchesses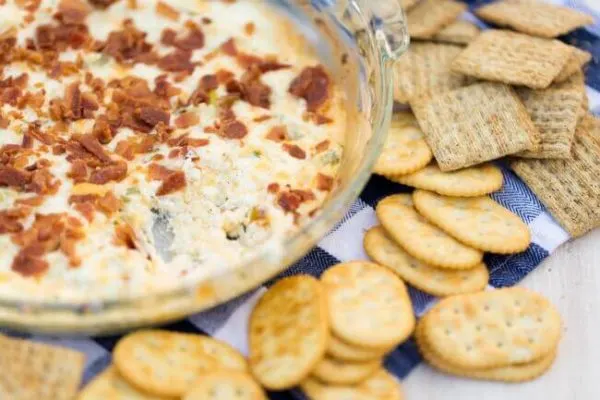 Bacon Cheddar Cream Cheese Dip from Spaceships & Laser Beams
Cream cheese dips are a party favorite for a reason, they're easy to throw together, cheap enough to make for a crowd and the flavor options are endless. This version is filled with everyone's favorite flavors of bacon and cheddar.
Check out my Recipes page for more ideas or start here: