Halloween shouldn't stop being fun when you're an adult and having an adult Halloween party is a great way to put some magic back in October.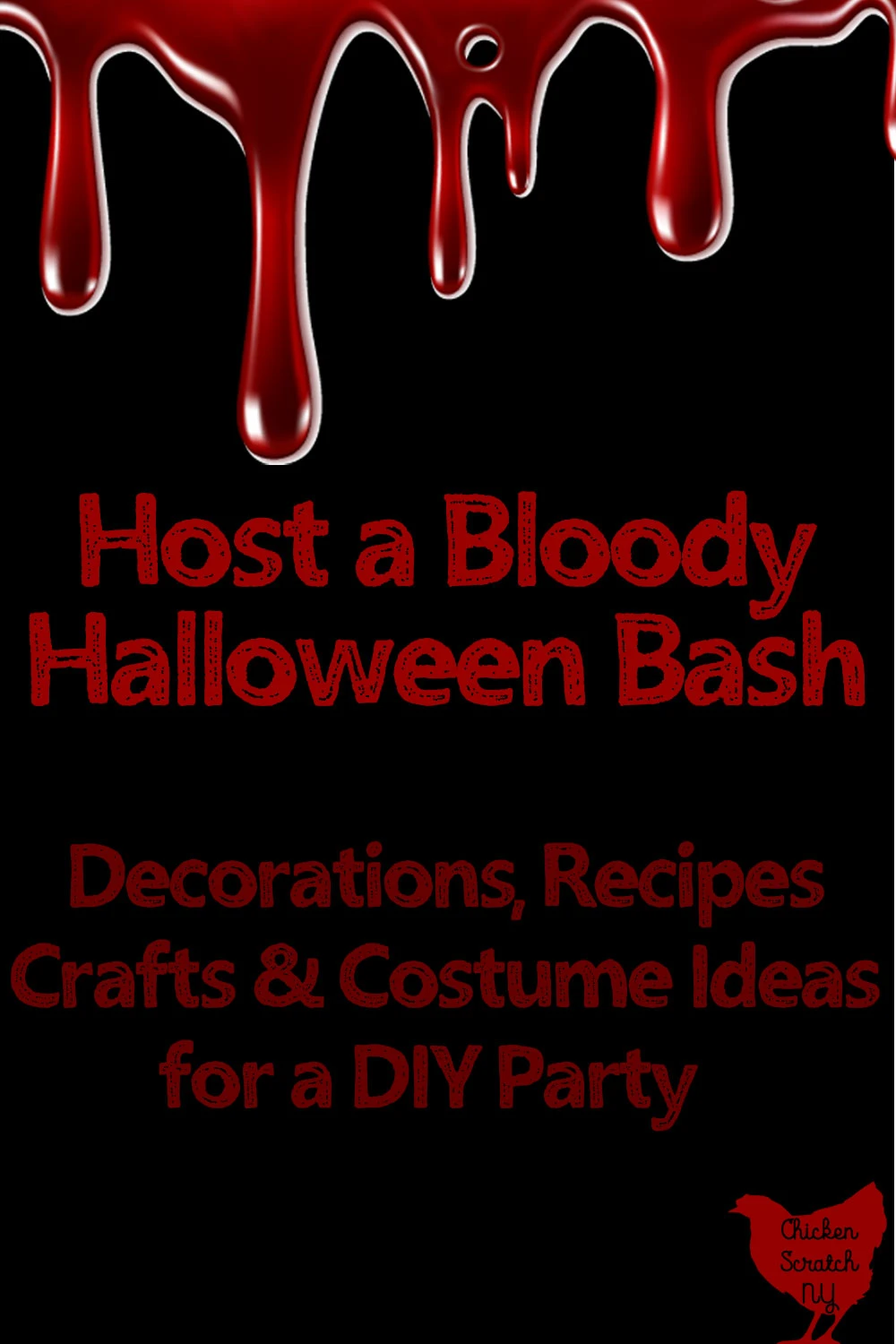 A simple theme can pull a gathering together and the theme of this party is blood. Stick with me! Slasher movies, bleeding cupcakes and blood spatters are a quick and an easy party theme to pull together.
You can go all out or keep it simple. Personally I can't get enough fake blood in my life so all out is all I know.
I'm going to break it down into bloody decorations, bleeding food & drinks, easy dress up options from my favorite bloggers and myself and a few movie recommendations to get you started.
Decorations
Starting on July 5th my home slowly morphs into a haunted house, I literally warn people when they're coming over for the first time. I blame it on being a Halloween craft blogger but the truth is I keep some of it up all year.
I'm passing that on to the next generation, a week after it comes down my 6 year old stars asking when the giant spiderweb is going up and my 4 year old doesn't understand why everyone doesn't have a skeleton in their garden year round.
That said, there is no reason to wait until October for a bloody slasher movie party especially if you DIY it. If you're more of a store bought kind of person it'll be easier in the fall.
I have no problem taking the blood and gore up to 10 but if you do, or you have normal people living in your house you can keep the bloody decorations simple.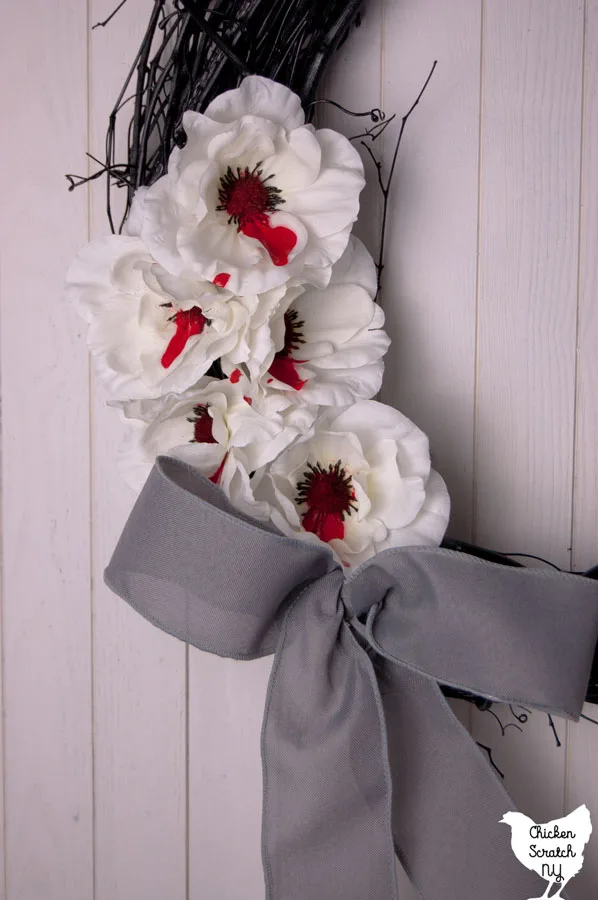 If you want to set the mood right off the bat when your guests arrive you can throw this wreath on the door, covered with bleeding flowers. This is still one of my favorite DIY projects I've ever made.
From the road the Bleeding Flower Halloween Wreath looks so pretty and normal. Then you get up close and you notice those sweet flowers are a bit sinister.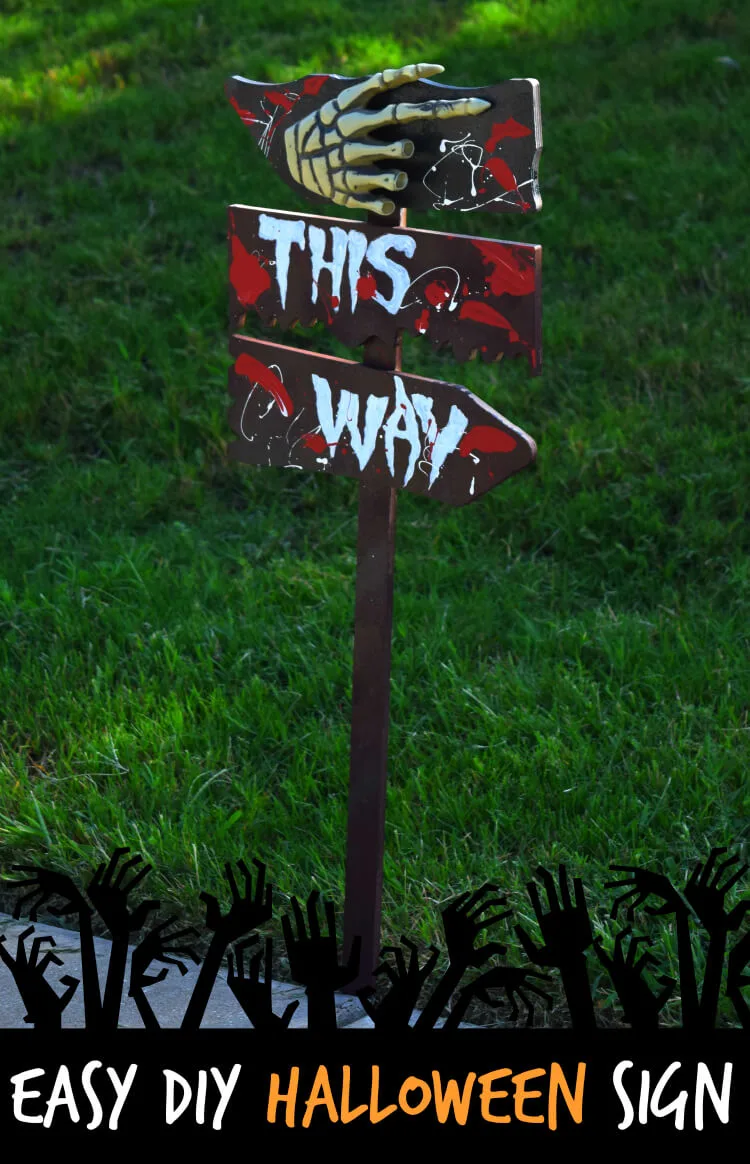 If you prefer more obviously gory outdoor decorations The Tiptoe Fairy has a great tutorial for a set of blood smeared signs with skeleton hands to help point your guests to their doom.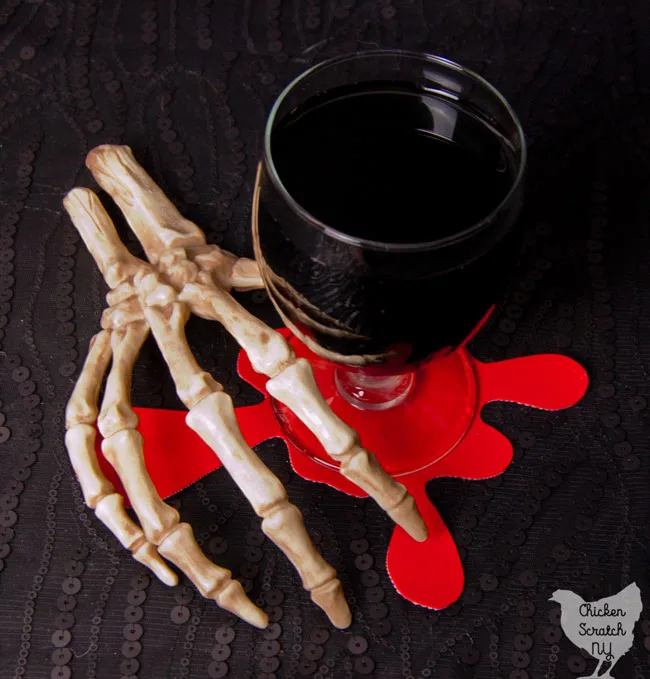 After they get into the house you can kick off drinks with a set of DIY blood spatter coasters. I made a set of these coasters last year and I still have one on my desk at work.
They couldn't be easier! All you need is a pair of scissors and some red vinyl fabric.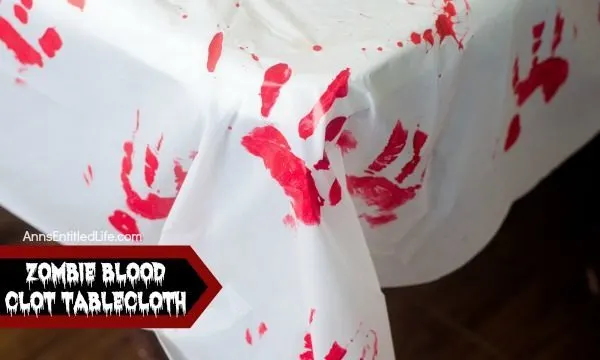 If you don't feel like cutting blood splats out of red vinyl you can go with this idea for a Bloody Table Cloth from Ann's Entitled Life. She used red paint to turn a plain white table cloth into something from a murder scene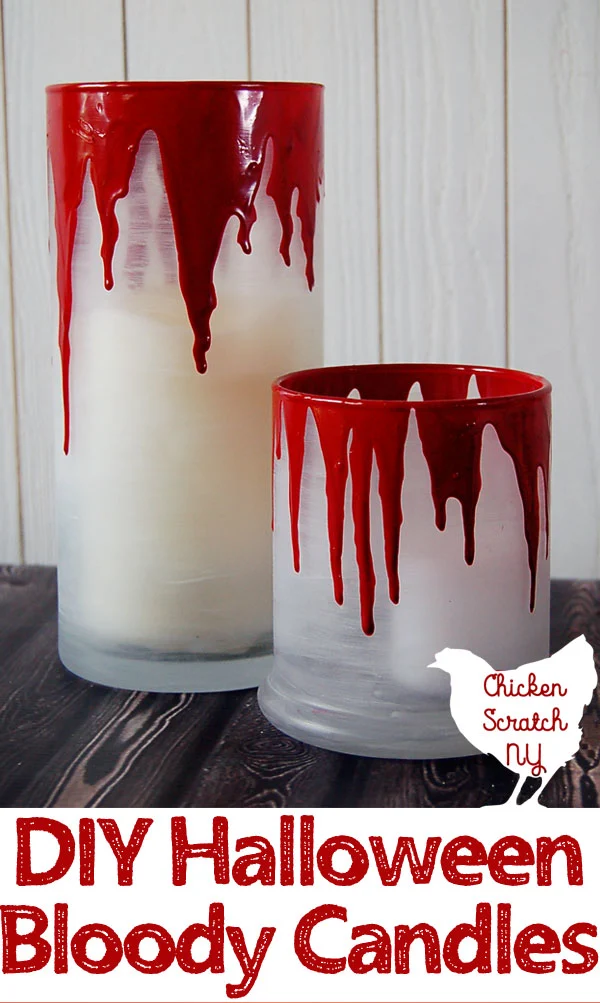 Once the table is set you're going to need some mood lighting and you can't get a much more appropriate than a set of candle holders with shiny red blood dripping down the sides.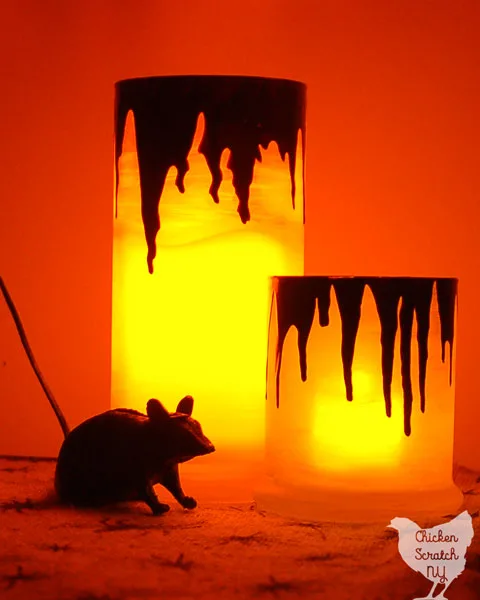 I used high gloss red paint for that freshly murdered glisten. They look just as cool when the lights go out and the fake candles inside are lit.
Maybe you aren't the DIY type? That's cool you can still get in on the bloody fun with a few decorations from Amazon. Here are a few ideas to get you started: Bloody Window Clings, Bloody Dismembered Hands, a Bloody Weapon Garland, Bloody Letter Fridge Magnets and of course Fake Blood
Bloody Food & Drinks
What's a party without food? Exactly, not a party. If you have squeamish friends you might want to offer up a few blood-free options but at this point people know what to expect from me.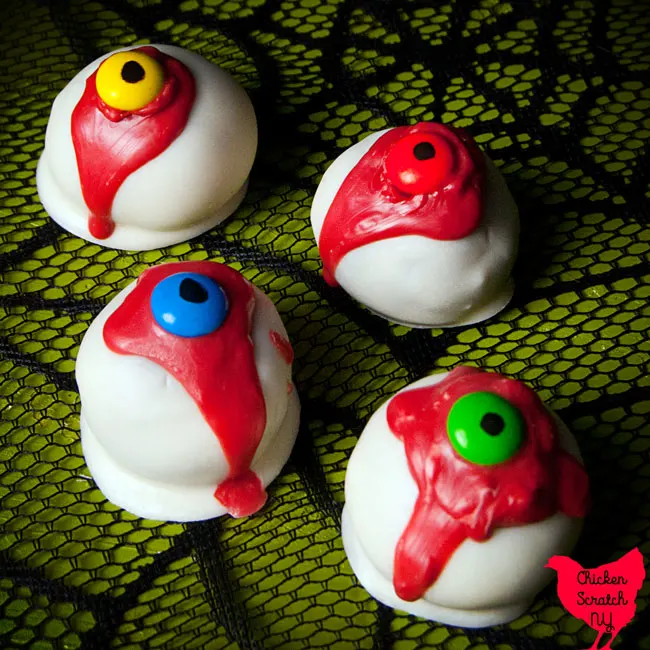 The shining star on my mom's Christmas Cooke Tray is No Bake Oreo Truffles. As a nod to my mom I had to give it my own twist by adding some Halloween flair and came up with a no bake Bleeding Eyeball Oreo Truffle.
They're easy to whip up but make sure you check out the recipe for all my tips and tricks for working with candy melts!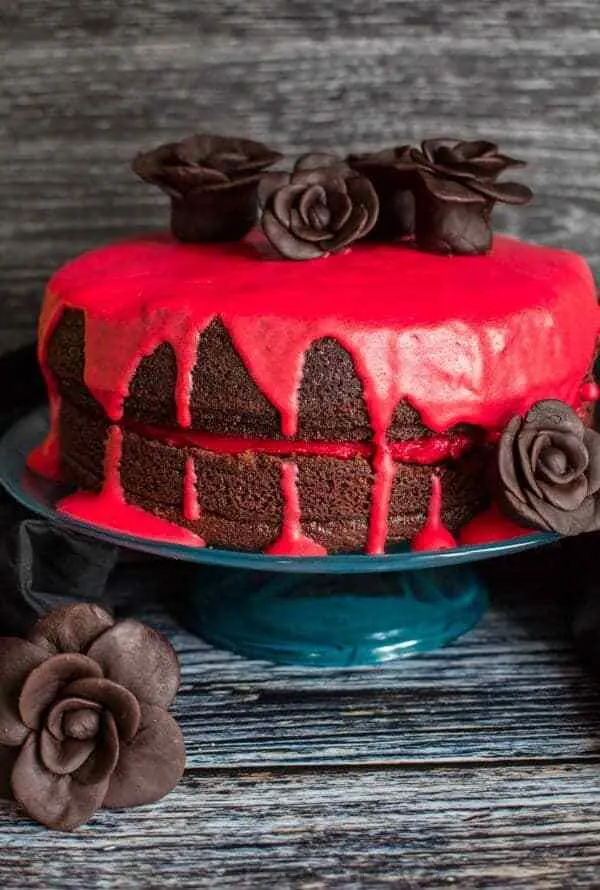 If you want even more bright red blood on the dessert table you need to check out this Bleeding Double Chocolate Cake from An Italian in My Kitchen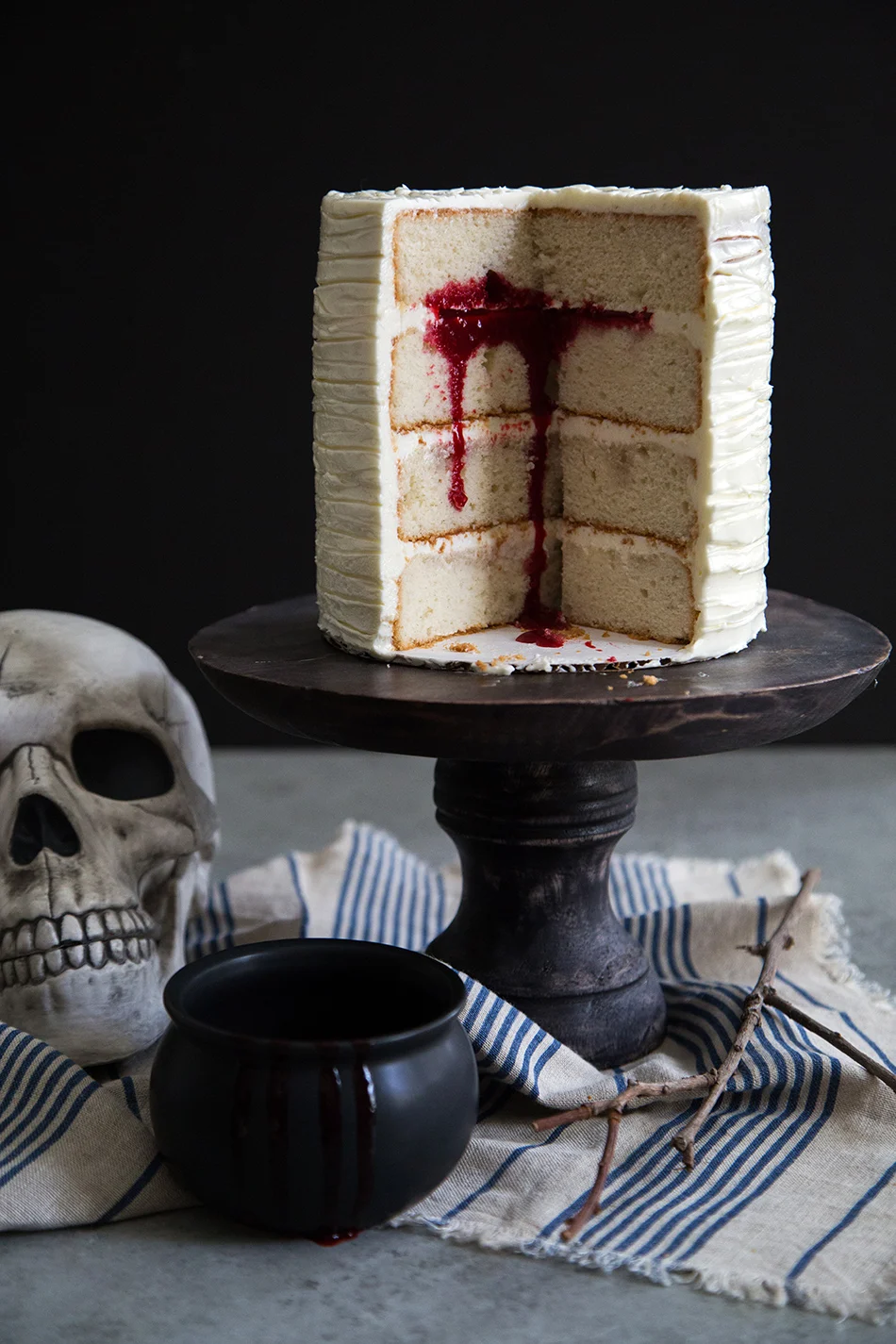 If you're setting a slightly more subdued table you might find this Vanilla & Raspberry Bloody Surprise Cake from The Little Epicurean up your alley.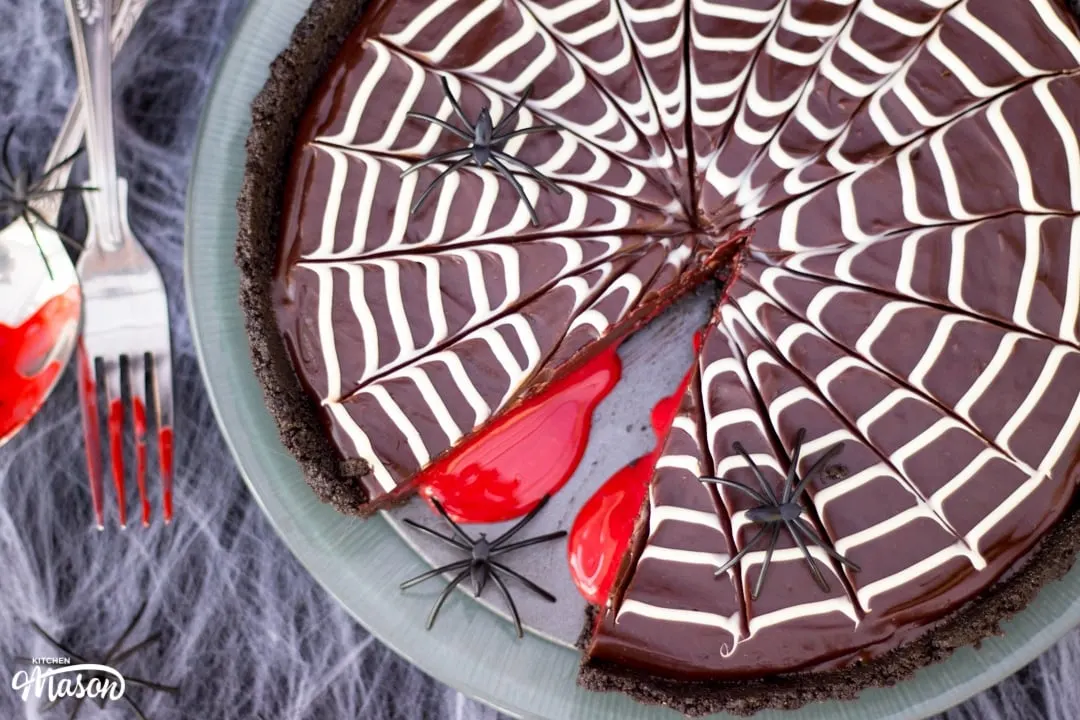 There has never been a dessert that speaks to my soul on a deeper level that this No Bake Bloody Spiderweb Tart from Kitchen Mason. It's got chocolate, oozing blood AND spiders.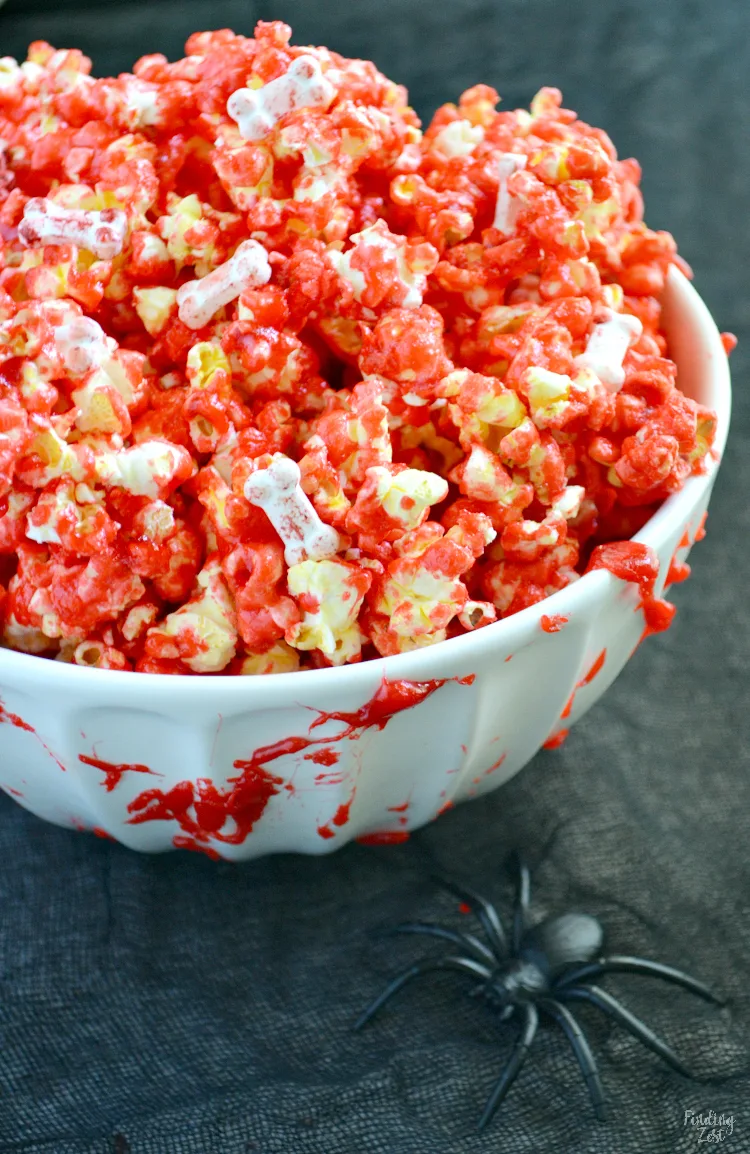 Nothing goes better with a movie and popcorn and NOTHING goes better with a slasher flick than Bloody Popcorn like this recipe from Finding Zest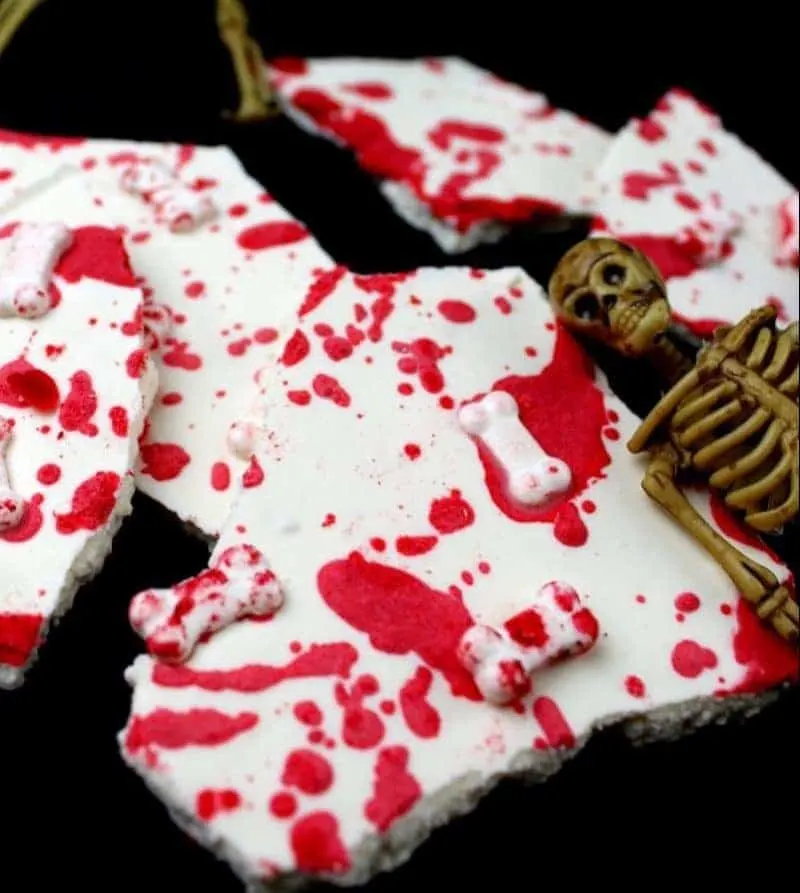 Looking for another easy blood splatted snack? I got you, check out this recipe for Bloody Halloween Chocolate Bark from Crayons and Cravings.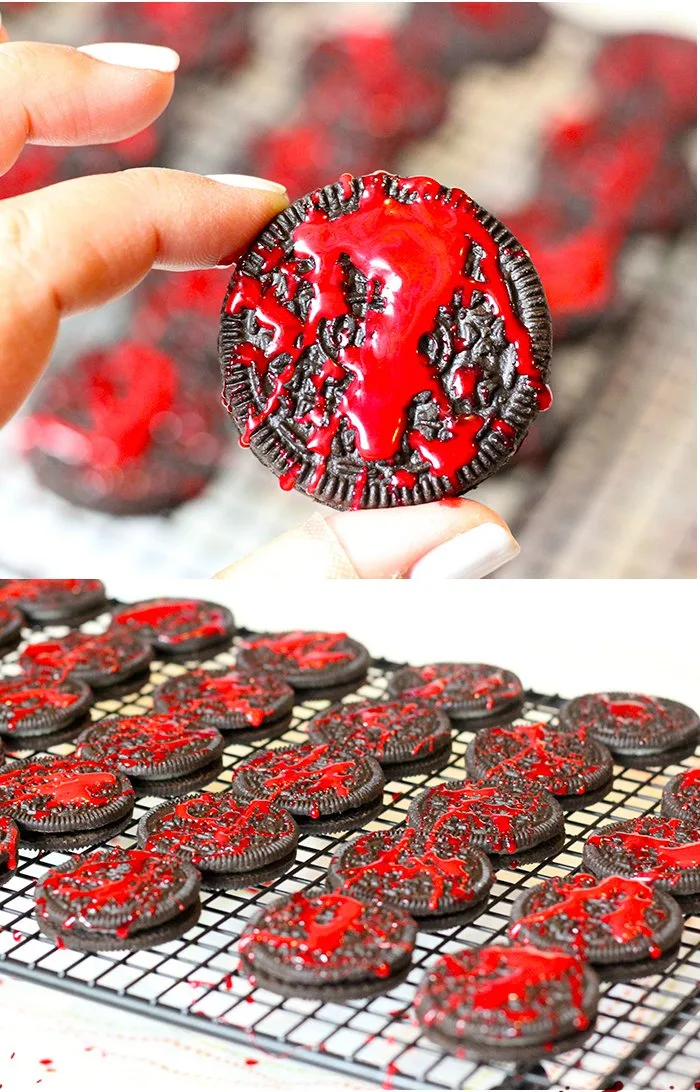 One more blood splattered treat, who doesn't love Oreo cookies and who wouldn't want to nibble on these Blood Splattered Oreos from Cutefetti!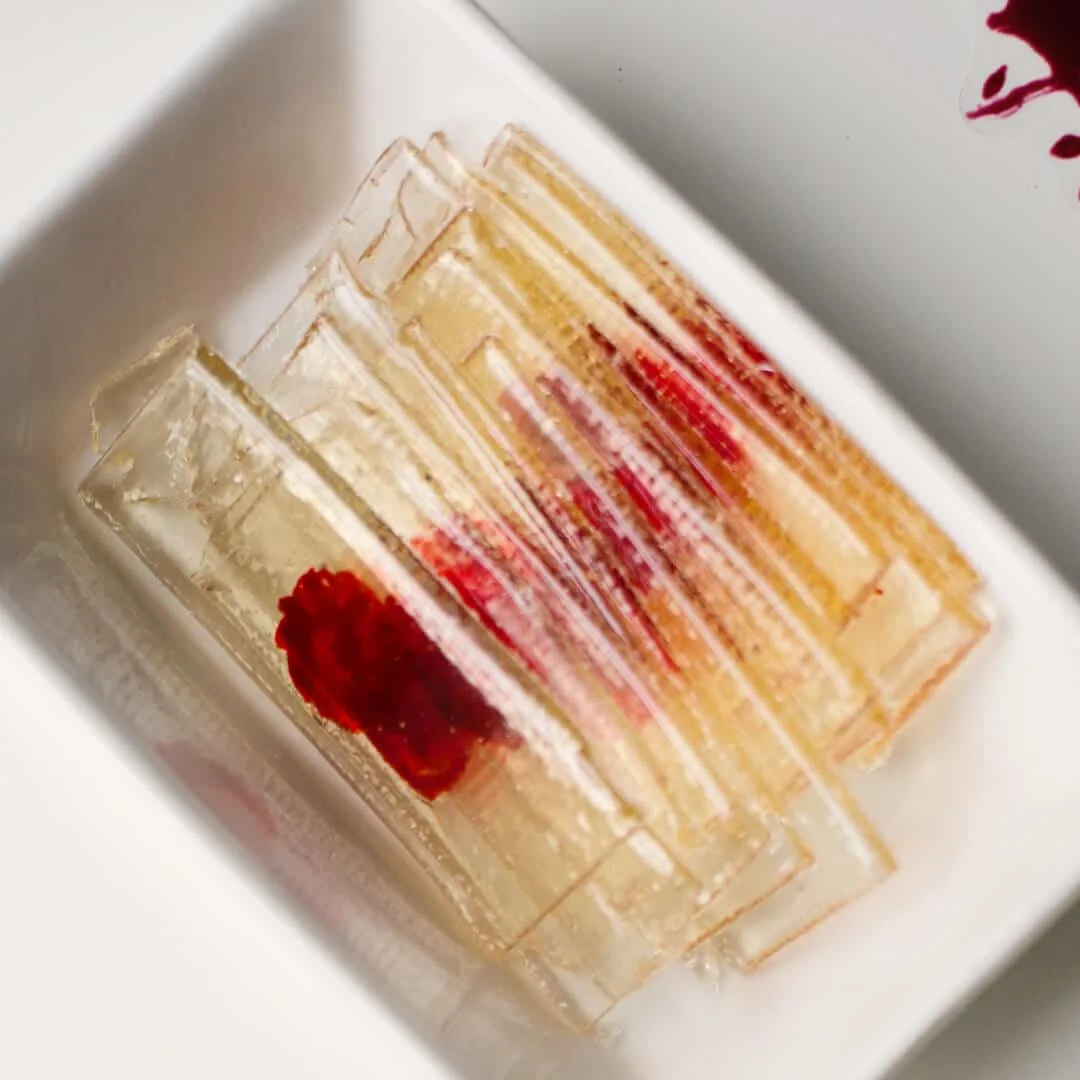 Sometimes simple isn't what you're looking for, in that case if you're looking to up the skill level check out these Bloody Candy "Slides" from Ashlee Marie.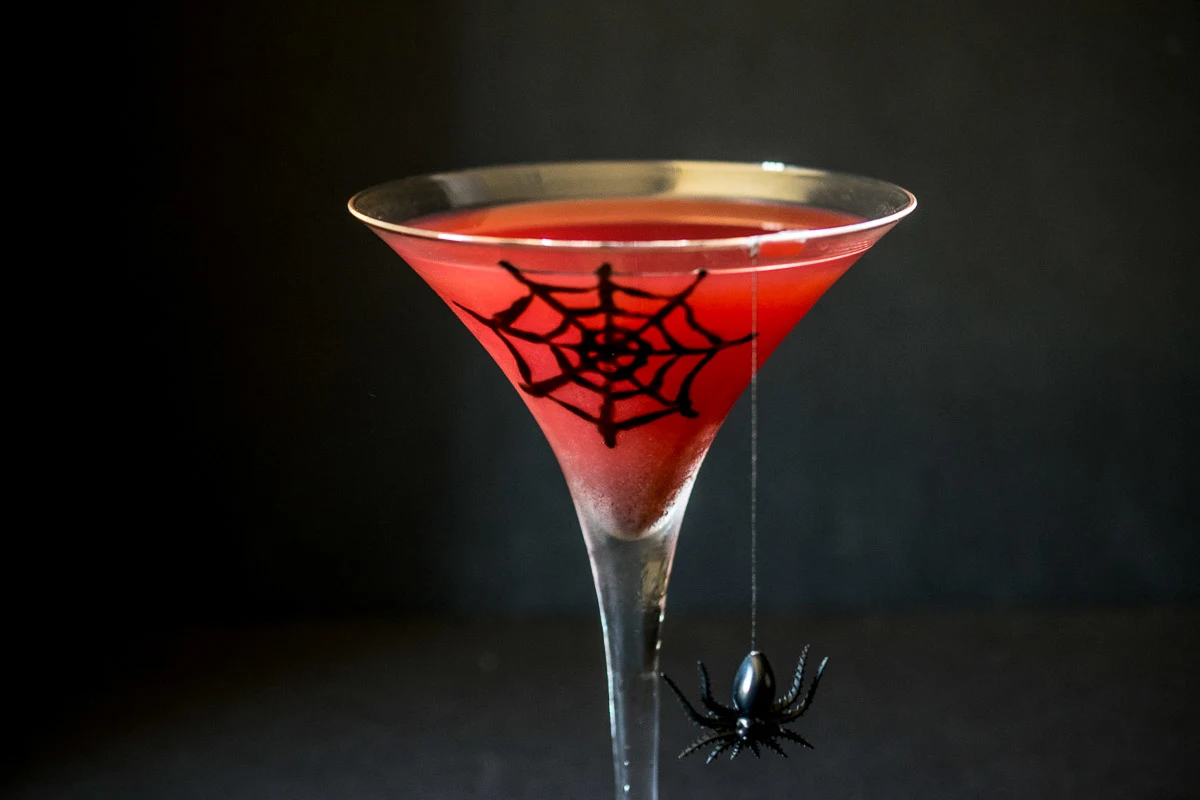 Maybe you're keeping it kids free and you're in the mood for something a bit more adult? Why not try a Blood Orange Martini from Culinary Ginger?
Dress Up
You don't have to look like you lost a fight to a lawn mower to get appropriately dressed for a bloody Halloween bash. But if you wanted to you should check out this SFX makeup tutorial from Glam & Gore on basic FX cuts 3 ways.
Of course you don't have to go that route, how about an easy bloody accessory?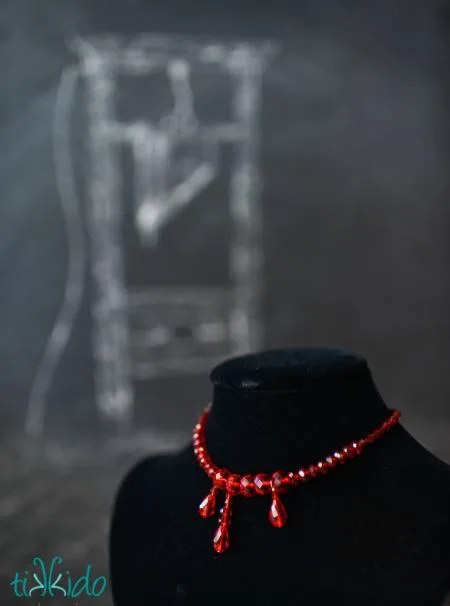 I don't think you could get any classier than this Bloody Slit Throat Crystal Necklace Tutorial from Tikkido. Another obviously Halloween accessory that I would rock all year round.
---
Now that you've got the stage set, throw on Carrie, Friday the 13th or Halloween on in the background and get ready to have fun with your friends!
Check out my Halloween Page for more ideas or start here: