Halloween is my favorite day of the year, I love going all out for the holiday just like my mom did when I was a kid. That may explain why I've had life sized skeleton on my Christmas list for years.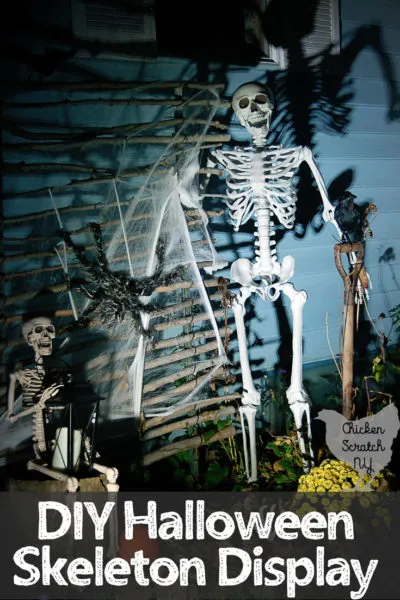 I thought it would be fun to move it around and put in funny situations. So when Oriental Trading Company reached out to send me some Halloween decorations I was thrilled. This was my chance to have my very own skeleton. It was only right that he be the feature of my front yard this year.
This post is sponsored by Oriental Trading company as part of their Brand Ambassador Program.
Earlier this year I put up my t-post trellis, which nothing grew on… so I felt it needed some attention. I started out by standing up Perry's Dad (my daughter named the little one Perry and the big one Perry's Dad, I haven't asked her if the hand has a name) and affixing him to the trellis with a zip-tie around the wrist.
He was leaning a little to the left so I grabbed a shovel out of the garage and stuck it in the ground. I used another zip tie to attach his hand to the handle of the shovel and covered it up with a really beat up crow from my Wisteria Wreath and, of course, another zip tie.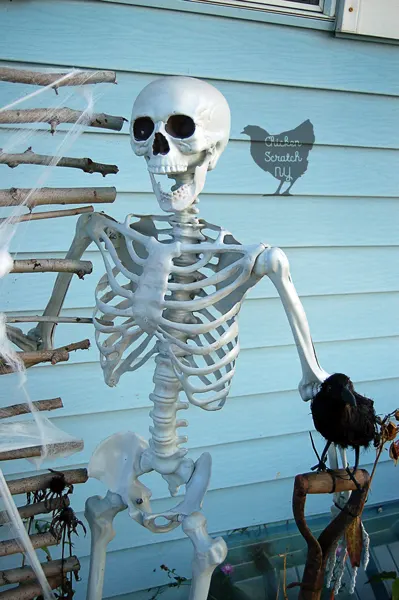 I grabbed a bag of spiderweb I had left from Mary's Halloween Birthday party (stay tuned for this years spider party!) and covered the trellis. I couldn't get flowers to grow up it but the spiderweb seemed really happy.
It needed more so I stuck on a spider that I found in my garage, because I'm the kind of person that has a pile of spiders in her garage. Another beat up crow to the top of the trellis with, wait for it, a zip tie, and I was done with the trellis.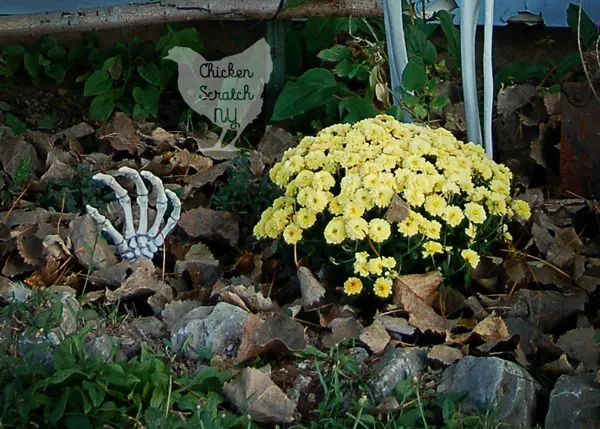 There was a bare patch in the front of the bed where the chickens had murdered a few plants. It seemed life the perfect place to add a creepy touch. I stuck the wrist bone of a skeleton hand in the dirt hoping to make it look like Perry's Dad was up to no good.
Then I went to the back yard and raked up a bunch of leaves. I put them in a bucket and brought them to the front where I sprinkled them around. It took two trips, I'm sure my neighbors think I'm nuts.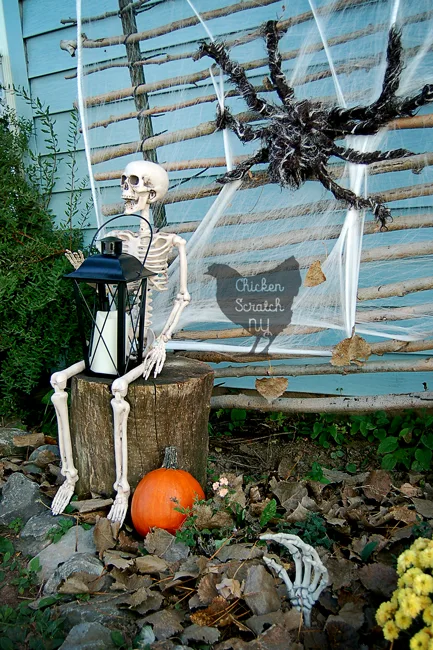 There is a stump that I move around whenever I find myself in need of raised surface in the garden, I sat Perry down on it and gave him a lantern so he wouldn't be afraid of the dark.
There's a battery operated candle inside, I didn't bother to turn it on and in a second you'll see why. I put a solar spotlight out, aimed at an angle. It comes on at dark and the Halloween magic kicks in.
I think cool white is spookier than warm white, it has a blue tone. So if you have the option go with the cool option.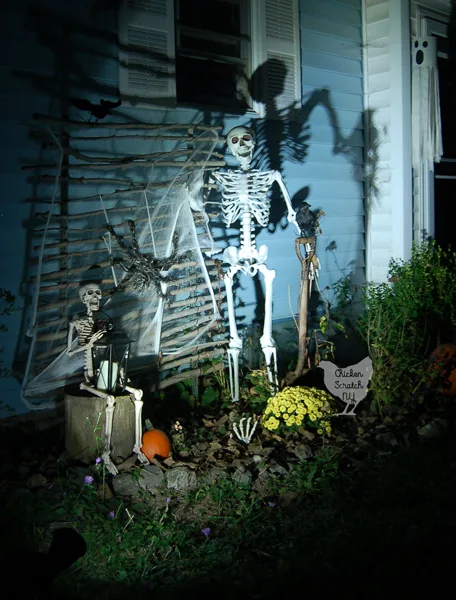 Isn't that wicked cool? The shadow from the large skeleton is my favorite part of the whole shebang.
If you look in the top right corner you can even see my Ghost Windsock back for another year of haunting. He ended up in the gutter but he's still going strong!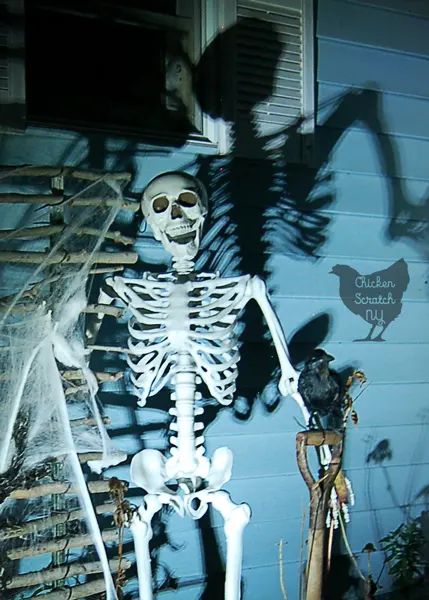 This is actually a really simple idea to recreate, I'd love to see your versions of my Halloween skeleton display. Share on my Facebook page or tag me on instagram @aleciaCSNY
Don't forget to PIN this to your Halloween Board!

More Spooky Halloween Decorations to entertain you: