Call it Muddy Buddies, Puppy Chow or White Trash; what ever you want. This crunchy chocolate & cereal snack is easy enough for anyone to make, seriously even my sister can pull this one off.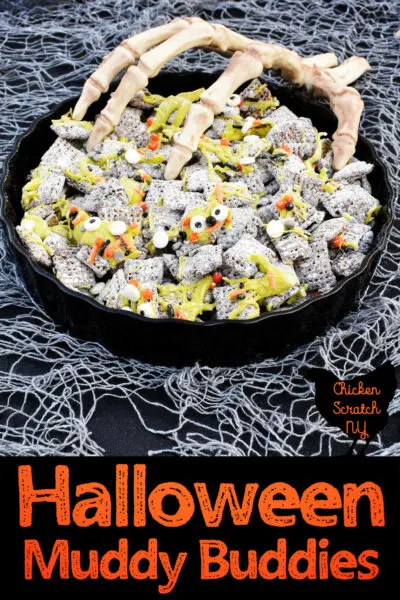 You only need a few ingredients and you can do the melting in the microwave, leaving the oven open for a batch or two of Sally's Stitched Up Sugar Cookies.
A few years ago a I shared a recipe for an Autumn Puppy Chow Trail Mix, this is a simpler version but just as tasty. It's lacking the extra salty crunch but it makes up for it in holiday pizzazz.
Muddy Buddy Tips & Tricks
This is the kind of recipe that isn't really a recipe. For starters, don't measure anything. Open the package and throw it in the appropriate bowl.
The main ingredient is A Box of Chex Cereal. Personally I love Corn Chex. A lot. More than anyone should and that's my go to. But you can use rice check, chocolate chex, peanut butter chex, etc. You're smart, you get where I'm going here.
Then you need chocolate and powdered sugar. You'll need A Bag of Chocolate Chips, again, we're not measuring anything.
I used dark chocolate chips, but bittersweet or semi-sweet would also work. Avoid milk chocolate because we're going to be dumping powdered sugar and candy melts all over it and that's just going to be too sweet.
If you're looking for some extra flavor you can throw in some peanut butter or in this case, Nutella. I know it's hard but you have to rein it in a bit or the chocolate won't set and you'll have to eat this with a spoon.
The best advice I can give you for making anything involving melted chocolate and powdered sugar is to use the largest bowl you can find. I use a comically oversized stainless steel bowl.
The other secret weapon you'll need is a sifter for the powdered sugar. You'll NEVER be in control when you're working with that stuff but a sifter/strainer will get you close.
How to Make Muddy Buddies without Measuring Ingredients
This is a great recipe to make with kids, it's not fancy, it's not expensive, you can't mess it up and you'll be finding powdered sugar everywhere for days. I guess that last one is more of a con than a pro…
Before you get the kids involved you need to melt the chocolate chips in the microwave, use that handy 30 second button if you have one. Chocolate chips don't look melted as they heat up so get in there and stir every 30 seconds then stir in your Nutella or peanut butter.
Pour the entire box of cereal into the largest bowl you own. Dump in the melted chocolate. It takes a minute for everything to come together, I think a spatula works better than a spoon.
After maybe 5 to.. 86 minutes you should have more or less evenly coated cereal pieces. This is the part where my kids get involved.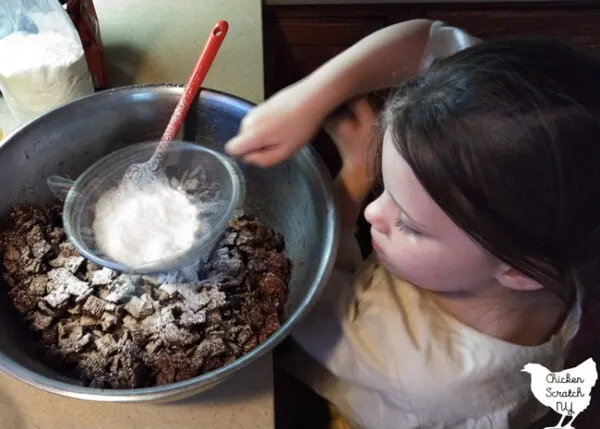 Dump some powdered sugar in a sifter and let them go to town. It's more art than science at this point.
I let them add a generous layer of powdered sugar then I stir it up. The goal at the end is that the pieces are all separated and coated in sugar.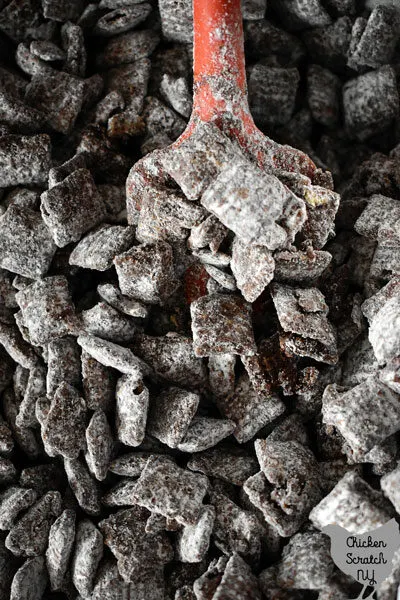 Folding works better than stirring, basically scrape the spatula down the side of the bowl to the bottom center and lift it straight up. Repeat that motion while turning the bowl. It helps keep the cereal from breaking.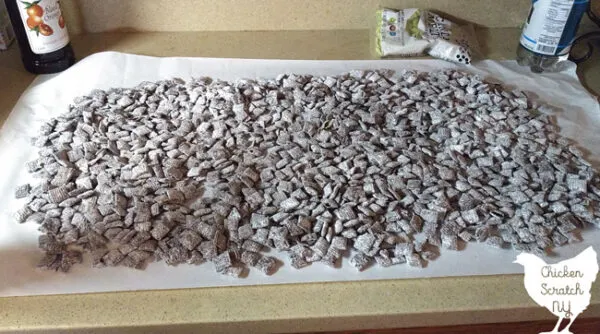 Cover the counter in freezer paper, parchment or waxed paper. Spread the cereal out in a thin layer and let it sit for a few minutes to harden up.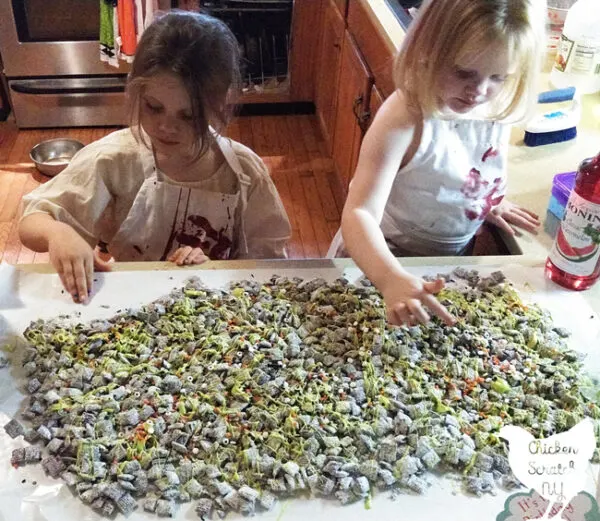 Then we get to the real fun. Decorating the muddy buddies. If you thought your kids had fun with the powdered sugar, this is going to top that.
Melt about 1/2 a bag of candy melts in the microwave. If you've never worked with them they are the most temperamental 'easy' ingredient I've ever worked with.
Heat them in 30 second intervals, stirring between and stop heating when they're still a bit lumpy. As you stir the lumps will melt, if you over heat candy melts they seize up and get chunky and gross.
Check out the recipes for Bleeding Eyeball No Bake Oreo Truffles or the Easter Peep Nests for more candy melt excitement.
You can either pour from the measuring cup or use a fork to drizzle the candy melts on the chocolate covered cereal. Add the sprinkles before the candy melts set.
When you're out of sprinkles and candy let it sit until hard. The candy melts should snap when you break up the large mat of muddy buddies, if they don't it's not set and you should give it some more time.
If you're feeling really extra you could repeat the process with more candy melts and sprinkles but we planned on eating the Halloween muddy buddies and not just taking fancy Instagram photos so we stuck with one layer.
Halloween Muddy Buddies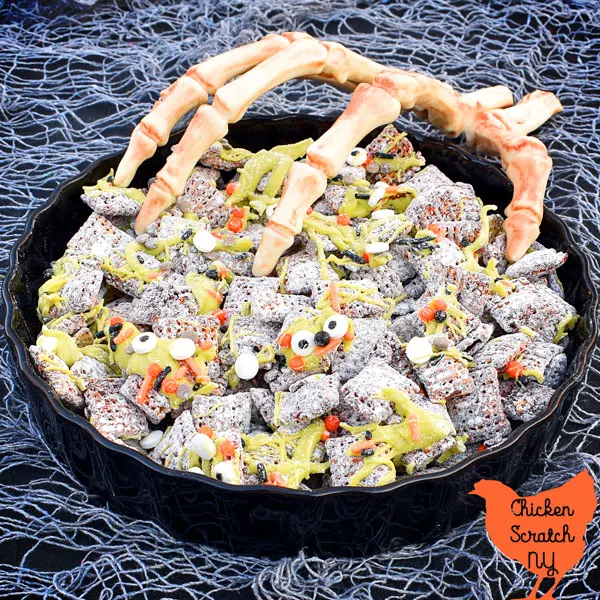 Halloween Muddy Buddies are an easy party snack, the sweet & crunchy chocolate flavor is always a hit and you can let the little ones help in the kitchen
Ingredients
1 Box of Corn Chex
1/3 cup Nutella (or a giant spoonful)
1 pkg Dark Chocolate Chips
1 1/2 cup powdered sugar
1 cup green candy melts
Halloween sprinkles
Instructions
Melt chocolate in a glass measuring cup or another microwave safe container, stirring after each 30 seconds
Stir Nutella into melted chocolate
Pour chocolate over Chex cereal and fold until cereal is completely coated
Sift powdered sugar over chocolate coated cereal and stir, repeat until cereal pieces no longer stick together
Spread out on parchment, waxed or freezer paper
Melt candy melts according to package instructions
Drizzle over cereal and immediately top with sprinkles
Allow to sit until candy melts and chocolate are hard.
Break up pieces and serve or store in an air tight container
Notes
We used an entire container of Wilton Halloween Sprinkles with eyeballs, black, orange and grey sprinkles
Recommended Products
As an Amazon Associate and member of other affiliate programs, I earn from qualifying purchases.
Check out my Halloween Page for more ideas or start here: