I don't like peeps very much. But my mother freaking L.O.V.E.S. them! So much that my sister bought her a giant box filled with them for Christmas one year. When Mary brought her the cookies my mother informed me that you can only eat peeps within 12 seconds of opening the package or they're stale. She's a strange one.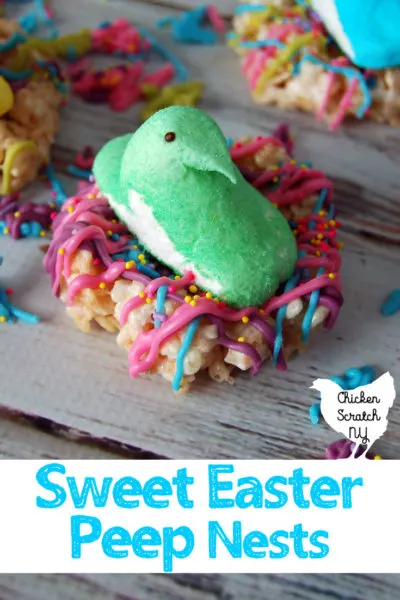 Even though I don't care to eat peeps I can't argue that they scream EASTER and to me that mean SPRING IS HERE GO PLANT THINGS! Not that I can do that with a foot or so of snow on the ground so dessert crafting it is!
I found the peeps when I was looking around Aldi's for some spring inspiration. I had no idea what to do with them but in honor of my mother (who is still alive no matter how cryptic that sentence sounds) I bought a box of peeps and waited for inspiration to strike.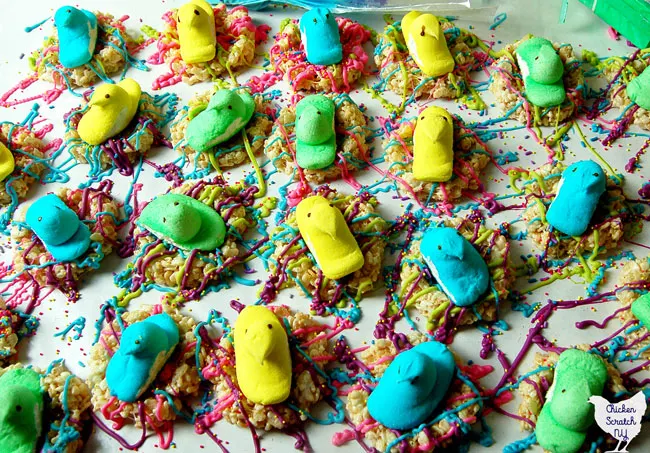 Luckily it didn't take long because Easter is rapidly approaching! I decided to make little peep-sized nests from rice crispy treats and decorate them with candy melts and sprinkles. Rice crispy treats are easy to work with and shape as long as you keep your hands well greased. I followed the normal back of the box recipe.
Before I started I covered the counter with freezer paper because I have a giant roll of it, waxed paper or parchment paper will also work. Tape the corners down if it won't stop rolling up.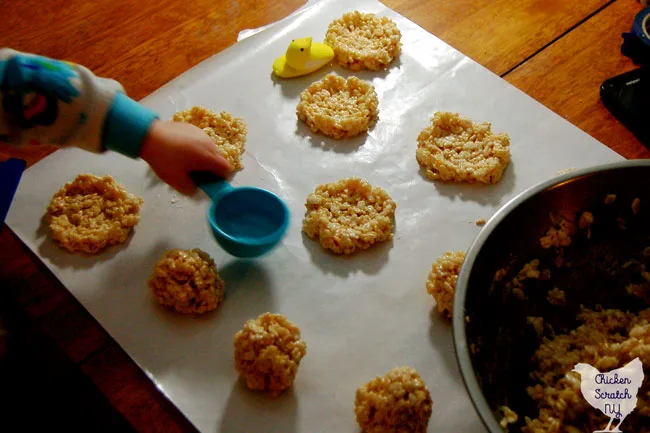 Let the treats set a little, if they're too hot they won't stick together. Generously coat your hands and the back of a rounded cup (I used a measuring cup) with coconut oil. Roll a medium ball and use the cup to squish it down.
Rotate the cup to help it release from the cereal treats. Use your fingers to create a lip around the nest. I had lots of help with this step 😉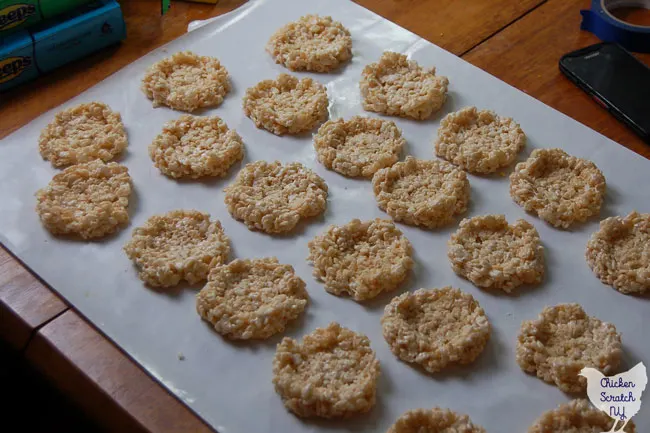 Keep a peep on deck to test the size. Once all the balls are turned into nests it's time to get fancy. Melt the candy according to the package directions. In general I'm against microwaving plastic but for this I melted my candy in plastic piping bags.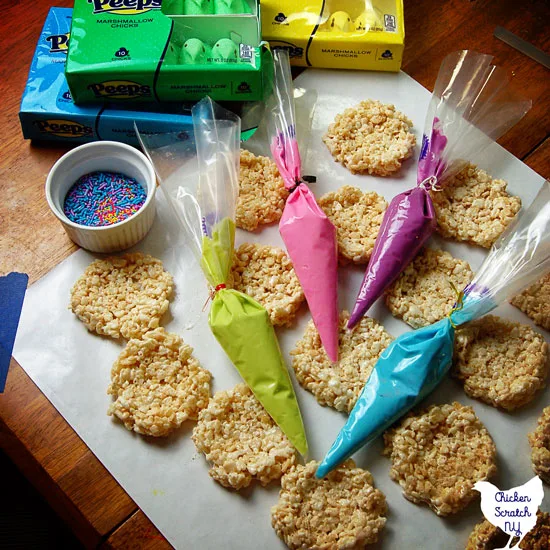 I did all four at once. I threw a handful of melts in a bag and propped the bags up in a pyrex bowl in the microwave. When I pulled them out I kneaded them until they were smooth and closed them up with a twist tie.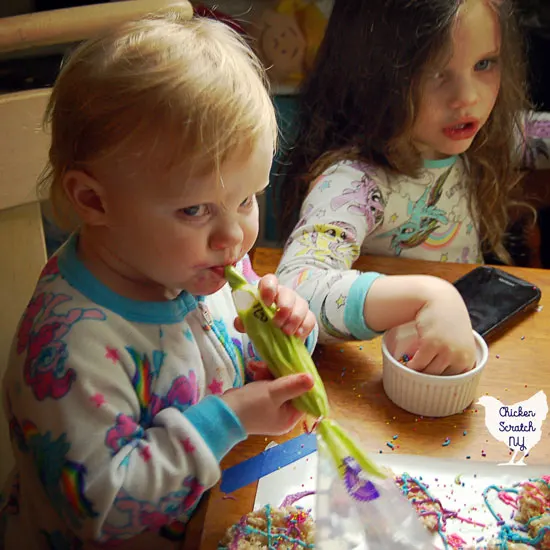 I cut off a piece at the end and used the piping bag to drizzle candy all over the nests. You do have to work pretty quickly, I had two helpers and we made a mess! My oldest was very concerned and kept saying "Mommy this is a big mess!" The little one was more interested in trying to suck candy melts out of the piping bags…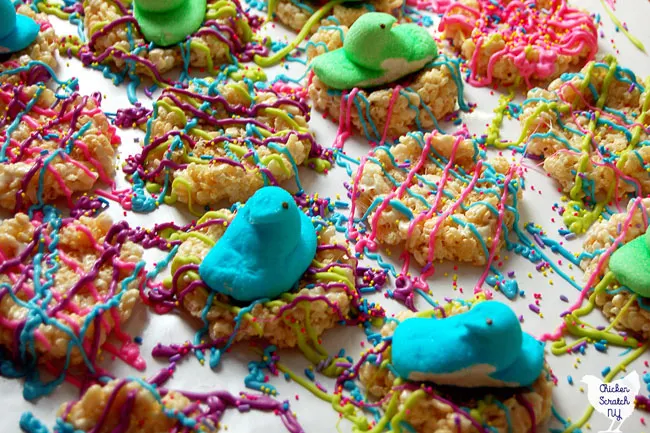 Before the candy sets add sprinkles for decoration. This was where the girls really got to shine. Throwing is Kat's new favorite thing, let me tell you the kid has terrible aim.I talked about my sprinkle addiction collection in my Sprinkle Recipe Round-Up, we get lots of sprinkle practice here!
Pipe some candy to the bottom of a peep and stick it in a nest. Let the whole mess sit on the freezer paper until it's set. Then you can pick the nests and break off the extra candy. You'll end up with a pile of squiggles that will remind you of an early 90's track suit.
Yield: 26 nests
Easter Peep Nests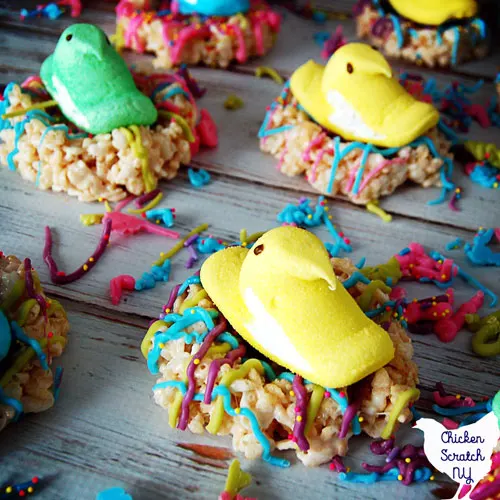 Get ready for spring with a flock of Easter peep nests made from rice crispies and decorated with candy melts and sprinkles
Ingredients
3 tbsp butter
1 package marshmallows
6 cups Rice Crispies Cereal
Candy Melts
Sprinkles
Peep Chicks
Instructions
Melt butter over medium heat
Add marshmallows and stir until melted and smooth
Stir melted marshmallows into cereal
Allow cereal to cook slightly and use well-oiled hands and a rounded cup to form nests
Melt candy wafers in piping bags
Snip the ends of the piping bags and drizzle candy all over the nests
Add sprinkles before candy is set
Pipe candy to the bottom of each Peep and press into a nest
Allow to set until candy is compeltely hard. Remove nests from the waxed paper and break off excess candy drizzle
Other sweet spring treats to enjoy: