Autumn is the best time of the year and chilly weather is the perfect time to cuddle up under a new quilt. It's even better when the quilt has pumpkins on it. Join me this September for a free Quilt-A-Long using my Pumpkin Lattice Quilt Pattern.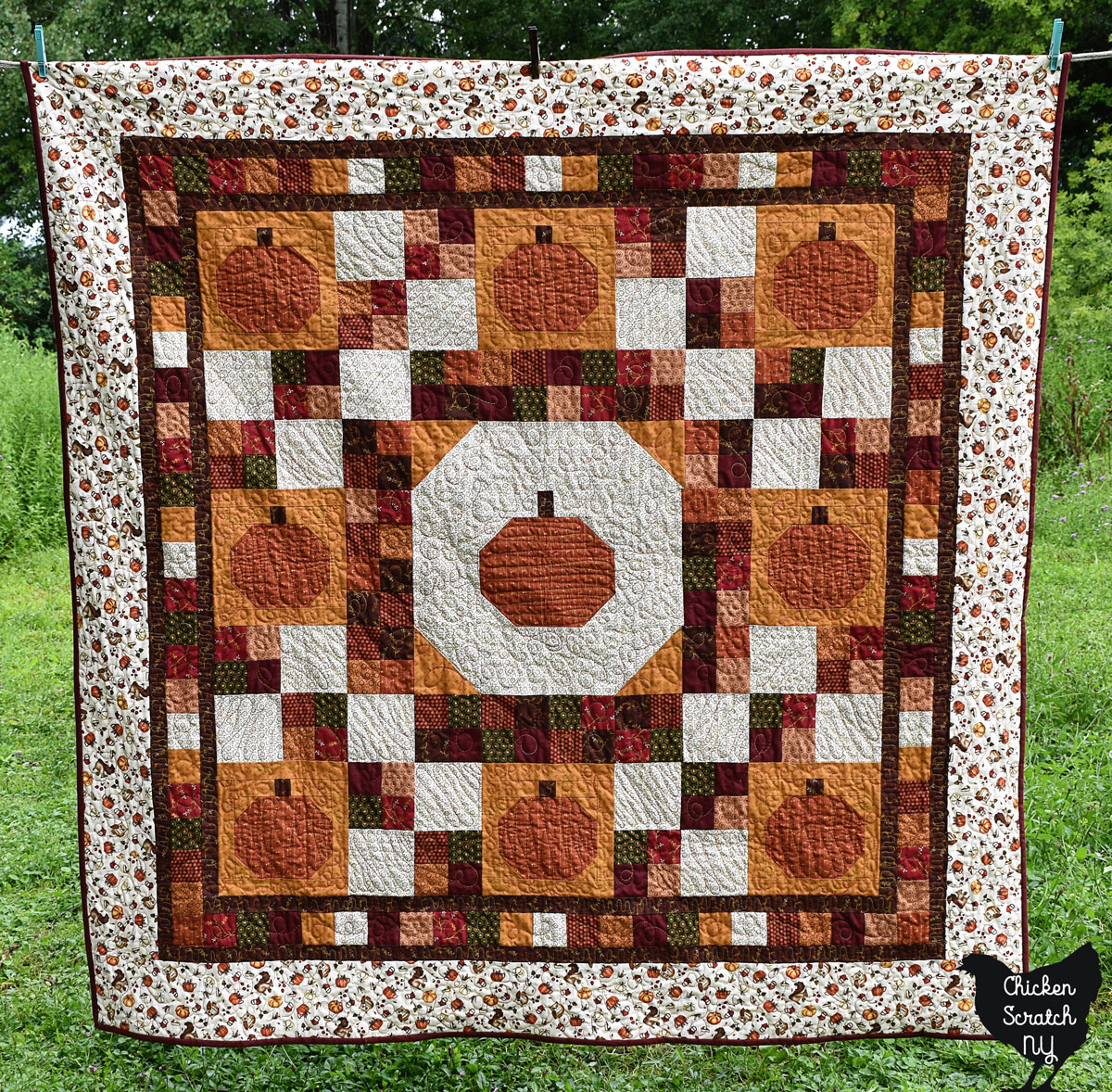 The fabric requirements are listed below but the real fun starts in September! The QAL will run for 4 weeks and at the end, you'll have your very own pumpkin patch in quilt form.
This pattern looks much more involved than it is, it's largely made up of strip-pieced four patch units. The trickiest part is keeping your piecing accurate enough to make the pieced border fit.
I think this pattern is absolutely achievable for a beginner, if the pieced border is too much you can always replace it will a solid border.
The quilt-a-long will run through the month of September with updates every Sunday. If you're interested in participating all you need to do is bookmark this page.
I'll be updating it on Sundays with the week's sewing tasks. It's weighted a bit heavy in the beginning, with less sewing on the weeks that follow giving you some extra time to catch up as we go.
Make sure you get your patterns each week, they will all be available for free until October 31st, 2021 and after that, the pattern will be available for sale in my shop.
Fabric Requirements
I'm definitely one of those people that enjoys buying fabric as a hobby and it's really hard for me to pass on a good fall or Halloween fabric line! After finishing this quilt twice, once with Hello Fall by Hannah West for Henry Glass and once with Midnight Haunt by for Andover Fabric.
All of these links are affiliate links to The Fat Quarter Shop and I will make a small commission if you make any purchases using them. It does not affect your prices.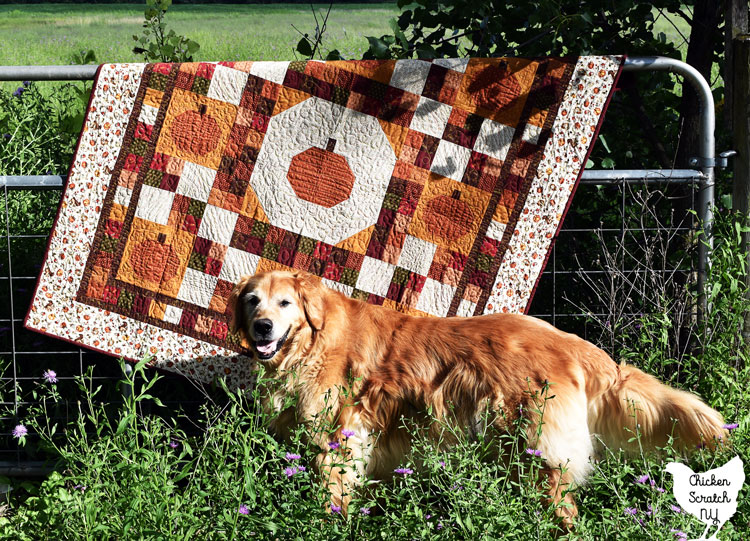 The fabrics I used for the scrappy fall version in the Hello Fall Line:
Four patches & pieced border:
For the Halloween Pumpkin Lattice Quilt, I kept all of the four patches and the pieced border in 2 fabrics. I think it has just as much impact as the scrappy version but in a different way.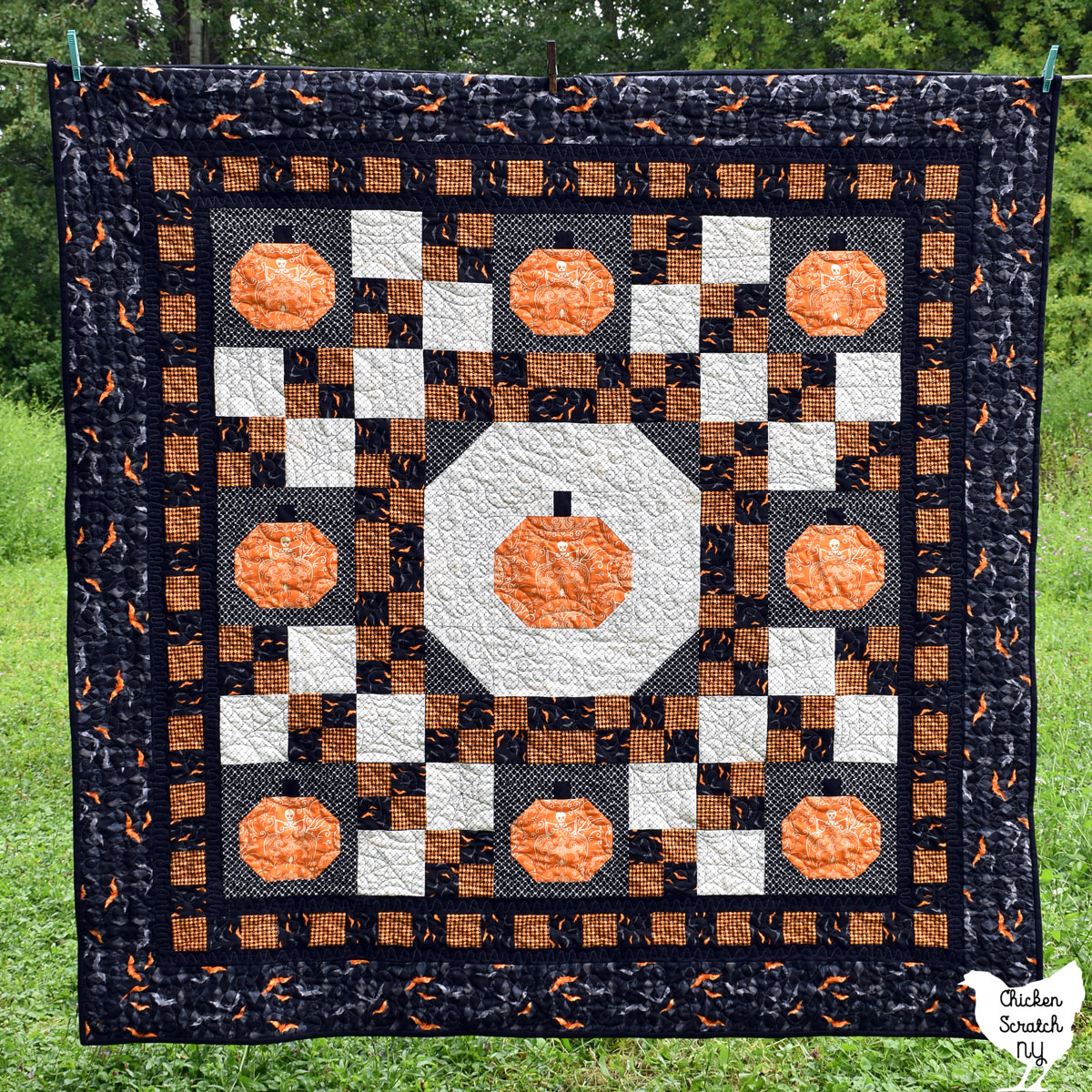 All of the fabrics were from the Midnight Haunt collection from Andover, even the adorable pumpkin print I used on the back. And if you're curious, yes I picked it because I wanted that spooky orange skeleton print in my pumpkins.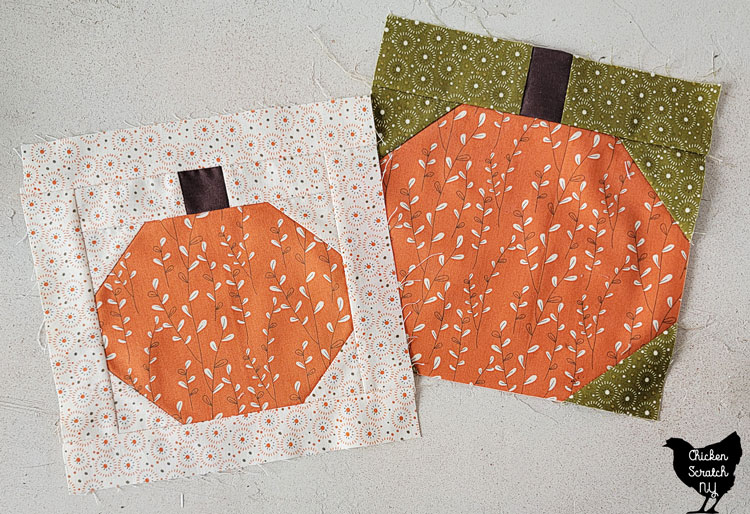 For my actual quilt-a-long quilt I'm using the Adel in Autumn fabric line from Riley Blake. I love the fall vibes in this collection but I needed a break from orange and red everything so I picked fabrics with a lot of green in them.
Download the Pumpkin Lattice Quilt Fabric Requirements
Quilting is better with a community, so join ours! Head over to Facebook and join the CSNY Sewing group to share your progress and tips or ask for help.
Week 1 – September 5th
Week one is by far the busiest week of the sew-along! This week we'll be making 16 out of 25 blocks.
It seems like a lot but we won't need all of the blocks until week 3 so you have some time to play catch up if you can't fit in a sewing spree.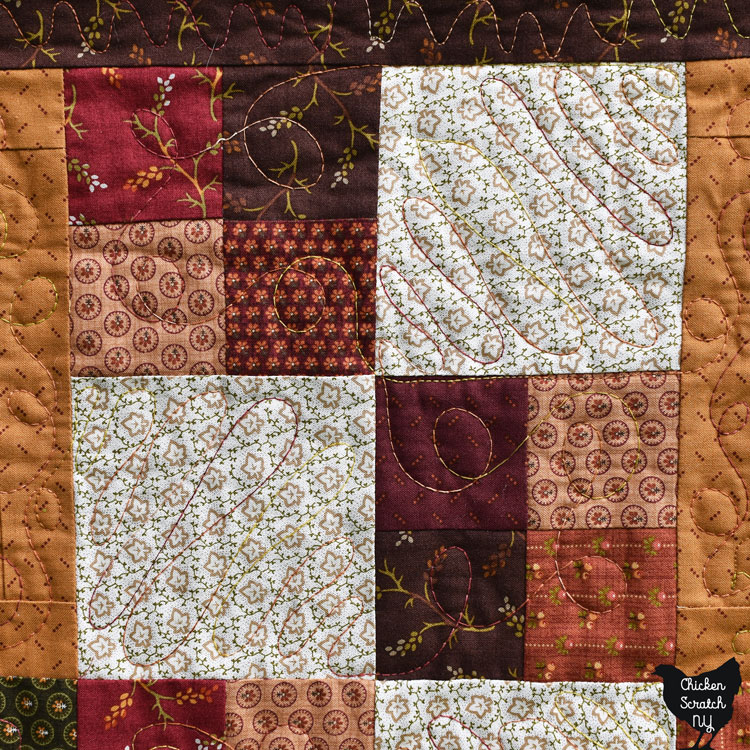 This week is all about the 4 patches, fortunately for all of us, I'd rather do taxes than sew together tiny individual squares so they're all strip pieced and sewn from 2 patch units.
In order for this to go off without a hitch, you'll want to make sure you're pressing towards the same side on all your strip units. That way your seams will nest in the center and your blocks will line up perfectly!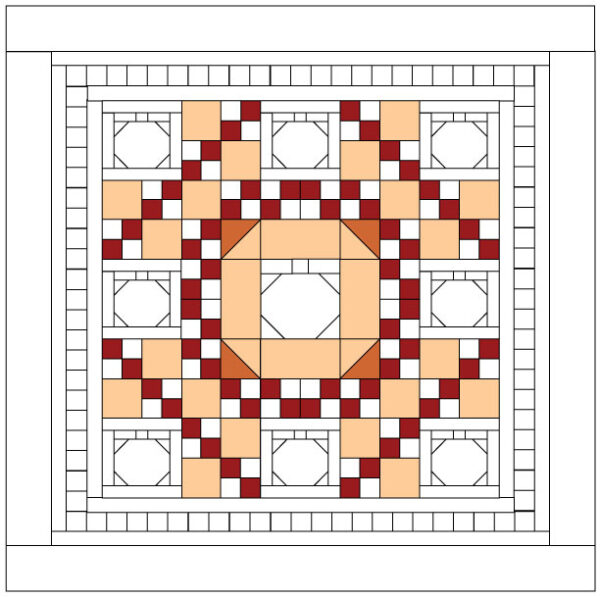 It's also really important to get the 4 patch units oriented correctly, it's tricky enough using two fabrics but if you're going scrappy it's a real treat.
Week 2 – September 12th
This week we'll be making the final 9 blocks of the quilt. There are two sizes of pumpkin, the smaller one is made 8 times and the larger block is only made once.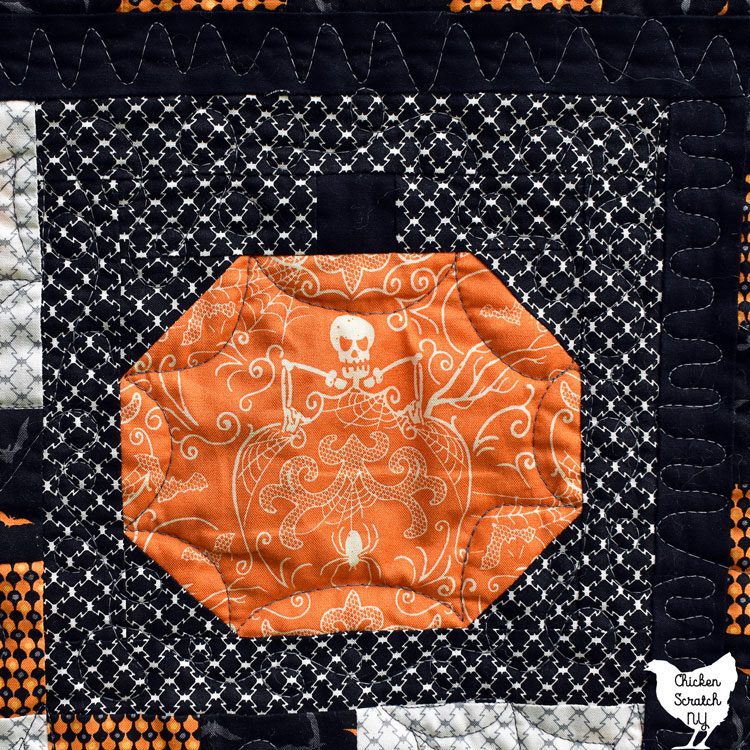 Each pumpkin starts with a rectangle and we're going to snowball the corners. There are a lot of ways to do this, you can draw a line across the diagonal, press a diagonal seam, or just wing it.
The beauty of pumpkins is they're all a little wonky and if your snowballed corners don't turn out perfect, it's just character!
My main tip for this week is to press your snowballed corners open before trimming, then flip the block over and use a ruler to trim off any excess fabric you might have hanging over the edge. The goal is for the rectangle to be the same size before and after adding the corners.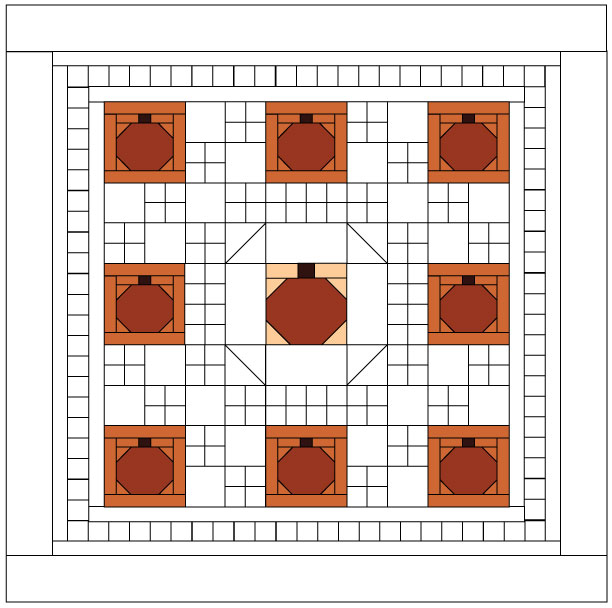 The pumpkin blocks are the best part of this quilt and despite all the pieces they go together rather quickly. I love them so much I've started turning my overflowing box of Halloween scraps into the smaller pumpkin blocks and I'm hoping to have a full quilt of them by the end of the year!
Week 3 – September 19th
Week 3 is the slowest and it's a great time to catch up if you haven't finished your blocks yet!
We'll be assembling the quilt center by sewing all the blocks together and using the rest of the strip units we made in week 1 to make the pieced borders.
The final pieced strips for the borders require an odd number of squares and since we're building them with 2 patch units you'll need to either cut extra 2.5 inch squares or do what I did and rip apart an extra 2 piece unit
Week 4 – September 26th
We've reached the final week and now it's time to add all those borders! I'm not a fan of borders but I really think they were necessary for this pattern.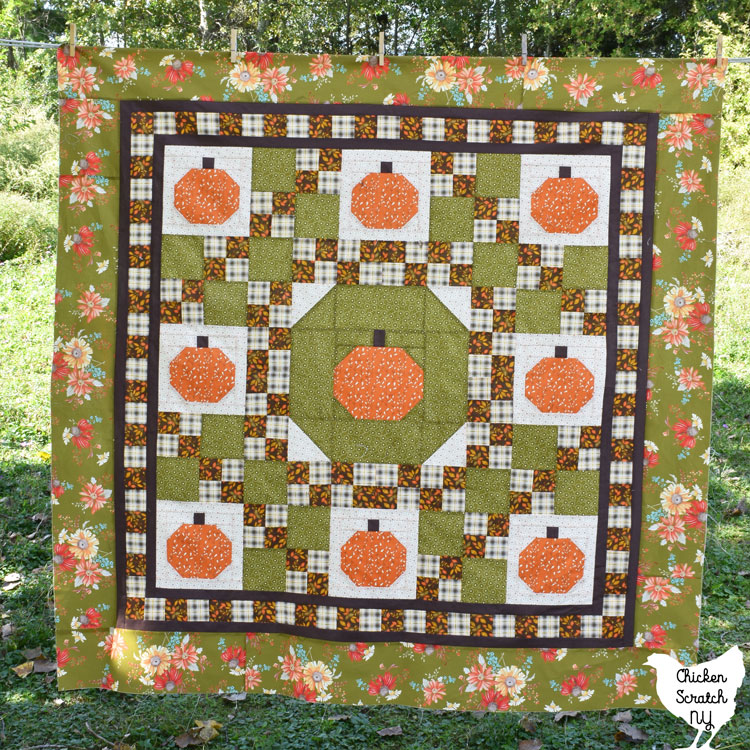 Along with a general dislike of borders, I'm also not a fan of pinning. But I think it really is necessary when working with the pieced border.
Even if you're a much better sewist than I am (trust me that's not hard, I sew like I'm late for my own wedding!) there are so many seams in the border that it's really hard to get things to fit perfectly without pinning.
This is my 3rd round with this quilt and each time I've done something a little different with the final border. The first scrappy fall version is exactly as the pattern was written, for round two I did a mitered border because the harlequin print was too directional for my brain to accept anything else.
And for the final version, I cut the borders an inch wider to accommodate the large flower print. It was either cut at six inches or waste a bunch of fabric trying to fussy cut strips. In the end, I had to cut one extra strip for the border but in my opinion, it was worth it!
This is where this quilt's journey ends for a while, I wasn't able to pick up the backing fabric I wanted when I ordered everything for this quilt so at the moment it's on hold until I place another fabric order.
That's also why it looks a little blown out in the image, the sun was shining through it and made everything look a bit brighter than it is in real life.
---
If you can't get enough pumpkins in your life check out my shop for The Great Pumpkin Quilts: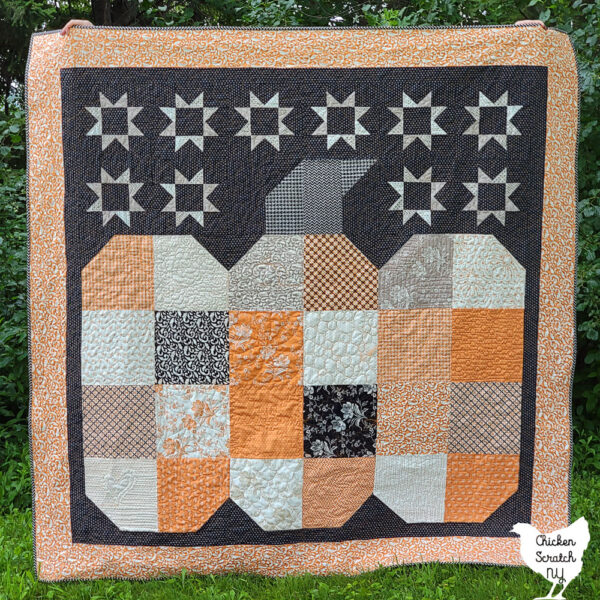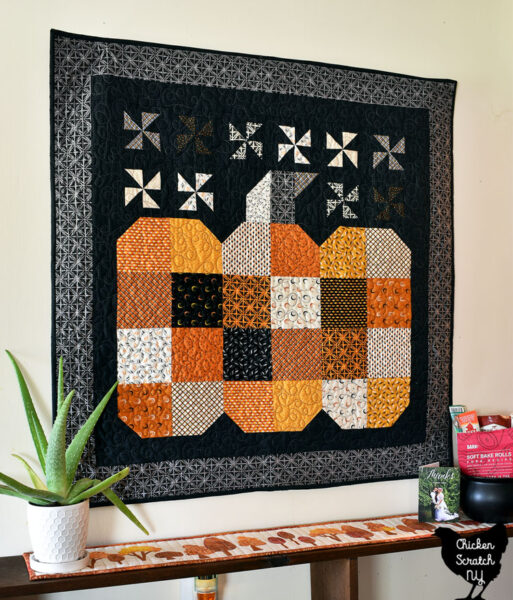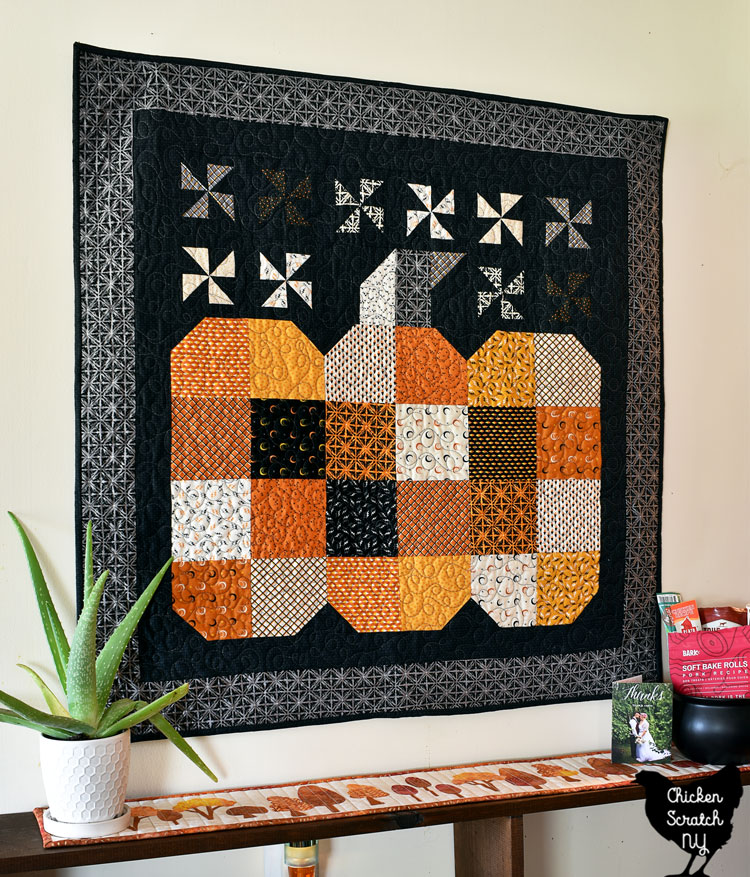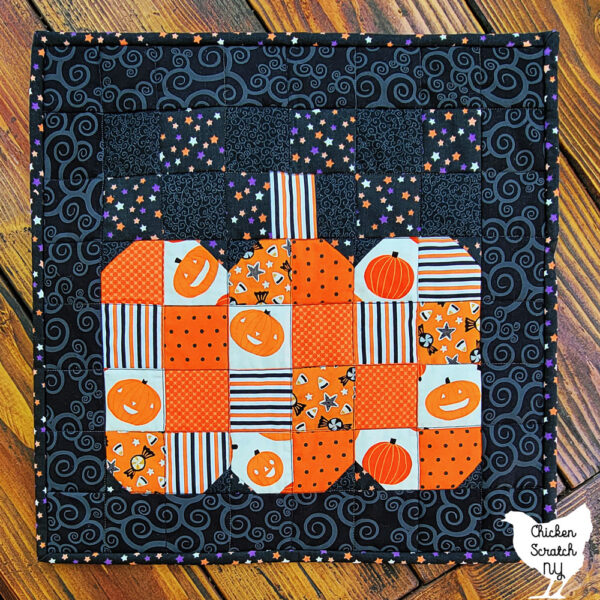 or some of my fun DIY Fall and Halloween projects from the past: