If you find yourself watching the leaves change and with it feel an aching desire to redecorate your space the Dark Cottagecore aesthetic might be just the thing you're looking for.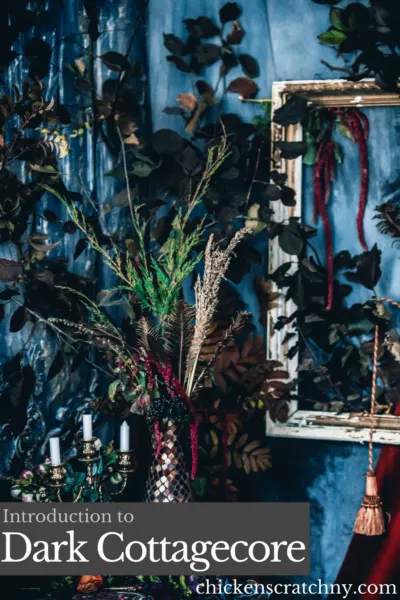 Dark cottagecore can be summed up with natural elements, rich colors, and a sense of practical simplicity rooted in agricultural history with an extra splash of darkness.
The emphasis on natural and raw materials, homemade items, a general sense of coziness, and creating a home you want to be inside are perfect for the seasonal shift from summer into fall and winter.
Cottagecore Aesthetic
Dark Cottagecore might be easier to understand if you know what Cottagecore is. At its most basic it's a decor, clothing, and lifestyle inspired by a nostalgia for rural farm life in "simpler times". It's very Beatrix Potter.
The color palette leans toward white, cream, pale green, tan, and browns; you certainly won't find any neon, and any pops of color come from natural sources like wildflowers, butterflies, and songbirds.
There is an emphasis on gardening, working with your hands (knitting, crocheting, painting, or bread making), and in general, shying away from technology.
As a farm-ish person, I always get a kick out of the romanticism of farming and simple living (it's hard and a lot of things die) but I do enjoy the aesthetic. I also think it says something about how much people want to transition back to seasonal living.
In our world right now you can have anything you want whenever you want it. For me, when you strip away seasonality and every day becomes the same, life gets monotonous.
What is Dark Cottagecore?
As much as I enjoy a good sundress in a field of dandelions, my heart is happiest when the leaves fall and the days get short.
To me, there is a natural progression of the light and airy cottagecore aesthetic of spring and summer into dark cottagecore during the darker autumn and winter months.
The feel shifts from a cottage in a meadow to a secret cabin in the words that might be abandoned or might be home to a mysterious lady who talks to the crows.
Considering one of my life goals is to have a deep relationship with a crow, I can safely say it's right up my alley.
It takes a lot of pieces from the cottagecore aesthetic and sort of twists them into something darker and even spooky. It's less Beatrix Potter and more Tim Burton's Sleepy Hollow.
Sunlight is replaced with candles, coarse linen replaces sheer cotton, butterflies become moths and the ubiquitous mushrooms turn from cute puffballs to deadly red and white amanita.
Dried flowers and herbs hang in bunches and there is more than a slight hint of witchy apothecary with bowls and jars filled with feathers, acorns, and crystals.
Dark Cottage Core Colors & Textures
The strong base of any aesthetic or style is a good color story. It probably goes without saying that black plays a pretty big role in this one, both as a fully saturated color and as varying shades of charcoal and gray.
Just like with Cottagecore, there is a general preference for natural colors, and things worn with time. There still won't be a lot of neon and brightness but you'll find jewel tones and richer versions of colors.
Rust replaces orange, yellow shifts to mustard, and red turns to burgundy and wine. Greens change from the brightness of new growth to the depth of pine boughs found deep in the forest and the dusty sage of dried herbs, blue and purple hues from wildflowers become the deep jewel tones of late-season plums and grapes.
Another defining characteristic of dark cottage core is the textures, there is a preference for all-around roughness. Cast iron, aged wood, and coarse or textured fabric add depth to the decor.
Aged copper, brass, and pewter are easier to work into the color scheme than bright silvers and golds.
Design Elements of Dark Cottagecore
If you've made it this far you're probably looking for ways to bring this aesthetic home, literally. If you already have a somewhat rustic or dare I say, farmhouse (I have a whole comedic rant about "farmhouse" decor that I might share someday) it's not that hard to shift into Dark Cottagecore.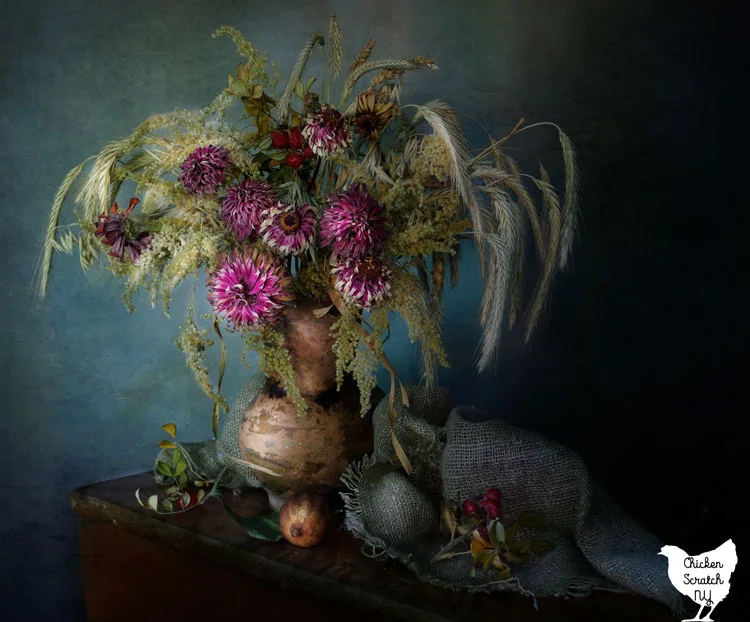 This sort of decorating style works best with lots of layers, instead of sticking a bunch of candles on a table, start out with a linen or burlap table runner, and add a wooden or aged metal tray. Keep your focal points grouped in odd numbers and add in a few extra touches for that artfully cluttered look.
As much as I'd love to love in a magazine or Pinterest-worthy house I also have to live in it, along with my kids, 2 cats, and a dog. I've found the best way to decorate while also keeping my house liveable is to focus my decorations in a few areas, like on a side table, a bookshelf, or in front of the TV.
Another way to bring in the dark cottagecore aesthetic in a subtle way is by making small swaps with everyday items. For example, you can replace your daily coffee cup with a handmade artisan mug like the ones from Fired Figments.
You can also pile your couch or bed with cozy throws and pillows in the appropriate colors. You can even hit up your closet for unloved sweaters in dark cottagecore colors to turn into pillow covers.
It's a great way to bring in that chunky knit texture without actually having to knot (which is great for people like me who a physically incapable of kitting).
You could also replace lightweight curtains with heavier fabrics. I love using cotton drop cloths, the fabric has an imperfect texture that automatically gives you the lived-in and rustic feel, you can stick with the natural white color or dye them.
Dropcloth curtains are much cheaper than any curtains I've ever found, the only expectation being the floor-length burlap "sheer" curtains I made years ago for my living room.
Lighting
One of the quickest ways to change the mood in a room is by switching up the lighting. Candles are an obvious choice but due to their dangerous potential should only be used when you are in the room and aware of what's going on.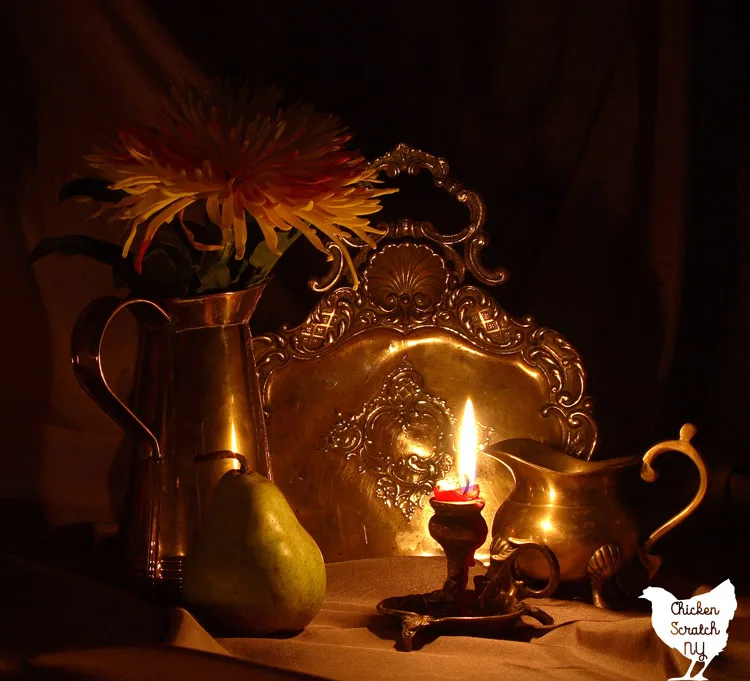 I really love natural beeswax candles for their bright light and natural scent. 100% pure beeswax pillar candles can be expensive but they also burn a lot longer than your typical jar candle.
Of course, I'm a millennial and I find it hard to pass up a jar candle in an autumn scent. Adding any of the following words to your candle label will stop me in my tracks for a quick therapeutic sniff: autumn, fall, leaves, pumpkin, night, witch, bergamot (this is not a finite list, I just enjoy sniffing candles).
If you have cats that try to eat fire or kids, or you just prefer decor that doesn't require attention you should look for fake candles. My favorite sets of artificial candles come with a remote and you can set them on a timer.
Good fake candles will have a warm, flickering light and thanks to the lack of fire can be placed in areas where a real candle would lead to certain death. They also work well in antique-looking lanterns (or actually antiques if you're lucky).
Part of the allure of dark cottagecore is finding peace in darkness so don't think every inch of your home needs to be fully lit. Fairy lights or twinkle lights in a warm white can be used to add some ambiance to a darker space that needs better lighting for reading or safety like a staircase.
Natural Elements
A large part of the cottagecore and dark cottagecore aesthetic involves natural materials. While you can go out and rake up a big pile of leaves and dump it on your couch there are better ways to bring the outdoors in.
Wooden bowls, grapevine wreaths or swags, jars filled with feathers (most birds molt in the autumn and it's a great time to find lots of feathers!), moss, dried flowers, seed heads, and nuts can be used to create small vignettes or displays in your home.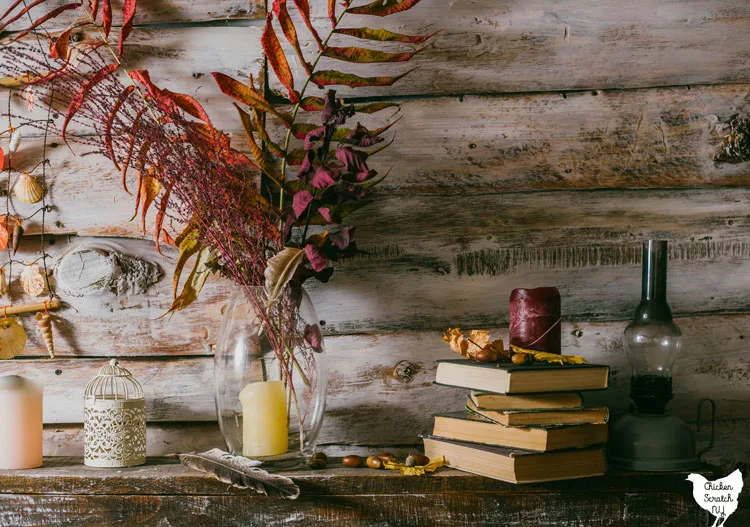 I made a large, round grapevine wreath from wild vines that were taking over my air conditioner last year and I've been covering it with feathers ever since.
Thanks to the large number of chickens, ducks, geese, turkeys, and guineas that call my backyard home, feathers are never in short supply! I also get colorful additions from my Quaker parrot Pavo.
You can also bring that natural element in with aged wooden bowls and baskets. Michael's usually has a good selection of natural baskets but I've also found some really nice ones at thrift stores.
Agriculture plays a large role in the cottagecore aesthetic and that is most represented in dark cottage core with elements of a harvest.
You can decorate with pumpkins, gourds, apples, dried flowers, hanging bundles of herbs, or a gathering basket filled with trigs perfect for starting a fire to chase away to cold.
House plants are another great option for bringing the outdoors in. I have a giant cat with a vendetta against all things green but I would love to bring home an overgrown spider plant or a pothos with the wingspan of an Andean condor.
Other plants that really fit the dark aesthetic include Sansevieria aka snake plants, Lithops aka living stones, and purple succulents. Potted figs and maidenhair ferns can really add to the wilder, foresty vibe.
If you have a black thumb or a murderous cat you can use dried flowers, fake flowers, branches, grapevine, or moss in place of houseplants.
Autumn is a great time to collect flowers to dry, wild purple asters, goldenrod, and even dry thistles can be used to really embrace the wild and moody essence of the theme.
One final way to bring in the dark cottagecore vibe is with rocks, stones, and crystals. They don't have to be fancy amethyst geodes, smooth river rocks you collected on a walk or an interesting chunk of an unknown mineral can add a nice touch to a space.
Learn how to make your own Beaded Necklaces with crystal and gemstone beads
Homemade Decorations
Homemade is another core element of both cottagecore and dark cottage core. Whether it's something you've made with your own hands, something made with someone else's hands, or even something commercial that looks like it was homemade.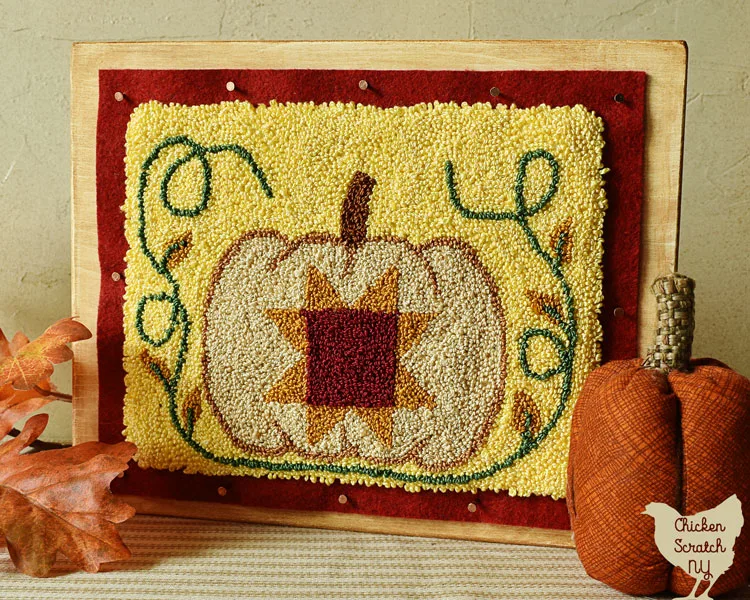 Quilts, knitted or crocheted blankets, embroidery, and handwoven textiles add texture and life to your space while bringing in some comfort that we all need when the temperatures start to drop. These items are also easy to store away when the seasons change and you decide to change your decor.
Rustic pottery, either in decorative vases and bowls or in the ever-useful form of coffee cups can add another homey layer to your space.
If you're a painter or photographer, try your hand at immortalizing mushrooms, insects, or natural scenes. You can also buy prints from local artists or Etsy.
Some of my favorite options are the Crow & Raven Audubon prints, species print of moths, and lino block prints like this moth print and this mushroom print.
Dark Cottagecore Inspiration
If you're looking for more inspiration check out the #darkcottagecore on Instagram, it's very fashion heavy but you can get a feel for the style and occasionally you'll find gold. #darkacademia is a similar vibe but it replaces the agricultural focus with books.
I love the account @kuyca, it's mostly fashion but it really nails the moody side of cottagecore. Another account I enjoy is Helena Moore, it's much more neutral but it still had that moodiness and a romanticized historical feeling.
Rachel Masksy is a Youtube creator with a deep love and appreciation for fall. Along with making a lot of her own clothing she lives in a gorgeous house and has the prettiest places in all of her videos.
If you love movies I think Practical Magic, especially the aunts' house in the flashbacks, Sleepy Hollow, and the Harry Potter movies, especially Hagrids cabin, are good sources of inspiration.
In the end, you should craft and create a home that you love. If something doesn't fit a particular aesthetic but you still love it, you can make it work.
---
I hope you've found this introduction to Dark Cottagecore interesting and I'd love to see your interpretations of the style!
Check out my Autumn page for more craft and decorating ideas or start here: