Simple beaded necklaces are taken to the next level when created with natural gemstone beads. This easy DIY necklace tutorial will have you making your own jewelry in no time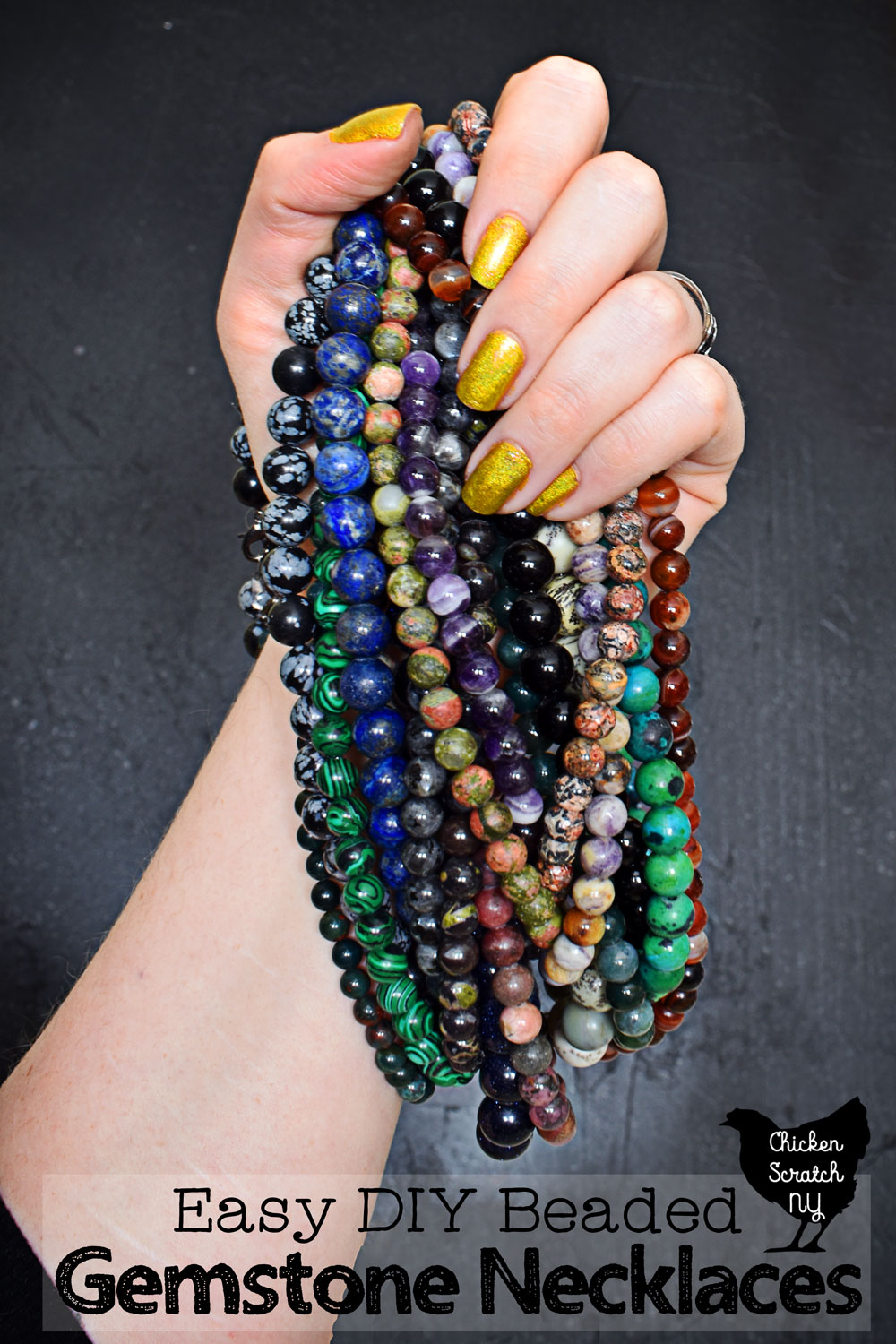 Before we get started I'll tell you these necklaces are addicting! They're so easy to make and there are so many gemstone options available you'll find yourself making them by the dozen.
Beaded Necklace Supplies
You'll need a few special supplies to make these necklaces but compared to a lot of jewelry tutorials out there it's all pretty simple.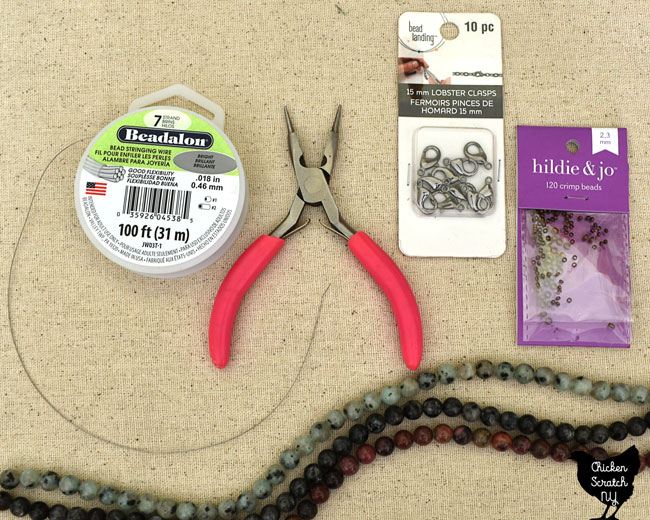 You can get everything at Michael's, make sure you use your coupons!
Pliers
The only hardware you'll need is a set of jewelry pliers. We'll be using them to close up the crimp beads and clip the wire.
If you don't have special pliers you can get away with using just about any old pliers for this. In that case, you'll also need old scissors or wire cutters.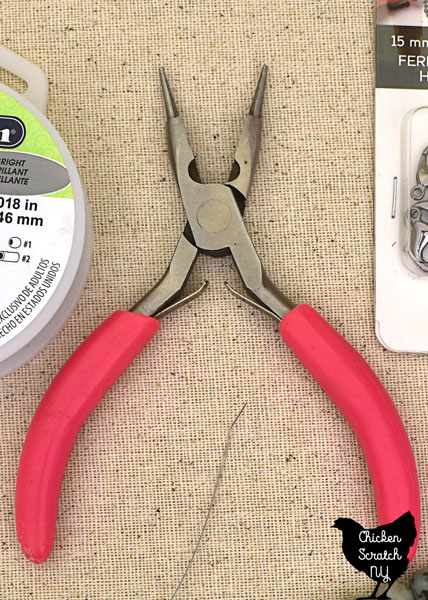 I really like the 3-in-1 pliers, they have rounded tips, a flat section (great for crimp beads!), and a built-in wire cutter. There aren't any textured or serrated sections so you don't have to worry about squeezing too hard and leaving marks on the metal.
Wire
The foundation of your necklace is a good beading wire. I use Beadalon 7 – .18 in in the color Bright which is a silvery grey.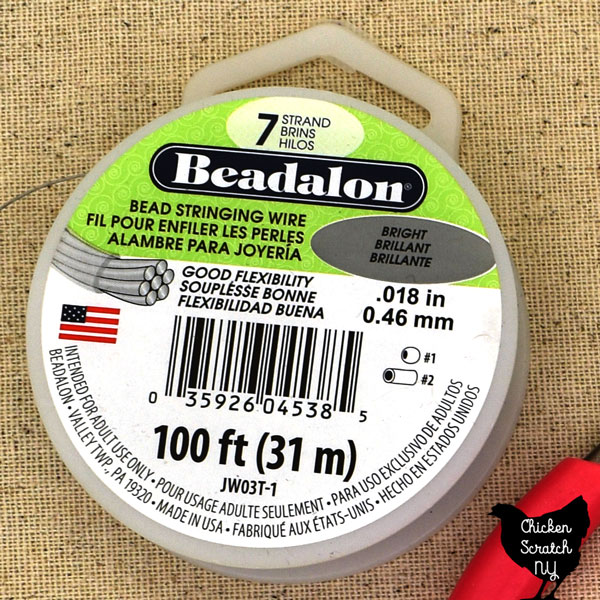 It comes in a spool with a removable plastic cover that keeps it nicely wound up. You can make a lot of necklaces out of a 100-foot spool, making your $10 (or less with a coupon!) go pretty far.
I like the Beadalon because it's strong, you won't have to worry about your necklaces snapping during normal wear. It's flexible which makes it easy to manipulate at the ends for the closures and comfortable to wear.
The other great thing is the thin diameter of the wire can fit through most beads while they're still on the plastic strand they come on. Which means you don't have to individually string each bead in your necklace.
Hooks
Hooks can be found in a few shapes and sizes. I personally prefer a medium to large lobster style clasp.
You'll find them in different colors like silver, gold black, and bronze. I like to use darker colored hooks, I think they blend in better with the natural stones than shiny metal.
I like to match my hooks and crimp beads, sometimes you can even find the two items bundled together on one card.
Crimp Beads
We'll be using crimp beads to hold the clasp on the necklace and to create the loop on the opposite end. A crimp bead is a soft metal bead, after you put the cord through you squeeze it shut with the pliers and it holds everything in place.
Stone Beads
This is the best part of making your own jewelry, you get to pick the size, color, and texture of the stones you use. You can make your choices based on your favorite colors, grab whatever catches your eye, or check into the wide world of healing crystals and make a necklace so you can take them with you on the go!
You can get pretty beads from Michael's but I have purchased all of my beads from Fall In Love Gems on Etsy. This post is not sponsored by the way.
I was obsessively hutting for moss agate jewelry on Etsy and couldn't find any I like so I made my own!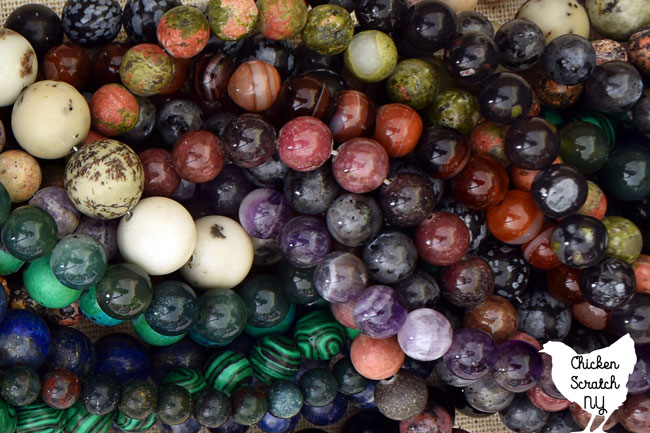 Natural stone beads come in different bead sizes and you buy them in 'strands' which vary slightly in length, most are between 15 & 16 inches. I was able to make a necklace out of each strand I bought, some were a little tight but I made up for it by adding a longer loop for the closure.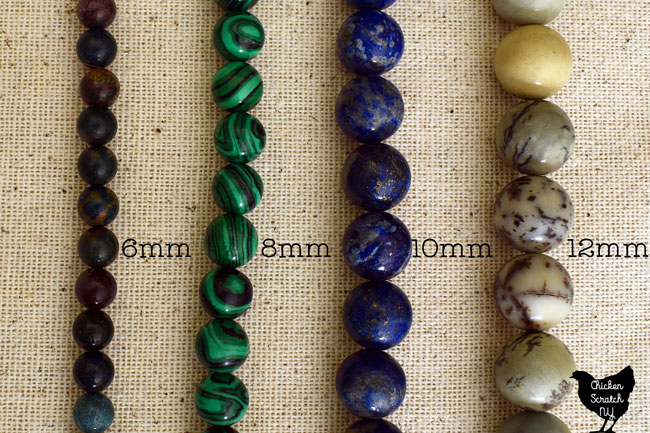 Personally I thought the 6 mm were too small for me, I usually wear this necklace with another one. The 12 mm beads are certainly a statement, I wear them when I want to embrace my inner Wilma Flinstone.
All of the beads I used were round but some stones come in different shapes or faceted. Another thing to look out for is if you want a matte or polished finish.
How to Make a Simple Beaded Necklace
You may have noticed I didn't mention any measuring tools, that was not an error. This is not the type of tutorial where we need measurements or math.
The first step is adding the hook. Roll off a length of your beading wire and then put the clamp back on to keep the entire 100 feet from unraveling.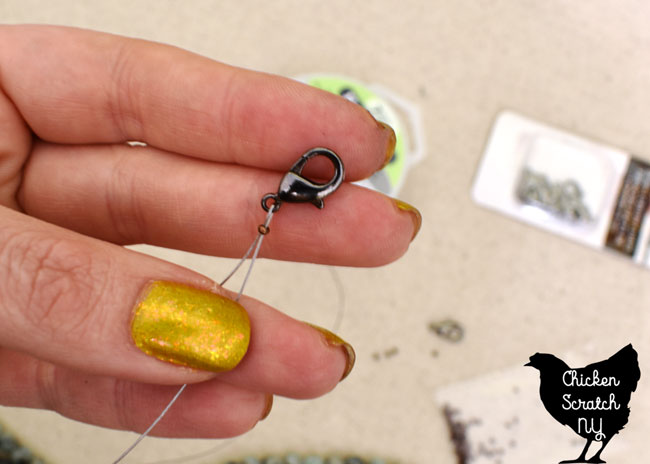 Place one crimp bead followed by the hook, then bend the wire back through the crimp bead and pull through leaving a tail about the length of 3-4 beads (doesn't need to be exact).
Use the flat section of the pliers to close the crimp bead. It should easily smoosh down and your hook will now be secure.
Once you have you hook securely attatched wrap the wire around your neck, add a few inches and cut it off the spool.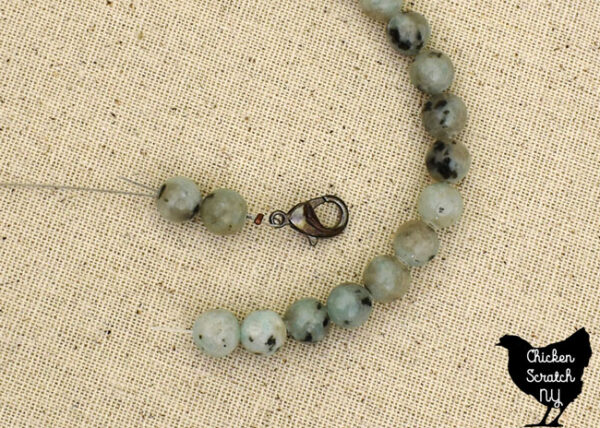 Cut the knot off the string of beads and add a few beads to the necklace wire. When you get to the end make sure both pieces of the Beadalon go into the beads to hide the end.
I used 8mm Lotus Jasper beads for this necklace.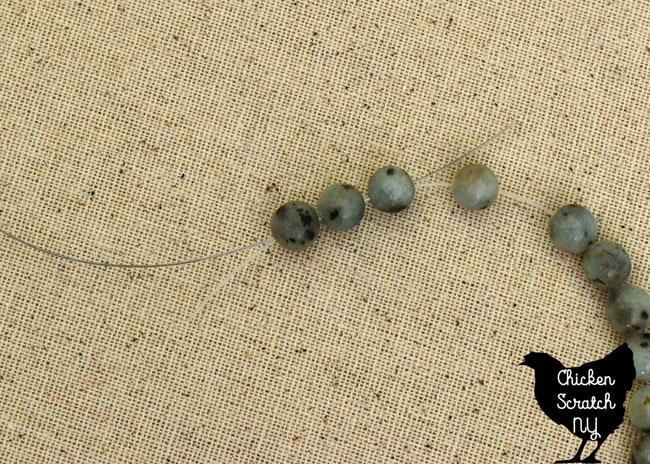 Transfer the rest of the beads over, if you're lucky you can stick the beading wire into the stone beads while they're still on the string. I can usually get through 3 or 4 beads at a time with no issues.
When the last of the beads have been added do a quick test and make sure your necklace isn't too long or short.
If you finish up your necklace and it's too long, pull off a few beads. If it's too short things get trickier.
You can start over, making sure to cut your beading wire longer or you can add a bit of chain to the end that you can hook the clasp too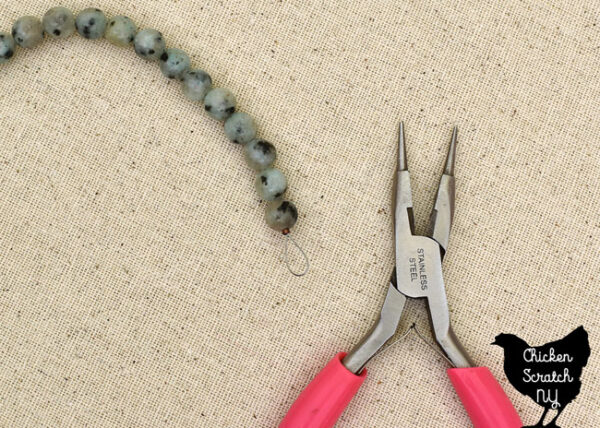 Then add another crimp bead, bend the wire and stick it back through the same crimp bead leaving a loop. Make sure the end of the wire is going back though the stone beads as well.
Pull the wire and push the crimp bead until it's snug against the stone beads. Use the pliers to crimp it closed.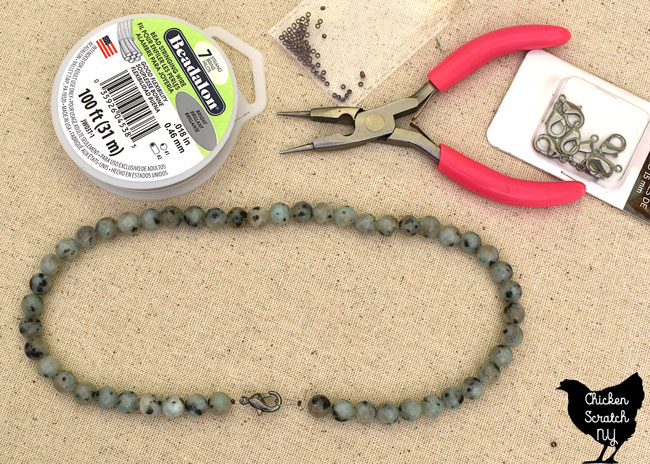 If you don't like the idea of using the wire as a closing loop you can add a jump ring (metal circle). If you're using the Q-style hooks they usually come with a separate closure piece.
Natural Stone Beads
Some people are really into the healing properties of stones and crystals and want an easy way to carry them with them all the time, personally, I just think they're pretty.
I also like the heavier weight of a stone necklace. I tend to pick stones that I think are pretty, here are some of the necklaces I've made for myself: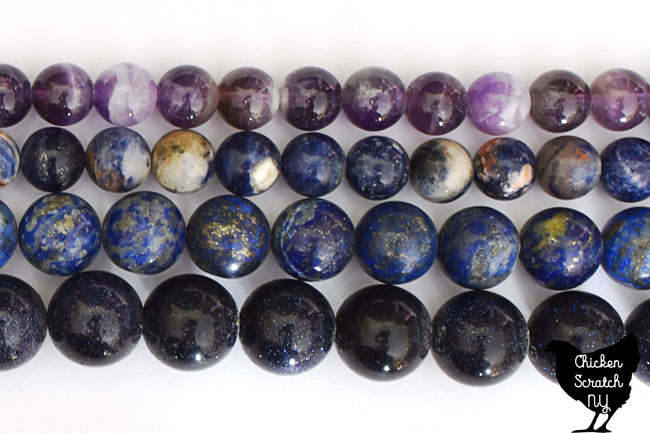 For the purple & blue lovers we have:
Amethyst (8mm)
Sodalite (8mm)
Lapis Lazuli (10mm)
Blue Goldstone (12mm) this one isn't a semiprecious stone, it's actually a man-made glass with metallic flecks but it's gorgeous and sparkly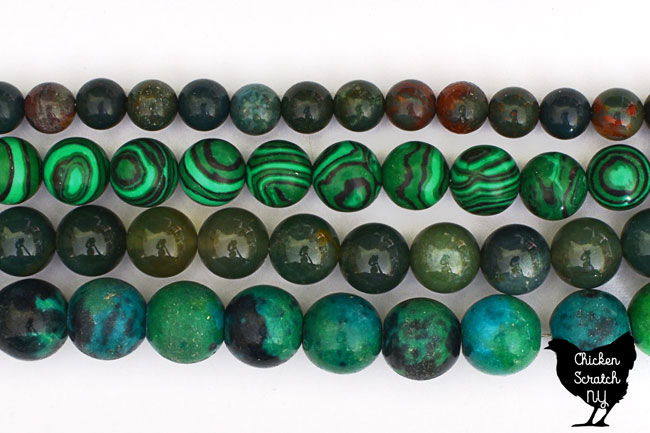 If green is more your thing: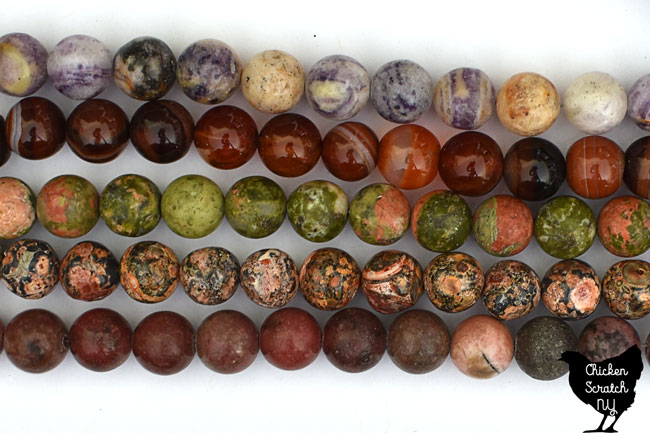 These are my more neutral colors, looking at the photo it seems like I put a few in the wrong category. This photo is a great example of how shiny some of the stones are, especially that carnelian!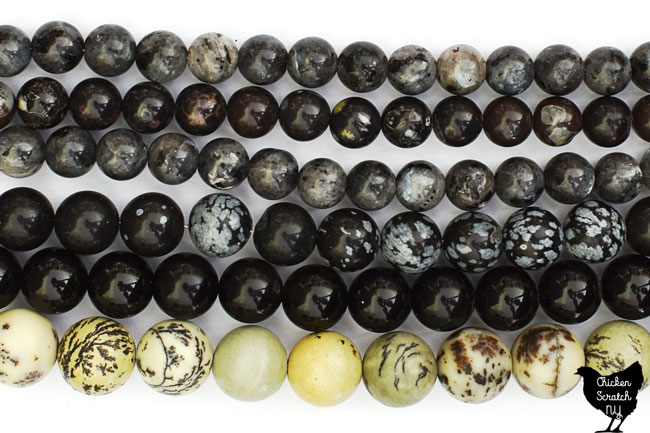 Finally the black and white options. I wasn't kidding when I said I went overboard buying beads!
---
Check out my DIY Page for more or start here: