Applesauce is a pantry staple that couldn't be easier to make. You'll need a food mill to make this recipe but the time you'll save cutting and peeling apples will make up for it in a single season.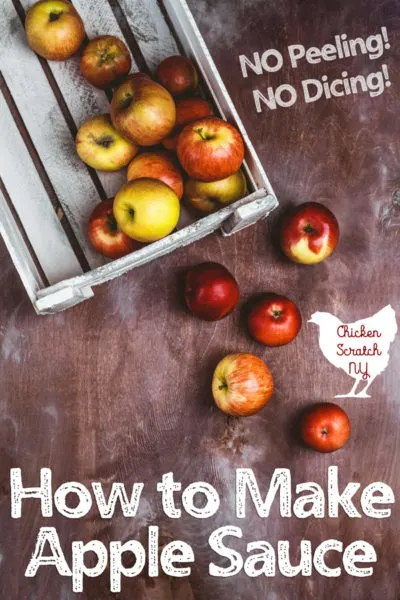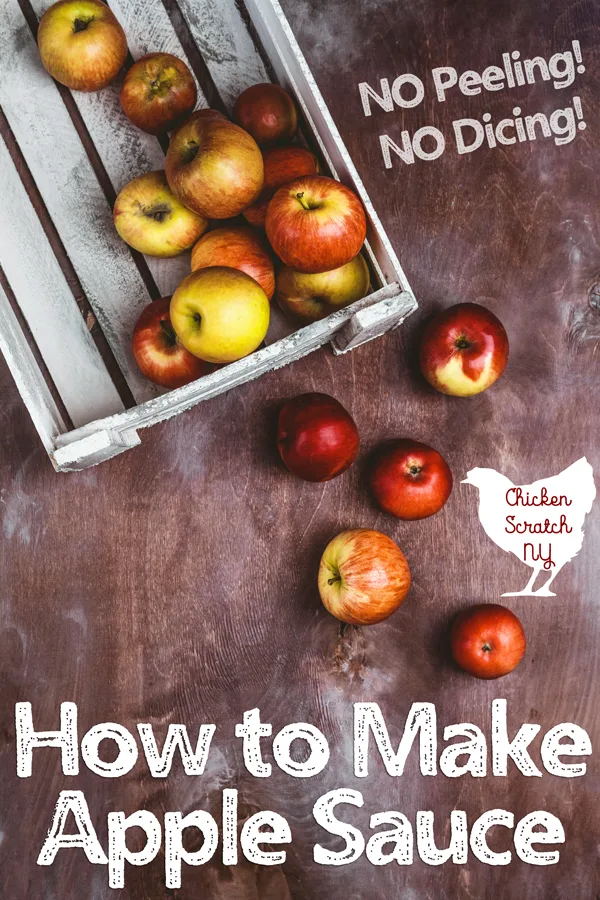 I love to have lots of homemade applesauce on hand and considering the low cost of bulk apples (free if you have a tree or know the right people) it's hard to justify not making any.
I've always been a fan of short cuts; I even made a pie once without peeling the apples, still getting crap from the family on that one! This is hands down the easiest and fastest way to make applesauce I've ever found.
Why No Peel Applesauce is the Best
This method really shines when you're super busy and you need to get the apples processed and canned in a hurry. We all know that fall on a farm or in kitchen is a crazy busy time.
This is the fastest way to turn a lot of apples into jars of applesauce. I usually end up with more finished sauce than I can can in a day (my kids never complain about that one).
This method is also great if you want to get the most of your apples. You waste a lot of good apple cutting out the core and removing the peel.
When you use a food mill it squeezes out every useable speck of apple and you're left with a nice smooth sauce and a tiny pile of peels, cores, and seeds. I will say the chickens prefer it when I make chunky applesauce!
Get the recipe for Easy Chunky Applesauce
Another fun fact is if you start with red apples your sauce will be naturally pink! I'm not a pink girl at all but it's fun and what kids don't want to eat pink applesauce?
Special Supplies for Whole Apple Applesauce
There is one issue with this method, you'll need something to separate the apples and peels after you've cooked them. I did it for years with a Hand-Cranked Food Strainer but now I use the KitchenAid Fruit and Vegetable Strainer
that hooks to my stand mixer.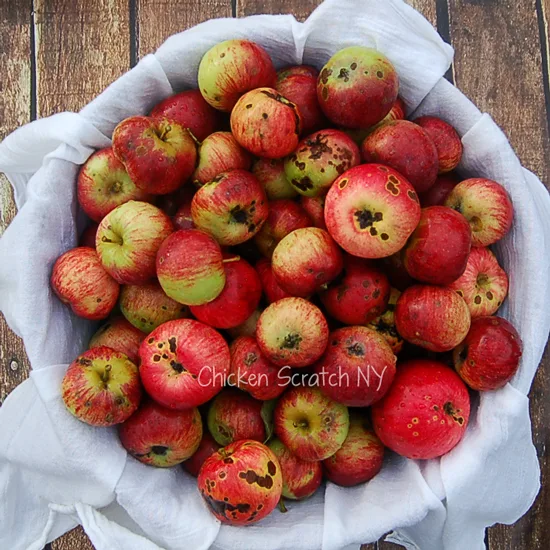 The strainer is cheaper (actually if you already have a mixer they are about the same) but requires some arm power.
Setting up and cleaning a food mill is quite a process and it's not something I want to bother with unless I'm making a lot of apple sauce.
When you set up the strainer you'll need a bowl to catch the apple sauce and another to catch the skin & seeds that get pushed out the end. Set this up before you're dealing with hot apple mush!
You'll also need a large pot to do the cooking and a setup for water bath canning if you plan to preserve some for the future. I usually stick to small batches but if we're having a good apple year I go all-in with canning apple sauce.
Read more about Small Batch Canning
Finding Apples for Applesauce
One nice thing about living in central New York surrounded by farm country is all the apples. Back in the day, every farmhouse had at least one apple tree and some had entire orchards.
If you live in a rural area in the northeast you've probably got apples coming out of your ears.
I took a pruning class at a local orchard and the man giving the class said there are so many growing feral around here that you don't even need to plant a pollinator when you plant an apple tree. Because they're everywhere!
Be safe, ask for permission if you're going to pick on someones property and watch out for cars if you're picking along a road.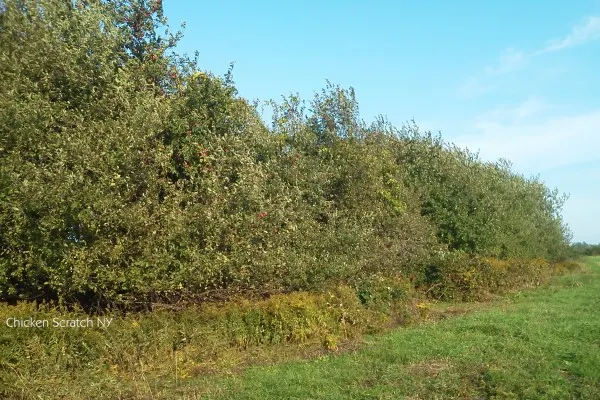 Picking apples from feral trees can be difficult but free is free and my kids can eat their weight in applesauce every day.
For this batch of sauce I hit up my Grandma and the old family farm where we trecked over to this row of tres. There were probably 20 trees but each one was 25+ feet tall.
And they are all planted on a ravine so even if it looked like you could reach some decent fruit by the time you made it to the base of the tree you were 2 feet lower than you thought you'd be.
The slope also made a ladder too dangerous, if you could even get a ladder into the dense overgrown apple trees. It was a real shame that we couldn't get to the really nice, bright red and shiny apples but I managed to drag home 3 shopping bags full of free apples.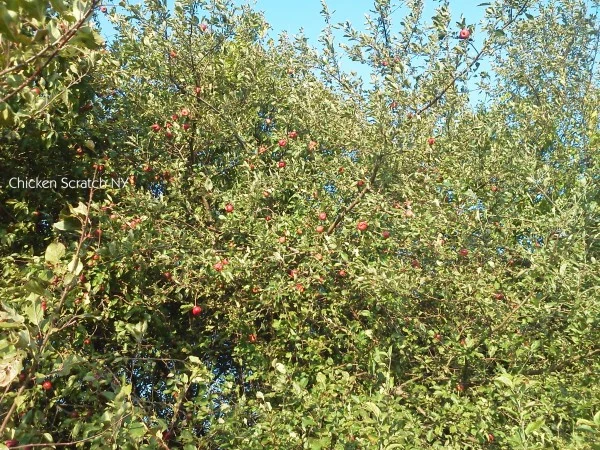 I taste tested a few (as did my 3 year old nephew who got mad at me when I cut him off after 5 apples) and they were all sweet with a little bit of tart. They were also far from supermarket ready, personally I don't mind an apple with some personality!
How to Make Whole Apple Applesauce
This recipe assumes you know the basics of water bath canning. If not please check out this post on water bath canning basics.
Once you've made it home with your apples you should give them a quick bath to get off any bugs or dirt that hitched a ride home. My apples all came from abandoned trees and I know they weren't treated with any sort of pesticides.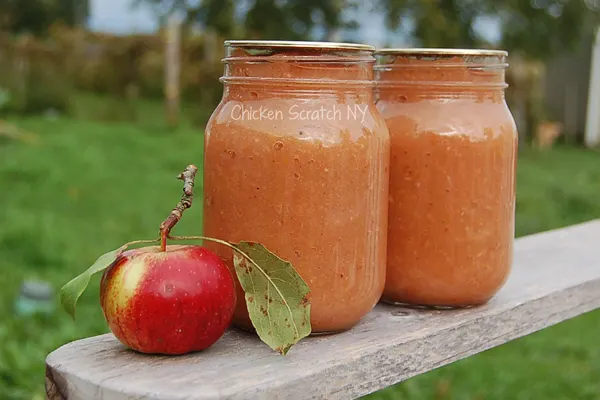 Put a large pot on the stove and pour in about an inch of water or apple juice and heat over medium-low. Start cutting up the apples, cut small ones in half and larger ones in quarters, and then dump them in the pot.
Keep adding apples until the pot is about 3/4 full. Stir as you add the apples to bring the cooked apples from the bottom to the top and send the fresh apples to the bottom.
Keep the pot loosely covered, you want to keep the heat in the pot but you also want to cook out some of the water. You don't need to add much water to start because a lot of liquid will come out of the apples as they cook..
When all the apples have fallen apart it's time to use food strainer. Carefully ladle the apple mush into the top and turn the crank or turn the mixer onto slow and the apples will start to move through the strainer.
You might need to give them a push with the plastic plunger that comes with the food mill, just watch out for splatters! Hot applesauce isn't good for your skin.
At this poit your applesauce is done, if it's too thin for your taste you can cook it down, you can even toss it in a crock pot with some cinnamon to make apple butter. If your apple sauce is too thick you can thin it out with a bit of apple juice.
Now is the time to sweeten or season the apple sauce with cinnamon and other spices (I love cardamom).
You can also leave it plain and season and sweeten it before you use it. I recommend doing it this way if you plan to bake with your applesauce.
For a real treat, sweeten the apple sauce with maple syrup, add some cardamom and cinnamon and eat it warm with some vanilla ice cream.
You can store homemade apple sauce in the fridge for up to ten days. For longer storage you'll need to either can or freeze your applesauce.
Waterbath Canning Applesauce
If you're going to be canning your sauce you need to return the apple sauce to the pan, keep it warm over low heat while you prepare the jars, lids and canner.
Fill hot pint jars with hot applesauce leaving a 1/2 inch headspace, add lids and bands like usual and process for 20 minutes.
Freezing Homemade Applesauce
If canning isn't your thing or you made more sauce than you have jars you can also freeze your sauce. Use freezer bags or freezer safe containers and fill them with cooled applesauce, removing as much air as possible.
Frozen homemade apple sauce will be good for 3-6 months, after that it won't be dangerous but it might start to get that freezer taste.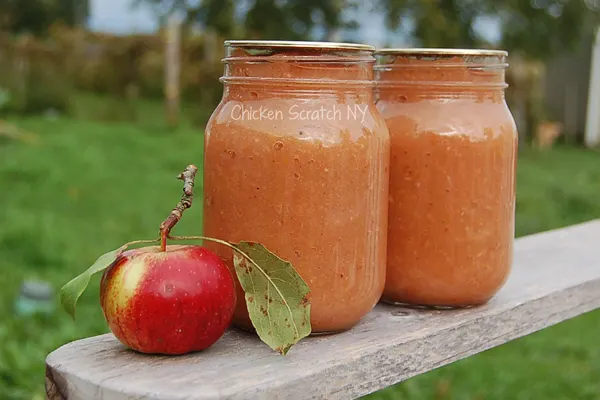 Turn ugly, un-peelable apples into delicious homemade applesauce
Ingredients
Apples
Water or Cider
Optional - Cinnamon, Sugar
Instructions
Cut large apples into quarters and smaller ones in half. Remove the stems and cut out and bad parts (brown spots on the skin that don't go into the flesh aren't bad spots)
Put apples and a few inches of water in a large pot. Cover and cook on low until soft. The water turns to steam to cook the apples
Once the apples are soft run them through the food strainer.
Prepare your jars, lids and water bath canner and return the applesauce to the pan
Slowly heat until bubbling, stir in cinnamon to taste if desired. I leave mine plain. If you start with sweet apples (or like tart sauce) you won't need to add sugar but if you want sweetened sauce now is the time to add it.
Fill jars to a 1/2 inch head space, add the lids and screw bands until finger-tip tight
Process for 20 minutes
Don't forget to PIN this to your Canning board!
Check out my Recipes page for more ideas or start here: