Cozy up with a bowl of warm chunky applesauce sweetened with maple syrup and flavored with cinnamon, cardamom, ginger and allspice. This easy method takes all the work out of turning the season's sweetest fruit into a delicious snack.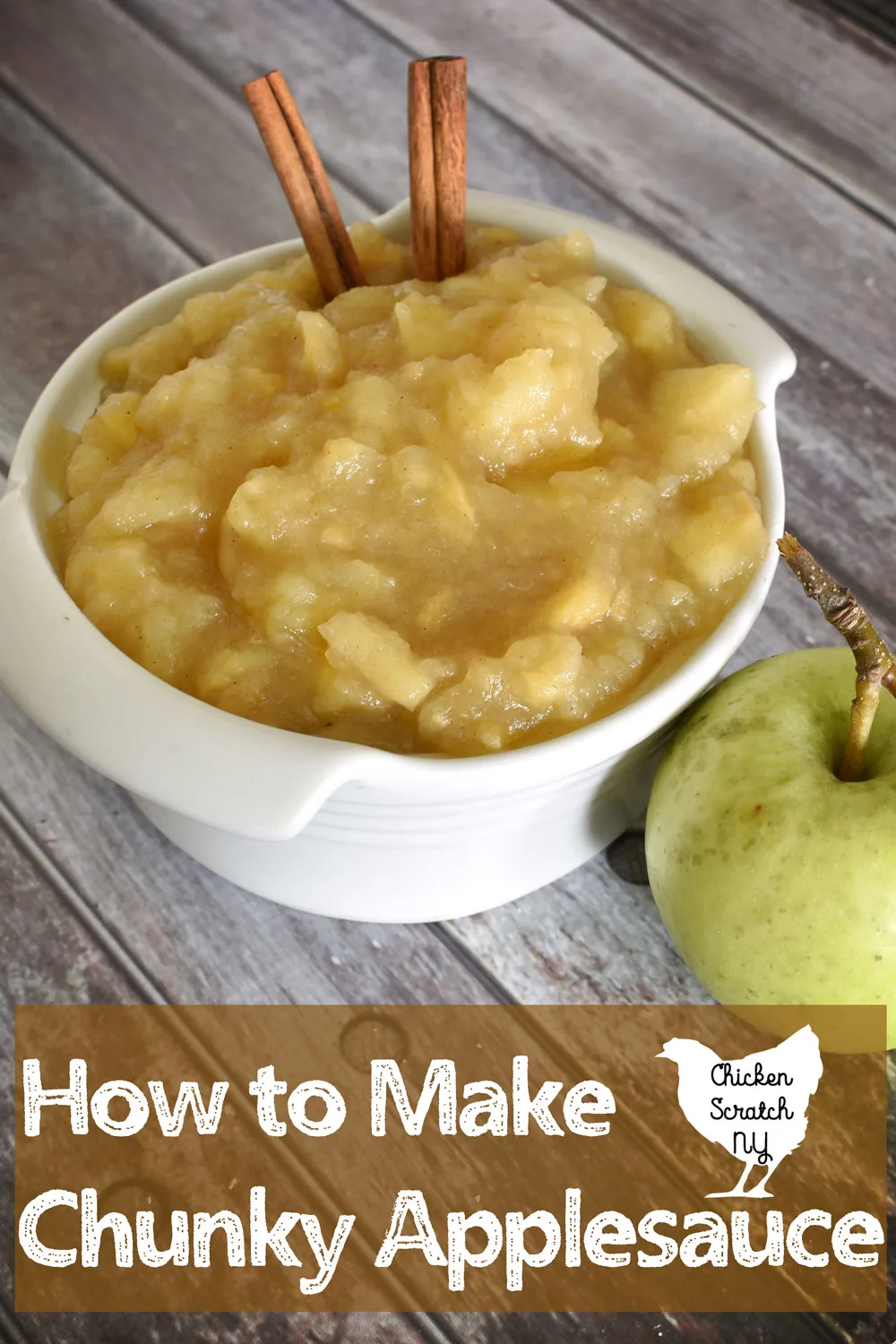 Making applesauce isn't exactly rocket science, all you need is apples and heat. We're big fans of the sweet stuff in this house and I try my best to preserve a lot of apple sauce every fall.
My go-to method utilizes a food mill and it's perfect for turning bushels of ugly apples into an easy no-peel apple sauce. But sometimes you want something a little more rustic and no matter how great the food mill method is, you can't get anything less than a perfectly smooth sauce.
Learn the Easiest Way to make Applesauce (without peeling!)
Don't go grabbing for that handheld apple peeler just yet! The key to easy chunky applesauce is a fancy kitchen gadget called an Apple Peeler Corer Slicer.
Apple Peeler Corer Slicer
I know, that name. It might belong on Wish but don't let it fool you! That's exactly what this fancy gadget goes, it peels, cores, and slices your apples all in one go.
There are two styles available, one with a clamp and one with a suction pad that sticks to the counter. Whichever style you pick look for one that's made from metal.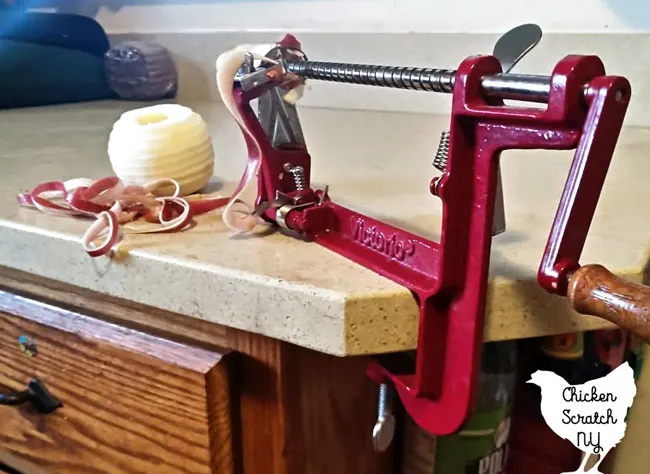 I have the clamp style, it was a joke gift from my Great Grandpa one Christmas when my 'real' gift was a Dremel. But the joke is on him because I love it! I still use the Dremel too.
Side note, buy your daughter and granddaughters and great-granddaughters power tools and teach them how to use them. The world is a less scary place when you can fix things and be self-sufficient.
The APCS is a pretty simple design, the first step is to attach it to your counter. No matter how tight you get it you'll probably want to leave a hand on the base while you turn the handle.
Then you stick the apple on the spikey part and turn the handle. As the apple turns it rubs against a blade that peels it (you can also lock this little arm out of the way).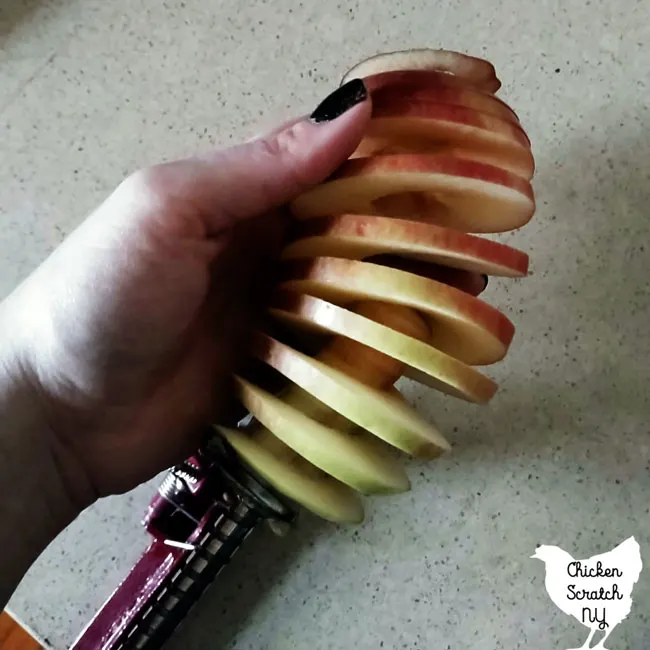 As it continues to turn the apple peeler corer slicer forces the apple through a loop that forms perfect 1/4 inch-ish slices and removes the core. Slide the apple off of the core and voila, you have an apple slinky.
It's actually pretty fun and my kids absolutely love running apples through this thing. My six-year-old did all the apples we used for this chunky applesauce, she was going faster than I could get them chopped and in the pot.
That' why I have no idea how many apples we used. If I had to guess I'd say between 10 and 15.
It's not only good for making applesauce at home, the number one use in our house is snack time. I move the peeler blade out of the way and slice up apples for lunch or snack time.
It's also great if you plan on making apple pies or a giant batch of apple pie filling. I actually forgot about this gadget until a friend of mine saw my Facebook post about my apple pie filling adventures and she asked why I was doing it the hard way.
The only downside is it pretty much only works on what I call pretty apples. They have to be round without any lumps, bumps or dimples.
Best Apples for Applesauce
The best apples for making applesauce are the apples you have on hand. I'm from NY where we have apple trees everywhere.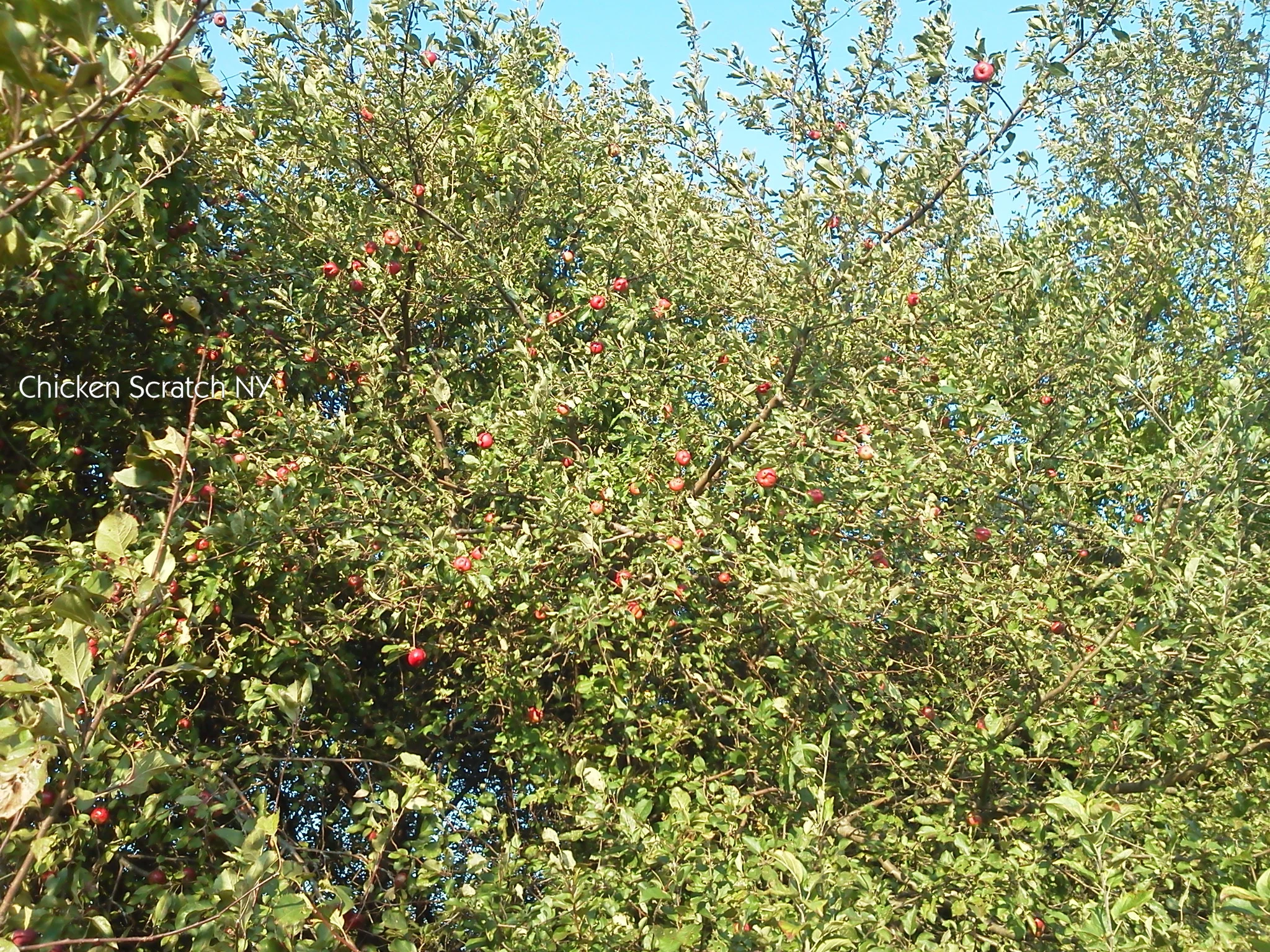 This batch of sauce came about because my neighbor stopped by to ask if I was back to work yet (I'm not) and I asked about his apple trees. 30 minutes later he came back with three bags of fresh, unsprayed organic apples and a bag of pears.
Some of the apples are pretty oddly shaped and they'll be thrown in the pot whole but some were perfectly round and begging to be sliced up. About half became sauce and the rest will be baked into pies, including a special one for my neighbor to say thanks.
If you don't find yourself with hand-delivered bags of mystery apples head to the closest orchard and get your hands on softer apples like Cortland, Golden Delicious, Macintosh and add in something with a bit of a bite like a tart Granny Smith.
Using a mix of apples gives you a better flavor. It also helps you achieve a better chunky apple sauce when some of your apples cook down completely and others hold a bit of their shape even when they're soft.
Applesauce Flavoring
The majority of the apples we used were pretty tart. I was eating the end pieces with peels and some had some sass.
You have lots of options for sweetening your applesauce, my favorite is maple syrup. Especially the stuff made by my girls Babcia, nothing makes them happier than eating applesauce they made sweetened with maple syrup they made with grandma!
You can also add brown sugar, honey or white sugar. The amount you need will depend on how tart your apples are and how sweet you want your sauce.
When I can applesauce I leave it all unsweetened and unseasoned, that way I can throw it into a quick bread or cake recipe without worrying about throwing off my flavors.
When it comes to spicing up my apple sauce I'm a sucker for all the fall classics. I get out my little spice jars and start tossing in everything that belongs in a Bath and Body Works candle.
The classics are cinnamon, ginger, cloves (go lightly here), nutmeg (again, ease into it), and allspice. You can also go with an all-in-one apple pie spice.
My personnel favorite was to spice up my apple sauce is all of the above mixed with cardamom. No one ever talks about cardamom but it really brings out the flavor of apples.
How to Make Chunky Applesauce
You'll need a large thick-bottomed pot to make your applesauce, add about 1/2 and inch of water to the bottom of the pot and start heating it up over medium heat.
Run your apples through the Apple Peeler Corer Slicer making sure the peeler arm is engaged. You'll probably have to cut or pull off the top and bottom slices because they'll still have the peel on them.
We ate them but you can feed them to your chickens or use them to make Apple Vinegar along with the cores and peels. Our chickens really like apple processing day in the kitchen!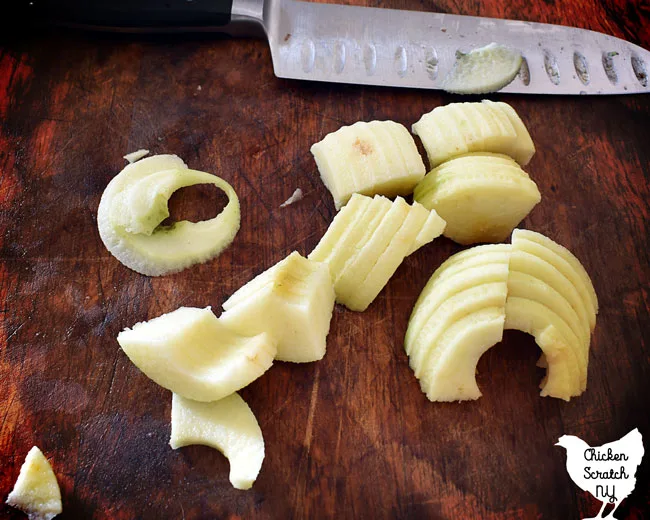 Use a kitchen knife to cut the whole sliced up apple into quarters and toss them in the hot water. Keep the pot covered and stir as you add apples.
The water you added in the beginning will turn to steam and start breaking down the apples, they'll release more water as they cook and keep the steam going.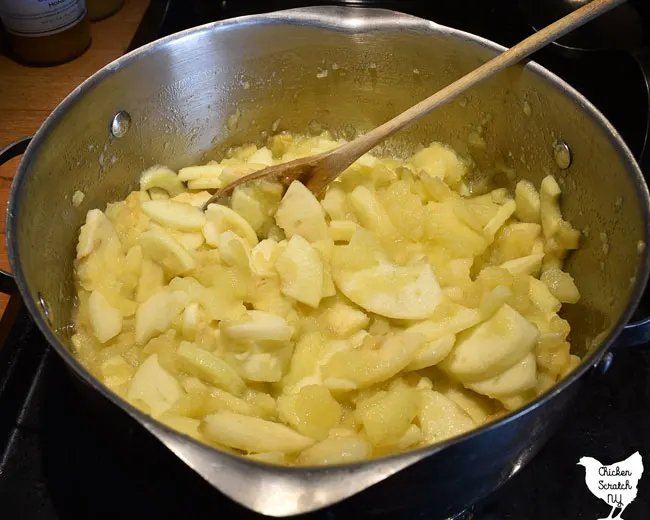 Your apple sauce is done when you say it is. That's the beauty of making your own apple sauce!
Pull it off the heat and stir in your sweetener and spices. I just sloshed in some syrup and sprinkled in my spices like an autumnal mad scientist. The hardest part is not burning your mouth on the hot applesauce.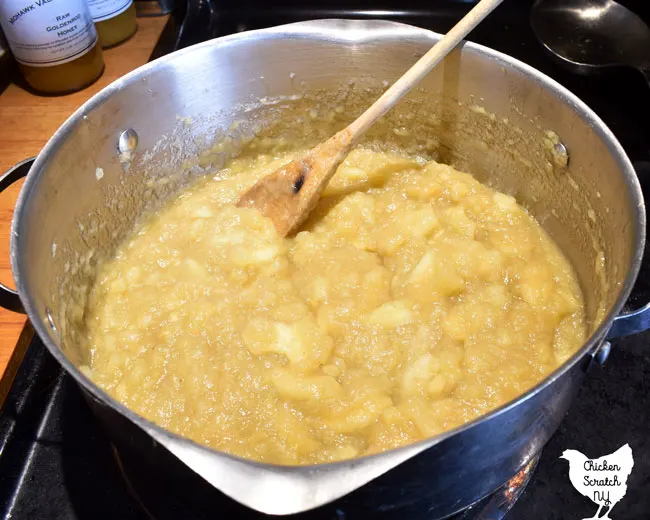 We each ate a mug filled with warm applesauce while the girls told me how much better it would be over some vanilla ice cream. It's also great as filling in a spice cake, it's thicker than regulars apple sauce and doesn't leak.
My final recommendation is to try your hand at aebleskiver and use the chunky applesauce as filling. Even straight from the fridge, it was nice and warm inside the pancake balls I made my little one for lunch after school.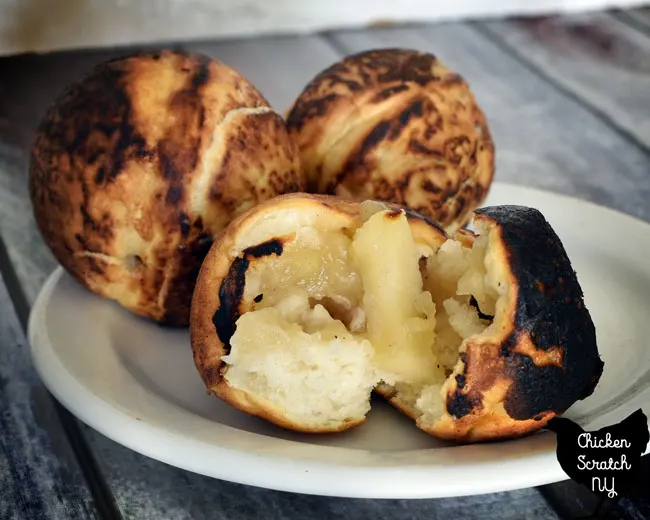 If you've looking for a cast iron pan that confuses people you can go wrong with the aebleskiver pan. There are lots of great recipes out there but we just used pancake mix from Aldi.
Chunky Applesauce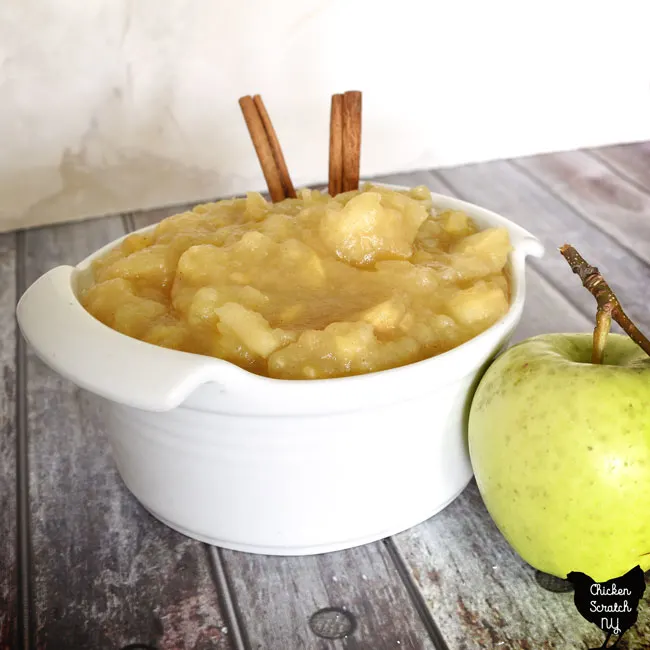 Cozy up with a bowl of warm chunky apple sauce sweetened with maple syrup and flavored with all the best fall spices. My easy method takes all the work out of this delicious fall food and gets in on the table (or ice cream or pancakes) fast!
Ingredients
Whole apples, preferably smooth and round
Maple Syrup to taste
Ground Cinnamon, Ginger, Nutmeg, Allspice & Cardamom to taste
Instructions
Add about half an inch of water to the bottom of a large pot, set over medium heat covered
Use and Apple Peeler, Slicer Corer to prepare the apples
Cut the sliced apples into 1/4s and dump in the pot as you go
Heat and stir ocacssionally, apples will begin to break down
When applesauce has reached your desired level of smooth/chunky remove from heat
Add maple syrup and spices to taste
Notes
There are no amounts given because it all depends on how sweet/tart your apples are and how quickly they cook down
This applesauce is amazing warm on its own or over vanilla ice cream, we also love to use it as a cake filling or inside aebleskivers (pancake balls)
Recommended Products
As an Amazon Associate and member of other affiliate programs, I earn from qualifying purchases.
I hope you've enjoyed this glimpse into one of our favorite autumn traditions and my crash course in turning mystery apples into delicious food!
Check out my Recipes page for more ideas or start here: