Deck the halls and your couch with a super quick and easy Santa Claus Quilt! The simple pattern can be completed in less than an hour so you can get back to baking cookies and watching Elf.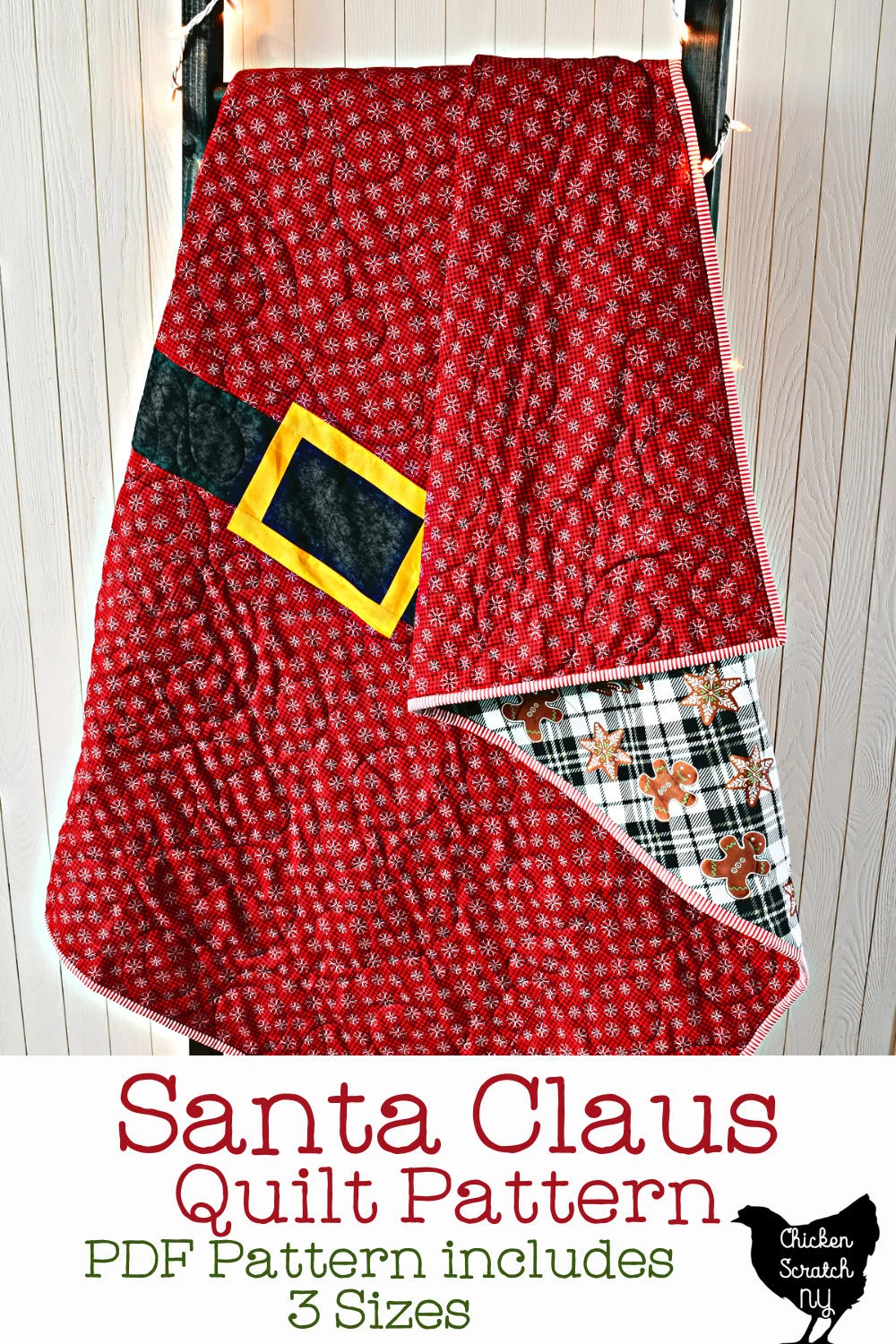 This Santa Claus Quilt would make a perfect first quilt for a holiday-loving beginner, a really quick project for a charity donation, and of course a great gift for all the little (and not-so-little) ones in your family!
Looking at my quilt stash it's easy to see how much I love Halloween but sadly my love of Christmas was lacking representation. With time at a premium during the winter rush, I knew I needed something quick that yelled Christmas with the ferocity of the Grinch reading his phone book.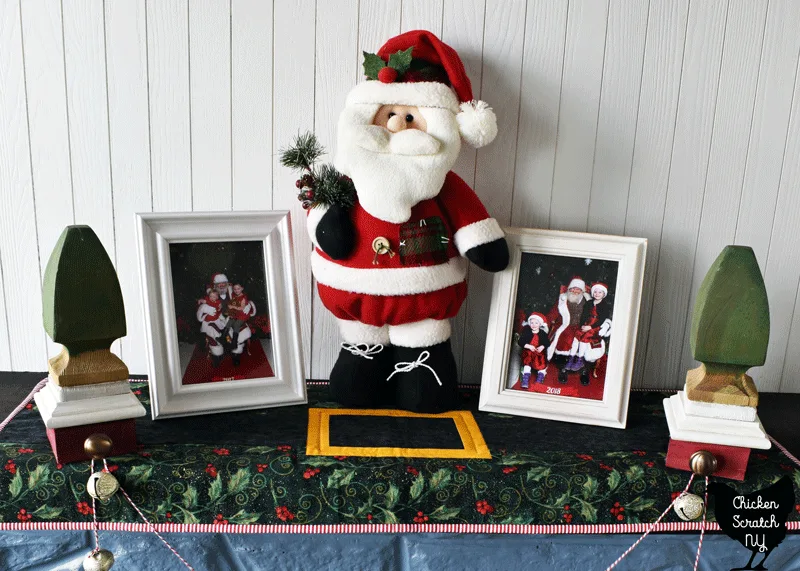 I know I always say my quilts are quick but this one really is! I timed my first attempt at the baby quilt and it took me all of 22 minutes including pressing with a temperamental iron and trimming down the edges.
That doesn't include the time I spent cutting because I did that when I was on the phone with my grandma but it probably adds about 5-10 minutes to the process. Overall half an hour to cut and sew a baby quilt is pretty good!
My 9-year-old made the table runner for her grandma's (my mom) birthday and she was able to do all of the piecing and quilt it with a walking foot. It was only her second quilting project and she did such a great job!
Fabric Requirements
The obvious choice for this quilt is red fabric, you can go with a solid but I hate working with solids so I went with a red reindeer holiday print. All of the material for my sample quilts came from Joann Fabrics, I wasn't about to wait for a delivery, and their $4.99 Christmas fabric sale was calling my name (not to mention they have some seriously cute stuff!).
For the baby quilt you'll need:
1 1/2 yards of the main fabric
4.5″ width of fabric strip black fabric
26″ x 1.5″ strip of gold fabric
1 1/4 yards backing
3/8 yard binding (or 5 – 2.5″ strips)
The black and especially the gold can probably be pulled straight from your fabric stash. Solid black or a subtle print will look really good for the belt.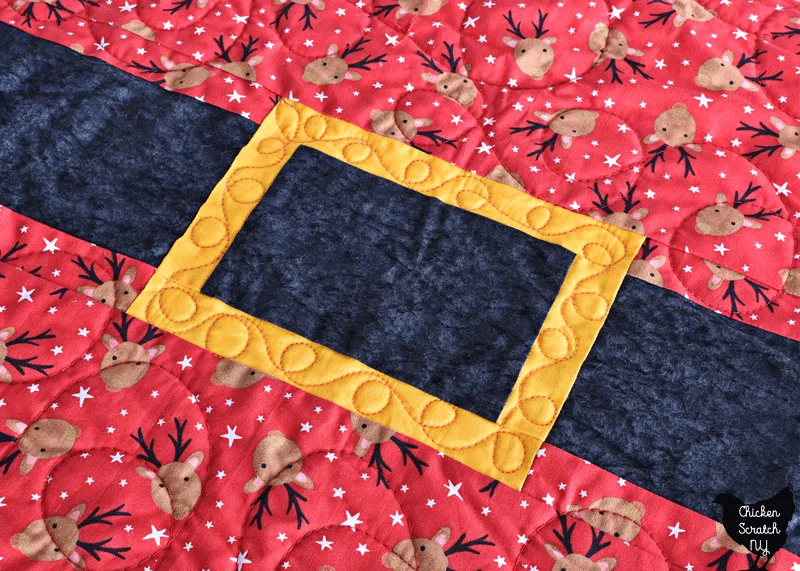 For the belt buckle, I used a Kona gold solid but if you plan to use your quilt for a table runner that won't need a lot of washing a fancy metallic print would be a nice touch!
This quilt is also really easy to resize if you want something between the baby and the throw or maybe you really like Christmas and need one for your king-sized bed. The full printable pattern includes a 50″ x 60″ throw and a 13″ x 32″ table runner and is available in my shop.
Get the full Santa Claus Quilt Pattern in my Shop
How to Sew the Santa's Belt Quilt
Before we start sewing we'll need to do a little bit of cutting:
1 – 4.5″ x 6.5″ rectangle from the 4.5″ wide black strip
the rest of the 4.5″ black strip
2 – 4.5″ x 1.5″ gold rectangles
2 – 8.5″ x 1.5″ gold retangles
2 – 1.5″ red width of fabric strips
1 – 18″ x 40″ red rectangle
1 – 16″ x 40″ red rectangle
With the cutting out of the way, the first step is to make the belt buckle.
Start with the 4.5″ x 6.5″ rectangle of black fabric and sew the 4.5″ gold rectangles to the short sides. Press the seams toward the black.
Sew the longer gold rectangles to the top and bottom and again press towards the black. The best buckle should measure 8.5″ x 6.5″.
Next up is the belt portion, start by sewing the 1.5″ strips to either side of the remaining 4.5″ black strip. Press your seams towards the red fabric.
Next up cut the belt into two 16.5″ long pieces and sew them to the short sides of the belt buckle. The seams of the belt and the belt buckle should nest making your corners match up perfectly.
The final steps are to sew the large panels to the top and bottom of the quilt. If your using a directional print make sure you have the larger panel on the top and that your fabrics are facing the right way!
Trim up the edges and it's time to get it quilted! I used a large loopy meander across the red print, ignored the belt, and added a little bit of gold stitching to the belt buckle.
I always finish my binding by hand and for smaller quilts, I prefer using a 2″ strip but a 2.5″ works just as well. For this quilt, I couldn't pass up a wintery red & white stripe for the peppermint vibes!
---
Looking for more patterns? Start here
---
Check out my Quilting page for more info or start here: