Maple Chicken & Potatoes is a simple and delicious cast iron skillet meal made with low-cost ingredients. Sweet potatoes, white potatoes, and onions add a built-in side dish making this recipe do double duty on the dining table.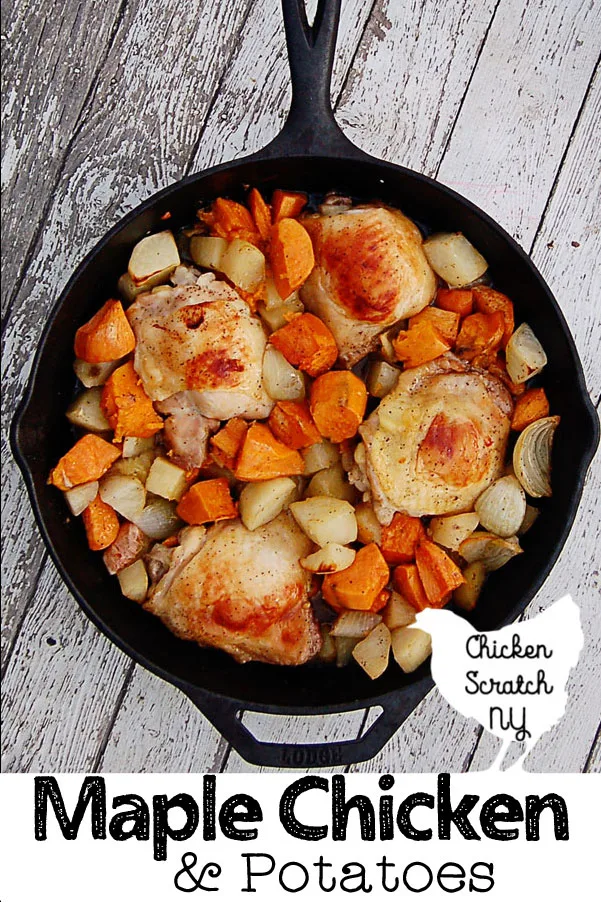 The secret to getting the most out of this recipe is the cast iron skillet. Cast iron can be confusing with seasoning and special washing methods but if you cook a lot it's worth looking into.
If you're interested in cast iron check out my favorite Cast Iron Cook Book
The best way to keep your food from sticking is to add it to a hot pan. Put the cast iron skillet in the oven while it's preheating and your pan will be ready when the oven is.
You'll need a large pan to hold four chicken thighs but this recipe can easily be halved or even quartered if you are only cooking for one or you have a smaller pan. My favorite Lodge Skillet has a handle on both sides making it easier to lift the hot and heavy pan out of the oven.
If you don't have a cast-iron skillet you can do this in a 9×13 ceramic or glass baking dish. You can skip the pan preheating but I would give the dish a light oil coating to help with sticking.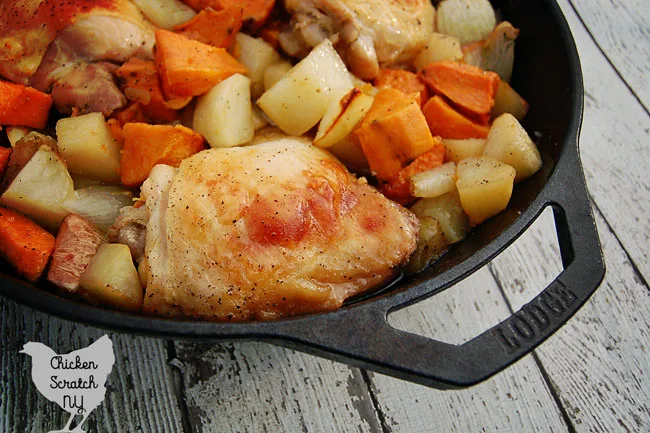 While the oven is preheating get your vegetables ready, I make this with potatoes and sweet potatoes because they're cheap and I usually have them on hand but use whatever you like.
The sweet potatoes get softer than the white potatoes so cut them a bit larger. They'll still be a little mushier than the russets but I think it's worth it for the flavor.
You can swap in carrots for the sweet potatoes and turnips for potatoes. Beets, parsnips, and even rutabagas would be delicious. The important thing is you cut everything uniformly so it's all cooked at the same time.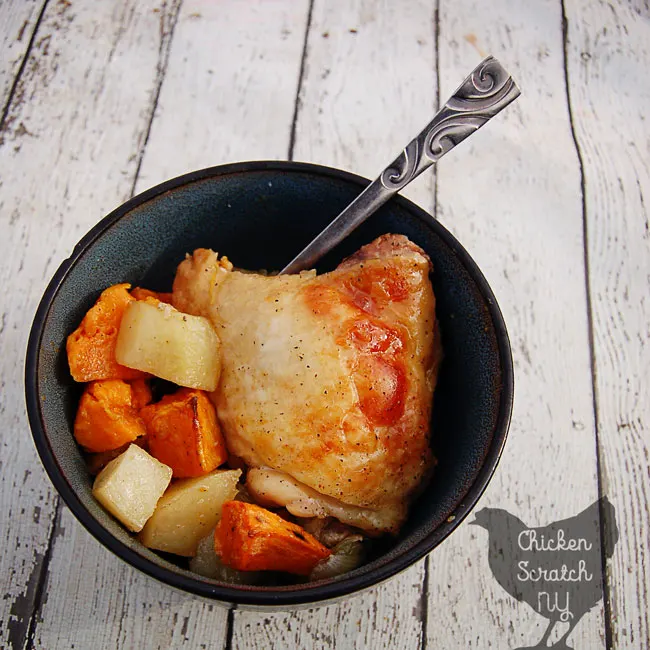 If you want more vegetables go for it, if you can fit it in the pan you should be good! This isn't really the kind of recipe you need to follow 100% (just don't eat raw chicken).
If you decide to add some garlic I recommend just smashing, peeling the cloves, and tossing them in whole. The flavor will come out into the chicken fat and the liquid released from the vegetables as they roast.
When it comes to the chicken you really want the skin and fat. You can easily swap out the chicken thighs for leg quarters but I'd skip the boneless skinless breasts for this one.
When you add the chicken to the pan (skin side up) you should hear a sizzle. Then dump in the maple syrup tossed veggies and cover it loosely with foil being very careful not to burn yourself.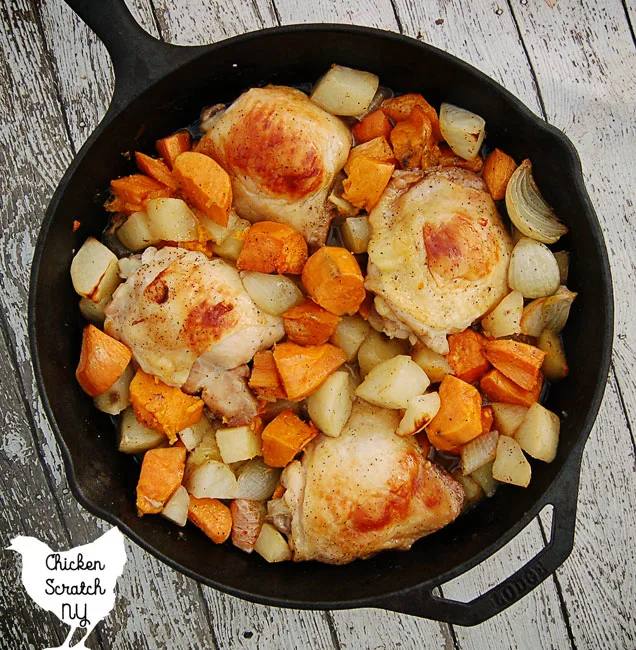 As the chicken cooks the fat renders out and coats the vegetables, it's such a beautiful thing! Using foil to cover the chicken during the main cooking section will keep the liquid from the vegetables in the pan.
Keeping the moisture in the pan while it's cooking will help keep the chicken from drying out.
Removing the foil for the last 15 minutes will let that water escape and give you delicious crispy skin and caramelize the veggies which really brings out the sweet flavor in the sweet potatoes.
Yield: 4 servings
Maple Chicken & Potatoes Skillet Supper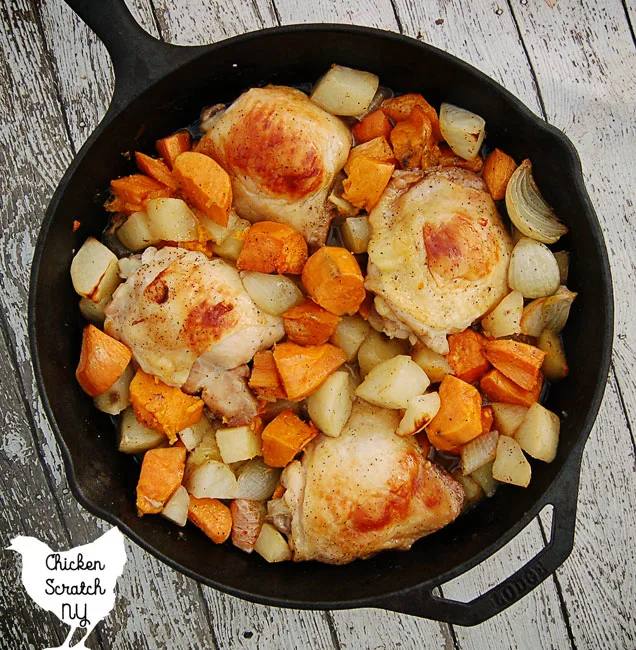 Maple glazed chicken & potatoes served up in a one-skillet meal perfect for busy evenings
Total Time
1 hour
15 minutes
Ingredients
4 chicken thighs with skin
3 med sweet potatoes, peeled and cut into big chunks
3 small russet potatoes, peeled and cut a bit smaller than the sweet potatoes (palm of the hand, use the bigger ones if you have them but fewer)
3 small onions, peeled and cut into wedges
1/2 cup maple syrup
Salt & Pepper to taste
Instructions
Preheat oven to 400, place cast iron skillet in the oven
Combine both types of potatoes, onions, and maple syrup in a bowl
Sprinkle with salt & pepper and toss to coat
When the oven comes to temp remove the pan and place chicken thighs skin side up, there should be some sizzle, sprinkle with salt & pepper
Pour potato mixture over the top
Cover with foil and bake for 45 minutes
Remove foil, gently stir vegetables (sweet potatoes will be soft) and place back in the oven for 15-25 minutes until chicken is browned and veggies are caramelized
Don't forget to PIN this to your recipe board!
Check out my Recipes page for more ideas or start here: