We find ourselves  spending a lot of time in the car, between visiting family and running errands. Mike always drives and I recently lost my ability to read in the car without getting sick so I wanted something to do. Making yo-yo's is easy, fast and portable so it fits those needs exceptionally well. I consider it a bonus how easily you can turn them into yo-yo Christmas ornaments.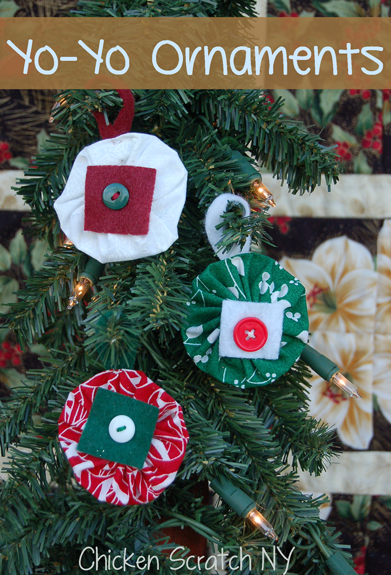 I
I love these little ornaments for a few reasons.
One, they are SUPER  quick to make, you just need a yo-yo maker (you can get them for cheap at Joanns with a coupon with the quilting notions) and with a little bit of prep you can take them anywhere to stitch up.
Two, they make use of little scraps, each yo-yo needs ~4 inch square of fabric (less for little yo-yos). You can make a whole set from a fat quarter and since you need so little you can make a big variety for a small amount of cash.
To make some of your own:
1. Make a regular yo-yo
2. Sew a loop of felt on the back for a hanger. Large loop if you plan to use it to hang the ornament or small loop if you're going to use hooks.
3. Add a small square of felt and a button to the front
4. Repeat!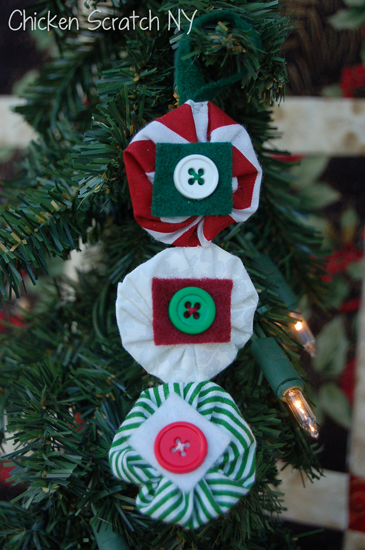 If you want to make a string of little yo-yo's follow the same instructions with a mini-yo-yo and stitch three together.
Check out my Christmas page for more seasonal ideas and projects