Today's project is a hybrid table runner/place mat/table cloth. It's square so it's not really a runner, too big to really be place mat but too small to be a table cloth. It's a fabric table cover thingy. As far as time goes, this isn't a quick project. It's easy but it took me a few nights to put together.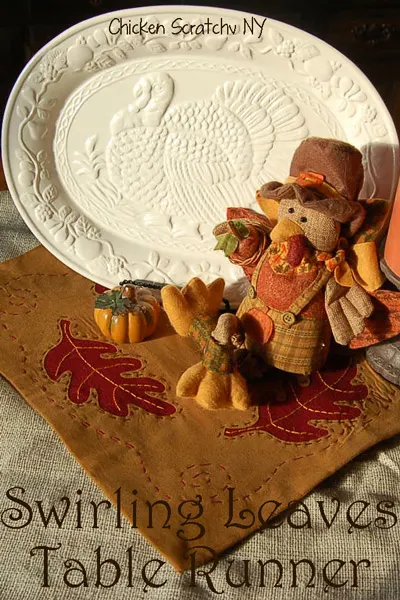 You need: Felt, Top fabric, Fusible Web, Iron, Scissors, Leaf Template, Marker, Pearl Cotton (size 5 in Burgundy, Mustard and Brown, P.S. I made those color names up), Needle and Regular Thread and an Embroidery Hoop.
Start by cutting a large square from felt, about 2 ft x 2 feet. Cut another square from your top fabric, 3 inches taller and 3 inches wider than the felt.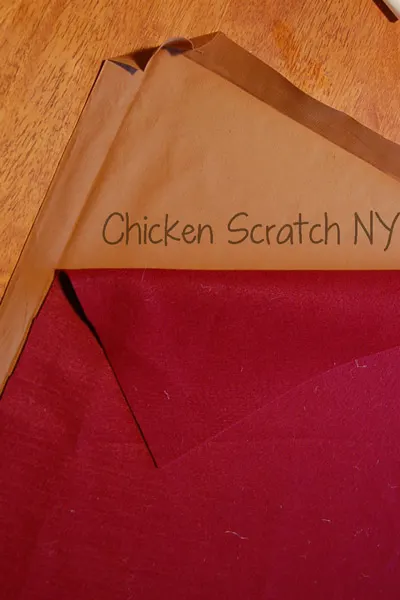 Center the felt on the wrong side of the top fabric, fold and press the overlap over the felt mitering the corners. Once you get the lines nice and crisp set aside the felt.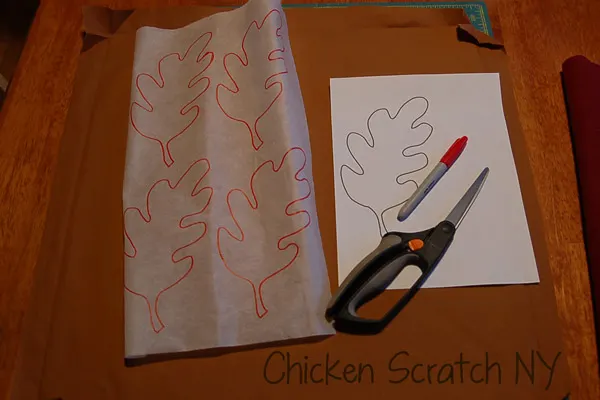 It's time to cut the leaves out of the top fabric. Trace your leaf 4 times on the fusible interfacing. Cut around each leaf leaving at least 1/4 inch; 1/2 inch would be better. Lay out the leaves on the wrong side of the top fabric with about 2 inches between the fold lines and the traced edge. Carefully iron them down.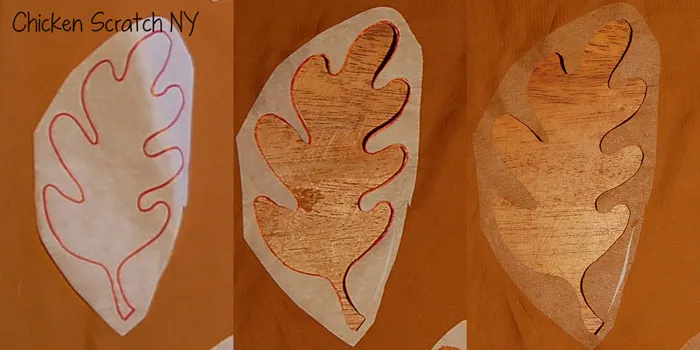 Carefully trim out the leaf shapes. Save the 'innards' for our next project when you are done remove the paper. Bring back the felt. Center the felt back within the lines your ironed earlier. Flip the whole mess over and iron over the cut outs, make sure you follow your interfacing instructions! Now bring out your embroidery hoop.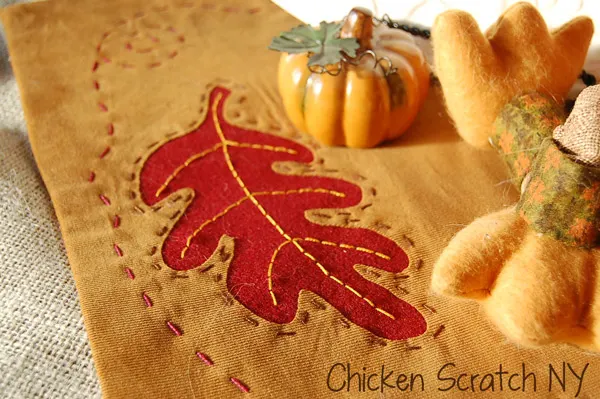 It might seam easier to skip it but don't, unless you like the wrinkly look (ask me how I know). You will use a running stitch and a back stitch. Out line each leaf with the brown pearl cotton and a running stitch. Add the leaf veins with a yellow pearl cotton back stitch. Your last embroidery step is add a swirl in each corner and a meandering connector with the burgundy pearl cotton and a running stitch. When the embroidery is done flip it back over (re-iron if you need to) and using the regular thread and a whip stitch attach the top fabric to the felt taking care not to catch the front through the felt.
Save your leaf cut outs, you'll need them for an upcoming project!
You can find my other sewing projects on my new Sewing page.
**I've been working on a bunch of 'behind the scenes' stuff to get ready for the holiday season so my fall crafting has taken a nose dive. I hope to be back in the swing of things in a week or so