Scraps are an inevitable part of quilting, even the most diligent cutting will still leave you with some extras at the end, and those little pieces add up quickly! The best thing you can do is turn them into a new scrap quilt and I have a bunch of options for you.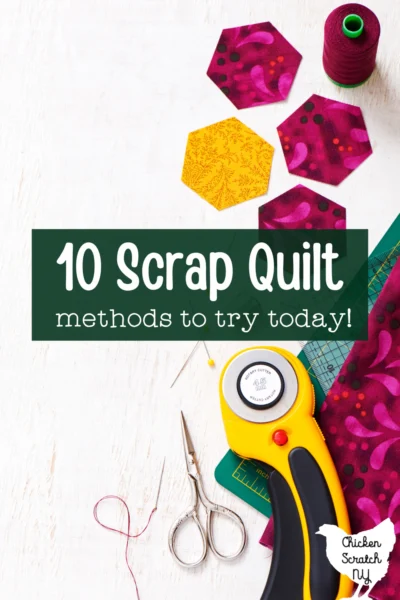 Just about any quilt pattern can be made with scraps but there are a few things to consider before you jump straight into sewing.
Fabric Scraps
Every quilter is different and we all have a way (or at least have some plan) to keep our scraps together. Some people go really specific (zip lock bag for each color and size) while others keep it more organic (that would be me).
I have a large box with leftovers from cutting, a box for leftover 2.5″ strips, 5″ and 10″ squares from unfinished precuts, a box for leftover pieced blocks and my guilt HSTs, and separate boxes with Halloween and Christmas scraps in them.
Since I sew mostly for myself there isn't that much variation in my scraps, I like deep earthy colors, and rich jewel tones and avoid pastels like the plague. As a result, most of my fabrics coordinate fairly well.
If you sew a lot for other people or you just work with a wider color palette than me you might have some questionable color combos. My advice here is to really lean into the chaos or separate your scraps out into more harmonious plies.
Someday I'll make a super bright, rainbow-in-a-blender scrap quilt but I hate pink and it's going to take me quite a few years to round up enough scraps to pull it off!
Some people are happy to let chaos rule their quilting but if you aren't into the kitchen sink aesthetic you still have options for scrappy quilts.
Start by sitting down with your scrap pile and look for anything that stands out. Do you have a lot of a certain color or a bunch of different fabrics with a similar theme? Maybe you really like a certain designer, for example, most fabrics from Fig Tree & Co or Kim Diehl work together between their lines.
Once you get a better idea of what you have, including the amounts and the size of your quilting scrap pieces, it's time to pick a scrap quilt pattern.
Scrappy Quilt Pattern Ideas
Quilters are like snowflakes and we're all unique. I'm sure you've got quite a bit about the way you and your brain works figured out but I'm hoping to spark something in your brain and give you a few new ideas for using up your stash of scrap fabrics.
Sampler Quilt
I feel like making a sampler quilt is the most obvious option for a scrap quilt. Working with different blocks gives you lots of opportunities to make the most of your fabrics.
If you're looking for a little bit of calm in the chaos use a single fabric for the background in all of your blocks, it might require buying some yardage but I think it's allowable if it lets you turn your scrap pile into something useable.
I'm a very "in the zone" quilter and I really struggle with sampler-style quilts, I want to sit down, turn my brain off and sew the same thing 20 times and then move on ya know?
Unfortunately for me, sampler quilts are exactly the opposite of that. In an effort to force myself to make a sampler quilt and to use up a neglected chunk of my stash I've decided to participate in the 2022 Sweet Sampler from Sweet Little Quilts.
I'm using fabrics from a box of Christmas fabric I've been collecting for over 10 years and some white-on-white yardage that's a little too stiff for my liking. It's pushing me to make some blocks I would normally never make and it's using up some fabric I never reach for but feel really guilty about tossing.
Single Block Scrap Quilt
Do you have a favorite block? One you not only love to look at but also one you love to sew?
Why not turn that block into a scrap-busting quilt? I've made three different versions of my Pumpkin Lattice quilt and my favorite part is the small pumpkin blocks.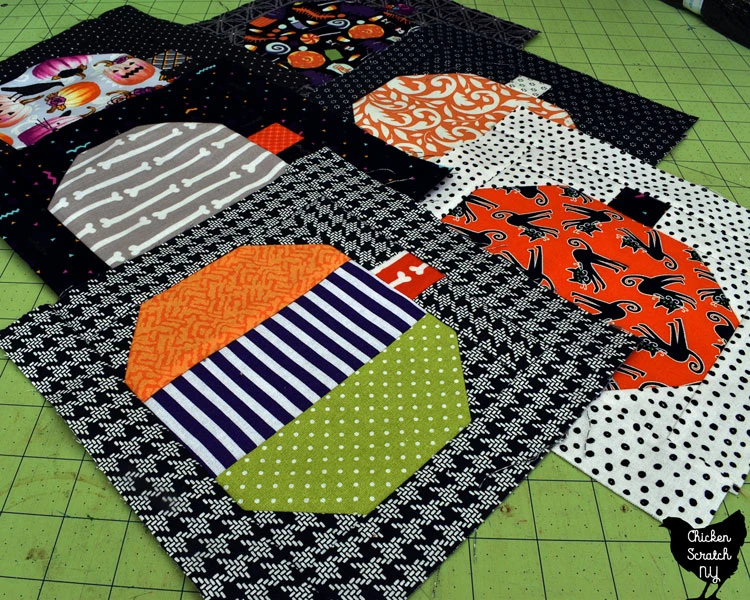 They go together really quickly and despite the high number of pieces, they are pretty easy to cut out too. Another check in their favor, the frame around the pumpkin makes them really easy to trim up if you get inconsistent over time.
Fall is my favorite season and Halloween is my favorite day so I have no shortage of spooky scraps and I've been turning my stash into a whole patch of pumpkins. I want to make a pretty big quilt so for now they're stashed away waiting for more Halloween scraps.
It may take me a few years to make enough pumpkins for a full quilt but I'm ok with it and I'd rather store a flat pile of blocks than a mountain of scraps!
Foundation Paper Pieced Blocks
Buckle up, this can get confusing. Foundation Paper Piecing is different than English Paper Piecing, in Foundation paper piecing you have a pattern on a piece of paper and you sew the fabric to the paper in a specific order.
In the end, you trim up the block and rip the paper off. Foundation paper pieced blocks can range from simple economy or Log Cabin blocks to incredibly intricate multipiece blocks that have hundreds of pieces.
These blocks are great for scraps because you're usually working with small pieces and it's actually easier to grab something from the scrap bin than to cut up yardage.
Tiny Orchard Quilts has a great video on foundation paper piecing (and as a bonus, it's a scrap project!)
Foundation paper piecing is something you either love or hate. Or you're afraid of it (so far I'm in the third category).
It's a bit of a brain twister and I'm not that good at it. But I found a Hocus Pocus block with Dani holding Binx in the Black Flame Candle and I'm dead set on getting at least good enough to pull that one off by Halloween.
Fandom in Stitches is a great source for non-traditional foundation paper pieced blocks. The patterns are all free and printable and cover all sorts of pop culture from The Office to Mario to Harry Potter.
Foundation Pieced Quilts
I watch a lot of quilting YouTubers and one thing that's always stuck out in my mind was Kimberly Jolly from the Fat Quarter Shop saying she was making a single block from the fabric leftover from every quilt she made in a year. At the end of the year, she'd have a really cool yearbook/scrapbook hybrid.
I love the idea of making a block to represent every quilt but I struggle a lot with consistency and I can't imagine a block I made in January would be the same as a block I made in December even with the same pattern.
This is where we get back to foundation paper piecing. Since you're sewing your fabric to a paper foundation you don't have to worry about keeping your seam allowances absolutely perfect and consistent.
Fat Quarter Shop sells pads of foundation paper piecing paper, including a Pineapple Block, a Log Cabin block, an Economy Block, and now a Snail Trail block. The pads are made with thin paper, making it easier to remove after sewing, and they each have 42 sheets of paper.
I bought a pack of the 12″ pineapple blocks and the 6″ log cabin blocks but I haven't actually gotten around to using them for more than a few tests. It's on the list, I just overestimated my strip scraps and I don't have enough for more than a few blocks.
Chain piecing is really my jam so I'm not seeing them playing a huge role in my quilting game but I do really like the consistency you can get with them. You may find they work really well for you or you might find them just a bit too fiddly and decide they aren't for you.
String Quilts
String blocks are made by sewing narrow strips of fabric together to basically create a new piece of fabric with a very stripey appearance. You can use strips of fabric that are all different widths or cut your scraps to the same size.
This is a great way to use up narrow pieces of fabric or even selvage strips. Assuming you want to use a 1/4 inch seam allowance you can use anything wider than 3/4 of an inch.
You can make your string quilt blocks with a paper foundation but I've also seen them made on a thin muslin base. If you decide to go with this method I recommend making your blocks larger than you need so you can trim them down to clean them up and correct any stretching that happens.
If you make a lot of jelly roll or honey bun quilts this would be a fun way to use up your extra strips!
Read more about Jelly Rolls & Jelly Roll Quilts
This tutorial from A Quilting Life walks you through how to make a string quilt block.
English Paper Piecing
English Paper Piecing is very different from foundation paper piecing. Instead of sewing your fabric to a paper pattern you press your fabric around a paper template and sew them together by hand with a whip stitch before removing the paper.
The most common English paper piecing pattern is the hexagon, they're often sewn together into the very traditional "Grandmothers Flower Garden" quilt pattern. You can buy precut hexagons aka hexies or you can cut your own.
EPP is great for stash busting because you can use up oddly shaped pieces of fabric and the patterns tend to look good scrappy.
I haven't done any EPP yet, I have quite a few hand sewing projects going at the moment but like most things, it's on my list. I will probably try cutting my own shapes with my Silhouette.
If hexagons aren't your thing you still have lots of options. Needle Pointers has a whole collection of free English paper piecing patterns.
Postage Stamp Quilts
Traditional postage stamp quilts are made from 1.5″ squares that finish at one inch. In my opinion, they are the ultimate stash buster, using up pieces too small for just about anything else.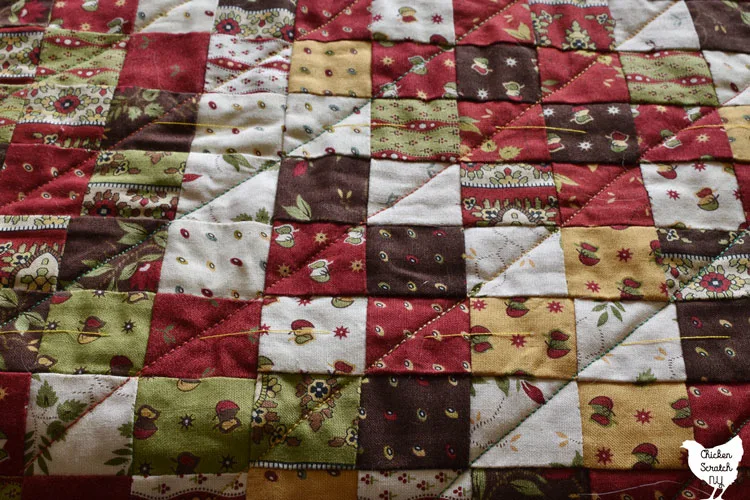 While the traditional postage stamp blocks are made with 1″ finished squares I've seen them made with larger pieces. As long as you stick to a set dimension you can make them with any size square.
Personally, I hate sewing with anything tiny but I love the look of tiny piecing so I came up with a strip pieced method to recreate the look without needing to handle a ton of little pieces.
Crumb Quilts
Crumb quilts are the most extreme stash buster I can think of. Just about any piece of fabric, regardless of size or shape can be worked into a crumb block.
I like the idea of crumb quilting, but it just doesn't work with my brain. I get too caught up in keeping things perfect and a single block ends up with me staring at my machine for 5 minutes trying to figure out the best way to do things.
If you're looking for more info about it, check out this Crumb Quilting video Just Get It Done Quilts.
Quilt as You Go Templates
Back in the day I worked for a sewing company and did a lot of hand sewing (buttons, it was buttons, I've probably sewn on thousands of buttons in my life) and despite occasionally leaving the studio with bloody fingertips I really enjoy hand sewing. It's probably why I like finishing my binding by hand.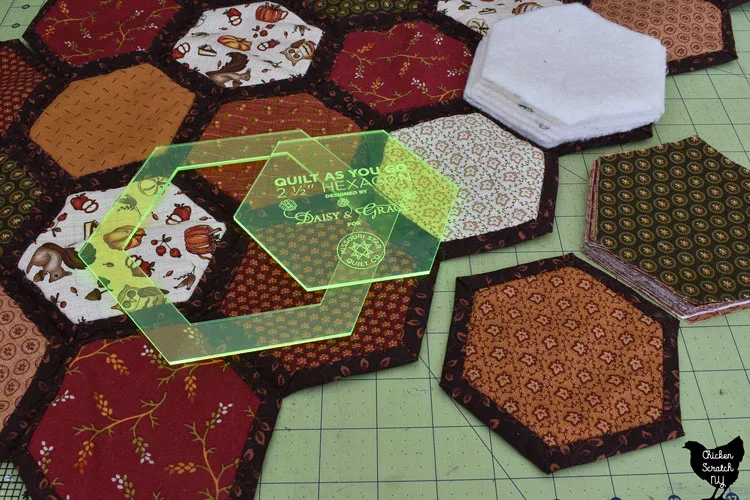 At the same time, I find hand sewing to be incredibly slow compared to using a machine. So I try to find a happy middle ground.
That's why I love using this Quilt as You Go Hexagon Template from Missouri Star. They have a great video tutorial on how to use the quilt as you go templates, they focus more on machine sewing but like I said I do mine by hand.
The smaller inner piece fits on a 5″ square so it's a great way to use up extra charm pack pieces or really any mid-sized scrap. The raw edges are covered by folding over the large back piece so you don't have to worry about your small hexagon being cut on the bias.
I like to cut a bunch of pieces and then when I have a few minutes I can sew up a hexagon or two. I've been working on this project on and off for months and it's a decent table runner size right now.
I'm not sure how big I'm going to go with it but it really doesn't matter, I can just keep adding to it whenever I feel like it and it's technically always done.
This project is also great for using up batting scraps. After you've cut your fabric you also cut a piece of batting from the smaller template. I have a lot of narrow batting pieces left from cutting down the sides of my quilts when I pull them off the frame and cutting them into a pile of hexagons is way easier to manage than a giant pile of thin strips.
YoYos
Yo-Yos are small fabric circles, you make them by sewing around the edge of a circle, scrunching it up, and then flattening it out. You can sew them into a lacy sheet of fabric or applique them to fabric to add dimension.
They're a very old-school and traditional way to use up small pieces of fabric. As a gadget-obsessed Millenial, I rely on a Yo-Yo Maker for mine.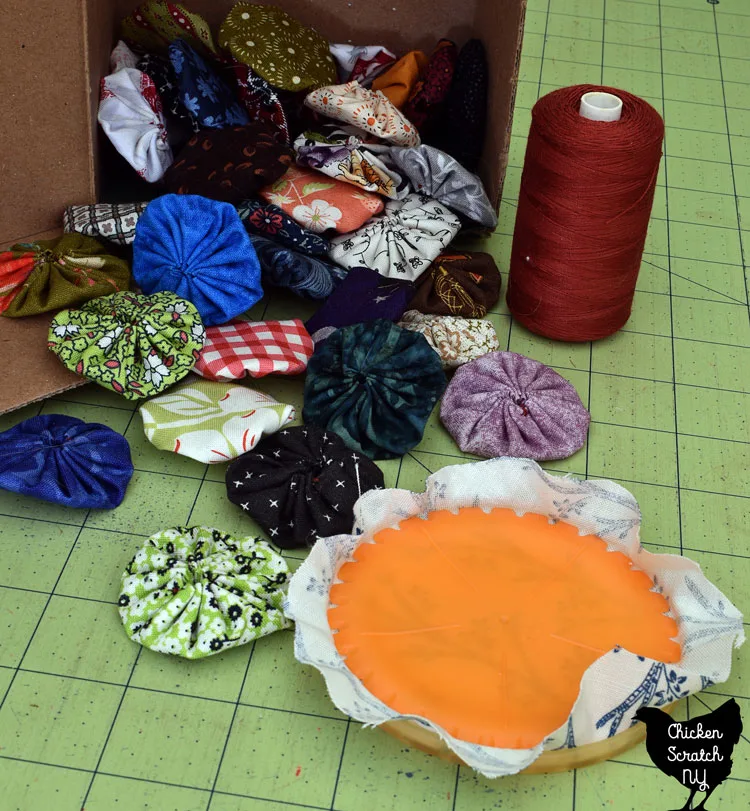 Clover makes a few sizes, it's a set of plastic disks, one sits inside the other and there are a series of holes to sew through.
I have a small box of yo-yos, I try to make one from every fabric I use in a quilt. I'm not sure what I'm going to make from them but it's probably going to go on a pillowcase.
I keep a spool of thread, a pair of small scissors, a needle, my yo-yo maker, and squares of fabric in a small box so I have a project I can work on by the pool while my kids swim, in the car on a road trip or whenever I need something to keep my hands busy.
---
What you're favorite way to use up your scraps? Do you have an ongoing project or that you work on a little at a time between other things or do you prefer to sit down and finish something before getting drawn into another project?
---
Check out my Quilting page for more info or start here: