I want to live surrounded by flowers, just like a fairy tale Grandmas cottage. If I had my way every square inch of my 5 acre property would be in bloom at some point. However I don't think the chickens would like that and I'd be pretty sad to lose out on homegrown green beans.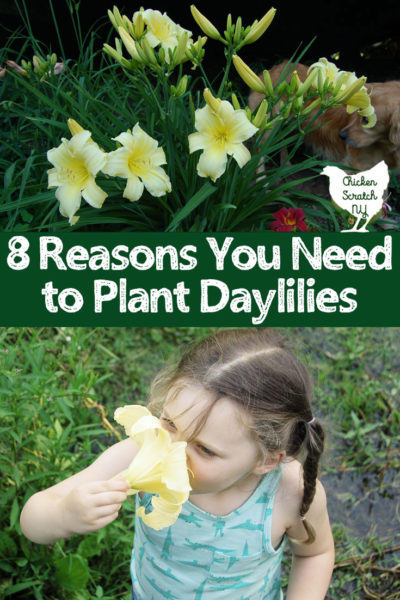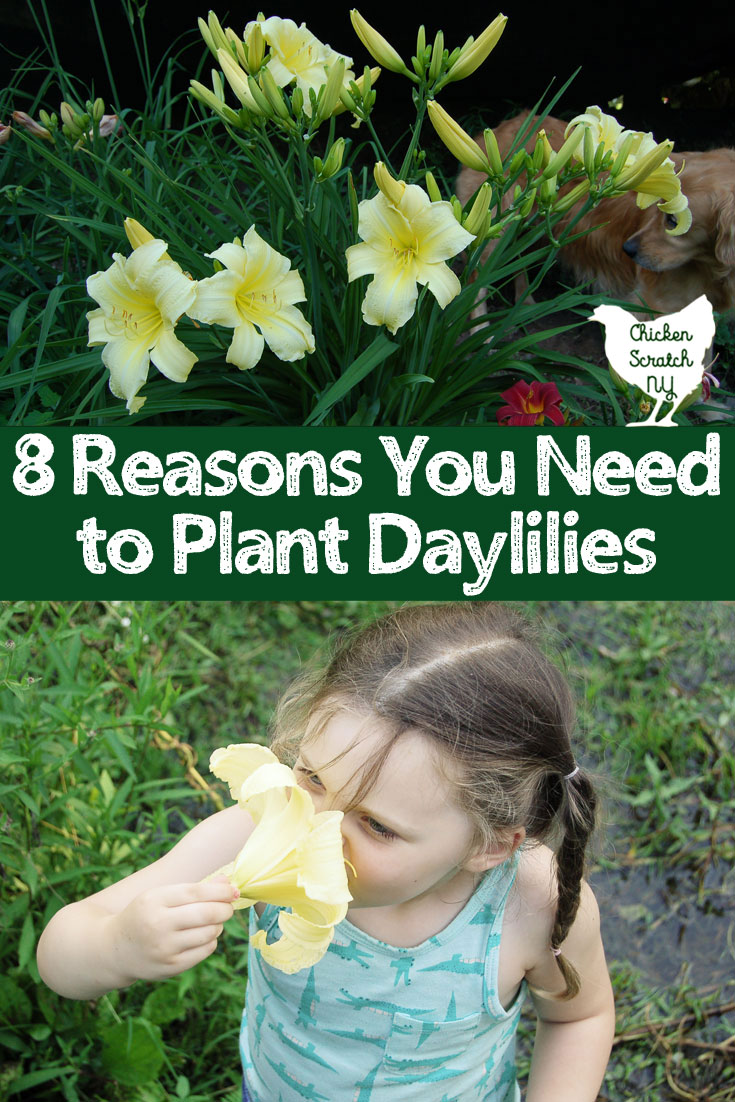 Of course flower gardens also take a ton of time and every. Or do they? A few years ago I decided to plant a daylily garden by the side of the deck.
There is a retaining wall to the side of my deck, it leaves a space about 4 feet long and 25+ feet long. It's about 4 feet tall closest to the house and it tapers down to the lawn.
It's honestly a pain in the butt place. You really can't mow there and something that needs lots of attention would be a pain to get to.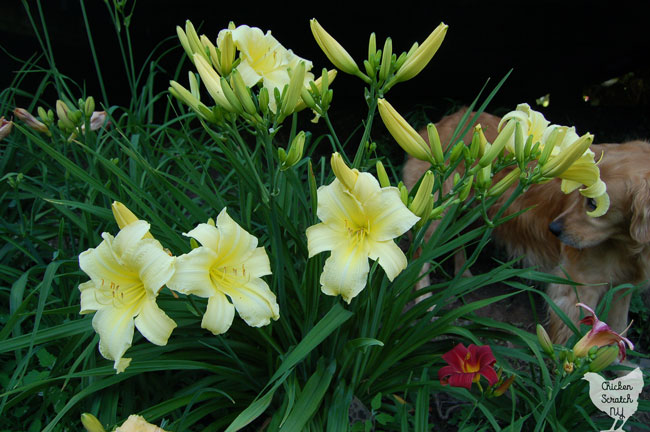 It's also the first thing you notice when you look out my bedroom window and it looks right under the deck. It wasn't a pretty sight. But I knew with a little work it could be gorgeous.
How did I plan on doing that? By planting a daylily garden.
Daylilies are amazing plants. Have you ever seen the blazing orange lilies that line the roads during the summer?
Those are wild daylilies, also called ditch lilies. They aren't native, all lilies come from Asia, but they have naturalized quite well in America and all over the world. Those daylilies and their hemerocallis relatives were bred into all of the fancy daylilies available today.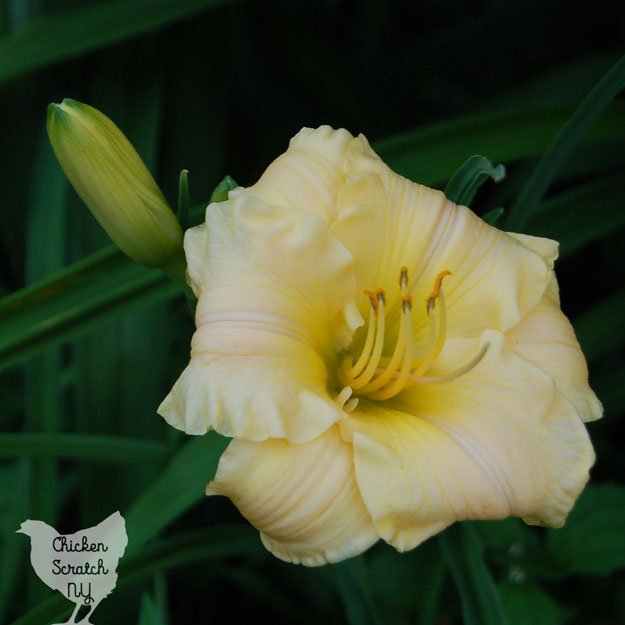 All it took to turn my ugly retaining wall into a gorgeous flower bed was a box of daylily fans and a few hours. I planted them in groups of two in a staggered 12 x 12 grid to fill in the space.
If you want to fill in the space faster you can plant 3 in a hole. They're perennial and will come back stronger year after year so I was  happy to save money and get fewer plants to start.
8 Reasons to Plant a Daylily Garden
It's so easy.
Daylilies are hardy little buggers. You plant fans in the early spring, keep them weeded and watch them take off. I even got some flowers the first year after planting from single fans!
They multiply quickly, filling in gaps and limiting the amount of weeding you need to do. I go through a few times a season with my Cape Cod Weeder cleaning up between the plants and things stay nice.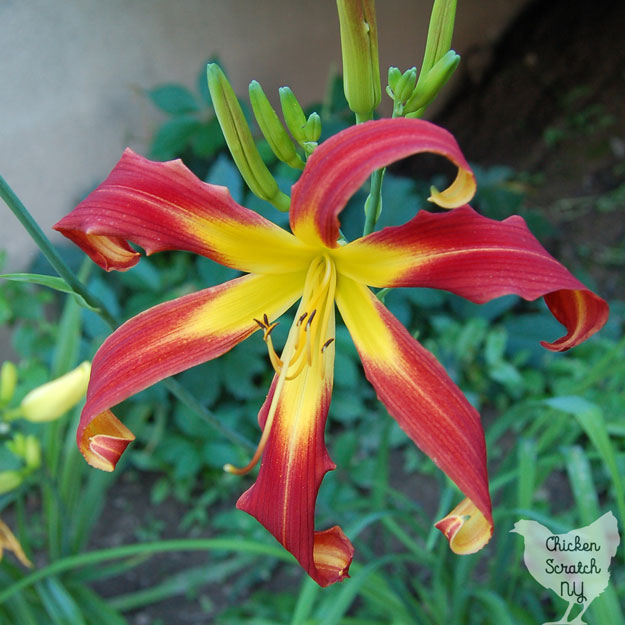 They come in beautiful colors and patterns
Daylilies are available in yellows, reds, oranges and purples. You can find yellows so pale they're almost white and burgundies that almost look black.
Almost all of the daylily varieties have similar warm tones so it's easy to mix colors while still having a harmonious design even if you're adding in the lavender daylily flowers. 
The show goes on all summer
Daylilies have been bred to bloom at different times and some even rebloom, meaning they send up more than one flush of flowers during the season.
One of my favorite reblooming daylilies is called 'Fair Child' and it has large pale yellow flowers that smell incredible and rebloom almost all summer long.
Between early, midseason and late blooming varieties and the occasional rebloomer you can have a daylily flower show that lasts all summer with a little bit of planning.
They are hardy plants
They seem to thrive on neglect. Even my mom can grow daylilies and that's saying something.
It's a good thing my sister and I are human and not plants because she would have murdered us.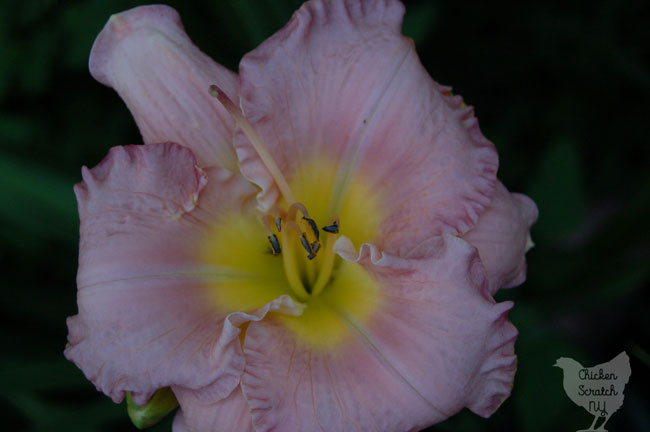 They're cheap!
When it comes to planting a large area you can either spend a ton of money or you can start from seed and wait years for everything to fill in.
Unless you go with daylilies. I was able to plant the a 4 x 20 foot space for about $120.
They come in 4 sizes to fit any space
Daylilies are classified by the height of the flower stem. They come in dwarf (less than 1 foot), low (1- 2 feet), medium (2-3 feet) and tall (anything over 3 feet).
I used this to my advantage with the retaining wall situation by planting the tallest in the back row closest to the house and gradually getting shorter and I moved down the row.
They don't quit!
Last year I counted over a hundred blooms and buds on a single group of Fair Child daylilies. They're a fragrant reblooming variety and they keep going and going and going.
The flowers only last a day so you don't need to feel bad picking them, or letting your kid turn them into a hat!
They can smell amazing
Not all daylilies are fragrant but the ones that are a worth seeking out. I picked several fragrant varieties to scatter through the bed. Let me tell you few things can stop you in your tracks like catching that scent on the breeze.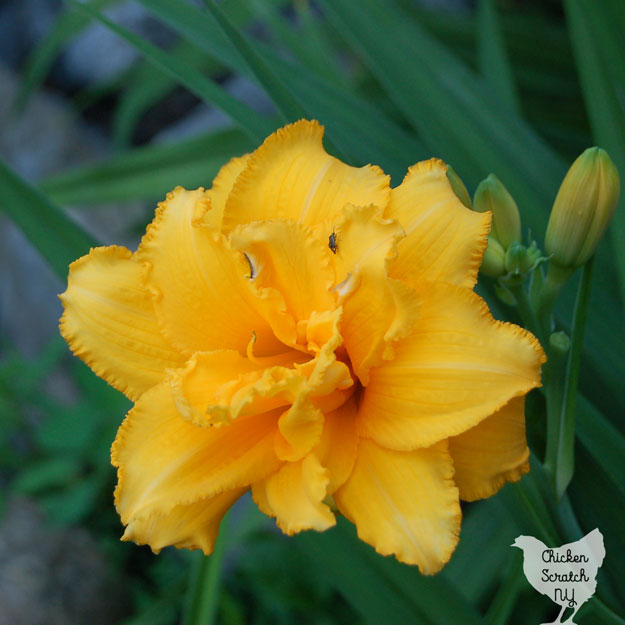 Have I convinced you to give daylilies a shot? I promise there is so much more to the hemerocallis family than orange ditch dwellers.
Every year my daylily garden is filling in more and getting prettier. It's even the home of one of my DIY Garden Fairy Houses.
Don't forget to PIN this to your garden board!
Check out my Garden page for more ideas or start here: