Who doesn't love mint? I wanted to grow mint because it's delicious, it smells amazing and there are a ton of varieties. BUT I wanted an herb garden not a mint garden.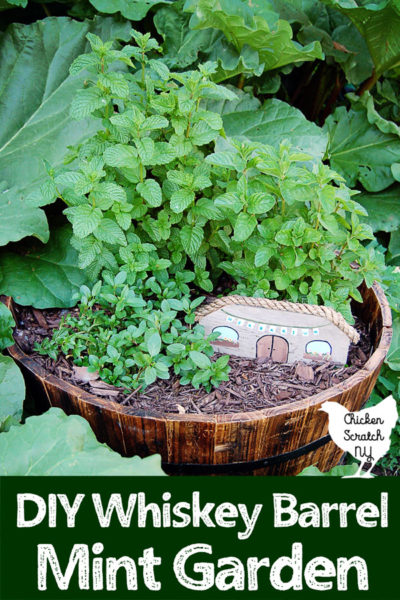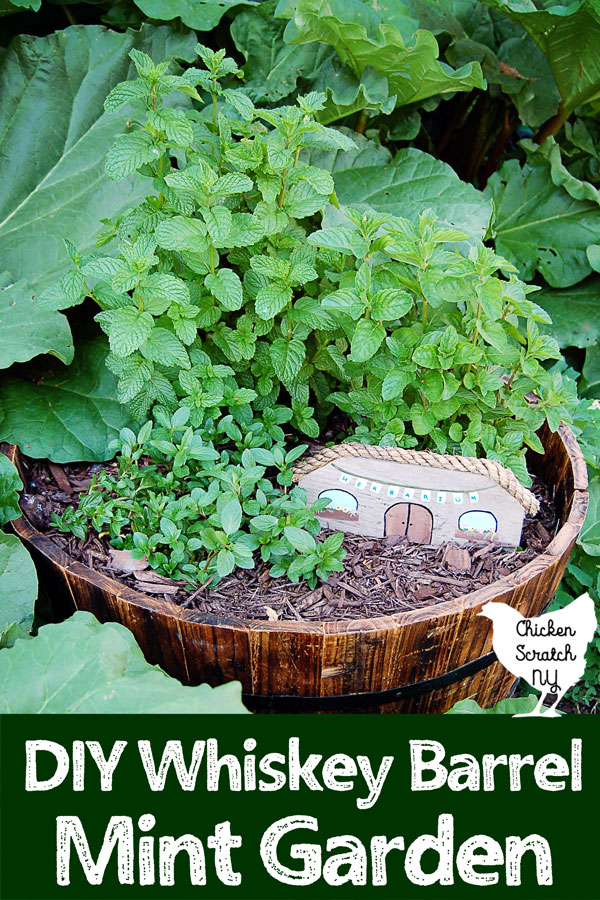 If you've ever grown anything in the mint family you understand exactly what I mean. That is how the Whiskey Barrel Mint Garden was born.
Mint is the easiest thing to grow. Even my mother who treats those '10 plants for people with black thumbs' lists as a hit list can grow mint. The biggest problem is keeping the mint where you want it and not letting it take over the whole garden.
Ask anyone who has ever tried to eradicate mint how futile and frustrating it can be. They spread via underground rhizomes that can produce a daughter plant a few feet away from the mother plant. If you try to rip it or dig it up and you miss a small piece BAM more mint.
They can also create new plants by layering which is when the stems touch the ground (very possible with mints and their spreading habits), get covered with a little something and send out new roots.
It may seem unlikely but this spring I found a gooseberry branch sending out new roots because my dog pooped on a low growing branch. If my dogs butt can do it don't doubt that mint can figure out a way too!
The best way to avoid all that minty fresh drama is to grow your plants in pots. Many people plant their mint in a submerged pot with the rim a few inches above the soil (don't use terracotta or you'll need to water every 15 minutes) and have great success.
I wanted something for focal pointy and I'm always up for an excuse to use a 1/2 whiskey barrel so I went with something a little fancy-schmancy. I guess anything is fancy compared the that lovely fencing… If you're curious the dirt area is planted with dill, breadseed poppies, borage, nastutiums and that little sage plant that has already been dug up by a rooster once.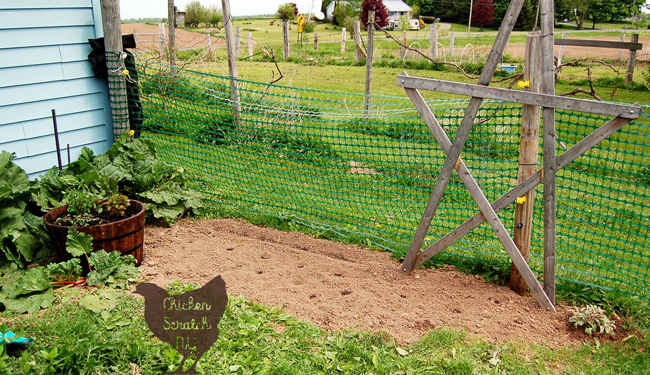 DIY Whiskey Barrel Mint Garden Supplies
Supplies:
Mint plants
Mulch
Markers (optional or just use the ones that came with the plants)
Mint Garden Instructions:
1. Find a semi-permanent place for your barrel. It's going to be pretty heavy once full and you won't want to move it. I stuck mine in a hole where I had previously dug out a rhubarb plant so a little digging was necessary to flatten things out.
2. Fill the barrel. I knew it was going to take a lot to fill the barrel so I went out and dug up a bucket of deep-litter from the chicken coop the fill the bottom 2/3 of the barrel.
That was then topped of with potting soil. You really want potting mix not garden soil for this, it's made to hold on to water and that's super important in a raised container with a water-loving plant.
I used almost a whole bag of EcoScraps organic potting soil to finish filling up to about 3 inches below the rim. It's my first year using that brand but the price is good and the soil seems nice. I used it to re-pot my tomatoes before they went in the garden and they are growing great despite my lack of attention. Getting back on topic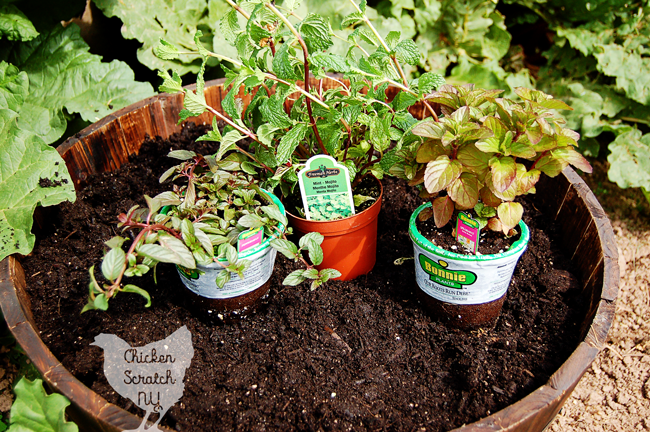 3. Add your mint plants. I picked three different looking, tasting and smelling ones to keep things easy. The large one in the back is Mojito Mint which smells incredibly and isn't crazy powerful like the peppermint.
Speaking of, the dark colored one in the bottom left is peppermint the the semi-variegated one on the right is spearmint. If you have a toddler helping this step may take up to an hour.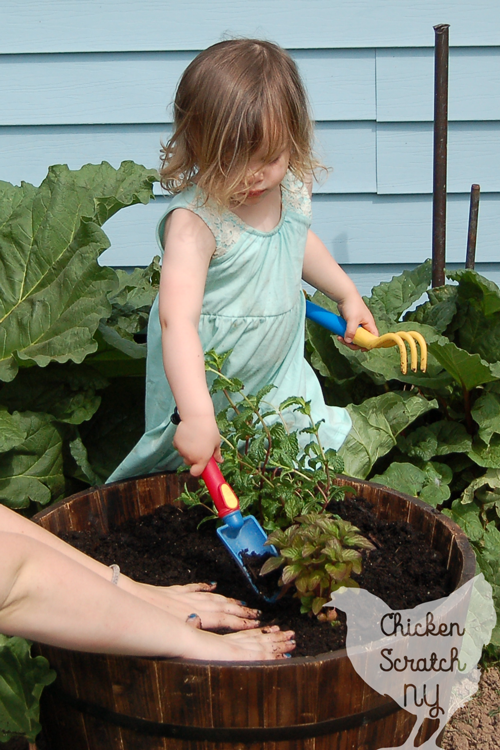 4. Water well to settle everyone into their new homes and add a layer of mulch. You might notice there is no mulch in these pictures, my husband had left for work and it was just too far away but rest assured it's there now.
Mulch will keep the soil cool and reduce the amount of watering you need to do.
5. Optional: add markers so you know what you're growing. Eventually I'll get around to adding some fancy ones but for now I stuck in the plastic tags they came from right up against the barrel in an effort to hide them from my chaos loving two year old. If you follow me on instagram you might have seen where she took out all the onion markers and switched them around on me…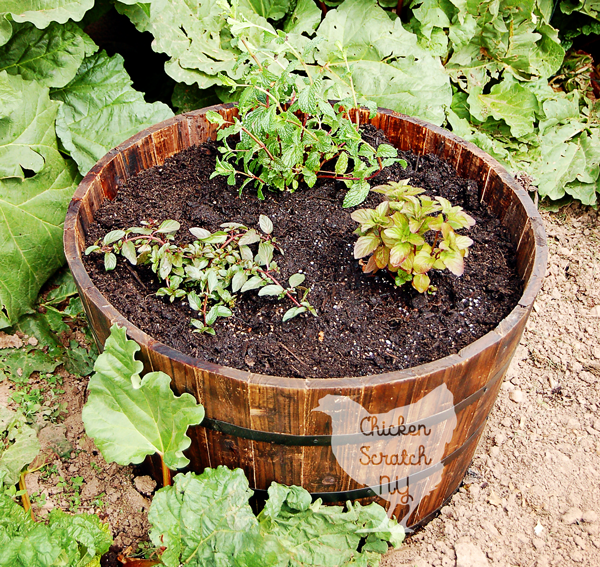 And there you have it! A DIY Whiskey Barrel Mint Garden, it'll fill in more over the ext few months and I'll add an updated picture.
Next year when I put up legit fencing and get rid of more rhubarb it'll look even better but for now I'm happy with my 1/2 hour effort. I might even add some sort of fairy house to entertain the kiddo, or let her stick one of her 5 million pinwheels in it.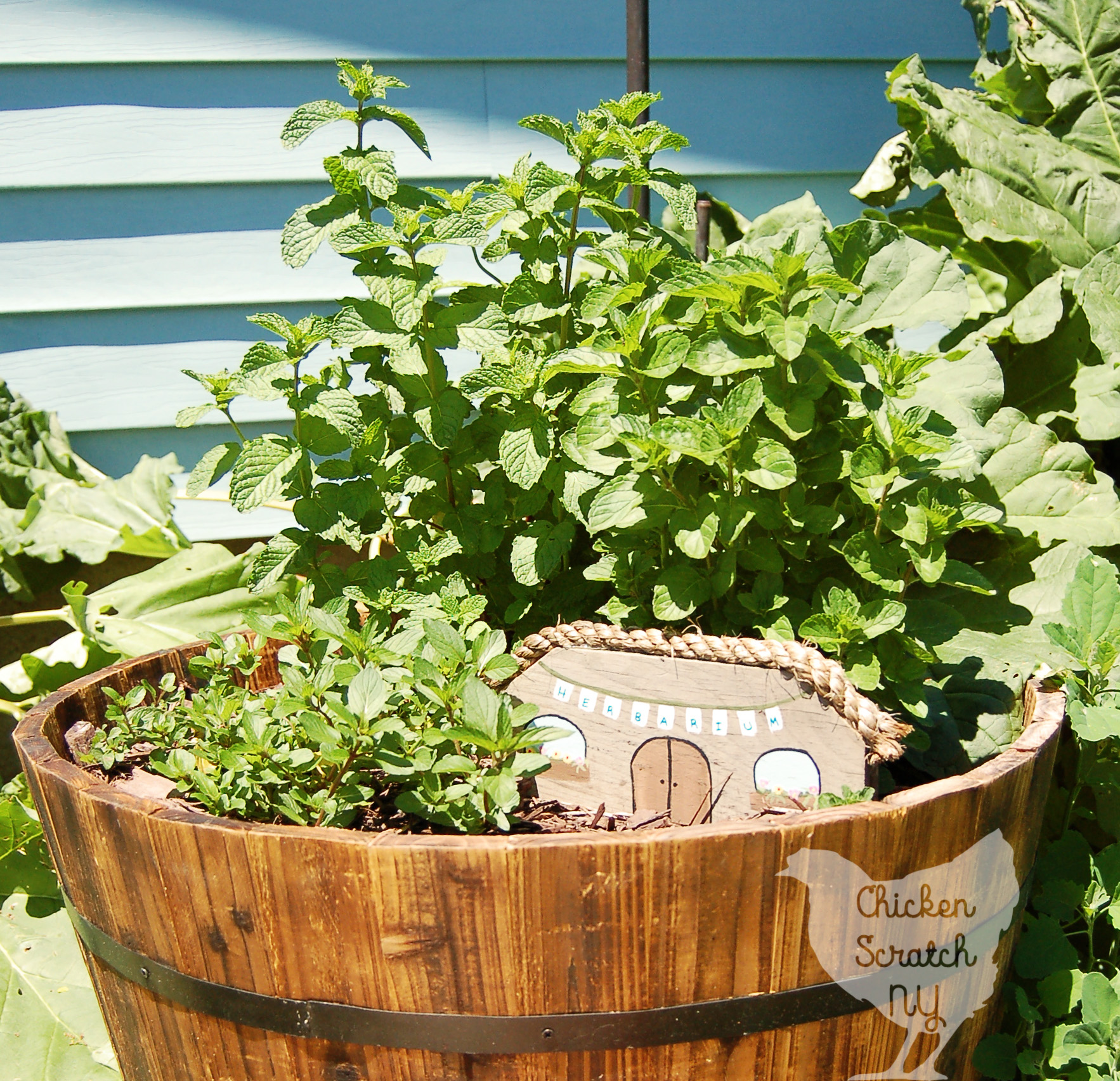 Here she is mid-summer. Unfortunately the snow knocked down my temporary fencing the the chickens turned this into a dust bath. There was only one survivor. I'll be fixing it up as soon as we get the real fence up.
If you decide to make a mint garden of your own I'd love to see it! Post it on my facebook page or put it on instagram with the hashtag #chickenscratchny
Check out my Garden page for more ideas or start with these: